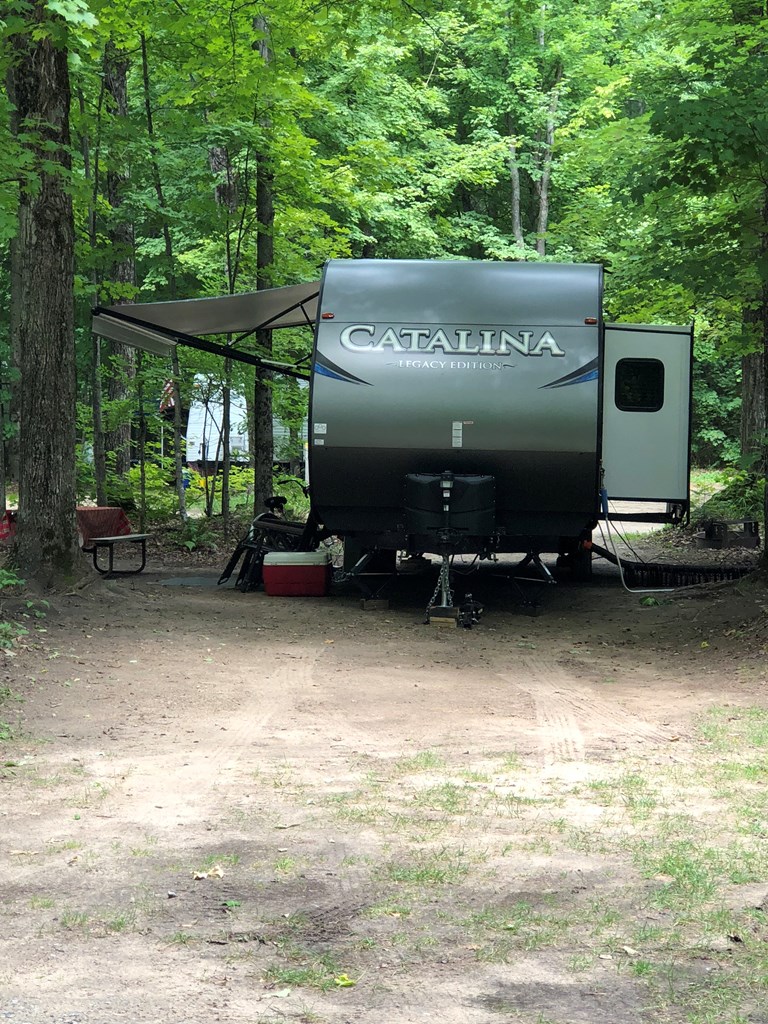 Munising / Pictured Rocks KOA Reviews
Directions
Located on M-28 in Wetmore: 3.5 miles east of Munising. The campground is approximately 125 miles from Mackinac Bridge and 45 miles from Marquette.  GPS: N46.3773, W86.5915
Get Google Directions
Aug 05, 2020
Too many potholes, roads need to be resurfaced. Firewood was expensive
Aug 05, 2020
Our reservation was for a pull through site. When we arrived they did not have one for us. They told us they would discount us for the inconvenience, but it never happened. Our rig was to big for the site we were stuck with. After a 7 hour drive, we were very disappointed with the whole situation and how it was handled. I booked our trip several months before our arrival. They really screwed up.
Aug 05, 2020
This is the loudest KOA I have ever stayed at. It's a huge party for adults and teens. This location did a good job with COVID-19 restrictions. This park needs more full hook up sites. The bathrooms were very dirty, Unflushed feces, mud on the floors and non-stop urinal water running. The overall bathroom cleanliness was very poor. I'll stay at a private campground next time.
Aug 05, 2020
The campgrounds and staff were nice. The bathrooms are pretty bad though.
Aug 05, 2020
Friendly clean. We didn't use showers or the pool and stayed for a night each a week apart.
Aug 04, 2020
Very nice park. We really liked the woods and how it gave each campsite it's private area. I would like to see the bath house get updated and perhaps more showers available. The personal were extremely nice and helpful. I would definitely stay here again.
Aug 04, 2020
Poor bathrooms.
Aug 04, 2020
The only problem was my site was small and I was told it was a pull thru site on the internet.
Aug 04, 2020
I think a better job needs to be done cleaning the bathrooms (maybe twice a day instead of once) and there needs to be more mask wearing enforcement. I felt very unsafe in the bathrooms. No one but myself was wearing a mask.
Aug 04, 2020
The bathrooms were dirty and to small for the size of the park.
Aug 03, 2020
We loved our site, it was perfect for privacy and plenty of room to put up a tent and a screen tent
Aug 03, 2020
I can't believe this campground is a KOA. This is the worst KOA we've ever stayed at. Bathrooms are falling apart and dirty, absolutely zero KOA amenities besides the pool. The showers are dark and the tile floor is all broken. The shower heads are all gunked up with rust and lime and they are so high that anyone under 5'6" can't adjust the angle of them. Very disappointed. Will not stay
Aug 03, 2020
Friendly people. Clean campground. Close to Pictured Rocks. Would go again!
Aug 03, 2020
The campground was great overall!! The sites were beautiful and our cabin was perfect for our needs. Firewood and ice were a little pricey and they didnt have paper bowls or spoons(which we forgot), so we had to drive to Dollar General. Bathrooms got very dirty and wet. They were cleaned once a day and with that much use/ Co-vid happening, I thought the sanitation would have been better
Aug 03, 2020
On arrival you advertised a curbside check in. However, when I called the number it went to voice mail. After seeing people in the office I went in. The two people at the desk told me they only have one phone line and the young lady had been on the phone when I called. They did not seem to know to check for voice mail or to look out the window to see someone waiting. So poor execution.
Aug 02, 2020
This campground needs a lot of work. Dirty bathrooms that are well beyond their prime, roads leading to the tight sites for rvs need gravel. I would hate to have to drive down them much less walk down after heavy rain. Area in front of the dumpster is a quagmire of mud. We sat outside and heard the little 'poppy seed' debris fall from the trees that was larva of the green worms that fell on
Aug 02, 2020
Very helpful with a last minute trip. Able to stay a couple nights due to cancellations.
Aug 01, 2020
We were extremely disappointed. Put in site #1 on the busy hwy and the entrance road in a field. $60 is a high price. $40 or less would be an acceptable amount for the make shift sites. We requested to move but told You were booked. Staff was friendly about it. Seriously you need to do something like put up a barrier/fence if you want to charge that much for those sites. Neighbors were upset too.
Aug 01, 2020
Bathrooms were disgusting. The same clump of hair was on the shower floor for three days, shower tiles were broken. My husband found poop on the floor in the men's bathroom shower. Only cleaned once a day especially during covid is not enough. I don't expect five star bathrooms but at least clean and all in working order and sanitary. The staff were friendly.
Aug 01, 2020
Lots of improvements needed. Showers are way too small, lock was broken and using a hair tie to keep closed. That's an easy fix, get it done. Only 2 showers for whole campground. Garbage truck driving through entire campground at 7:30am. Didn't care for the black dirt lots. Maybe get some gravel mixed in. Overall, just felt dirty.
Aug 01, 2020
Very poorly maintained. Very expensive for just electric site. Dump station cap off, no catch for mistakes. Going into dirt road. Bathrooms were filthy and tiles in only two showers for women and one for men were coming up on the floor. Shower control stripped and hard to adjust water temp. Unfriendly management, tired of being there. Was a very big disappointment for our first trip to UP.
Aug 01, 2020
Filthy restrooms
CAMPGROUND RESPONSE / COMMENTS:
Thank you for taking the time to answer the survey. Our restroom do take a beating. We are in there every half hour to an hour to wipe things down and pick up. During the night they are left unattended. We apologize that you found them dirty. If it is brought to our attention we get to it.
Jul 31, 2020
Our site was a mud pit with so many trees that it was never going to dry. There was also zero space to even set up our corn hole boards. But the worst part was the trees were literally raining gypsy moth poop. You could hear it hitting the roof and awning. Caterpillars covered our mat, chairs, everything. It was awful. We left after one night.
Jul 31, 2020
Great location with good internet and cable. Close to town and all of the area sightseeing!
Jul 31, 2020
Great location!! Wooded lots and great facilities!
Jul 31, 2020
Excellent. Loved the campground!
Jul 31, 2020
Needed a place to stay, you had a spot available. Wasn't best campsite I've ever stayed in but you were friendly folks blessing a family in need. Thank you.
Jul 30, 2020
Excellent space at campsite and nicely wooded. Pool was great. Bathroom could use some work but other than that we loved it.
Jul 30, 2020
Very wooded lots, no stone driveway or at site
Jul 30, 2020
Showers and bathrooms are run down and needing work. Campsite was very weedy. Could use more gravel at sites it rained and was very wet and muddy. Glad we only stayed one night. We had to back in and our camper was over the campfire ring and we had to run our hose for water to the opposite side of camper which was in the middle of where we would walk and sit.
Jul 29, 2020
Great place to camp while having access to all of the Munising/Pictured Rocks sights. We had a very pleasurable week.
Jul 29, 2020
The campground is very nice. We were placed in a pull through site as requested, however it shared/faced the neighboring site so it was not private at all! We requested to move to no avail.
Jul 29, 2020
Fun time. Staff was great. Very clean facility.
Jul 29, 2020
Location was great and campground was ok overall but bath houses definitely need some updating and were also very dirty during our stay.
Jul 29, 2020
it was difficult to reach anyone any of the number of times that we called the office. The bathrooms were absolutely filthy and the pool had a film over the top and looked as if it had not been clean. We were also told a shuttle was available to the pictured rocks to her but then found out it was 50.00. We would not recommend this KOA nor would we stay again. We would welcome a refund on our stay.
Jul 29, 2020
Had a wonderful time at Munis KOA. It was my first time at a KOA & we couldn't have had a better time. Friendly folks.
Jul 29, 2020
Good but smells from the landfill across the street from there.
Jul 29, 2020
Camp ground is beautiful, loved all of the activities and the grill on the firepits however, the bathrooms were disgusting. I couldnt even use the showers. There was hair stuck to the walls and sinks and plastic gloves left around. It was not sanitary, especially now with COVID. I wouldn't stay there again
Jul 29, 2020
This was a great KOA. We were there during covid,so some hours/services were limited, but the communication/signage was clear and correct. The store employee was very friendly and helpful regarding things to do in the area.
CAMPGROUND RESPONSE / COMMENTS:
Thank you for taking the time to fill out our survey. We're glad you enjoyed your stay, and we hope to see you again!
Jul 28, 2020
The campsites and location is great. Huge wooded sites not often found at a KOA. The bathrooms were the worst I have ever seen at a KOA. Only 1 small bathroom. The men's shower had a hole where a tile was knocked out and never replaced. They were not clean even though they were conducting extra COVID cleaning. Very poor lightning and no shelves for soap or hooks for towels in the women's sid
Jul 28, 2020
The purpose of our stay was to visit Pictured Rock. We like the pull through site we had. We stayed one night. The restroom and shower facilities need to be updated. We did not use the pool but the pool looked nice. We purchased firewood from the general store and the firewood provided was plenty for the price.

Munising / Pictured Rocks KOA
Open May 17 - October 20
E10102 State Hwy M28
Wetmore, MI 49895
Check-In/Check-Out Times
All Sites
Check-in: 3:00 pm, Check-out: 11:00 am
Munising / Pictured Rocks KOA
Get Google Directions

© 2020 Kampgrounds of America, Inc.