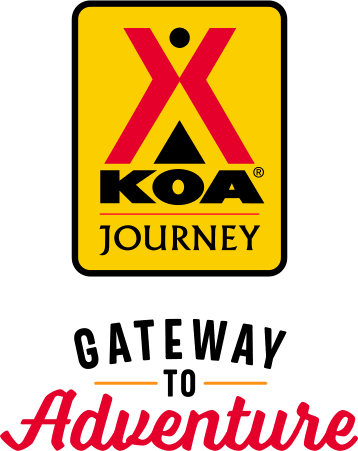 KOA Journey Campgrounds
KOA Journey campgrounds are the perfect oases after a day on the road. Whether it's along the way or a quick getaway, they've got you covered. Located near the highways and byways of North America with long Pull-thru RV Sites, they deliver convenience to the traveling camper. Pull in, ease back and take a load off.
KOA Journeys Feature:
Pull-through RV Sites with 50-amp service
Premium Tent Sites
Well lit after hours check-in service
Directions
Located on M-28 in Wetmore: 3.5 miles east of Munising. The campground is approximately 125 miles from Mackinac Bridge and 45 miles from Marquette.  GPS: N46.3773, W86.5915
Get Google Directions
Jul 26, 2021
Campground needs more than one bathroom facility.
Jul 26, 2021
We have been camping at the Wandering Wheels campground (KOA) in Wetmore for 20 years. We had an excellent stay! We were impressed with the improvements in the shower/restroom areas. Beautiful job. We have dealt with numerous managers over the last 20 years but we have to say that Nona is by far the best ever! She made sure everything was to our satisfaction. We are truly going to miss her!
Jul 26, 2021
We liked the convince close to town and sight seeing. Would like to see some trees taken down to let some sun thru at the sites.
Jul 26, 2021
Our site was decent. A bit small, but it worked. Unfortunately, 3 of the 4 washing machines were out of order. Normally that wouldnt matter, but this was midway through our trip, and we stayed here specifically to do laundry. They had a small dog run, which we, and our dogs, really enjoyed. They provided the pooper scooper and waste bags too. That was a nice perk.
Jul 26, 2021
Great place to stay. Safe, clean and easy to get in and out with the trailer. No recycling so had to take it with me.
Jul 26, 2021
It was perfect location close to all the waterfalls and trails! I did not like the front row sites too well sitting in full sun all day and too close to your neighbor.
Jul 26, 2021
What a amazing camp ground even though the rain we had a great time!!!
Jul 26, 2021
The sites are very close to each other. Not enough room to put our awnings out.
Jul 26, 2021
Great showers. Nice wooded sites.
Jul 25, 2021
We always enjoy staying at this Koa and the family staff
Jul 25, 2021
Everything was great about this campground. The only drawback, was very low water pressure.
Jul 25, 2021
Quiet campground, no road noise. Pool looked clean, but we didn't use. Bathrooms were not the cleanest, mid - late morning was the worst. The office staff were friendly and helpful. We would stay there again.
Jul 25, 2021
Nice bathroom & showers.
Jul 25, 2021
KOA's rock! Super nice place and very friendly and helpful staff!
Jul 25, 2021
Not what we expected
Jul 24, 2021
First time at a KOA, it was very clean, easy and friendly. Great time!
Jul 24, 2021
Great location, spacious sites, lots of shade trees
Jul 24, 2021
Was pretty quiet except for roofing taking place and backup alarms from a nearby by business. Plan on staying again in the future.
Jul 24, 2021
We stayed 5 nights in July. Our site was next to the pool, which was noisy during pool hours. The site was shady and level. The staff was very friendly and helpful. We had a good time.
Jul 24, 2021
Overall a pleasant stay. Staff were nice and the grounds were clean and tidy.. Only issue was campsite was what I would describe as in a field with no parking pad leading to dust and sand on anything especially things that touched the ground.
Jul 24, 2021
Nice campground and it's only a 10 minutes from the Pictured Rocks. Very helpful and accommodating staff. We ran into a situation where they closed the Mackinac Bridge unexpectedly, so we didn't check in until the next day. A special shout out to Kennedy at the front desk. She made the extremely stressful situation about the bridge better with her help and great attitude.
Jul 24, 2021
What makes it worth staying at is where it is
Jul 24, 2021
There were a couple frustrating issues. One being the shower stalls which were extremely Small. I am not a big person and I barely fit in them. And our electric outlet was in a very odd place and we needed a 25 foot extension cord to plug into it.
Jul 24, 2021
Didn't like our sd ite located next to swimming pool. Too noisy
Jul 23, 2021
Terrible. Smelled like sewer. Bathrooms (and all water) were closed on the last night we stayed there. The whole place is a dump.
Jul 23, 2021
Sites were nice with room in between and not packed in like sardines. Clean too. Lots of gravel and little grass but that was fine for us.
Jul 23, 2021
Very nice and clean! Young women at front desk was very helpful!
Jul 23, 2021
Staff friendly, our campsite was awesome. Bathrooms were dirty.
Jul 23, 2021
I booked for 4 nights. July 19,20,21,22. When I arrived, the clerk at the desk said I had to leave on the morning of the 22nd. She called it a travel day. I tried to argue that I made the reservation back in February, but she said another camper reserved that spot for the 22nd, and she had no other sites I could have. I had to change my plans and cut my vacation short.
CAMPGROUND RESPONSE / COMMENTS:
Thank you for taking the time to answer the survey. I looked back on the records, you had made your reservations on line for the two nights. If you would have called after receiving your confirmation we may have been able to extend you stay. I am sorry that you were disappointed.
Jul 22, 2021
Shady spots, reasonable access. Shuttle service for ferry company to Mackinac Island is a plus. Shower facilities were good but heavy use by morning made them a bit messy. All in all a good location and stay.
Jul 22, 2021
Level and shades site. 20 amp, no water, no septic. Yard had some unknown seepage. Terrific pool
Jul 22, 2021
The sites have a bit of gravel, not adequate to keep dirt out of the RV. The rest of the site, outside the narrow gravel spot for parking is dust that quickly turns to mud with any bit of rain. In all our time of RV'ing, this was the worst campground we've encountered. Not up to KOA standards….needs a complete overhaul.
Jul 22, 2021
Great location and lots to see in the area. The KOA team was awesome and very friendly.
Jul 22, 2021
Nice campground and clean restrooms
Jul 21, 2021
This KOA overall is very nice. Well staffed with polite,helpful people. We stayed on one of the 7 sites with back in full hookup's,adequate size site but all are in need of attention of grading and leveling. We walked the property and were very impressed with the wooded sites . The pool and other amenities were well maintained and kept clean . We would definitely come back !
Jul 21, 2021
Quiet, clean campground with good shower water pressure. Staff friendly and helpful.
Jul 21, 2021
The staff were super friendly, restrooms were clean, and location was convenient. We had a great stay!
Jul 21, 2021
Amazing stay. Super clean. Very friendly staff. Will be back :)
Jul 21, 2021
Staff was very helpful in allowing us to shift sites (from #7 to #5) for our 2nd & 3rd nights to improve satellite TV reception. That being said, the services in those front sites are poorly located - users exit their coach/ trailer directly into their neighbor's sewer connection - poor form!
Jul 20, 2021
Our stay at your campground was nice, however we were traveling with another party and would have preferred to be closer to their camp site. Both our reservations requested that.
Jul 20, 2021
Had a great time!
Jul 20, 2021
It was very nice but too short. Wish we could have stayed a few days.