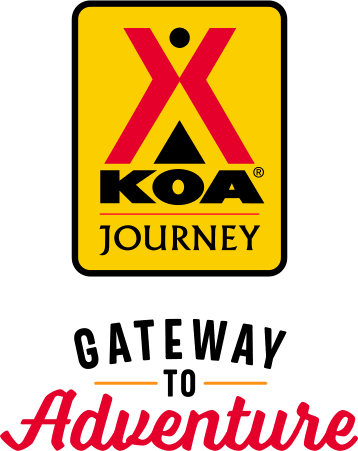 KOA Journey Campgrounds
KOA Journey campgrounds are the perfect oases after a day on the road. Whether it's along the way or a quick getaway, they've got you covered. Located near the highways and byways of North America with long Pull-thru RV Sites, they deliver convenience to the traveling camper. Pull in, ease back and take a load off.
KOA Journeys Feature:
Pull-through RV Sites with 50-amp service
Premium Tent Sites
Well lit after hours check-in service
Directions
Located on M-28 in Wetmore: 3.5 miles east of Munising. The campground is approximately 125 miles from Mackinac Bridge and 45 miles from Marquette.  GPS: N46.3773, W86.5915
Get Google Directions
Oct 20, 2020
We stayed in cabin 58. Everything was great about our stay. But the heat in the cabin didn't work very well. Had that worked properly I would higjly recommend this KOA. Great location for sight seeing.
Oct 19, 2020
We have stayed at several KOAs (camping & cabins) - this one is lacking. Large potholes around grounds (not RV-friendly.) Cabin advertised a TV, found only a cable. Porchlight and fireplace did not work. Front door not level; damaging cabin floor. No exterior bathroom light, uneven steps, cramped showers, bathroom fixtures need repair. Bring earplugs for noisy highway. Highly disappointing.
Oct 03, 2020
Great location, near a ATV rental place (Renze), a gas station, dollar store and a convenience store just down the street, nice clean restrooms. My cabin was a rustic cabin and was a little smelly like an heavily cologne older fellow, my cute little fireplace didn't work and my window on my door was missing a curtain which made me nervous because I stayed alone, but the place was comfy and safe.
CAMPGROUND RESPONSE / COMMENTS:
Thank you for taking the time to fill out the survey and to leave us a comment. We're glad you enjoyed your stay with us, and we will be addressing your concerns with the cabin immediately. We hope to see you again next year!
Oct 01, 2020
Had to kill 6 flies in cabin when we got there. Flies also in bathroom.
Sep 29, 2020
The cabin was spotless,. Warm and very clean loved the covered porch. The grill for cooking was awesome. We will definitely be back.
CAMPGROUND RESPONSE / COMMENTS:
Thank you, we're glad you enjoyed your stay! We hope to see you again nest year!
Sep 27, 2020
Lots of room in cabin however ad said 21 channels but there was no tv. free wifii though. Very friendly staff and strict about covid which I approve of.
Sep 23, 2020
Need some instructions in camper cabin about heat, had no one to contact first night and it was very cold. Also camper cabin door hard to lock from outside, have to pull up. Showers have some tiles coming up, faucet is broken off in bathroom, stuff like that prevents 5 star. Nice stay, I'd stay again without hesitation. Staff was responsive To needs when open.
Sep 19, 2020
I would say your KOA is about 2 steps below the Michigan State Parks. I always thought KOAs were a step above. The bathroom showers desperately need updating. And our cabin deadbolt needs replacing for it was extremely difficult to lock from the outside. The cabin was very clean and welcoming.
Sep 17, 2020
Had a great time at this KOA! We stayed in one of their cabins and it was perfect. Camp hosts were nice and everything was very clean. I gave a 4/5 due to highway noise and closer proximity to neighbors than other campgrounds we've stayed at. Would stay there again if we are ever in the area.
Sep 15, 2020
walked into cabin & smelled extreme smell urine/mold? cabin, turned on baseboard heatr, smell continued, poured water on it & ozzed dirt, had layer of dust. discover hair from previous user when lifted plastic trash bag out. looked under bed & ball found from previous user, cabin not sanitized after use. bathrm smelled mold bad, mens shower not drained from shower stall, not enough water pressure.
Sep 09, 2020
Had a great time, wonderful cabin
Sep 07, 2020
We have a membership with KOA. When we booked our stay here 2 months prior, we saw other reviews about the bathroom situation. We thought that by the time we would be there, those issues would have been addressed. They where not! We understand they just took over, but cleanliness, paint and TLC doesn't take much money! They don't deliver wood to site. Our cabin was comfortable.
Sep 06, 2020
Our cabin was clean and the fire pit was in good condition with a grill attachment. The campground has a small playground but nice volley ball and basketball play area. The pool is clean and well kept. Staff was friendly and helpful. Our stay was great.
Sep 04, 2020
The staff and campground itself was nice but the proximity to the landfill is less than desirable due to the odor. The wind must've been blowing in an unfavorable direction when we were there.
Aug 24, 2020
The campground was decent but the bed in the cabin we stayed in was tiny and uncomfortable.
Aug 22, 2020
Whole place is in need of some TLC. Showers and bathrooms were terrible . lose handles, broken loose tile. Camper cabin door could only open 1/2 way without scraping floor and I had to force it. Duck tape on window.
Aug 14, 2020
Staff is very friendly and helpful. Had a great time. I will come back , its great place to relax in the UP.
Aug 13, 2020
Staff was very friendly! However, bathroom not good—2 toilets marked out of order. Ladies shower barely had any water pressure & just warm.Cabin was ok.Found package of candy under mattress so don't think was cleaned properly.Very muddy near garbage disposal area.Having well problems & closing the bathrooms didn't help. PortaJohns was NOT GREAT! Friendly staff & free ice was the only good th
Aug 10, 2020
The Camper Cabin and the pool was great! The bathrooms and showers need to be expanded.
Aug 04, 2020
I think a better job needs to be done cleaning the bathrooms (maybe twice a day instead of once) and there needs to be more mask wearing enforcement. I felt very unsafe in the bathrooms. No one but myself was wearing a mask.
Aug 03, 2020
I can't believe this campground is a KOA. This is the worst KOA we've ever stayed at. Bathrooms are falling apart and dirty, absolutely zero KOA amenities besides the pool. The showers are dark and the tile floor is all broken. The shower heads are all gunked up with rust and lime and they are so high that anyone under 5'6" can't adjust the angle of them. Very disappointed. Will not stay
Aug 03, 2020
The campground was great overall!! The sites were beautiful and our cabin was perfect for our needs. Firewood and ice were a little pricey and they didnt have paper bowls or spoons(which we forgot), so we had to drive to Dollar General. Bathrooms got very dirty and wet. They were cleaned once a day and with that much use/ Co-vid happening, I thought the sanitation would have been better
Jul 28, 2020
Maintenance has not been performed for years.
CAMPGROUND RESPONSE / COMMENTS:
Thank you for taking the time to answer the survey. You are correct that some of our buildings do need attention. But maintenance is performed on our buildings to make sure they are always safe. If something needed attention, we would have liked to have been told.
Jul 18, 2020
I wish there was another bathroom facility. Was always busy.
Jul 16, 2020
Check in and social distance efforts were AMAZING! Fast, friendly, efficient, safe. Bathrooms were clean and being cleaned often. Firewood was always stocked, campground was monitored at quiet hours and it was a perfect experience! Clean, well maintained sites and friendly staff. We will be back! I have already raved about it to friends headed up there this summer!
Jul 16, 2020
The pool was nice and warm and our cabin was nice, but the dog run was disappointing and the bathrooms could have been cleaner.
CAMPGROUND RESPONSE / COMMENTS:
Thank you for taking the time to answer the survey. We will be adding a K-9 park in the very near future. We are working on a better plan to keep the bathrooms cleaner. Thank you.
Jul 02, 2020
We stayed at one of the little cabins and it was SO cute!! There was a bunk bed and a double(?) sized bed so there was plenty of room for the 3 of us, there was electricity, a cute little picnic bench with a fire pit, and running water just down the road. The people working at the front desk were all so friendly as well! We would definitely love to come and stay here again(:
Jul 01, 2020
The campground is in a great location! The cabin was clean and convenient and there was a grate over the fire ring to cook if desired. Staff was friendly and check in/check out was easy. The bathroom facilities leave something to be desired. They could be cleaner and there are only two small showers in the restroom.
CAMPGROUND RESPONSE / COMMENTS:
Thank you for taking the time to answer the survey. We try hard to keep the bathhouse clean. The bathhouses are cleaned extensively once a day and then checked throughout the day. If it needs to be swept or cleaned, it is taken care of. We know it gets hot in there at night, but the moths and other
Jun 29, 2020
Overall a nice experience. Staff is very friendly. We rented a cabin that indicated that it had cable tv. Upon entering the cabin we noticed that it only had a cable and there was no tv included. Restroom is very dated and only had two showers. We showed on off times and only had to wait maybe 20 minutes. Hopefully an updated bathhouse is in the future plans.
Jun 22, 2020
Great campground. We thought the store was fantastic. The Covid precautions were excellent and the cabin we stayed in was super clean. Thank you staff for making our stay seamless. The only thing that needs to be updated for a 5 star review at this campground is the bathrooms. Though the bathrooms were clean, they are old and don't function as well as they could. Other than that note, GREAT STAY!
Oct 14, 2019
The workers were very friendly. The only drawback was a train at 4:00 a.m. very close by and very loud, and the landfill across the highway with trucks making lots of noise at 6:00 a.m.
Oct 08, 2019
Very good cabin. This was our first time doing something like this and we enjoyed it very much! The cabin was clean and we were nice and warm during the chilly Munising nights. Bathrooms and showers were clean and we had no issues with check-in or check-out. Would definitely recommend to anyone who is looking to explore Pictured Rocks in the future.
Oct 01, 2019
Stayed in cabin late September, rain water drainage for driveway and roadway need improvement.
CAMPGROUND RESPONSE / COMMENTS:
We are sorry your stay was during rainy weather. We do have plans to improve the driveway and roads throughout the park. We hope you'll visit us again to see the improvements we make.
Sep 30, 2019
Need to have reflecting markers by the entrance for after dark. We had trouble with being able to see the entrance coming off M28.
CAMPGROUND RESPONSE / COMMENTS:
Thank you for staying with us and awarding us a great rating. We do plan to make our entrance more visible after dark. Thanks for mentioning it!
Sep 18, 2019
The cabin was not very nice. We thought it was so strange that the lock for the window was on the outside of the cabin, there was a little window in the door that was not covered at all and I had to find a towel or something to cover it. There was I think 2 furnaces and neither worked very well. I definitely would not stay here or recommend it to anyone.
CAMPGROUND RESPONSE / COMMENTS:
We are sorry to learn we were unable to provide you with a quality KOA kamping experience. Please contact our office to discuss your stay in greater detail.
Sep 08, 2019
The area and Kamping Kabin were very nice. The bathrooms were pretty bad, especially for a KOA. There was no air conditioning, so the door had to be open in the daytime, and closed at night because of the bugs. When the door was closed, it was horribly hot and steamy and all of the bathroom fixtures sweated onto the floor and made it wet. The toilet stalls were super small and cramped.
CAMPGROUND RESPONSE / COMMENTS:
Thank you for providing us valuable feedback. We have plans for new restroom/shower facilities. We hope you'll visit us next season to see the improvements we make.
Aug 30, 2019
Need more bathrooms!!! And clean them!
CAMPGROUND RESPONSE / COMMENTS:
We begin construction on new restroom/shower facilities this fall. We hope you'll visit us in 2020 to see the improvements we make.
Aug 22, 2019
Pool was great! Bathrooms need updating. Very friendly staff.
CAMPGROUND RESPONSE / COMMENTS:
Thank you for staying with us! We're so glad you enjoyed the pool - especially with the very warm weather we've been having! We begin construction this fall on new restroom/shower facilities. We hope you'll visit us in 2020 to see our improvements and upgrades.
Aug 04, 2019
Great campground and location was perfect
CAMPGROUND RESPONSE / COMMENTS:
We're so glad you enjoyed your time with us! Thanks for the positive comments. We hope you'll visit us again soon!
Oct 13, 2020
What a beautiful location.
- Alicia Purser on Google
Oct 10, 2020
We stayed here for two weeks. Very quiet with friendly staff.
- Mike Bristol on Google
Oct 02, 2020
Beautiful campground all around!! Plus lots of sights to see in town!!
- Caitlyn Moore on Google