Why You Should Book at Extended Stay at Outer Banks West KOA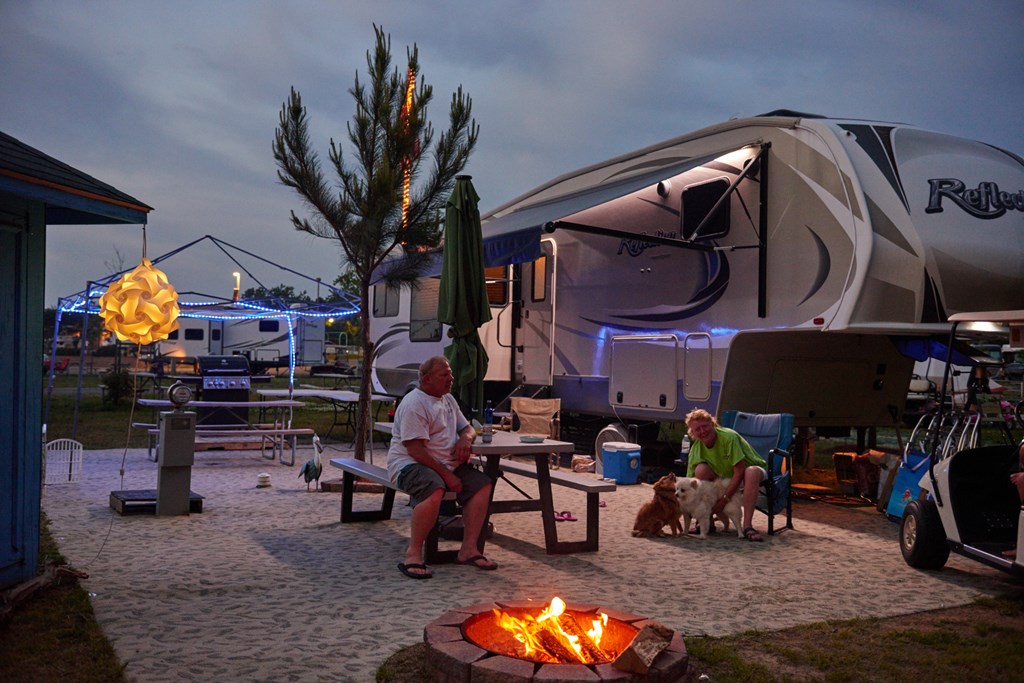 Did you know that for the price of two weeks in one of those houses on the Outer Banks you could spend an entire camping season at Outer Banks West KOA?
That's right, you could spend your summer lounging by the Currituck Sound at this secluded coastal retreat. Our boat shuttle will take you right to the beach in Corolla and attractions like H2OBX, Weeping Radish Brewery and Sanctuary vineyards are just a short drive away.
Plus, you'll have access to fun amenities like our volleyball court, 5 fishing piers, 2 boat ramps, a jump pad and a full schedule of events and theme weekends.
Still not convinced? Here are just a few of the many reasons why booking an extended stay at Outer Banks West KOA is awesome.
Exclusive Perks
When you book an extended stay site at Outer Banks West KOA you get the VIP treatment. You'll be invited to exclusive parties just for extended stay guests and you'll get a special discount at the camp store.
Plus, if you refer a friend and they book a site with us you'll get a bonus for sending them our way!
Never Miss an Event
You'll never have to worry about the campground being sold out during holiday weekends or popular events because your site will be locked in. That means you never have to miss a minute of fun at this coastal paradise on the Currituck Sound.
Park Once, Come and Go as You Please
You could map out a whole summer of camping at different campgrounds here and there, but that sounds like a whole lot of work. When you book an extended stay site with us you can park your RV once and leave it there all summer. You'll be free to come and go as you please. Stay with us all season long or just drop by on weekends. No matter what, your home away from home will be waiting for you.
It's Like Having a Vacation Home, but Better
Buying a vacation home is something that's out of reach for a lot of us, but when you book a extended stay site with us it's like having a second home, minus a lot of the hassle. First of all, a seasonal site is much more affordable than a vacation home. You also won't have to stress as much about the weather. You can haul your RV to safety when bad weather comes, unlike a beach house. Plus, an RV is a lot easier to maintain than a whole house. It's a no brainer!
Join a Community
When you book an extended stay site at Outer Banks West KOA it's more like moving into a neighborhood than purchasing a campsite. You'll be surrounded by fellow campers and familiar faces are sure to turn into friends. You'll be part of a close-knit camping community when you stay with us.
For more information or to book your site today contact Sales Coordinator Evan Winter at ewinther@bwdc.com or call 800-562-3136!