SUP Boarding 101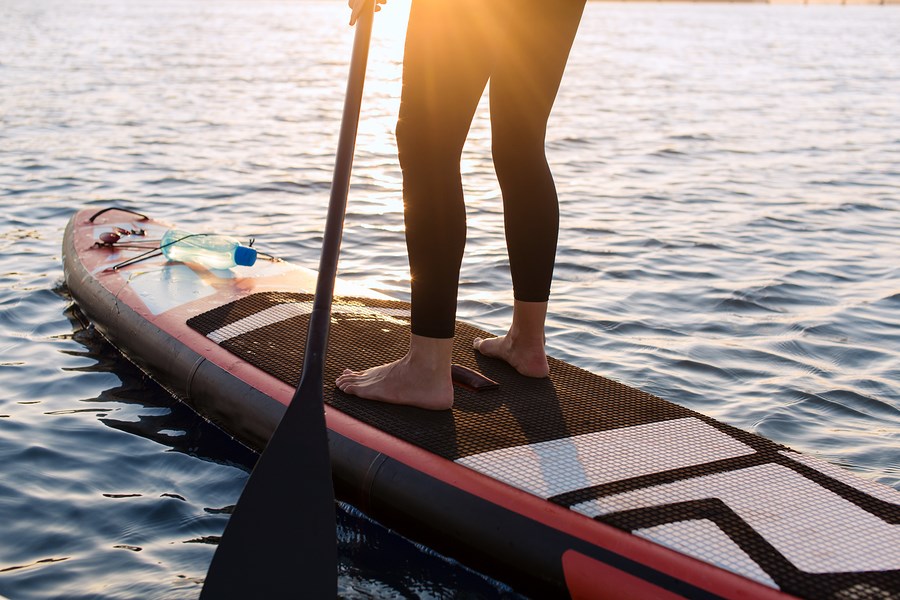 Are you down with SUP (Stand Up Paddle Boarding)? If not, it may not take you long to become a fan of the world's fastest-growing watersport. Rent a SUP board right here at the campground and explore the Currituck Sound in a whole new way.
SUP has been riding strong since the 1990s when Maui surf legend Laird Hamilton was first looking for a way to cross-train and added a paddle. SUP's history, however, paddles back thousands of years to ancient Hawaiian, Peruvian and African cultures. Hamilton officially brought SUP to the U.S. coastline in Malibu, California where he stood on his board with an American flag on Sept. 11, 2004.
Today, it's hit all bodies of water and is known for giving your core a workout. If you're a rookie to this watersport, check out our tips, tricks and equipment checklist.
Getting Started
Once you've rented your gear you'll be ready to stand up and work out. Never fear, SUP is a sport for all ages, body types and skill levels. But we still have a few tips for you to follow to put your best foot forward:
START IN CALM, FLAT WATER
The Currituck Sound is a great place to start SUP boarding because the water is shallow and calm. Stick close to shore until you're confident in your balance.
PADDLE HOLD
Put one hand on top of the paddle as a lever and keep the other straight on the center of the shaft as the fulcrum; keep the blade angle of the paddle facing away from you. If you must break your hold and fall into the water, it's OK. Paddles float.
STAND UP
It's best to start out sitting on your knees, look ahead, paddle a few strokes to get the fin of the board free from the bottom and then slowly stand up in the middle of the board with your feet parallel and shoulder-width apart. It's best not to lock your knees to keep your core centered over the board.
PADDLE MOVEMENT
The smartest, most streamlined stroke method is to dip the blade of the paddle fully into the water and pull past your paddle. Let your back muscles do the work, rather than your arms. Take a few strokes on one side, then switch to the other side (while also switching hands), to stay in a straight path and continue full steam ahead!
Relax, you've got this!
You May Also Like:
Outer Banks West KOA has an Abundance of Amenities
The Ultimate Guide to the Outer Banks