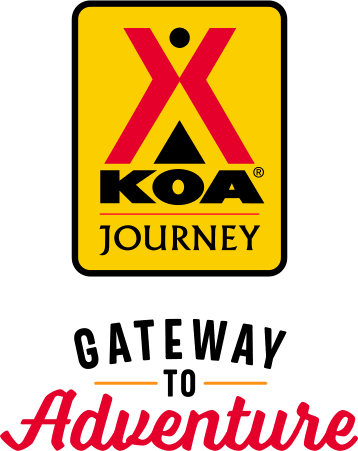 KOA Journey Campgrounds
KOA Journey campgrounds are the perfect oases after a day on the road. Whether it's along the way or a quick getaway, they've got you covered. Located near the highways and byways of North America with long Pull-thru RV Sites, they deliver convenience to the traveling camper. Pull in, ease back and take a load off.
KOA Journeys Feature:
Pull-through RV Sites with 50-amp service
Premium Tent Sites
Well lit after hours check-in service
Directions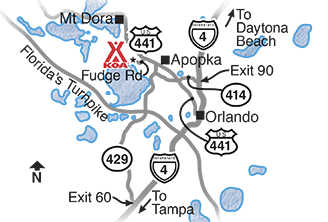 FROM TAMPA & I-4 EASTBOUND*: Take I-4 Exit 60 for FL-429 North toward Apopka/Mount Dora. Take 429 to exit 34 SR 429 Connector Rd. turn Left to US-441 North (Orange Blossom Trail) Mount Dora. Turn right onto US-441 North toward Mt. Dora. Get into left lane and in 1/2 mile turn Left onto Fudge Road. Orange Blossom KOA will be immediately on your right. (DO NOT FOLLOW YOUR GPS THAT SAYS MAKE A U-TURN LOOK FOR OUR BILLBOARD) FROM DAYTONA BEACH & I-4 WESTBOUND*: I-4 W to FL-46 exit 101C.  Turn Right on FL-46 W go about 10 miles, then Left on FL-429 S.  Exit 34 then Right on SR 429 Connector Rd toward US-441 North (Orange Blossom Trail) Mount Dora. Turn right onto US-441 North toward Mt. Dora. Get into left lane and in 1/2 mile turn Left onto Fudge Road. Orange Blossom KOA will be immediately on your right. (DO NOT FOLLOW YOUR GPS THAT SAYS MAKE A U-TURN, LOOK FOR OUR BILLBOARD). FROM MOUNT DORA: Head South on US-441 (W. Orange Blossom Trail) for approximately 9 miles. 1/2 mile past the Orlando-Apopka Airport, turn Right onto Fudge Road. Orange Blossom KOA will be immediately on your right. FROM I-75 heading south, exit onto Florida Turnpike North, continue to 429 North toward Mount Dora to exit 34, turn Left on 429 Connector Rd then Right on US-441N (Orange Blossom Trail). Get into left lane, go .5 miles, turn left onto Fudge Rd. KOA will be directly on your right.  Watch for our billboard, do not follow GPS instructions to do U-Turn.
Get Google Directions
May 05, 2021
Mosquito are bad couldn't sit outside, hopefully they can get them under control but over great camp ground
May 04, 2021
We very much enjoyed our stay. Your campground is very nice and well kept. Office staff were friendly. Clean restrooms and showers. Would definitely stay again.
May 03, 2021
Great location to the entire central Florida area. A little noisy with planes, automobiles and the mosquitoes were thick but other than those things loved it.
May 03, 2021
Friendly people. Happy camper.
May 03, 2021
Short but very pleasant!
May 02, 2021
Small, intimate, friendly campground. Very clean with a wonderful staff. Central to everything.
May 01, 2021
Entire campground were exceptional clean and very neat. Our site 81 was large , private on two sides which was very nice. Only downer were the small private planes taking off from the small airfield next door. They did stop around 8:00 and did not resume till 8:00 the next morning
Apr 30, 2021
Over priced, and no water pressure. They blamed it on my water filter. Same setup at my new location and great water pressure. I have stayed at many KOA's this by far was the worst.
Apr 30, 2021
Excellent service from the staff.
Apr 29, 2021
This park is clean, spacious and this was our 3rd stay however we were charged extra for arriving early but weren't advised there was a fee and the dog park fence was down- poor communication that cost us.
Apr 28, 2021
Great facility and location. Pool was very refreshing.
Apr 28, 2021
It's always a pleasure to stop at a KOA and this one is especially good for a weekend away or a quick stop for the night on the way somewhere else.
Apr 27, 2021
Try his campground is conveniently located for us to visit family. Whenever there is a "gathering" we stay here. We enjoy the pool and the quietness of the park and the friendly fellow campers.
Apr 26, 2021
The staff was great. We loved the pool. The pedal carts were awesome. However, the highway noise from 441, engine noise from planes taking off over the KOA, and occasional train passing got to be a little too much. Maybe you could install a sound barrier for 441 and the trains? Probably can't do anything about the planes though...
Apr 25, 2021
If you're looking for a campground to use as an overnight stay while on the road, this campground is great. Although, quite small, it is clean and easy to maneuver around. But it isn't really near anything. Any dining or grocery stores involve a little bit of a drive.
Apr 24, 2021
Great place to stay. Everyone was friendly. Clean with plenty of activities.
Apr 23, 2021
Staff was great and helpful. Grounds were clean and quiet. Our campsite was beautiful! Highly recommend!!
Apr 22, 2021
Nice and clean. The lady in the office was happy and helpful Overall, I would recommend to anyone.
Apr 21, 2021
We love OBT KOA. This winter saw management and staffing changes, we hope the service, cleanliness and welcoming environment continue next year.
Apr 21, 2021
My and family and I were very pleased with this KOA. We came in after the office was closed. They have my information available with the site marked with a cone. The camp ground was clean and very large sites. There was a large area with a fence for the K9. Staff and fellow campers were very nice. We will pick this KOA again.
Apr 20, 2021
2nd time there. Manager Angie did a great job assisting us with our stay. Very pleasant and the campground was clean, the wifi and cable were strong and worked worked perfectly. We will be back.
Apr 19, 2021
Need a screened in covered area to get away from mosquitos. Great pool!
Apr 19, 2021
Comfortable and easily accessible grounds. Flat, no issue with setup; full hookups.
Apr 19, 2021
This was our 2nd year coming and we love it here. We plan on coming back but we have to wait and see what's going on with the family.
Apr 19, 2021
Really like your improvements, ie paved sites!! ���
Apr 19, 2021
Had a great time, and the campgrounds are very nice and clean with friendly staff. 5-stars and will be back again.
Apr 19, 2021
Very nice campground, paved level sites. The office personnel are very friendly and helpful.
Apr 19, 2021
It was enjoyable. I was disappointed to not be able to check in till 2pm. Then when I got to my site, I had to blow off the site and only assumed that's why we could not check in till late so they can have it ready. Otherwise, it was an enjoyable site and we will be back.
Apr 19, 2021
Friendly staff. Very clean and safe campground. Near Orlando attractions and the Ocala National Forest. We've stayed at this campgrounds many times.
Apr 19, 2021
Clean, spacious, very courteous staff. Hostess Angela stayed late to check us in.
Apr 17, 2021
Thanks for working with us as we extended our stay twice! We were extremely satisfied with our site, the laundry and quiet evenings for restful sleep. The staff is always very friendly and efficient.
Apr 17, 2021
Wonderful staff and nice roomy sites. Friendly atmosphere, clean facility and a bunch to do during the day. Unfortunately, Mosquitoes are over the top (along with Red Ants) and we really couldn't enjoy outside after sunset.
Apr 14, 2021
Staff was helpful helping to park on the site. Staff worked hard in getting me close to a Marine friend I served with and had not seen in 25 years. I was grateful and want to thank them for an enjoyable weekend by making it possible to put us close together. Highly Recommend.....Semper Fi
Apr 13, 2021
Loved the long pull through lot #79. Very nice people too
Apr 12, 2021
Always a good camp. Will be back.
Apr 12, 2021
Staff was very friendly and welcoming. Facilities were very clean, including the heated pool. There are no fire pits or grills at the campsites. I understand you can rent the fire pits there. The only thing we disliked was that we could hear traffic at night, but the location is right off a busy highway.
Apr 10, 2021
Second time at this KOA. Clean facility. Great proximity to Disney.
Apr 10, 2021
We only stayed one night, but will definitely be back when we are in the area!
Apr 08, 2021
The folks running the KOA and the staff were very nice and accommodating. The concrete pad site 49 we were on was level. Spaces were a little close but not on top of one another. Facilities v. good. There was airplane noise from nearby airport which was a little bothersome although not to take away from the KOA. The campground was convenient to getting to and from Orlando and goods and services.
Apr 08, 2021
Its tight & the lots are sandy