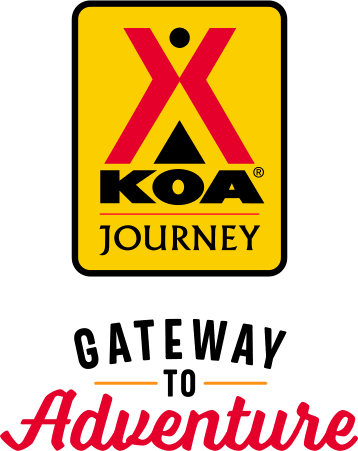 KOA Journey Campgrounds
KOA Journey campgrounds are the perfect oases after a day on the road. Whether it's along the way or a quick getaway, they've got you covered. Located near the highways and byways of North America with long Pull-thru RV Sites, they deliver convenience to the traveling camper. Pull in, ease back and take a load off.
KOA Journeys Feature:
Pull-through RV Sites with 50-amp service
Premium Tent Sites
Well lit after hours check-in service
Directions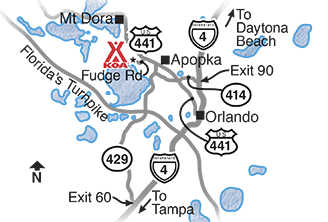 FROM TAMPA & I-4 EASTBOUND*: Take I-4 Exit 60 for FL-429 North toward Apopka/Mount Dora. Take 429 to exit 34 SR 429 Connector Rd. turn Left to US-441 North (Orange Blossom Trail) Mount Dora. Turn right onto US-441 North toward Mt. Dora. Get into left lane and in 1/2 mile turn Left onto Fudge Road. Orange Blossom KOA will be immediately on your right. (DO NOT FOLLOW YOUR GPS THAT SAYS MAKE A U-TURN LOOK FOR OUR BILLBOARD) FROM DAYTONA BEACH & I-4 WESTBOUND*: I-4 W to FL-46 exit 101C.  Turn Right on FL-46 W go about 10 miles, then Left on FL-429 S.  Exit 34 then Right on SR 429 Connector Rd toward US-441 North (Orange Blossom Trail) Mount Dora. Turn right onto US-441 North toward Mt. Dora. Get into left lane and in 1/2 mile turn Left onto Fudge Road. Orange Blossom KOA will be immediately on your right. (DO NOT FOLLOW YOUR GPS THAT SAYS MAKE A U-TURN, LOOK FOR OUR BILLBOARD). FROM MOUNT DORA: Head South on US-441 (W. Orange Blossom Trail) for approximately 9 miles. 1/2 mile past the Orlando-Apopka Airport, turn Right onto Fudge Road. Orange Blossom KOA will be immediately on your right. FROM I-75 heading south, exit onto Florida Turnpike North, continue to 429 North toward Mount Dora to exit 34, turn Left on 429 Connector Rd then Right on US-441N (Orange Blossom Trail). Get into left lane, go .5 miles, turn left onto Fudge Rd. KOA will be directly on your right.  Watch for our billboard, do not follow GPS instructions to do U-Turn.
Get Google Directions
Dec 01, 2020
Great location, very safe area and the most friendly staff!
Nov 30, 2020
Loved our stay! Beautiful and very well maintained park. Would highly recommend this campground!
Nov 30, 2020
The People at the campground were very nice especially at the front desk. However been on 441, there was a lot of traffic noise especially starting at about 5:00 AM. Additionally the grass was full of stickers which we were constantly pulling off of our dogs.
Nov 30, 2020
2 nights. Did not use any amenities. Easy in and out. nice long pull thru and very level. over all nice.
Nov 30, 2020
We had a wonderful time and site. Just loved it!
Nov 30, 2020
It's a nice park but I have a dog which many others do too, my dog kept getting sand spurs in her feet and there were many ant piles. Mosquitoes were horrible at dark. Other than that it's a very nice park. I do live in Florida so I get all these things but there are ways to control them to some extent.
Nov 30, 2020
We really liked space we had with the patio and spacious size. We did not like the bugs. As soon as sunset hit we were swarmed by bugs like we have never seen. Unable to sit outside or walk the dog.
Nov 29, 2020
Friendly and accommodating staff. We will be back.
Nov 26, 2020
Very nice staff. Campground and restrooms are clean. Did not hang out in the campground much, but when we were there it was nice and quiet.
Nov 25, 2020
A very nice KOA. Staff was very friendly and helpful. Very clean and well maintained. We will be back.
Nov 23, 2020
Enjoyed the Campground. Very clean and the people running it are super nice. The "receptionist" didn't know the answer to a couple of questions before we came and she found out and called me back. Customer service!!! The only thing we wish is that TV reception would be clearer, but we aren't supposed to watch TV while camping anyway!! Loved the dog park, too. Very cute.
Nov 19, 2020
By not reading the fine print in their rules, I laid out an entrance carpet that was not "breathable". I didn't know the difference. But while I was away getting medicine for an ill wife, a Kamp Kop knocked on the camper door trying to get her attention. She was bed ridden. I arrived at that moment to find that he was enforcing the carpet rule. An uncomfortable situation at best.
Nov 18, 2020
It was nice to be escorted to our site and to have assistance backing in! Our stay was just perfect. Thank you!
Nov 16, 2020
Beautiful campground, generous site space, and nice amenities
Nov 13, 2020
We stayed for three days while we were moving out of Apopka. Everything was very pleasant.
Nov 12, 2020
Nice site, level. Close, but not on top of your neighbor. Clean laundry-many washers + dryers.
Nov 11, 2020
I only stayed 3 nights but Orange Blossom KOA is by far the nicest RV resort I have ever stayed at- the rest room and shower facilities were exceptionally clean- the camp ground was grassy and spacious and very well organized- the staff were professional, helpful and very knowledgeable... I thoroughly enjoyed my stay there, wish I could have stayed longer...
Nov 10, 2020
We have stayed here a couple times, and we love it. It is very well taken care of. The people are great. The sites are nicely paved and maintained. This is a great place to stay for either all of the things going on in the Mount Dora area, or to stay here for Disney which is about 30 minutes away.
Nov 09, 2020
Had a great 2 night stay.
Nov 09, 2020
We had the best time here! We drove over from Sarasota to do a return visit to lovely Mt. Dora, and this KOA was absolutely the perfect place to stay with our RV. The location is ideal for what we wanted. This KOA is wonderfully maintained. Everything was spotless. The employees were delightfully friendly. Check-in was a breeze, and it was nice to have a man with a golf cart lead us to our site.
Nov 09, 2020
Great. Like the new paved areas.
Nov 09, 2020
Big rig friendly , big spacious sites, easy getting in and out. Checked in after hours with no issues. Staff is very friendly. Will be back
Nov 08, 2020
This is beautiful park. We enjoyed our stay! The park attendants were very helpful. And they work hard keeping the park immaculate. The store clerks were pleasure and helpful as well. Definitely will stay again.
Nov 02, 2020
Simply fantastic. Very clean and well kept facilities.
Nov 01, 2020
This is our go to park. The people are super nice, the grounds are spotless, and the atmosphere is relaxed. All key ingredients for a perfect vacation. We cannot rave enough about this park. Thank you OBKOA. We will be back.
Oct 27, 2020
Very well maintained campground. Expressways nearby make it easy to get to get around. It is close to My. Dora a very scenic and special little gem of a town.
Oct 22, 2020
Campground was clean and the staff was friendly. Well maintained, showers and bathhouse was clean....would stay there again if needed.
Oct 16, 2020
Joyce & Jim are very kind, pleasant. Camp grounds were amazingly clean. Pool was awesome. Met really great family. I will definitely be back.
Oct 16, 2020
Nice. clean and very well kept. Very helpful staff
Oct 14, 2020
We were here for only 2 nights this time but very pleasant stay. We have friends who winter here for the winter. Nice and clean and what people and workers who were there during our stay were very friendly. If back that direction again we will stop again. We may even try for a short trip and just stop and see our friends while they are there,
Oct 13, 2020
Very clean and staff very friendly.
Oct 05, 2020
Awesome Staff, Clean Place centrally located - perfect stay
Oct 03, 2020
Very nice place clean and well maintained...lots of room at sites
Oct 02, 2020
Short notice stay. Very welcoming for my repeat visit!
Oct 01, 2020
I very much enjoyed my stay at this KOA. But for the 6 month rule, I would have continued my stay a couple months longer. The staff were very polite and friendly. The grounds and facilities were always clean and neat. It was close to everything I needed and wanted.
Sep 25, 2020
Excellent landscaping and maintenance of the grounds. Individual sites are level and spacious. Staff very friendly and helpful.
Nov 30, 2020
Love this campground! My husband and I planned on staying only a month and wound up extending our stay for rest of the winter. Very peaceful, clean bathrooms, nice pool. Office staff have always been friendly. Close to anything you might need as far as shopping. Would definitely recommend! Kristin Abbey
- Kristin Abbey on Google
Nov 21, 2020
1st visit and LOVE it! It's spacious with large patios, and very pretty. Very friendly staff too. Would definately stay again 👍
- Elaine George on Google
Nov 07, 2020
Very nice KOA park! The employees are what make this park special. They are exceptional. The park is very clean, including the restrooms and showers. A cleaning lady comes around 9 every night to clean those. There's a nice dog park, which our dogs loved. There's not much in the way of fancy landscaping, but that's fine for us. The campground sits just off of busy highway 441, so there's a lot of traffic noise all the time. We will be back!
- Marc Erwin on Google