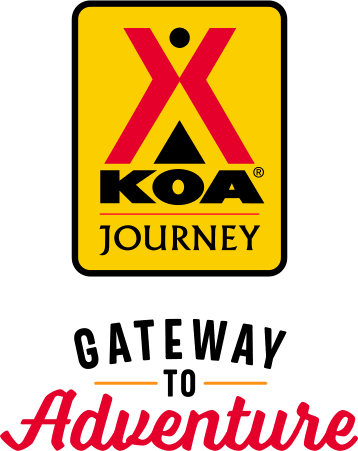 KOA Journey Campgrounds
KOA Journey campgrounds are the perfect oases after a day on the road. Whether it's along the way or a quick getaway, they've got you covered. Located near the highways and byways of North America with long Pull-thru RV Sites, they deliver convenience to the traveling camper. Pull in, ease back and take a load off.
KOA Journeys Feature:
Pull-through RV Sites with 50-amp service
Premium Tent Sites
Well lit after hours check-in service
Directions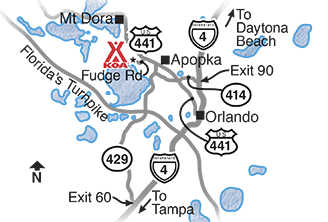 FROM TAMPA & I-4 EASTBOUND*: Take I-4 Exit 60 for FL-429 North toward Apopka/Mount Dora. Take 429 to exit 34 SR 429 Connector Rd. turn Left to US-441 North (Orange Blossom Trail) Mount Dora. Turn right onto US-441 North toward Mt. Dora. Get into left lane and in 1/2 mile turn Left onto Fudge Road. Orange Blossom KOA will be immediately on your right. (DO NOT FOLLOW YOUR GPS THAT SAYS MAKE A U-TURN LOOK FOR OUR BILLBOARD) FROM DAYTONA BEACH & I-4 WESTBOUND*: I-4 W to FL-46 exit 101C.  Turn Right on FL-46 W go about 10 miles, then Left on FL-429 S.  Exit 34 then Right on SR 429 Connector Rd toward US-441 North (Orange Blossom Trail) Mount Dora. Turn right onto US-441 North toward Mt. Dora. Get into left lane and in 1/2 mile turn Left onto Fudge Road. Orange Blossom KOA will be immediately on your right. (DO NOT FOLLOW YOUR GPS THAT SAYS MAKE A U-TURN, LOOK FOR OUR BILLBOARD). FROM MOUNT DORA: Head South on US-441 (W. Orange Blossom Trail) for approximately 9 miles. 1/2 mile past the Orlando-Apopka Airport, turn Right onto Fudge Road. Orange Blossom KOA will be immediately on your right. FROM I-75 heading south, exit onto Florida Turnpike North, continue to 429 North toward Mount Dora to exit 34, turn Left on 429 Connector Rd then Right on US-441N (Orange Blossom Trail). Get into left lane, go .5 miles, turn left onto Fudge Rd. KOA will be directly on your right.  Watch for our billboard, do not follow GPS instructions to do U-Turn.
Get Google Directions
Feb 21, 2021
I look forward to stay at Orlando NW / ORANGE BLOSSOM KOA. on 2/1/21.it is a very quiet campground,well maintained and the owners make sure your welcomed and they are people orientated to make sure that you are happy that you chose to stay there. there are quite a few attractions around and a nature preserve auto drive and a short drive to the coast.
Feb 21, 2021
Great place to stay. We had one of the new patio sites which was large. Entrance was marked vey well, Staff was super friendly, Campground was quiet.
Feb 21, 2021
Nicest people of any campground I've stayed
Feb 20, 2021
Great. You need pickle ball courts and you would be five stars.
Feb 20, 2021
The staff was very friendly and helpful. The park was clean and roomy. Very convenient if you are going to Disney World and the other attractions in Orlando. We would definitely choose this location again on our future trips to Orlando.
Feb 18, 2021
We came to the area to visit Disney and Universal studios. It was a 30 minute drive to the parks but well worth it to be out of the business and congestion of the downtown area. The campground was clean and the sites were spacious. The staff was very friendly and helpful! One of the nicest KOAs we have visited. I would definitely come back!!
Feb 16, 2021
The staff was amazing, very friendly and helpful. The campground was well kept up. We loved our site(88), with the concrete pad and table. Dog park was awesome. Will definitely be back.
Feb 16, 2021
Great campground, clean well manicured. Friendly staff. Awesome place to visit
Feb 16, 2021
Campground very nice. Lots of noise from traffic.
Feb 16, 2021
Very clean, quiet and convenient to everything we did off site (20-25 minutes). The staff at the check-in/General Store were so accommodating, helpful and friendly. Made us feel at home as if we had been there before. This was our first visit, but not our last! Already booked our next stay.
Feb 15, 2021
I have stayed here already a couple times.The employees and residents are both nice and very helpful!
Feb 15, 2021
Very helpful staff. Very clean and enjoyable stay.
Feb 12, 2021
Nice open campsites, friendly staff and neighbors. Quiet and peaceful stay. Only there two nights but was a perfect place to stay while we visited attractions in Orlando with the kids.
Feb 11, 2021
had a reservation for a certain site number for a couple of months. then when you get there, they tell ya that it can't happen. can't keep a certain site reserved.(BS) not sure if i will return.
Feb 11, 2021
Very quiet, very friendly staff and campers, convenient location for just about anything you want to do coast to coast in central Florida. Clean, well maintained campground and facilities. Easy in/out.
Feb 09, 2021
Nice laundry area. Clean & appreciated a card swipe payment instead of needing many quarters. Everyone very nice & helpful.
Feb 09, 2021
We always enjoy our stays at any KOA but this one is special to us. It's the first place we went when our RV was new and we just love the place. It's conveniently located for anyone visiting our Central Florida attractions but not too close. Very peaceful, quiet campground with excellent couples working there to insure the place stays that way. We will be back. Often.
Feb 08, 2021
Clean, friendly, nice campground
Feb 08, 2021
We were only at the KOA for one night but it seemed to be very well managed and clean, We were sorry that we did not have their opportunity to try the heated pool because it looked so inviting. I think the location is great for someone that does not want to be too close to the Orlando rat race yet close enough to enjoy everything Orlando/Mt Dora area has to offer. Good Job.
Feb 08, 2021
Loud road noise( motorcycle racing Friday and Saturday night until about 1:30 am.). Loud airplane noise during day hrs. Great laundry room and shower room. Great pool area. No problems other than night noise from road, not sure if management could do anything about that.
Feb 04, 2021
One of our favorites to stay. Close to home. Easy to get in and out.
Feb 01, 2021
I really enjoy staying at this KOA. The people who work and stay here are very pleasant and the facilities are very very clean. Easy location to find too. I suggest that you please disregard the reviews here which yak on and on about the noisy traffic. Yes, it's there but that's a really picky thing to note. I'd hate to see anyone miss out on staying here because of that.
Jan 30, 2021
Anything in the 20's is very noisy. to close to road you really need a sound wall !
Jan 30, 2021
This was our third time staying here. It's a nice size park that is always clean. When we're in the area it's good to know we have a great place to stay.
Jan 29, 2021
Very nice. Clean campground. Nice sites.
Jan 27, 2021
We stayed for the tractor pulls in the area. Joyce was top notch with her service went out of her way to accommodate us snd trailer parking. Bill the ground man so honest and a hard worker we left our surge protector and he called us promptly to let us know. Who does that in these days? A great campground surrounded by Great People. Thanks guys we'll be back.
Jan 26, 2021
Very nice quiet campground. Very nice pool super clean bath house
Jan 25, 2021
Very friendly. Nice pool. Good WiFi. Had great Verizon signal. Would stay again
Jan 23, 2021
One of the best!
Jan 21, 2021
Lovely campground!
Jan 19, 2021
We found the sites to be too small between them. It made it difficult to park your towing vehicle without overlap.
Jan 19, 2021
Very nice park, spacious site and very helpful staff
Jan 19, 2021
The pull through site was very spacious and LEVEL. The park was nice and clean. Thank you.
Jan 19, 2021
The campground itself was nice and spacious. The pool and the playground were great - my kids enjoyed them immensely. The noise from the train, airplanes and main road (which are all very close) really detracted from our stay. Additionally, I don't feel we should be charged extra to use a fire ring. The staff was friendly and I appreciated their help when we needed it!
Jan 19, 2021
Campground well maintained, not much separation between sites or landscaping. Power and water pressure very good. Location close to the highway, but far from Orlando area amenities.
Jan 18, 2021
Facilities were clean. People and staff were very pleasant. All the dogs i came into contact with my dogs were well trained and controlled by their owners. My grandchildren loved the pool and playground.
Jan 18, 2021
This is our second stay. We stay here because of location. Close to lots of attractions.
Jan 18, 2021
Extremely welcoming, staff was helpful and spots were level and spotless. Highly recommend!
Jan 18, 2021
Very very clean, quiet place. Nice roomy laundry and showers. People are very friendly.