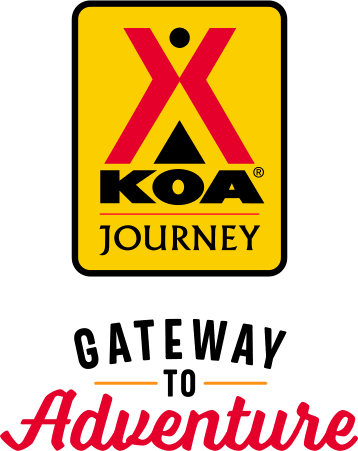 KOA Journey Campgrounds
KOA Journey campgrounds are the perfect oases after a day on the road. Whether it's along the way or a quick getaway, they've got you covered. Located near the highways and byways of North America with long Pull-thru RV Sites, they deliver convenience to the traveling camper. Pull in, ease back and take a load off.
KOA Journeys Feature:
Pull-through RV Sites with 50-amp service
Premium Tent Sites
Well lit after hours check-in service
Directions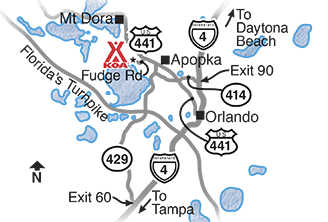 FROM TAMPA & I-4 EASTBOUND*: Take I-4 Exit 60 for FL-429 North toward Apopka/Mount Dora. Take 429 to exit 34 SR 429 Connector Rd. turn Left to US-441 North (Orange Blossom Trail) Mount Dora. Turn right onto US-441 North toward Mt. Dora. Get into left lane and in 1/2 mile turn Left onto Fudge Road. Orange Blossom KOA will be immediately on your right. (DO NOT FOLLOW YOUR GPS THAT SAYS MAKE A U-TURN LOOK FOR OUR BILLBOARD) FROM DAYTONA BEACH & I-4 WESTBOUND*: I-4 W to FL-46 exit 101C.  Turn Right on FL-46 W go about 10 miles, then Left on FL-429 S.  Exit 34 then Right on SR 429 Connector Rd toward US-441 North (Orange Blossom Trail) Mount Dora. Turn right onto US-441 North toward Mt. Dora. Get into left lane and in 1/2 mile turn Left onto Fudge Road. Orange Blossom KOA will be immediately on your right. (DO NOT FOLLOW YOUR GPS THAT SAYS MAKE A U-TURN, LOOK FOR OUR BILLBOARD). FROM MOUNT DORA: Head South on US-441 (W. Orange Blossom Trail) for approximately 9 miles. 1/2 mile past the Orlando-Apopka Airport, turn Right onto Fudge Road. Orange Blossom KOA will be immediately on your right. FROM I-75 heading south, exit onto Florida Turnpike North, continue to 429 North toward Mount Dora to exit 34, turn Left on 429 Connector Rd then Right on US-441N (Orange Blossom Trail). Get into left lane, go .5 miles, turn left onto Fudge Rd. KOA will be directly on your right.  Watch for our billboard, do not follow GPS instructions to do U-Turn.
Get Google Directions
Sep 14, 2021
This was our second stay, we chose a pull through this time because they are father from the highway. I would give this campsite a 5 star but between traffic and airplanes , it is a bit noisy. But we will not let that deter us from coming back Because it is close to many of the attractions
Sep 13, 2021
I stayed for 1 month and enjoyed the pool and the gracious campground hosts as well as the quiet, clean campground.
Sep 13, 2021
This KOA is great! I have no idea where the negative reviews come from...probably the past because the current situation is "good times" and the future of this location looks bright! Get a site booked before everyone else figures that out!
Sep 08, 2021
Very quiet park with an AMAZING staff. I will definitely stay here anytime I am in the Orlando area.
Sep 08, 2021
Clean, friendly and quiet campground. Would stay here again.
Sep 07, 2021
We've been to several KOA's. This one is now my favorite. The site was awesome. The pool was fantastic, not to cold, not to hot! Everything was clean. Alice and Mike are great people. Really enjoyed meeting them. We will be back for sure. It was terrific.
Sep 07, 2021
Very clean and quiet. A nice place.
Sep 07, 2021
Very nice place and staff.
Sep 07, 2021
It's always a pleasure to stay at this KOA Campground. It's an unknown secret!
Sep 07, 2021
Staff was so friendly to us and our dogs. Very well kept grounds and pool. My son loved that it had a deep end! Convenient to see Mount Dora or drive into Disney.
Aug 31, 2021
We had a wonderful time here. The grandkids visited and we used the playground and swimming pool each day. Both were very clean and nice. I would come back again in the summer.
Aug 31, 2021
At the end of an airport runway, every time a plane flew over the TV signal was lost. Not ADA compliant, no wheelchair accessible toilets, sinks, or showers. Train tracks right outside campground, no trains while we were there though. KOA flag tattered and torn and USA flag not at half staff as ordered. Been here several times, worst stay ever. No wonder the campground was empty.
Aug 31, 2021
Loved the place. The Hosts were awesome, very cordial and helpful. Swimming pool was nice and clean, bathrooms were spotless and the whole campground was really clean and well kept.
Aug 30, 2021
Stayed one night. Nice campground. Mosquitoes were intolerable, even though we were sprayed down with Deep Woods Off. New manager could be a bit more polite. Maybe she deals with all sorts of difficult people, but being a crab about one issue she had with us was uncalled for.
Aug 28, 2021
Great staff, plenty of room, grounds are perfect. Just 5 minutes from town and an easy drive to the attractions.
Aug 25, 2021
Very clean. Spacious sites. Great K9 area.
Aug 20, 2021
Nice, under a shade tree. Well kept, clean, trash pick up, and a large dog park.. I only wish they had weekly rates.
Aug 17, 2021
Staff was awesome. Facilities very clean. Prices for campsite is very expensive.
Aug 16, 2021
This is our favorite KOA in the Central Florida area. We like that the people who work here are friendly and seem to be constantly workin to maintain the campground in top condition. Also, while there are a few long stay campers, this location has everything we need. Visiting the attractions? KOA Orange Blossom Trail is a very good choice; not too close and not too far from the action.
Aug 15, 2021
Super nice and helpful people, very clean!
Aug 12, 2021
Wonderful layout!! Spacious with plenty of space between each unit! Large shade trees throughout!!
Aug 10, 2021
Okay, stay but no shade what-so-ever to any of the pull-thrus
Aug 10, 2021
This campground is in a great location, close to Mt. Dora, and with easy highway access to Orlando. We were able to keep in contact with our businesses, approximately half an hour away, and also enjoy exploring the Mt. Dora area. Management are always very accommodating and helpful, and we really enjoyed our week here. Thank you, and we will be returning soon.
Aug 09, 2021
. I loved the cleanliness and maintenance of this RV park. Alice was fantastic. I will be back
Aug 09, 2021
Great place to stay. Pool is very nice. The granddaughter's loved the 4 person bike rental. Definitely would stay here again.
Aug 09, 2021
I love this place is nice and the staff#1
Aug 08, 2021
Was just Perfect!!! The staff was very professional and helpful
Aug 04, 2021
ARE GRANDKIDS WONT GO TO ANOTHER PARK . THEY STAY BUSY ,AND THATS WHAT GRANDPARENTS LIKE .EVERYBODY THERE IS EXTREMLY NICE TO US AND THE KIDS
Jul 27, 2021
Place was clean and had nice spacious lots.
Jul 26, 2021
Nice, clean campground. Had a good time! Staff was friendly and helpful.
Jul 26, 2021
Staff was excellent and the grounds were well maintained. The amenities were very good however the local channels on cable were a little weak. Bath house and pool were very nice and clean. We loved the proximity to Mt. Dora and will definitely be back.
Jul 26, 2021
Very Very helpful staff.
Jul 21, 2021
The ladies in the office gave us perfect attention and professionalism!
Jul 21, 2021
This KOA is a gem. It is Journey, but it certainly would be a comfortable stopover for a night or even a week. It is well laid out with space between sites, a nice pool, store, and other amenities. The owners were very kind and helpful. The WiFi was very good at the time we stayed here. We will definitely stay here again when we are passing through the Orlando area.
Jul 19, 2021
It is always a pleasure to stay at KOA Orange Blossom trail. It's the PERFECT place to stay when coming into Florida from out ot state to visit the many Central Florida attractions. No, it's not across the street from Disney World but it's a nice drive while avoiding the traffic-congested area all around the attractions. Visiting Central Florida? This gem is the place to stay in your RV!!
Jul 17, 2021
Originally was staying for 14 days. However, my pickup broke down and I was stranded for an additional 2 weeks. The staff at the KOA worked with me to allow me to extend daily and weekly, until my pickup was fixed.
Jul 17, 2021
Basic KOA Journey, with a pool and dog park. Very clean, helpful staff, friendly people. Within 30 mins of most Apopka and Orlando area attractions. Easy drive to Kelly Park/Rock Springs. Wish it had more shades areas.
Jul 16, 2021
We love it! One of the cleanest places on our trip! We will be back!
Jul 15, 2021
The place was nice, but double the price of all other RV parks around. The internet did not work the first night we were there.