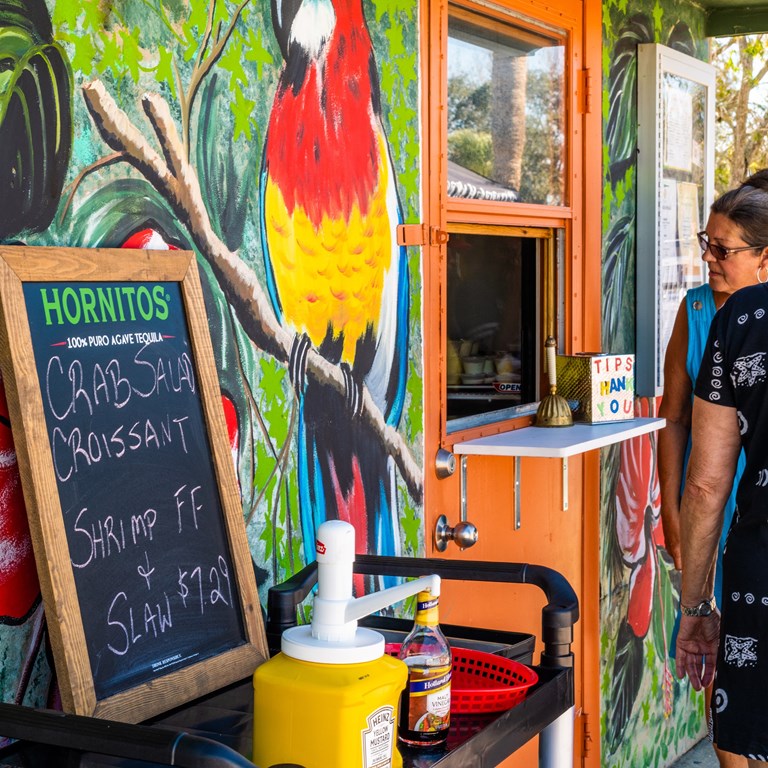 Okeechobee KOA Resort Lunch Box
Weekend Hours
May 08, 2018 - May 08, 2021
7am-7pm
Friday, Saturday
Weekday Hours
May 08, 2018 - May 08, 2021
7:00am-6pm
Sunday, Monday, Tuesday, Wednesday, Thursday
Enjoy a quick breakfast, lunch or snack at the Okeechobee Lunch Box. Conveniently located in our General Store, it's the perfect place to grab a bite before hitting the links or cooling off in the pool. Serving big breakfasts, juicy burgers, fresh wraps, pizza and perfectly scooped ice cream -  you won't leave hungry!
HOURS
Sunday - Thursday, 7:00 am to 6:00 pm
Friday - Saturday, 7:00 am to 7:00 pm
Hand Dipped Hershey's Ice Cream
Treat yourself to a cup, cone or sundae in your choice of flavor!
$2.25 - $4.75.
Hungry Man's (Lady's) Breakfast
A fresh cheese omelet served with your choice of sausage or bacon accompanied by toast, orange juice and coffee.
$5.99
Egg, Cheese, Bacon, Onions, Jalapenos, Black Olives, Tomatoes, and a side of Sour Cream & Salsa
$5.49
Your choice of sausage or bacon paired with egg and cheese on a fresh bagel or English muffin.
$2.49
Enjoy a freshly toasted bagel or  English muffin with your choice of butter, cream cheese or jam.
$1.19
Your choice of toasted bread accompanied by butter, cream cheese or jam.
$0.79
With bacon, ham, or sausage, served on a bagel.
$3.99
Burgers
All burgers served with chips
Hot Dogs and Sandwiches
All sandwiches and hot dogs served with chips
Get this sandwich on a bun or in a wrap!
$5.99
Try this crowd favorite as a sandwich or a wrap!
$5.99
A classic grilled cheese sandwich - add bacon and tomato for $1.00
$3.99
Jumbo Cheese and Bacon Dog
Cheese, grilled onions on white, wheat, or rye.
$6.99
Enjoy a cooked to order 12 inch cheese pizza
$7.49
Pepperoni, sausage, ground beef, black olives, onions, jalapenos, mushrooms, extra cheese - add any toppings to our classic cheese pizza for just $1 each
$1.00
An order of 12 wings served plain or spicy with a side of dipping sauce: ranch, blue cheese, honey mustard or BBQ
$9.99
Four chicken strips served with your choice of dressing: ranch, blue cheese, honey mustard or BBQ
$5.79
Ranch, blue cheese, honey mustard, BBQ
$1.00
Make it a Chef or Grilled Chicken Salad.
$5.99
Enjoy a fresh, hot pretzel with mustard or honey mustard dipping sauce.
$2.79