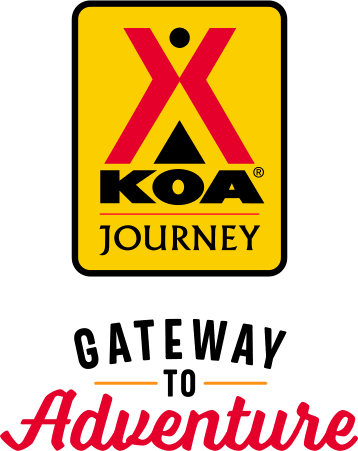 KOA Journey Campgrounds
KOA Journey campgrounds are the perfect oases after a day on the road. Whether it's along the way or a quick getaway, they've got you covered. Located near the highways and byways of North America with long Pull-thru RV Sites, they deliver convenience to the traveling camper. Pull in, ease back and take a load off.
KOA Journeys Feature:
Pull-through RV Sites with 50-amp service
Premium Tent Sites
Well lit after hours check-in service
Directions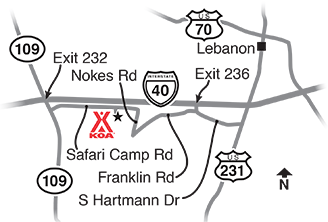 Eastbound I-40 exit 232A SR-109. Immediately get into the left lane and turn onto Safari Camp Road just after the on-ramp. Campground is two miles. Westbound I-40 Exit 232 SR-109. Turn left and go over the interstate. Take the second left, Safari Camp Road. Campground is two miles. I-840 Exit 72B Central Pike/SR 265. Go 3.6 miles and turn right onto Safari Camp Road. Campground is two miles.
Get Google Directions
Oct 18, 2021
The crew working was super friendly and helpful, campground was very clean and it was a great place to stay.
Oct 18, 2021
Beautiful campsite, great helpful staff. Couldn't be better!
Oct 18, 2021
Very level sites, lovely staff, convenient location. A great place to spend the night! Our site was so level we didn't have to unhook from the tow vehicle.
Oct 18, 2021
Get location. Friendly staff. Clean place. Great decorations
Oct 18, 2021
We used the KOA as a over night stop traveling west on I-40. It was clean and we'll run. We didn't use any of the facilities but everything looked great.
Oct 18, 2021
We arrived late and didn't see how nice the campgrounds were until next am
Oct 17, 2021
Nice park, great for pets
Oct 17, 2021
Outstanding! Staff was very helpful and kind. Comp me a bag of ice and a bundle of firewood for picking litter on the naraly hillside next to my site.
Oct 16, 2021
Very family friendly. Loved seeing all the smiling and laughing children. Very clean restrooms. Overall a great place.
Oct 15, 2021
Nice place. Our site was very unlevel though. Gravel site. With the cost of KOA's you would think they would all have level sites but not the case.
Oct 15, 2021
Very friendly staff. I found them. Very knowledgeable about the surrounding area when I asked about places to take pictures.
Oct 15, 2021
Great place and staff!
Oct 13, 2021
Nice place for an overnight stay. Spots are close together, but there is lots of "green" - grass and trees surrounding the area. Campground is clean, quiet, and well-kept. We stayed here twice, on our way to and from North Carolina, and the staff was friendly and helpful. The laundry room was clean & I didn't have to wait ($2 for wash and same for dry.) I had good Verizon phone and LTE connection.
Oct 12, 2021
Truly enjoyed our stay. The staff were friendly and the location was great.
Oct 12, 2021
It was excellent
Oct 12, 2021
Staff was very friendly and helpful. Very clean and quiet campground. Would definitely stay again
Oct 12, 2021
I had a tent campground. It was not on particularly level ground, so I had to put my tent in the corner. On the 2nd night of my stay a family showed up at 2:30 in the morning with their toddler and dog and set up camp within 10 feet of my tent. I would have assumed there were rules against such late arrivals, and that they would have been enforced. The tent sites are too close together
Oct 11, 2021
Quiet, clean, and friendly staff clean bathrooms also
Oct 11, 2021
everybody was so nice & helpful
Oct 11, 2021
Its great.We especially appreciate the staff. Merlin and Marty were super helpful. Above and beyond. Susan, worked very hard to arrange our time here. Thabk you to everyone for exceptional service!
Oct 11, 2021
I stayed in P8, a Hammock Hut, it was just the place I needed. Thank you all for your hard work keeping the place clean and organized. I'll be back.
Oct 11, 2021
We really enjoy this location and campground.
Oct 10, 2021
Everything was very nice. The park is small, but well kept and ready access to interstate. The staff was helpful and friendly.
Oct 10, 2021
Nice facility. Great people. Just too close to the freeway. (Noisey)
Oct 10, 2021
Campground was clean and staff friendly and nice. Sites were difficult and not level. Located right next to the highway noisy all night. WiFi very irritating very good signal but so low bandwidth it was not viable. There was an option for premium at $4 per night. Think they should just raise daily rates and make it part of the rent since no cable.
Oct 10, 2021
Great little campground with friendly & helpful staff. 30 min to Nashville. I would stay again. Dave
Oct 09, 2021
This campground is well maintained and we had no issues at all. I only wish that it was a little closer to Nashville or had a quicker way to get on I-40.
Oct 09, 2021
Good location, easy access. Sites are too close to each other. Very expensive option for what you get.
Oct 09, 2021
Great staff, very friendly & helpful. I would definelty come back.
Oct 07, 2021
Wonderful staff and comfortable site! Aaron and Rachel are awesome!
Oct 07, 2021
Very friendly staff and great sites!
Oct 07, 2021
Very clean. We had nice level site. Only negative is narrow road leading to campground. Check in very friendly.
Oct 06, 2021
Loved the Cabin. it was so nice to get away. Thank you!!
Oct 06, 2021
Great stay here in our 23-ft. travel trailer for 5 nights. Sites are nice, and we got an end site overlooking a lovely field and trees. The KOA is rather hilly, and we did see several really big rigs come in and they were able to navigate to the larger spots. Clean restrooms and laundry. Very nice office staff, too!
Oct 05, 2021
We enjoyed our time. We were glad our cabin had lots of space as it rained all day, 1 of the days while we were there. My kids enjoyed the playground and basketball court. The staff was also fantastic and helpful.
Oct 05, 2021
I tent camped and when made reservation only saw electric site open which i did not need but needed to stay. Not the best site. Primitive sites are much better.
CAMPGROUND RESPONSE / COMMENTS:
Thanks for staying with us! Give us a call next time, we can get you into a site you prefer. Hope to see you again soon!
Oct 14, 2021
Clean pleasant KOA. A bit tight compared to some other KOAs. Good location.
- John V on Google
Sep 27, 2021
The whole staff was awesome from giving directions to things to do had bringing you to your site was awesome would go back again
- D D on Google
Sep 01, 2021
Just an overnight stay at this park, but cozy, clean & friendly. Near Nashville - an easy drive. Nice pool, picnic pavilion, kids area, doggy park. We will be back
- mary jo morman on Google