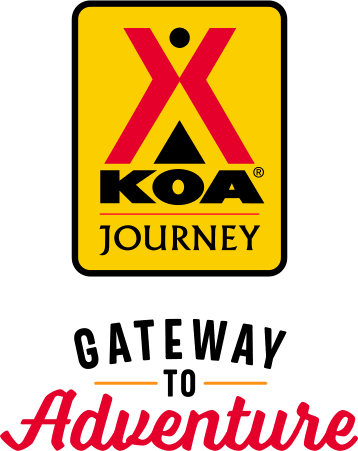 KOA Journey Campgrounds
KOA Journey campgrounds are the perfect oases after a day on the road. Whether it's along the way or a quick getaway, they've got you covered. Located near the highways and byways of North America with long Pull-thru RV Sites, they deliver convenience to the traveling camper. Pull in, ease back and take a load off.
KOA Journeys Feature:
Pull-through RV Sites with 50-amp service
Premium Tent Sites
Well lit after hours check-in service
Directions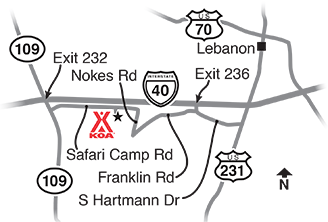 Eastbound I-40 exit 232A SR-109. Immediately get into the left lane and turn onto Safari Camp Road just after the on-ramp. Campground is two miles. Westbound I-40 Exit 232 SR-109. Turn left and go over the interstate. Take the second left, Safari Camp Road. Campground is two miles. I-840 Exit 72B Central Pike/SR 265. Go 3.6 miles and turn right onto Safari Camp Road. Campground is two miles.
Get Google Directions
Apr 05, 2021
It was great
Apr 05, 2021
Great koa. Clean and well kept. Staff very freimdly amd helpful.
Apr 04, 2021
We are workkampers just traveling through. Some we arrived after the office was closed, but received a phone call with the after hours procedure. We were escorted to our site when we arrived, we had requested a site which we could remain hooked to our vehicle & we had plenty of room to do so. We didn't get a chance to see all of the park but what we did see was lovely! Thank you!
Apr 03, 2021
This was our first KOA visit so we didn't know the significance of the "Journey" type camps (close to the highway). The staff was helpful and friendly. The camp was well maintained.
Apr 02, 2021
Stay was great. Bath houses are the cleanest I have ever seen at a campground. The management are professional and always willing to assist. I will be back !
Apr 01, 2021
Enjoyed our stay. The only issue was that Trip Advisor took us via a final route (after leaving the interstate) that was not RV friendly. I would really suggest calling the campground ahead of time to ask the proper way to arrive.
Apr 01, 2021
We stayed for 2 nights, hoping to do some things in Nashville. Record-breaking rain and severe thunderstorms interfered with our plans, but due to the "high ground" nature of this campsite, we had no problems with flooding. Management was friendly and helpful.
Mar 31, 2021
Stop over on way back from North Carolina and the hosts were friendly and responsive. Definitely would recommend and stay again
Mar 31, 2021
Easy in and out, friendly staff, nice store
Mar 28, 2021
The staff was very accommodating. The faculties were clean and the grounds were well kept. We had a terrible rain storm one night and the following morning the staff were at it bright and early cleaning up and making repairs of the roads throughout the grounds. Good job.
Mar 27, 2021
Nice campground and great people!!
Mar 26, 2021
Very welcoming staff and nice campsites. Laundry was neat and clean.
Mar 25, 2021
Great location!
Mar 22, 2021
Very friendly people.. reservation in order.. hookups very well maintained. All in all a very nice place to stay.
Mar 22, 2021
Helped with our needs - even down to the parking our RV in a tight area - clean restrooms- clean wash house - no complaints here
Mar 22, 2021
We loved our one night stay at the Lebanon TN KOA. The campground was most enjoyable! The staff was very kind and most helpful. When we are in this area again we will certainly hope they have a space open for us!
Mar 22, 2021
Came in late and left early, so never got to meet the staff. Seems really well done and much nicer and cleaner common areas (that I did use) than many hotels I've paid a lot more for. I will be back.
CAMPGROUND RESPONSE / COMMENTS:
Thank you! We're glad you enjoyed your stay, and we look forward to having you back.
Mar 21, 2021
Great place to stay! Restrooms are very clean and updated. We were able to book online and then ask for a late check-in. Park is quiet and the sunrise view is amazing!
Mar 17, 2021
Nice place to stay.
Mar 16, 2021
The staff was friendly and helpful!
Mar 15, 2021
Ryan helped us back into our spot and pointed out amenities. Helpful without being annoying. Clean restroom!!!!
Mar 13, 2021
Beautiful location, very peaceful, all amenities available. Nothing to complain about.
CAMPGROUND RESPONSE / COMMENTS:
Thank you for staying with us, and for the kind words! We hope to have you back in the future.
Mar 12, 2021
Libby and her staff are hard workers, friendly and courteous.
Mar 11, 2021
The staff was so friendly. Restrooms always clean. Great place to stay and I would highly recommend it!
CAMPGROUND RESPONSE / COMMENTS:
Thank you for staying with us and for the review!
Mar 10, 2021
The camp was great and as expected. The location was just ok since we could hear the highway noise the entire time. But on the flip side it was easy to get to. This is the second KOA we have stayed at and they were both nice.
Mar 09, 2021
Friendly, helpful staff. Site was easy access for my 40 foot class A, flat towing an F-250.
Mar 08, 2021
Enjoyed our time there!!
Mar 08, 2021
Thank you for your creativity in finding a space for me and my classic canned ham travel trailer when I needed rest on a long road trip.
Mar 07, 2021
Very friendly staff
Mar 07, 2021
Very easy access off l 40 pull through are easy in&out
Mar 04, 2021
Notable Items from my stay: - Staff are amazing!! Everyone went above and beyond throughout my stay. Rachel at the front desk even called and asked how I was doing during the major snow/ice storm recently. Dennis was always there to help out, even with a smile!. Ryan did a great job managing the property. - Everything was well maintained - Would prefer concrete pads, in lieu of stone.
Mar 03, 2021
Just an overnight friendly people to help you!!!
Feb 25, 2021
Our stay was during the Winter Storm 2/2021. We are from Florida and weren't prepared for this storm at all. We actually left our TT for an extra week while we drove back to Florida. All of the people in the office were so helpful and friendly. Ryan one of the guys there actually kept check on our TT for the week we weren't there. Definitely would stay again. Thanks to all of you! Great KOA!!!
CAMPGROUND RESPONSE / COMMENTS:
Thanks for staying with us! We're glad it all worked out, and we hope to see you again soon!
Feb 15, 2021
Please change the signage as you exit the campground....the only way to I-40 should be to the left,,,no matter which direction you wish to travel on I-40 !!!!
Feb 06, 2021
Just an overnight stay, but we were welcomed by Ryan who was friendly and helpful.
Feb 04, 2021
1st time in a KOA staff was very friendly and helpful. Thanks!
Jan 31, 2021
The campground overall was nice. The site was fairly level and plenty long enough for our extra vehicle to park within the site. However, our one complaint would be the internet. Would I have known prior to arriving that you have to pay a daily fee for WiFi in order for it to even open a webpage I probably wouldn't have been quite as perturbed as it was arriving after hours and finding out.
CAMPGROUND RESPONSE / COMMENTS:
Thank you for staying with us! There is a small fee to upgrade Wifi speed if the basic free internet isn't enough for what you're working on. This is starting to become more and more common at campgrounds, as it ensures that the guests who really need extra bandwidth will get it.
Jan 24, 2021
Great site and fantastic staff. Always accommodated our needs. I recommend this KOA to anyone.
Jan 21, 2021
Greeted by the Security Person and it was so nice he had us follow him to our site. It was so helpful.
Jan 19, 2021
Park is very nice, quiet and safe. Bath/shower rooms are modern and spotless. Grounds are clean and well maintained with nice seasonal decorations. Staff is always out and about the park if there are any concerns, they will address quickly. Office staff very efficient. I was there for a few months for work/school.
Jan 19, 2021
Outstanding! Could not have ask for a better stay!
Jan 16, 2021
We stayed one night on our way to see our newborn Grandson in Charlotte, NC. Because Covid is so contagious we requested contactless check in. Nashville East KOA honored our request & were just awesome! We appreciated it so much...Thank You Nashville East.
CAMPGROUND RESPONSE / COMMENTS:
Thank you for staying with us! We're glad you enjoyed your stay!
Apr 09, 2021
Quiet and very peaceful
- Shawn Norris on Google
Apr 04, 2021
Perfect place to stop for the night. Conveniently located off the highway. Sites are close but doesn't matter if you are just trying to get some sleep to get back on the road.
- J W on Google
Mar 15, 2021
Great place, unfortunately it rained for most of our stay. Staff is very personable and helpful. Definitely would stay again. A shout out to Rachel, you were really great.
- Deborah Meade on Google