Where to Go on Vacation From Wilmington, NC
With its rich history, thriving river district and local island beaches, Wilmington is the gem of coastal of North Carolina. While the city is known for its beauty, charm and undeniable Southern hospitality, sometimes it is nice to get away and experience other exciting locations. If you are hitting the road in your RV or packing up the car for a last-minute vacation, there are plenty of fun trips and great deals that are not far from Wilmington, NC.
Vacation Destinations Close to Wilmington, NC
Whether you call this maritime city your hometown or you want to add some other nearby experiences to your Wilmington vacation, here are some great destinations you will not want to miss.
Zoom in to Charlotte, NC for Some NASCAR
Stock-car racing continues to be one of the most widely popular sports in the United States. If you love the thrill of NASCAR, then a pilgrimage to Charlotte, NC, is a must. This city is proud to be the home of the Charlotte Motor Speedway, one of the busiest sports complexes in the country. NASCAR fans and novices alike should also pay a visit to the NASCAR Hall of Fame, where you can learn how this competition has grown and evolved throughout the years.
Get Wild in North Carolina's High Country
If you're truly looking to get away, then the quaint charm of mountain living may be calling your name. The High Country of North Carolina offers breathtaking scenic splendor, rugged hiking and gorgeous winding rivers. Within this natural playground, you can fish, horseback ride, hike and raft down white water rapids. Over 120 miles of the famed Blue Ridge Parkway runs through the NC High Country, so be sure to make this scenic drive a part of your plans.
Experience the Luxury of an American Castle in Asheville, NC
Explore a genuine French Renaissance castle in the heart of North Carolina. The Biltmore Estate in Asheville, NC, was built by American royalty George and Edith Vanderbilt in the late 1800s. The chateau has 250 rooms of antique furnishing and lush surroundings. The estate itself stretches over 8,000 acres and includes scenic gardens, a winery and hiking trails.
Escape for Excitement and Entertainment in Myrtle Beach, SC
If you're planning a vacation from Wilmington, all you need to do is drive down the coast for a weekend escape to Myrtle Beach, South Carolina. The Grand Strand has a little something for everyone, including gorgeous beaches, a family-friendly boardwalk and diverse shopping.
If you are coming with kids, there are tons of great rides, beautiful nature reserves and beachfront fun. Yet, adult visitors would likely argue that Myrtle Beach gets better after dark. The downtown district includes some of the best nightlife in the region. Listen to some great bands, dance the night away or grab a few drinks with friends. You will love how the city transforms at sunset.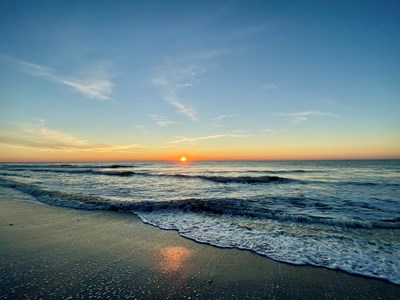 Plan Your Stay at Myrtle Beach KOA
Myrtle Beach is one of the East Coast's premier vacation hot spots, and Myrtle Beach KOA is your source for affordable, comfortable and fun-filled accommodations. We offer incredible vacation packages to visitors from Wilmington, NC, and beyond, so get ready to pull in with your RV or experience one of our luxurious and socially distanced Deluxe Cabins. You are in for an unforgettable stay that you will want to repeat over and over again. Whether it is fall, winter, spring or summer, book your reservation at Myrtle Beach KOA today.