Directions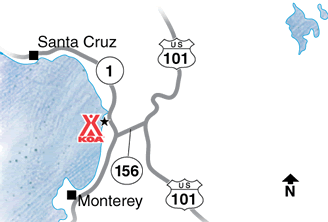 Moss Landing KOA is located just off of Highway 1 to the west, at the corner of Moss Landing Road and Sandholdt Road. From US-101, we recommend taking Exit 336 for Monterey Peninsula/CA-156 West toward Castroville, then take CA-183 to Highway 1 north.
Get Google Directions
Oct 12, 2021
Always a great time.
Oct 12, 2021
Nice people. Clean, efficient, and equipped facility. Close to excellent beach, restaurants, and tours.
Oct 11, 2021
This is our second stay at Moss Landing this year, we are new to RVing and love this spot. Liz in the front office is always helpful, he partner that's outside helps get my husband parked by the time I step out to help set up camp. Love how clean the sites are walking distance from Phil's and the Whole Enchilada.
Oct 10, 2021
Ben and Liz are wonderful camp hosts. This is my favorite place to go on the coast.
Oct 08, 2021
Clean and employees were nice.
Oct 08, 2021
We loved the location, went for walks every morning and afternoon to look at the harbor and water.
Oct 07, 2021
We had a great time. Close to beach and great restaurants. Management great and they keep grounds neat and clean.
Oct 06, 2021
We went Sunday through Tuesday. It was so quiet, and so relaxing. The hosts were really nice, and the pads were level and well spaced. I especially loved the grass and trees!
Oct 06, 2021
Wonderful place to stay, and we will be back.
Oct 06, 2021
6 nights flew by. Very nice location. Weather was perfect. We enjoyed it all.
Oct 05, 2021
Always friendly folks at Moss Landing KOA. We visit at least twice a year.
Oct 05, 2021
This was our first visit. The office staff was very nice and friendly. But our campsite, #1, was awful! An open wire fence was no protection from the cold wind , or traffic noise, and offered no privacy from the parking lot (behind it) comings and goings. We could not sit outside at all. Most all the sites on our side shared the same problem. A more solid fencing would make a huge difference.
Oct 05, 2021
Great location! Restaurants and things to do within walking distance. Very clean park with great hosts!
Oct 04, 2021
Clean, friendly
Oct 04, 2021
Your park is nothing more than a parking lot.
Oct 04, 2021
Friendly staff and clean campgrounds. I would definitely recommend staying here.
Oct 04, 2021
Very nice stay. Park was very clean Restrooms very nice and clean. Great location as well. We had a great time. Alex, who works there, was very helpful and professional. She helped us stay for two extra nights by finding a spot. We had to move spots, but that was fine. She was a great help! Thanks, Alex
Oct 04, 2021
It's always a pleasure to stay there. The camp hostess is always so chill, kind. So much to do around there and literally just a short walk to the beach.
Oct 03, 2021
Clean and well managed, we had a great time here.
Oct 03, 2021
Excellent service, clean park and great location!
Oct 01, 2021
Moss Landing is a well maintained facility with friendly, helpful staff. It's walking distance to a lot to see and do.
Oct 01, 2021
It was very enjoyable. The hostesses were extremely friendly and helpful asking how everything was going when ever they were nearby. Great central location and very good food close by.
Oct 01, 2021
1 hour from home for a nice getaway at the coast. All nice and accommodating staff. I'll be back again!
Sep 30, 2021
Great greeting and warm welcome .. thanks for the cookies ! Immaculate park Wonderful hosts
Sep 30, 2021
A wonderful park, great location and wonderful area to walk!
Sep 30, 2021
Very friendly staff who went above and beyond in changing our accomodations, clean facilities and well kept park.
Sep 29, 2021
Very clean close to Monterey and Phil's fish market
Sep 29, 2021
Great Friendly Management team, the park is always clean and everything works each time we visit.
Sep 29, 2021
My husband and I enjoyed the convenient location of this KOA. We were close to the Marina and signed up for an eco tour on Elkhorn Slough. We walked to a restaurant for lunch and later went to the beach to enjoy the sunset.
Sep 29, 2021
This was a great place to visit. I don't like KOA campsites in general but this one is not cramped. The sites are planned out well. Thanks for the stay.
Sep 28, 2021
very clean and quiet...easy parking and close to food
Sep 27, 2021
The park is well kept and the people are friendly and informative.
Sep 27, 2021
Very nice, clean. Love the sound of thr seals and the rooster!
Oct 09, 2021
The Moss Lading KOA is on Monterey Bay, and the beach is only about a 10 min away. It is a small park, the sites aren't huge, but we had site #35, which was on the end so we only had neighbors on one side. The staff is attentive, and I appreciated seeing them in the park wandering around and checking everything was OK. Great location to visit Santa Cruz to the north and Monterey Aquarium to the south.
- Kiwiwaldo on Trip Advisor
Sep 22, 2021
Basic, clean, good location.
- Bob Harrison on Google
Sep 18, 2021
Friendly staff. Very clean and well maintained. Great location.
- Darrell Odom on Google