Alert
The health and safety of our guests is important to Moss Landing KOA. Due to COVID-19, our common areas, including bathroom and fire-pit area will remain closed. Please be advised that all RV's must be self-contained as the bathrooms at the campground are closed. All sites include Water, Electric, Sewer and Cable. We ask guests to maintain social distancing and Monterey County and State of California issued an order requiring individuals to wear face covering. No day use or outside guests at the park. All guests must be registered at the campground. Call us at 831-633-6800 for further information.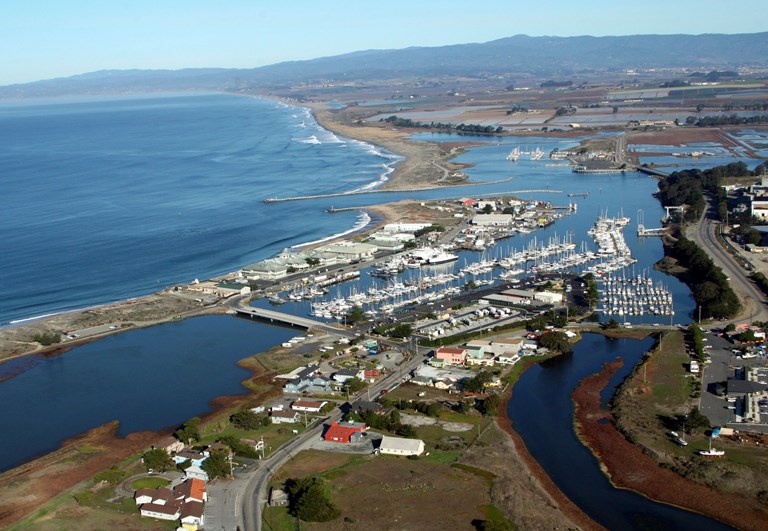 Moss Landing KOA Express Reviews
Directions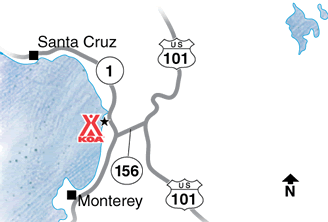 Moss Landing KOA is located in the heart of Monterey County just off Highway 1 to the west, at the corner of Moss Landing Road and Sandholdt Road.
Get Google Directions
Oct 19, 2020
The proprietors were fantastic and helpful. Sites were clean and well-maintained. The area is safe and interesting
Oct 19, 2020
We loved our stay. It was awesome. Everything is so convenient.
Oct 18, 2020
We always love it there because of the proximity of restaurants and beach. The spots are very narrow with no privacy at all so we don't sit outside much. Other than that, we like it!!
Oct 17, 2020
The staff were helpful and friendly. The grounds were near immaculate, and we saw continual maintenance and cleaning being performed. The sites are close together and some are right next to a busy roadway (our site), but after settling in we hardly noticed it. There was more noise from the sea lions, but I don't think that's a bad thing. The location is fantastic for day trips to the area.
Oct 17, 2020
Pros: Location, very clean, great staff. Cons: No wi-fi at our site, very tight spaces, quite noisy area.
Oct 17, 2020
Great new wifi! All the same great restaurants in the area and of course the distant sound of the ocean and sea lions.
Oct 17, 2020
Rvs are packed in tight but very close to harbor for tours.
Oct 16, 2020
Very clean everyone was very friendly we are planning on returning for sure
Oct 16, 2020
Nice park...
Oct 16, 2020
The camp Host was very friendly and nice and helpful in the grounds were very clean
Oct 16, 2020
Fantastic as usual !! Really don"t want to tell anyone about it because its sooo good and getting hard to reserve a spot. But we do share about it and highly reccomend it to our friends or other RVers we see at other KOAs
Oct 16, 2020
Great place for a midweek getaway.
Oct 15, 2020
Very clean and the people there where very friendly
Oct 15, 2020
Small, well-maintained park. Staff is professional, polite, and welcoming.
Oct 15, 2020
Clean. Well maintained. Great customer service
Oct 15, 2020
Very clean and nice people.
Oct 13, 2020
Love this place. Very clean. SUPER friendly staff. Can't wait to go back.
Oct 13, 2020
Friendly and enjoyable as always
Oct 12, 2020
This was our first stay and we enjoyed it immensely. The hosts were welcoming and the location was great. We walked everywhere we wanted to go. The park is very nicely maintained, clean, and attractively landscaped. The parking pads are pretty much level. We didn't even have to use any levelers. Greatly enjoyed our stay and can hardly wait to return. It's a high demand park, so plan ahead!
Oct 12, 2020
Great spot. Spent 5 nights. Very clean and well kept. We will be back!
Oct 12, 2020
Especially quite during the week with mainly seniors........Great Hosts..(especially the female but unfortunately I did not get get name.)......very helpful with my questions and I had several. Will definitely go back...
Oct 11, 2020
We come here usually in April but of course the Sea Otter Classic was moved to Oct. 1-4 so we rebooked. Then Sea Otter was completely cancelled and we came up anyway. The location is fantastic for us. We love to beachcomb, walk to Phil's for fresh fish, Whole Enchilada. That's the great thing about it. You can walk to most things we love to do. Then there's Monterey, wineries, etc. Lots to do.
Oct 11, 2020
Moss Landing KOA is a clean and well maintained park. The staff are courteous, helpful and very pleasant.
Oct 11, 2020
Thursday night and Friday night other KOA campers stayed up until after midnight yelling, laughing and playing loud music.
Oct 11, 2020
Even during the Covid19 crisis the staff was well prepared to take in the guests and help them get settled. Very friendly and helpful. Note: The WiFi had been updated we were told, but we still had a difficult time staying connected and it was pretty slow. Not so bad for us as we were there for R&R not be on the grid. The park is very well maintained and we will go back again.
Oct 11, 2020
Neat and clean
Oct 10, 2020
quiet at night and the grounds keeper keeps the place cleaned and mowed1 and the receptionest is helpful and polite ! gfreat plce to stay at been there now four different times !
Oct 10, 2020
We had a wonderful time. The location is fantastic. The sounds of the seals was more than relaxing. The staff was very helpful. The park was clean and well maintained.
Oct 10, 2020
The park is small but maintained very well. The staff was friendly, informative and really very hard-working. "Liz" and "Debbie" in the office were both very nice and the two maintenance men never stopped pruning or cleaning! Definitely our new "go-to" place. Thank you, please reward that staff...
Oct 09, 2020
Even in these trying times with Covid-19, we had a very enjoyable stay at Moss Landing KOA. We were there with friends...kept our distance and wore a mask and loved the food at the nearby restaurants (Haute Enchilada and Phil's Fish Market) where there was outside dining and/or takeout! This was our 4th time staying at Moss Landing KOA...I would highly recommend it!
Oct 09, 2020
This KOA is a gem among campgrounds. Extremely well maintained. Staff are amazing. Awesome location for Monterey, Santa Cruz, Carmel, Big Sur & the coast. But there is something unusual, they have the best WiFi service I've used at any campground and I've stayed at about 3 dozen different campgrounds. This KOA really works hard at your total experience. Highly recommended!
Oct 09, 2020
Always GREAT! Staff is outstanding.
Oct 08, 2020
Great campground, quiet, clean...just would like the showers and bathrooms open.
Oct 07, 2020
Tight quarters but well run facility.
Oct 06, 2020
Very nice KOA. Small, but nice. The camp hosts were very accommodating when we asked for a different space that had grass around it for our dog to be more comfortable. Plenty of places to walk to. We will for sure go back as it's only 30 minutes from our house.
Oct 06, 2020
One evening about 11:00, a neighboring group decided to take their party outside. They were very loud for an hour or so. I wish that the manager (right next to our spot) had spoken with them
Oct 05, 2020
Very relaxing and quiet family atmosphere. Even with COVID restrictions, I felt the staff were right there to help out at the right time. H
Oct 05, 2020
The campground was very neat and clean, although you had no access to certain amenities due to COVID, there was plenty to do. Walking distance to beach, restaurants and shops. Short drive to nearby towns, 15-20 min. Fishing was assessable by a short walk on the jetty or beach. If you love the sea, you will enjoy yourself!
Oct 05, 2020
Nice location. Very close to the beach and restaurants. Full amenities - water, electric hookup and sever. Property manager is really nice person. I would definitely recommend this place if you are around.
Oct 05, 2020
Nice park. Clean and close to beaches and restaurants. Very nice and helpful staff. Spaces are a little to close together, but we will return.
Oct 10, 2020
Love, love, love it❣❣❣
- Linda Yount on Google
Sep 28, 2020
Very clean park. Friendly people. Thank you Liz . We had the best weekend
- Liz Reynolds on Google
Sep 04, 2020
We have stayed here twice and we have been very happy with our stay. This place is not very big, but our RV is 40 feet and we were able to park it here. If you like sea food you'll love that the well known fish market is just an block away right on the beach.
- Roxanne Larini on Google

Moss Landing KOA Express
Open All Year
7905 Sandholdt Road
Moss Landing, CA 95039
Check-In/Check-Out Times
RV Sites
Check-in: 1:00 pm, Check-out: 12:00 pm
Operating Hours
Sunday: Open 9:00 AM to 7:00 PM
Monday: Open 9:00 AM to 7:00 PM
Tuesday: Open 9:00 AM to 7:00 PM
Wednesday: Open 9:00 AM to 7:00 PM
Thursday: Open 9:00 AM to 7:00 PM
Friday: Open 9:00 AM to 7:00 PM
Saturday: Open 9:00 AM to 7:00 PM
Get Google Directions

© 2020 Kampgrounds of America, Inc.