Directions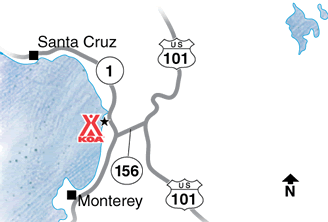 Moss Landing KOA is located in the heart of Monterey County just off Highway 1 to the west, at the corner of Moss Landing Road and Sandholdt Road.
Get Google Directions
May 04, 2021
We enjoyed exploring the area and relaxing at the coast, will return
May 04, 2021
Our stay was great. It was clean, friendly, we felt welcomed by our fellow RV'ers!!! We walked to all of our favorite places. We would like to continue staying there as often as possible. Thank you for making our weekend enjoyable.
May 03, 2021
Not worth it.
May 03, 2021
Great place to stay. Friendly staff and well kept campground. Walking distance to the beach and restaurants.
May 03, 2021
Very clean and awesome staff
May 03, 2021
The staff is AMAZING, the place is sparkling clean and beautifully landscaped. But, our site was backed up to the marina parking lot so we had TONS of noise from trucks, cars, and motorcycles. The non-marina-backed sites seemed to be quieter. It's all lovely and the location is great! There are some great places to eat nearby and lots of fun if you get in your car and drive a bit!
May 03, 2021
Great location but no amenities and I could NOT enjoy a movie because the wi-fi was inadequate. But staff was nice and friendly. The grounds were clean. And it's very close to a beautiful beach.
May 02, 2021
Clean, quiet and friendly- couldn't ask for more- and great staff!!!!
May 01, 2021
Nice park, Male staff could be friendlier The gentleman that backed us into our site was VERY Grumpy Our Friends had their AMERICAN FLAG on the front of their 5th wheel and were asked to take it down, Park needs to work on the gopher problem Park location is great close to everything
May 01, 2021
Very nice clean park and so close to many things. We had a great time!!
May 01, 2021
Then it will be a lot nicer when all the facilities are open again
May 01, 2021
KOA Moss Landing is one of favorite places to RV. The whole environment there is pure Old School Coastal Fishing Village. Peaceful !!
Apr 30, 2021
Perfect for a as relaxing get away. All equipment worked well.
Apr 30, 2021
Had a great time, nice facility
Apr 29, 2021
Nice RV park. Good location.
Apr 28, 2021
The KOA is very clean and quiet, and close walking distance to restaurants and beach.
Apr 28, 2021
We like to stay at moss Landing Great location for day trips
Apr 28, 2021
great location. tidy place. wish the showers/bathrooms were open.
Apr 28, 2021
Wonderful stay, clean sites close to everything that is Moss Landing. Short walk to the beach 1500 steps.
Apr 27, 2021
Steps from the beach. Friendly staff, well maintained and clean grounds. Staff will even assist in backing up your trailer if needed. Small store with just enough of what you might need. For such a small town, several restaurants a short walk or bike ride way. Spaces are a little close, road a little narrow, but overall 5 stars.
Apr 27, 2021
Check in was easy. They had someone help back us in which is a nice extra. The park was clean and quiet. We had a great time and plan to return.
Apr 27, 2021
Hosts were very friendly and professional. The park is small, but in a great location, next to the Moss Landing Marina and half way between Monterey and Santa Cruz. Very quiet and peaceful and very clean. (COVID rules still restrict bathroom and shower facilities). We will definitely return to this KOA
Apr 27, 2021
Not a lot of amenities, but one of my favorite places to stay. Great location near Carmel, Monterey, and an off leash beach for the dogs.
Apr 27, 2021
Totally cool, the staff were both friendly and helpful and the beach is literally 5min away. Very clean and very friendly and great location. This was our first stay but we can't wait to come back.
Apr 26, 2021
the staff are wonderful and so caring, the place always is very well kept.
Apr 26, 2021
Clean well maintained and quiet. Perfect base to explore the coast.
Apr 26, 2021
Excellent park; great staff; perfect spot for Moss Landing activities
Apr 26, 2021
Great location. Clean and friendly. Will definitely come back.
Apr 26, 2021
The office staff is OUTSTANDING! No amenities other than the site having all the hook ups, but the location can't be beat for us with family in Santa Cruz and in Pacific Grove. I hate to rate it too highly because we want them to have room when we return again! I have confidence the staff will do their best for us when that time comes.
Apr 26, 2021
Very nice, supper friendly staff, extremely well groomed and maintained grounds. Walkable, bikeable to restaurants, shops, beaches, etc.
Apr 26, 2021
We had a blast we love Moss landing KOA Express
Apr 26, 2021
The lady at check in was very friendly and professional. My site was concrete with grass, some landscaping and a picnic table. It was spotless. This park is very nice and shows pride of ownership! It is in a perfect location for exploring the area. I will always stay here when I'm in the Monterey area !
Apr 25, 2021
Very nice, clean, quiet KOA, in a great location.
Apr 24, 2021
Another wonderful time at Moss Landing KOA! Thank you to Mark and Debbie and Liz and Ben for a clean and well maintained RV park. We are looking forward to our next visit in June. Mike and Kathy
Apr 24, 2021
We love staying at Moss Landing KOA Express the campground is clean and staff are helpful and friendly .Great place to stay just a 5 minute walk to the beach , harbor and restaurants . My favorite staff members are the two campground cats they are beautiful and very friendly . I look for them every time we stay there . Thank You for making are stay so enjoyable. We look forward to our next visits.
Apr 20, 2021
Small but a great place to relax. Very clean, level sites and walking distance to ocean. Not a lot more to do than that but a quick 15 minute drive to Monterey and there is more activity there. . We come often and enjoy our stay, my husband enjoys surf fishing. Camp hosts are great
- Lucy Lawrence on Google
Apr 15, 2021
Very nice campground! Perfect spot, close to ocean and other attractions without having to drive.
- Rachel Blanchard on Google
Apr 13, 2021
Organized, clean, staff very helpful, ideal location. Thanks for a nice visit.
- Dan Blanchard on Google