Alert
The health and safety of our guests is important to Moss Landing KOA. Due to COVID-19, our common areas, including bathroom and fire-pit area will remain closed. Please be advised that all RV's must be self-contained as the bathrooms at the campground are closed. All sites include Water, Electric, Sewer and Cable. We ask guests to maintain social distancing and Monterey County issued an order requiring individuals to wear face covering. Call us at 831-633-6800 for further information.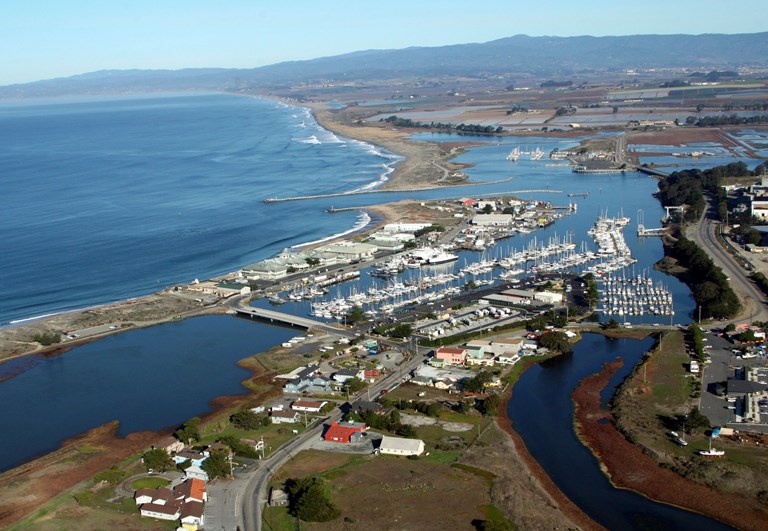 Moss Landing KOA Express Reviews
Directions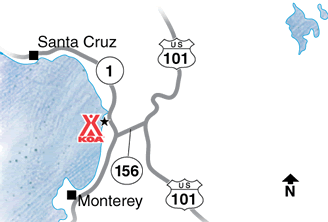 Moss Landing KOA is located in the heart of Monterey County just off Highway 1 to the west, at the corner of Moss Landing Road and Sandholdt Road.
Get Google Directions
Jul 11, 2020
The site was way too small for our RV, we felt too closed in!
Jul 10, 2020
We try to visit every year and always enjoy our stay at KOA Moss Landing.
Jul 10, 2020
Moss Landing KOA Express was the perfect location for our first camping experience. The park is clean and quiet at night. It was a short drive to Carmel and Castroville. We had a great time!
Jul 10, 2020
Great internet this time!! Thank you!
Jul 09, 2020
Although Covid-19 limited access, our stay was enjoyable and the staff was very pleasant and helpful.
Jul 09, 2020
So easy. Very friendly staff, effortless check in and out. Beautiful clean park. We love KOA Moss Landing! Thanks a bunch! See you soon.
Jul 08, 2020
Great place to stay. Easy access. Clean, and well cared for. Definitely will return here.
Jul 07, 2020
Clean and well taken care of as always
Jul 07, 2020
This place was awesome! My family and I had a great time. Clean, safe and extremely helpful staff! Loved it so much book 8 more days in the winter!
Jul 07, 2020
Very clean place and quiet place. I like the fact that an employee helps you back in your Motorhome or 5th wheeler. Friendly staff. Highly recommend.
Jul 06, 2020
This is a great little park! Very well kept. Staff is very helpful and involved. Walking distance to shopping, restaurants, and beach. Love this place!
Jul 06, 2020
This was the second time we've spent time at this campground and we could not be more satisfied. Liz in the office/store and her husband (I'm sorry I didn't catch his name), who was always visible and tending to the grounds were so friendly and welcoming. We can't wait to come back over and over again. Thank you for a perfect experience.
Jul 06, 2020
We enjoyed our stay very much. The atmosphere was wonderful. Walking distance to the beach and the office people were wondering people and very helpful to us especially being our first time having an RV. They showed us how to hook it all up. We are looking forward to returning.
Jul 06, 2020
First camp ever mark even taught me how to maneuver the trailer into place.
Jul 05, 2020
Wonderful stay! Very friendly and helpful staff, very clean and welcoming campground. Great location! We will definitely return!
Jul 05, 2020
We were dissapointed that the power was out for the only full day that we were at the park. However, we still love this campground, and the power outage was not controllable by the campground, it was from the power company. We love the staff and loved the mascot kitty, Moxee!
Jul 04, 2020
This KOA is nothing special except for its location. Concrete pads close together. We stay here with our motor home towing a car. We mostly stay here, when visiting Monterey/Carmel area, because of Phil's Seafood restaurant down the street. Great food! Easy access to whale watching, sport fishing, kayaking the sloughs, beaches. Location, location, location.
Jul 04, 2020
The park is small but well maintained. Walking distance to beach and walking paths.
Jul 04, 2020
This KOA. is our go-to place for a quick outing because it is consistently clean, staff is friendly, and it is ideally located on the coast and harbor. Easily accessible to the freeway yet away from traffic noise. Close to so many outdoor activities: fishing, kayaking, hiking, beachcombing, surfing, birdwatching, and drives along the coast. Three restaurants and beach within walking distance.
Jul 03, 2020
Helpful personal. Taking " Rona" serious.
Jul 03, 2020
Good stay until the utility people turned off the electricity without warning then parked their truck and trailer next to the exit. Scraped the side of my Motorhome. Not happy!
Jul 03, 2020
Clean and friendly, we will be back!
Jul 03, 2020
Clean and peaceful sites. Everyone was very friendly.
Jul 03, 2020
Staff was helpful. Park is neat and clean. Spaces are tiny--have to walk on neighbors patio to hook up. Need to open up bathrooms. KOA Moss Landing seems to be using COVID as excuse to close bathrooms and save $. Salinas KOA bathrooms are open--not sure why Moss Landing should be different.
Jul 02, 2020
We love Moss Landing. Such a nice relaxing place to go.
Jul 02, 2020
Very clean and quiet. Very strict following COVID-19 guidelines (that's a good thing).
Jul 01, 2020
Skunk problem
Jul 01, 2020
Awesome people and location and of course Moxie and Soxie
Jul 01, 2020
It was wonderful. Always nice and quiet and relaxing.
Jun 30, 2020
Great place to stay. Too bad we have to deal with the Chinese Virus. Social distancing makes it kinda tough. Hopeing for a better future.
Jun 30, 2020
We LOVE this KOA! Aside from the great location and weather, we appreciate how warm, friendly, and helpful the owners are. Well-kept and respobsi e to your needs, too.
Jun 30, 2020
Great as usual. Bushes at our site, 22, made it difficult to access RV hook up.
Jun 29, 2020
There was a issue being backed up to the parking lot of the marina. The parking lot started getting noisy at 230am Saturday and 5am Sunday. Really was not a good wake up call when you're on vacation. We are going back at the end of August and have requested either site 23 or 24. If we were not able to be guaranteed not being backed up to the marina parking lot we would probably not go back.
Jun 29, 2020
I can honestly say this was the most boring trip we have taken in years. It was cold, there is truly nothing to do within walking distance. The park was clean but the destination was a dud.
Jun 29, 2020
The lady working check-in was very helpful and accommodating. What was a bit disconcerting is that we lost power during 2 different nights as we were asleep. We could tell from our clock resetting to zeros and the DVR not recording and early morning news program.
Jun 29, 2020
Liz, Ben, Debbie and mark were wonderful and helpful. I recommend the thick shrubs between sites are pruned back so guests can use all the concrete in the space. Right now shrubs extend 1-2' into the campsite And Reduced space where we wanted to Sit. . Park clean. Well run. It was too cold for us but that's not koas fault.
Jun 28, 2020
Great location! Clean. Thank you for getting my daughter in at the last minute.
Jun 28, 2020
Had a wonderful 6 night stay here in Moss Landing. Lots of areas to explore in the area including Monterey, Carmel, and Santa Cruz. Ate 3 times at the local fish market (Phil's) which was very good. Sites have concrete pads with lots of grass in between. Can't rate the restroom/shower as they were closed due to COVID-19 restrictions. But the staff were very friendly and professional. THANKS!
Jun 28, 2020
Very clean site, but the bathrooms were closed and locked up.
Jun 28, 2020
I called on Thursday to see if there was any RV sites available for Friday night. The Host told me no sites were available for Friday night. The host told me to check back in Friday morning at 9 am. I did and there was a cancellation and I got a site for Friday night. The hosts at the Moss Landing KOA are very friendly and helpfull. My Friday night stay was very quiet and peaceful.
Jun 27, 2020
Nice areas to walk, the Salinas River SB trail and the beach are close by.
Jun 27, 2020
We very much enjoyed our stay here. The Covid situation prevented us from using all of the facilities but the grounds, location and management people were great. We walked to the ocean beach, the fish market and although we are not ready to dine out yet the food at the local restaurants, all within walking distance, was said to be wonderful.
Jul 11, 2020
Location is awesome, 1 minute from the freeway, lots of local shops. Only issue is the RV spaces are very tight for the large motorhomes.
- Von Verbanic on Google
Jun 30, 2020
Wonderful and personal customer service by the Moss Landing KOA, especially by Liz in the check in office!
- Patti Jasso on Google
Jun 17, 2020
Great getaway! Clean, well maintained, flat spots. Excellent access to the Harbor, beaches and restaurants of Moss Landing!
- Gail Moser on Google

Moss Landing KOA Express
Open All Year
7905 Sandholdt Road
Moss Landing, CA 95039
Check-In/Check-Out Times
RV Sites
Check-in: 1:00 pm, Check-out: 12:00 pm
Get Google Directions

© 2020 Kampgrounds of America, Inc.