Directions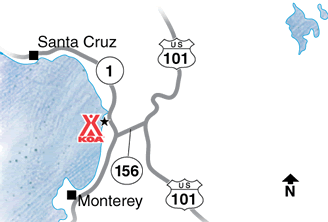 Moss Landing KOA is located just off of Highway 1 to the west, at the corner of Moss Landing Road and Sandholdt Road. From US-101, we recommend taking Exit 336 for Monterey Peninsula/CA-156 West toward Castroville, then take CA-183 to Highway 1 north.
Get Google Directions
Sep 25, 2021
We'll managed park. Very clean. Beautiful grounds. Easy walking to the beach and several restaurants.
Sep 25, 2021
The staff is very friendly and welcoming. The facility is clean and close to local restaurants and attractions. We would definitely stay there again.
Sep 25, 2021
Very clean campground. People very friendly and helpful. Convenient location. Spaces are fairly small.
Sep 25, 2021
Staying at Moss Landing KOA is always a nice experience. Clean facilities and pleasant staff. Also it's close to places to go. We will be back!
Sep 25, 2021
My favorite KOA
Sep 24, 2021
This place is amazing! Clean and comfortable!! Staff is also so friendly and accommodating!
Sep 24, 2021
My Wife and I enjoy this Small RV Park! Always Very Clean and Staff are Always Friendly and Helpful! We Love the Grass Sites and the Level Concrete Pads! We have stayed here in past and have mentioned the Poor WiFi and VERY LIMITED TV Channels! That really needs improvement! To only have about 10 working TV channels in this day and age is really not acceptable. Hope improvements are coming!!!
Sep 24, 2021
Very nice place. Staff was very nice. We had a late arrival and we were contacted with all instructions.
Sep 23, 2021
Pretty clean, green spaces for gathering. WIFI inaccessible. Host loaned a bike lock due to recent thefts.
Sep 23, 2021
Always quiet, friendly and clean with 4 great restaurants within walking distance
Sep 23, 2021
They went the extra mile to get us in. Very much appreciated.
Sep 22, 2021
Wonderful park! Clean, level sites with utility post in good spot. The location couldn't have been better; right next to the harbor and within walking distance of some good restaurants and the whale watching trip. Sites weren't huge; they were wide enough but, as always at KOAs, not long enough for the tow vehicle. We had to park sideways and were pretty close to the road.
Sep 22, 2021
This is our favorite place to camp !!
Sep 22, 2021
Lovely clean park, very friendly hosts
Sep 21, 2021
Was one of the best place we have stayed. Sites are very nice and we were able to play 2 rounds of golf in Carmel.
Sep 21, 2021
It was awesome as usual! The staff is always pleasant to deal with. We look forward to our next trip.
Sep 21, 2021
Bathroom combination stopped working on one of only 2 bathrooms in the morning
Sep 20, 2021
Love the park with the seals/otters barking. The park is always immaculate and the staff excellent!
Sep 20, 2021
We actually recommended it to my mother-in-law already! Great location and very clean little park.
Sep 19, 2021
We always have a great stay at the Moss Landing KOA Express. The staff are friendly and very helpful and they keep the place clean and well keep. The location of the Moss Landing KOA is great it's a easy walk to the beach or to get food at Phil's or Phil's snack shack . We look forward to our next stay at the KOA Moss Landing . We often tell our friends that this is a great place to go to .
Sep 19, 2021
Awesome staff and great place to stay.
Sep 18, 2021
Loved it! great location! great staff! Helen and Alex were the best. Can't wait to go back
Sep 18, 2021
Couldn't have been better. The hosts were the best!
Sep 18, 2021
We love this RV park! The management is very friendly and helpful! We'll be back soon!
Sep 18, 2021
Very nice clean nice staff everything was excellent we enjoyed our stay
Sep 18, 2021
2nd time there. Wonderful management! Nice area.
Sep 17, 2021
Very nice park and the two hosts were very friendly. Nice patio and lawn area that were very clean and well kept. What I like best was how quiet it was; hearing mostly seals, sea gulls and I think chickens.
Sep 17, 2021
The location was perfect for our needs and the property was clean, attractive and well run. Our stay was short and we were out pursuing activities so the small size of the individual sites was OK, however probably not suitable for longer term where more space and privacy would be important.
Sep 16, 2021
Like this location, all the employees are SUPER nice! Love KOA
Sep 16, 2021
One of the best parts about staying at Moss Landing KOA is the wonderful staff. Always so helpful and keep the park in good condition!
Sep 16, 2021
We come to Moss Landing twice a year and have always enjoyed ourselves . However, you can only have an American flag and no other. Which I believe goes against our freedom of speech here in America right? So we will not return. And I will tell all my friends who go to moss landing to not go either. And you should check the front of your rv park cuz there is a KOA on a polo. Shouldn't that f
Sep 16, 2021
I love the staff here. So nice and helpful.
Sep 16, 2021
About the friendliest KOA staff ever!! Always smiling and professional. Great experience!
Sep 15, 2021
The people managing the park were very friendly and personable. The rv park was nice and clean.
Sep 22, 2021
Basic, clean, good location.
- Bob Harrison on Google
Sep 18, 2021
Friendly staff. Very clean and well maintained. Great location.
- Darrell Odom on Google
Sep 03, 2021
Nice clean place
- Mike Silva on Google