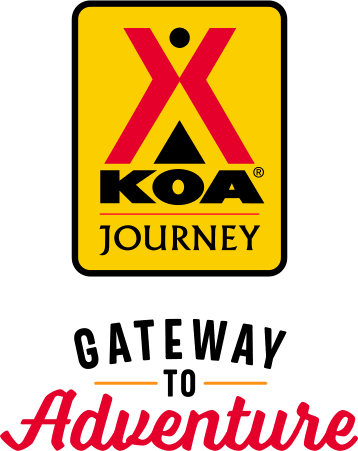 KOA Journey Campgrounds
KOA Journey campgrounds are the perfect oases after a day on the road. Whether it's along the way or a quick getaway, they've got you covered. Located near the highways and byways of North America with long Pull-thru RV Sites, they deliver convenience to the traveling camper. Pull in, ease back and take a load off.
KOA Journeys Feature:
Pull-through RV Sites with 50-amp service
Premium Tent Sites
Well lit after hours check-in service
Directions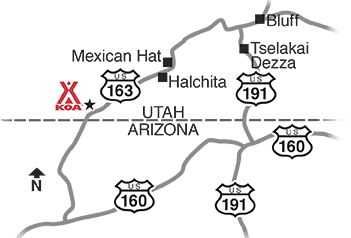 Conveniently located off US Hwy 163 at MM 2. From the north: 18 mi S of Mexican Hat, UT. From the south: 22 mi N of Kayenta, AZ.  GPS: N37.017002, W110.153417
Get Google Directions
May 15, 2021
The place was very very basic. Not a very nice place.
May 15, 2021
WiFi was not working.
May 15, 2021
Beautiful spot! Excellent Staff! Love the sheep, sheep dogs, and horses on site. Even the stray dog with a wonderful personality fits right in. Wish we had stayed a few days. If you require internet, TV or good cell service this may not be the spot. We came for the scenery in the area, the beautiful vista from the campground is definitely a bonus.
May 14, 2021
It was very clean and quiet. The manager was extremely helpful.
May 14, 2021
Cannot beat the view of Monument Vally from the park. Spavious sites. Nice folks. Only gripe is that the wifi was weak to non-existent. There is no TV reception, so unless you have satellite, you are out of luck.
May 13, 2021
Fair size sites that are level and clean. Bathroom, showers, and laundry are in good shape and working order. Great point to se Monument Valley (closed now due to Covid), Muley Point, Moki Dugway, Goosenecks SP, and Valley of the Gods. Manager would give the KOA shirt off his back to make sure you are happy.
May 13, 2021
Cell service is good for at&t I-phone 12 pro. I had no service with my Verizon, even while using their wifi. Great views, short drive to lots of cool stuff. Tent campers have best view. Mostly sand and its very windy, be ready for sand to be everywhere.
May 12, 2021
Poor tables........wood warped out of shape on many of the tables. Sewer connections too close to the patio from the neighbor's trailer. Smell the flumes while sitting on the patio is not right.
May 12, 2021
Very nice campground, everyone was very helpful.
May 10, 2021
Cleanest bathrooms I have ever seen in RV campsite. No train noise and minimal road noise after dark. Great views all around the campground.
May 10, 2021
Dusty, no internet connection the entire stay or phone service available. National monument closed. Way way way too expensive for this.
CAMPGROUND RESPONSE / COMMENTS:
Thank you for staying with us, you stayed with us knowing we are located in a desert. We are not responsible for your phone service and we do advertise that. There are no National Monuments in our area. We do tell you about the Tribal Park is closed.You chose a Large Pull Thru site. Have a great day
May 09, 2021
Host/owner checked with campers regularly, great guy. Amazing restrooms and showers.
May 09, 2021
Great park, laundry room, and bathrooms/showers. Would have been a 10/5 star but the shower stalls don't lock. This was the same in the men's and women's bathrooms.
May 09, 2021
Convenient for exploring the Monument Valley area. Manager says there's a 50amp upgrade coming soon. Internet is nonexistent for the most part, but that was known upfront.
May 09, 2021
loved your park, Vel was great! very helpful and informative and friendly!
May 09, 2021
We were there only 1 night. But when we called from Flagstaff to inquire about availability, we were told there was none. However, someone called me back by taking the number off of caller I.D. to tell me about a cancelation. I thought that was exceptional customer service. The campground was clean and well maintained. My only complaint was lack of amenities. But it was great for our purpose.
May 08, 2021
Very friendly staff and such a beautiful setting!
May 08, 2021
Great, great service. Ray, the camp manager was the absolute best. Everyone was so nice. And the place was clean, comfortable and very well organized.
May 08, 2021
no internet no tv to dark at nite to go watching you better carry a flashlite
CAMPGROUND RESPONSE / COMMENTS:
Thank you for staying with us. This is a Dark Sky Park as you were aware upon your arrival. Have a great day
May 07, 2021
My only problem was I kept getting red sand in my sandals. Seriously now, this was only an overnight stop but we had a good time and collected some good memories.
May 07, 2021
Nice facility large sites WiFi no so great.
May 06, 2021
Beautiful location. Bathrooms and laundry room great. Loved location. Only downside is no one cleaned the restrooms on Sunday and Monday. Office had great map of area.
May 05, 2021
Would give a 5 but the patio is too far from the RV. So did not use as the awning could not cover it. Manager is very accommodating . The store had great walking sticks to buy as well as dream catchers made by the locals at reasonable prices. Take the local tour that is on registration desk. Incredible.
May 05, 2021
This a nice little oasis in the Valley. They have a nice store and new bathrooms / showers and laundry facilities which are not mentioned on the website I'm sure it might influence travelers if it was mentioned along with pics! The wifi and cell service are weak but due to its location I'm not sure what could be done.
May 05, 2021
Incredible Monument Valley views from campsite. Staff was super friendly and helpful. Bathroom/shower was very clean. Campgrounds were in very good shape.
May 05, 2021
Excellent new bathrooms. Excellent reception and personal greeting. Slips are very close together (too close?) and the gravel is less than ideal but everything worked out well
May 05, 2021
Short but enjoyable. Backdrop was amazing.
May 04, 2021
Awesome views and facilities!
May 04, 2021
The utilities were not grouped as in 99% of other RV parks. Reaching a everything was near impossible with truck and short trailer attached. Internet was sad!
May 03, 2021
An enjoyable stay with pleasant staff. Through my lack of observation I used a Canadian Quarter in the soap dispenser in the laundry room and jammed up the machine. The staff were more than willing to help, unlocking the machine and freeing the jam. All around great stay!!!!!
May 03, 2021
Location is great. Lacking reliable WiFi and TV services.
May 02, 2021
I apologize that I cannot remember the guy that check is in and also he rented us a jeep he was fabulous great customer service
May 02, 2021
Thanks Raymond
May 02, 2021
Great Views! Very helpful staff.
May 02, 2021
The staff was very friendly and efficient. What was misleading was the WiFi did not work at all for us, period!
May 01, 2021
Staff was friendly & helpful. Sites are clean with a great view. Good location.
May 01, 2021
This koa is starving for improvements, like decent fencing (not wire and barbed wire), real slabs, windbreaks, any amenities at all. It's the worst campground I've stayed in in 50 years of camping. And the horses look mistreated.
CAMPGROUND RESPONSE / COMMENTS:
Thank you for staying with us. As you are aware we are located in the desert. As for the horses, the owners take pride in their constant care. Not once are the horses mistreated.Thank you for staying with us.
Apr 30, 2021
Internet and cell service are non existent No WiFi whatsoever
Apr 30, 2021
The manager Ramond was the best RV campground manager we have ever seen! He was wonderful! Excellent!
Jun 21, 2021
Stayed here the past 2 nights. Monument Valley is a spectacular place to visit. There isn't a bad view in the entire campground. If you've never been and you camp then I recommend this KOA.
- Marcel Cartier on Google
Jun 16, 2021
Beautiful location. Friendly staff, roomy and relatively level sites.
- Travis Coleman on Google
Jun 05, 2021
Although the Hugesnet wifi was down, camp host was wonderful as well as location. By all means rent one of their jeeps for 4 hours to tour the rough road thru Valley of the Gods.
- Alex Fane on Google