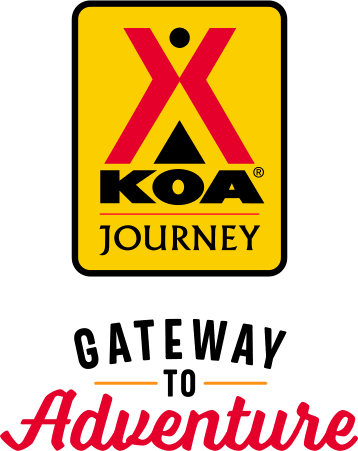 KOA Journey Campgrounds
KOA Journey campgrounds are the perfect oases after a day on the road. Whether it's along the way or a quick getaway, they've got you covered. Located near the highways and byways of North America with long Pull-thru RV Sites, they deliver convenience to the traveling camper. Pull in, ease back and take a load off.
KOA Journeys Feature:
Pull-through RV Sites with 50-amp service
Premium Tent Sites
Well lit after hours check-in service
Directions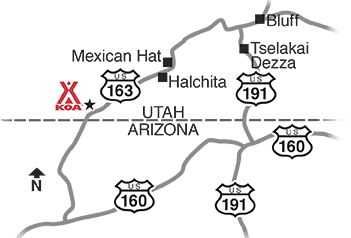 Conveniently located off US Hwy 163 at MM 2. From the north: 18 mi S of Mexican Hat, UT. From the south: 22 mi N of Kayenta, AZ.  GPS: N37.017002, W110.153417
Get Google Directions
Sep 25, 2021
Exceptionally clean and functional bathrooms. Great staff and good proximity to Monument Valley
Sep 25, 2021
Other than the "no recycling availability " restrooms and showers were great…staff was really friendly and it's amazing to wake up with part of Monument Valley at your doorstep. We met some nice travelers that were also staying
Sep 25, 2021
We were only there one night but I will say it is a nice park, though no shade yet. The rest rooms were just remodeled and are great. Although I did notice that the shower partitions have big gaps in them. They should fix that. Other then those two things. A stay here was very good. And your right in the middle of Monument Valley! How cool is that?
Sep 24, 2021
Very nice campground. Probably one of the best in the area
Sep 24, 2021
The campground was awesome. Great views of the moon and surrounding monuments. Great campfire while enjoying the peaceful evening. The washrooms were very nice and clean. The staff was also very kind. We would definitely stay again!
Sep 22, 2021
We had a great time….the campground and staff were wonderful!
Sep 21, 2021
Really liked this campground. It was close to Monument Valley the hosts and staff were so nice. We made got out and met some wonderful people in the campground. The campground itself was clean with easy access for our trailer. We will definitely be back to stay awhile longer next time.
Sep 20, 2021
Doc was very friendly and a pleasure to work with. Next time I'll get there earlier in order to watch the sunset on the rocks.
Sep 20, 2021
My campsite had really great views. I was travelling alone and I felt super safe. The amenities were amazing to say the least! Very very clean washrooms and showers. The office was open until 8pm and they had ice cream to cool off after a hot day! I'm definitely coming back!
Sep 19, 2021
Great service
Sep 19, 2021
No trees between sites really close to each other showers are nice but the sensor faucets don't allow for shaving well. Ice machine broken
Sep 18, 2021
Staff, especially Ray were great.
Sep 18, 2021
Great camping and great staff.
Sep 18, 2021
Staff was very friendly and competant. The scenery was amazing! Facility was average.
Sep 18, 2021
Clean , quiet, great scenery, friendly staff , easy in and out
Sep 18, 2021
Considering it's remote location, pretty nice.
Sep 17, 2021
Great service at check-in. Very helpful onsite camp host with a couple of camper issues. Replacement parts available for purchase. Good variety of merchandise at camp store including postage stamps! Shower house & laundry very clean and functional.
Sep 17, 2021
Nice flat, roomy spots. New clean bathrooms. Wonderful staff. And a million dollar view
Sep 16, 2021
Very easy to miss entry as no markings. Raymond was wonderful and he deserves a better RV park. Worked extremely well with us solving issues. Trash is very close to lots and generates lots of flies. The view was perfect and great place to take pictures!
Sep 15, 2021
Great location. Rv park very clean. Like the horse ride from the campground
Sep 15, 2021
The checking person was fantastic. Raymond was also wonderful. He help solve some problems we were having.
Sep 15, 2021
Management was very friendly and helpful. The manager went over and beyond in helping me and my daughter in getting us to our tour location. I highly recommend.
Sep 15, 2021
Nice campground, great scenery, convenient to Navajo tours, etc.
Sep 14, 2021
Enjoyed my stay. Well maintained! Will be really nice when the trees are more mature.
Sep 14, 2021
Beautiful, new facility. Wonderful to have your pickup. Very friendly staff. The fly infestation was terrible. Horses should be moved from campsites. There needs to be fly control.
Sep 14, 2021
Very close to attractions. Very clean and modern facility.
Sep 14, 2021
Convenient location, easy check in process, nice campsites, clean restrooms
Sep 14, 2021
A tough place to have a campground! Very nicely laid out. Small trees that will some day provide needed shade. Nice people, clean bathrooms, nice laundry. Trash is a problem. Only one dumpster which attracts thousands of flies. The backdrop of this campground is breathtaking.
Sep 14, 2021
Tent sites should not be so close to the highway. Noisy all night long.
Sep 13, 2021
We attended a rally at the Monument Valley KOA and had an excellent experience. The campground hosts were super nice and helpful. The paver patios worked out nicely for group activities, and the views from the campground are spectacular.
Sep 13, 2021
tell people about dish rental at check in!!!
Sep 13, 2021
Exceptionally friendly and helpful host. Beautiful location. The only drawback was no shade, but no one has shade in Monument Valley!
Sep 13, 2021
Very clean showers were very clean grounds. The people in office were very nice
Sep 12, 2021
Great location for seeing the area and a great view when you wake up. The staff was very nice and helpful, and the facilities were clean and maintained.
Sep 12, 2021
Location was easy to find and near the Park. Having Park tour drivers pick us up at the KOA office was a definite plus. Bathroom and shower areas were always clean and quiet time was obvious during late evening hours.
Sep 12, 2021
Nice exceptionally clean restrooms. Quiet and the view of the sunrise and sunset was spectacular .
Sep 12, 2021
Great location. Close proximity to Monument Valley attraction. Updated. Showers, restrooms and laundry modern and clean.
Sep 12, 2021
Had a great time. Nice large sites. Clean place to set up. Lots are level. That's a big plus. Great view all around. No cramped together feeling. Nice open area.
Sep 11, 2021
Fabulous KOA with gorgeous views of sunrise sunset and monuments! Very new and clean facilities. Staff pleasant and helpful ! Manager on site and very interested that we have a great stay . Guided horse riding thru the canyon right on site!! Increased our stay because it's so nice here!!! Stayed here in our way to Arches Nat'l Park. Highly recommend!
Sep 10, 2021
Nice campground with a nice host. Would have liked the check out to be noon at least. We did not pull in until 6 pm and it did not give much time to relax.
Sep 09, 2021
Great location, awesome views and the staff are terrific. Wish every campground would take the customer service lead that this KOA provides. GREAT JOB!!!
Sep 18, 2021
Incredible views must see
- William Hoover on Google
Sep 17, 2021
Beautiful, one of the most impressive places i have ever been or seen.
- Robert Pinney on Google
Sep 10, 2021
What a view from KOA site. This place is only 3miles from Monument Valley.
- Yan Zhou on Google