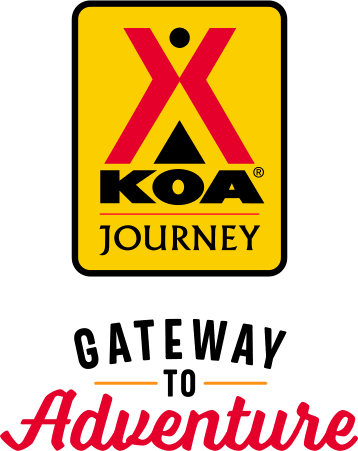 KOA Journey Campgrounds
KOA Journey campgrounds are the perfect oases after a day on the road. Whether it's along the way or a quick getaway, they've got you covered. Located near the highways and byways of North America with long Pull-thru RV Sites, they deliver convenience to the traveling camper. Pull in, ease back and take a load off.
KOA Journeys Feature:
Pull-through RV Sites with 50-amp service
Premium Tent Sites
Well lit after hours check-in service
Directions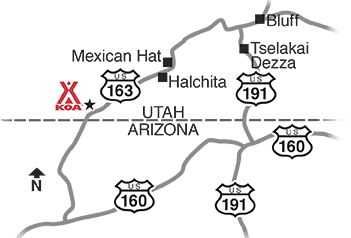 Conveniently located off US Hwy 163 at MM 2. From the north: 18 mi S of Mexican Hat, UT. From the south: 22 mi N of Kayenta, AZ.  GPS: N37.017002, W110.153417
Get Google Directions
May 04, 2021
Awesome views and facilities!
May 04, 2021
The utilities were not grouped as in 99% of other RV parks. Reaching a everything was near impossible with truck and short trailer attached. Internet was sad!
May 03, 2021
An enjoyable stay with pleasant staff. Through my lack of observation I used a Canadian Quarter in the soap dispenser in the laundry room and jammed up the machine. The staff were more than willing to help, unlocking the machine and freeing the jam. All around great stay!!!!!
May 03, 2021
Location is great. Lacking reliable WiFi and TV services.
May 02, 2021
I apologize that I cannot remember the guy that check is in and also he rented us a jeep he was fabulous great customer service
May 02, 2021
Thanks Raymond
May 02, 2021
Great Views! Very helpful staff.
May 02, 2021
The staff was very friendly and efficient. What was misleading was the WiFi did not work at all for us, period!
May 01, 2021
This koa is starving for improvements, like decent fencing (not wire and barbed wire), real slabs, windbreaks, any amenities at all. It's the worst campground I've stayed in in 50 years of camping. And the horses look mistreated.
May 01, 2021
Staff was friendly & helpful. Sites are clean with a great view. Good location.
Apr 30, 2021
Internet and cell service are non existent No WiFi whatsoever
Apr 30, 2021
The manager Ramond was the best RV campground manager we have ever seen! He was wonderful! Excellent!
Apr 30, 2021
The stunning views make this quite basic KOA worth the stay!
Apr 30, 2021
Wonderful. Host was very friendly and helpful, campground was quiet, clean and the views spectacular!
Apr 28, 2021
Had a great time. Staff was so friendly.
Apr 27, 2021
Great location-need better internet and cable tv
Apr 27, 2021
Great park! Doc is a really nice guy with lots of info on the area. Make sure you have a long power cord. The boxes are at the front of the space.
Apr 27, 2021
The site was in a spectacular location and the facilities were new and modern. The major downside was no phone signal and no internet.
Apr 26, 2021
Great location. Very helpful and friendly staff
Apr 26, 2021
The facilities were functional and clean and the views exceptional. Ray the manager was helpful, generous and friendly. He made our stay.
Apr 26, 2021
Clean, quiet, and magnificent views! We will stay again when in the area. Roomy sites too.
Apr 26, 2021
It's a great place and a perfect location. Everyone I spoke to was very nice and it's very easy to pull in and out. We came in at night and it's really dark out there so it was tough to see the entrance. No TV or Wifi, at this price those are kind of expected. And then the power connection was at the front of the site when most RV connections area near the rear of the RV. But enjoyed it overall
Apr 25, 2021
The manager "Doc" was outstanding. He helped with everything. Unfortunate there's no cell or wifi available but if you drive one mile to the traffic circle there's strong Verizon. Verizon also available in the town of Mexican Hat.
Apr 25, 2021
Staff was super helpful with all my questions and gave some great advice as to what I could do with the tribal park being closed. It was the perfect start to my vacation week
Apr 25, 2021
Our stay was great. Doc and Mitzi were very helpful and accommodating. We would definitely recommend this KOA to anyone traveling to Monument Valley.
Apr 24, 2021
The park itself is pretty basic however the pleasant hosts and 360 degree jaw dropping scenery makes it one of my top ten RV camping experiences. There are some horse stables opposite the office area. Go pet the critters, they seem to enjoy human attention.
Apr 24, 2021
Nice campground. The views are amazing. Staff was really nice. It is a lot of dirt and dust, but you are in the desert.
Apr 24, 2021
Prefect location to view and access the area. Very friendly and helpful staff setting up tours and telling us great places to go in the area.
Apr 23, 2021
This is a beautifully situated KOA. The best scenery seen from the campground that I have experienced in a KOA. I would have rated it a 5 except for one issue. The sites are long, wide, with good landscaping, but the sewer is way to close to the next site. The sewer is literally 2 inches or less from the patio of the next site. Being new, it did not have to have been designed this way. Too bad.
Apr 23, 2021
Area is breathtakingly. Staff was pleasant. Internet poor.
Apr 22, 2021
This KOA is an excellent multi-night stop to tour Monument Valley and the surrounding area. We stayed 2 nights, but could have easily stayed another 2 or more. We were also here on a moon-less night and the starry night sky was spectacular. Management was very helpful and pleasant. Checking in was a breeze as was driving in and out of the grounds. I would HIGHLY recommend this KOA as a stop.
Apr 22, 2021
Very clean. Helpful staff. Will stay again when I'm in the area. Beautiful views!
Apr 20, 2021
amazing scenery right outside your RV window. the staff were incredibly polite and professional.
Apr 20, 2021
Great location. Very helpful staff. Clean and well maintained.
Apr 20, 2021
The perfect place to see the Monuments. Great place!
Apr 20, 2021
RV site was OK, wifi is terrible (not working at all) and that's important to me
Apr 20, 2021
Very friendly and helpful staff. Downside was wireless Internet didn't work. I'm working from the road so Internet is very important.
May 06, 2021
Very nice area. Flat level spots for trailers. New laundry room. Friendy staff.
- April Wilson on Google
May 06, 2021
Excellent hospitality
- Wesley Costa on Google
May 05, 2021
Monument Valley sits inside of a Indian reservation and as of the day I was there which was 3 days ago Monument Valley is closed down but the camp is at KOA it's open and it's more or less a RV if you need electric water gas whatever they'll be able Supply
- Mike Chafin on Google