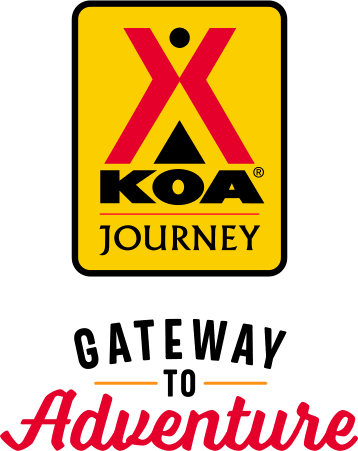 KOA Journey Campgrounds
KOA Journey campgrounds are the perfect oases after a day on the road. Whether it's along the way or a quick getaway, they've got you covered. Located near the highways and byways of North America with long Pull-thru RV Sites, they deliver convenience to the traveling camper. Pull in, ease back and take a load off.
KOA Journeys Feature:
Pull-through RV Sites with 50-amp service
Premium Tent Sites
Well lit after hours check-in service
Directions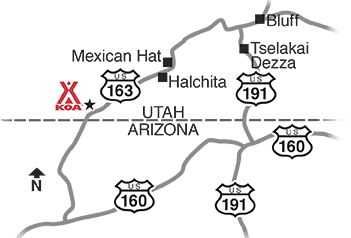 Conveniently located off US Hwy 163 at MM 2. From the north: 18 mi S of Mexican Hat, UT. From the south: 22 mi N of Kayenta, AZ.  GPS: N37.017002, W110.153417
Get Google Directions
Jun 18, 2021
Beautiful location, out in the middle of nowhere. Newly remodeled showers!
Jun 18, 2021
Part of why we love Monument Valley is the star gazing. Well, they have installed flood lights on the bathrooms that are hideously bright and they stay on all night, ruining the viewing of the stars. Lower watt bulbs and down-casting fixtures could easily be installed to fix this problem and let guests both find the bathroom and enjoy the best perk of the park. Please change the lighting!
Jun 18, 2021
Staff was friendly Bathrooms were hot, but nice Amazing scenery Few amenities for tent campers Tiny sites with no privacy and no tent pad No cover from wind/dust Numerous cactus spines in tent area Could not control hot/cold water in shower Little to offer at this price point
Jun 17, 2021
Really nice and friendly. Great facilities. Loved the view.
Jun 17, 2021
The view is spectacular! The starry night is not to be missed. Clean bathrooms and showers.
Jun 17, 2021
Very clean! This is a beautiful place to spend the night with an incredible sunrise.
Jun 16, 2021
Stunning views
Jun 16, 2021
Beautiful - great staff - customer service .. Only the electric box's were placed strange and at wrong end of site to plug in ... But staff moved us to different site and with some maneuvering got plugged in - since most RV's elec plugs are at the rear of rig ... So maybe rearrange and pull in the other direction would make it work better .. BUT - they are open only 3 years old .. I would stay ag
Jun 16, 2021
Easy access...beautiful views, super clean restrooms and showers!
Jun 16, 2021
Beautiful setting and nice, clean facilities. Although Monument Valley was 'closed', thanks to Raymond's alternate recommendation, we had a great day touring the area!
Jun 15, 2021
We booked 8 months in advance, I called to verify twice. But our reservation was not as requested on arrival. Great people, Raymond made our trip. Dusty, No cell coverage for ATT or Sprint, extremely poor WiFi. Sites are shorter than we expected. But, you come here for the view, and it is spectacular! Wow. The Indians still have the valley closed due to Covid. It did not bother us,
Jun 15, 2021
Overall the camp grounds are very nice. Playground, pet area and very clean and friendly. My only complaint was that the lights in the women's shower area were on a timer for about 15min. Then they went off leaving you to shower in the dark. Most people can not undress/shower and dress in 15 min. Especially when you are over 70. I asked several times for it to be fixed but to no avail.
Jun 14, 2021
Quiet and the restrooms were clean. Great views from the campground.
Jun 14, 2021
Friendly, clean, wonderful scenery, a great stay.
Jun 14, 2021
Pull-thru was too short to stay hooked up - and I only have a 24' trailer with a pickup. Sites are only about 15' wide so our neighbor's picnic table was under our slideout. The wi-fi was out the entire time - 3 days - that we were there. Would I stay here again? I doubt it. The wind, sun and blowing sand were brutal.
Jun 13, 2021
Clean bathrooms, nice facility! Beautiful views from the middle of the valley Amazing sunsets!
Jun 13, 2021
Absolutely beautiful pictureous view of monument valley. Great host n hostess. Loved our sunset horse ride with Guy the guide.
Jun 13, 2021
A one night stop. Friendly and helpful staff.
Jun 13, 2021
Staff was extremely helpful and friendly. Facilities were clean and everything worked as expected.
Jun 13, 2021
Very clean bathrooms and laundering area, amazing views at night and day time
Jun 12, 2021
Great location with great views and large sites. Very friendly, knowledgeable staff. Wonderful bathrooms and showers.
Jun 12, 2021
the manager helped us resolve a issue we had with our membership. The park was clean and well maintained with spacious sites
Jun 12, 2021
Very nice staff. GREAT SHOWERS and laundry. Beat scenery of any KOA for us to date. (Stayed at about 30 of them) Best sunsets ever!!
Jun 12, 2021
Cleanest showers and bathrooms I've ever seen while camping. Rent the jeep and go see Valley of the Gods. Doc was super informative. I would definitely stay again.
Jun 11, 2021
Great facilities and great view.
Jun 11, 2021
STAFF WAS AWESOME!!!!
Jun 11, 2021
Decent KOA spoiled by WiFi that didn't work for the entire duration of our visit, WiFi service is critical for RVers these days especially in remote locations where wireless service is unavailable.
Jun 11, 2021
Nicely maintained campground. Internet connectivity is non-existent and cell service is spotty but considering where this is located, understandable.
Jun 09, 2021
Rustic RV park in Monument Valley with "full" hookups, although no Wi-Fi nor antenna/cable TV. Still very scenic site on back row of park with view of mountains. Great place to disconnect and enjoy the natural wonders, including scenery, and climatic changes. Enjoyed our stay and we will return for another vacation to this enchanting area.
Jun 09, 2021
Raymond and his team are top notch. They keep the camp well maintained and clean. Definitely will recommend Monument Valley KOA to my friends. Russ Bade
Jun 09, 2021
Monument Valley was closed when we stayed here but it didn't matter it was right out our door! Nice campground, well maintained. Raymond in the office was very nice and helpful! Great campground!
Jun 09, 2021
Friendly, very helpful. Wi fi was not good.
Jun 08, 2021
Great staff and manager.
Jun 08, 2021
Loved the view at this site. Kids had fun at the park and the bathrooms and showers were incredible. Owner and staff were very friendly and helpful. Only (minor) downside was the sites were a little close together so our picnic table was right near our neighbors lines.
Jun 07, 2021
Nice stop. The hookups are placed poorly, so make sure to bring extensions if your hoses are short
Jun 07, 2021
Location is breath-taking & the bathhouse was spotless & very well maintained. Campsites were too close, with precious little space between sites. Unfortunately the WiFi never worked at all during my 2-day stay. Showers and Wi-Fi are fundamental to me for that price. Otherwise, I could have stayed in a nearby state park for less than half the cost. Raymond is an exceptional campground manager!
Jun 06, 2021
Great location, nice showers, but fire pits are in bad location.
Jun 06, 2021
Friendly staff, nice store, playground and dog park. The manager drove around in the evening to check on campers for any issues and the evening sunsets were fantastic.
Jun 06, 2021
Stunning views which can make an atheist believe in higher being. Nice small playground for small kids
Jun 06, 2021
Only stayed one night but appreciated the friendly greeting at check in and the clean facilities.
Jun 05, 2021
Good.stay, clean bathrooms, excellent view. Recommend two nights to see the area.
Jun 05, 2021
Great Place to stay , the scenery around the campground is unbelievable , The GM his name is Doc , was just a great help and made you feel comfortable to stay there. Can't wait to return next year.
Jun 05, 2021
It was all about the sunset here - with the monuments in the background it was spectacular.
Jun 21, 2021
Stayed here the past 2 nights. Monument Valley is a spectacular place to visit. There isn't a bad view in the entire campground. If you've never been and you camp then I recommend this KOA.
- Marcel Cartier on Google
Jun 16, 2021
Beautiful location. Friendly staff, roomy and relatively level sites.
- Travis Coleman on Google
Jun 05, 2021
Although the Hugesnet wifi was down, camp host was wonderful as well as location. By all means rent one of their jeeps for 4 hours to tour the rough road thru Valley of the Gods.
- Alex Fane on Google