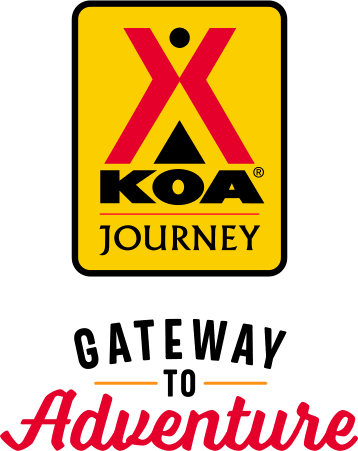 KOA Journey Campgrounds
KOA Journey campgrounds are the perfect oases after a day on the road. Whether it's along the way or a quick getaway, they've got you covered. Located near the highways and byways of North America with long Pull-thru RV Sites, they deliver convenience to the traveling camper. Pull in, ease back and take a load off.
KOA Journeys Feature:
Pull-through RV Sites with 50-amp service
Premium Tent Sites
Well lit after hours check-in service
Directions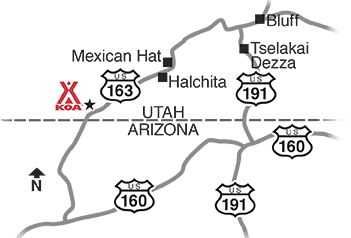 Conveniently located off US Hwy 163 at MM 2. From the north: 18 mi S of Mexican Hat, UT. From the south: 22 mi N of Kayenta, AZ.  GPS: N37.017002, W110.153417
Get Google Directions
Jun 17, 2021
Although being right out in the blazing hot sun in a tent is less than idea, the dawn and sunset views as well as the star-filled night sky made any discomfort forgetable.
Jun 17, 2021
The site was well laid out, facilities excellent with helpful staff. Thanks
Jun 15, 2021
Great place will be back!
Jun 14, 2021
Actually didn't end up staying just paying. Was no way to get out of the dust storm and setting up a tent would have been folly. Bathrooms are nice but overall expected more from a KOA.
Jun 14, 2021
It's in a beautiful location with a wonderful view. The bathrooms are so nice and even have showers. Every tent campsite faced the famous rock scenery. The manager couldn't have been friendlier. I definitely plan on coming back one day!
Jun 14, 2021
First time camper here, and the experience couldn't have been better! The grounds have a beautiful view! There's a playground for kids, and the manager, Ray, was so helpful and kind. We had a minor issue with an ant hill, and Ray took care of it right away. As an inexperienced camper, restrooms were a big concern for me, but the restroom and shower facilities were new and clean. Highly recommend!
Jun 09, 2021
Excellent 1 night stay. We had tent site #40 and it provided shade as we were right next to the bathroom/shower/laundry. Office personal was helpful and very welcoming! Thanks for a great stay.
Jun 09, 2021
It's beautiful; a truly exceptional location! We were in a tent site, and if our neighbors had respected the quiet hours, it may have been the best campsite of our whole two week trip. But the onsite manager made things right for us the next day. The employees are super helpful and friendly. The bathrooms are new and clean. The sunset, sunrise, and night sky are breathtaking. It's a must see!
Jun 09, 2021
This was my first KOA, and I was so impressed. The location is spectacular. The sunset and sunrise views are breathtaking. The facilities are top notch, and super clean. Checking in was a breeze. I wish we're staying more than one night. If I'm ever back this way again, this is where I'll be camping. THANK YOU!
Jun 05, 2021
This was my second time at this KOA. I had an emergency situation arise during my first stay, and the manager of this campsite was exceedingly kind and understanding. I will stay here any and every time I'm in the area.
Jun 04, 2021
Great location! Would be great if the site expanded to include cabins.
Jun 02, 2021
Showers and restrooms set a new "golden standard"! Excellent location, enough parking space yet not congested. Easy check-in/check-out, has a playground for children. Friendly and caring host! Thanks!
May 25, 2021
If you plan on camping, be mindful of the wind. We tried setting up a tent because winds weren't supposed to die down until after dark. The campground manager was very helpful. Beautiful night sky in the middle of the rock formations.
May 22, 2021
Newer KOA, so the bathrooms were immaculate! best part! tent sites of close are too close together, and are RIGHT on the Highway, which I knew, but that meant it had great views.
May 19, 2021
Very helpful man in the office, was able to help me refill my water tank.
May 18, 2021
So clean and very respectful campers! Great amenities and beautiful views. Thank you for a great experience! On-site manager was a delight!
May 13, 2021
Cell service is good for at&t I-phone 12 pro. I had no service with my Verizon, even while using their wifi. Great views, short drive to lots of cool stuff. Tent campers have best view. Mostly sand and its very windy, be ready for sand to be everywhere.
May 08, 2021
Great, great service. Ray, the camp manager was the absolute best. Everyone was so nice. And the place was clean, comfortable and very well organized.
May 05, 2021
Incredible Monument Valley views from campsite. Staff was super friendly and helpful. Bathroom/shower was very clean. Campgrounds were in very good shape.
Apr 25, 2021
Staff was super helpful with all my questions and gave some great advice as to what I could do with the tribal park being closed. It was the perfect start to my vacation week
Apr 06, 2021
Great place!!
Apr 06, 2021
Views were amazing. Bathrooms were clean and spacious. I can imagine that summer time temps get very high. Overhead cover on some tent sites would be great
Apr 04, 2021
One of the best KOA locations. Beautiful and Scenic location. Wonderful hosts, clean bathrooms and close to points of interest.
Mar 27, 2021
There during bad weather so can't fairly critique site. Staff great, could sleep in restroom so clean, store stocked. Will recommend but not to tents.
Nov 03, 2020
The facilities (bathroom, showers, laundry) were extremely clean as well as the campsites. For a tent site, it was nice to have a fire pit that doubles as a grill as well as a picnic table. The property description says WiFi is available, however the signal isn't that great. I even had a hotspot, but couldn't get a good enough signal to check emails and work remotely.
Oct 21, 2020
Clean facilities, excellent location. However, tent sites were practically on the side of the highway. Traffic noise and flashing headlights all night long. means no sleep for campers. Please consider putting RV sites on highway side and tent sites furthest from highway for a better experience.
Oct 16, 2020
We stayed at three KOA locations during our trip to AZ, UT, and CO. The Monument Valley location by far had the nicest bathroom! We enjoyed views of the buttes from our site while eating dinner, and it was quiet at night. We will recommend to all our friends and family for the great location!
Oct 12, 2020
Nice clean Bathrooms That's important Clean Place all around Please keep it up � You will always have a good business Thanks Duane
Oct 08, 2020
What a sweet and accommodating group of people! Sunrise in Monument Valley! What is better than that?
Oct 07, 2020
Great site. We rented a tent site and had a nice stay. Staff was amazing
Oct 04, 2020
Bathrooms are clean, showers are nice, and management is wonderful. We didn't like how the camping spaces are next to a busy, loud road. Monument Valley was actually closed and we weren't able to tour. But the campground itself is clean, campers were quiet, location very convenient.
Sep 26, 2020
Excellent customer service and reception!
Sep 25, 2020
Awesome location!! Very nice and clean bathrooms! Highly recommend
Sep 21, 2020
What great people. I am glad someone mentioned the neighborhood dog that comes round at night. He walked past my tent in the middle of the night and started barking but I wasn't scared because I expected him. He went off into the distance. I think he's protecting the tenters. I really enjoyed my stay and will return when the smoke dissipates.
Sep 20, 2020
Bathrooms were newly remodeled and really clean. Make sure you take food with you as there is no place to buy or eat. You are literally out in the middle of no where. Stars were amazing. Very isolated. Friendly staff.
Sep 08, 2020
Unbelievable view! Very nice restrooms. Staff was was wonderful and super helpful
Sep 08, 2020
Super friendly, very helpful. Great tent site, beautiful views. Fantastic, brand new and clean bathrooms and showers.
Jun 21, 2021
Stayed here the past 2 nights. Monument Valley is a spectacular place to visit. There isn't a bad view in the entire campground. If you've never been and you camp then I recommend this KOA.
- Marcel Cartier on Google
Jun 16, 2021
Beautiful location. Friendly staff, roomy and relatively level sites.
- Travis Coleman on Google
Jun 05, 2021
Although the Hugesnet wifi was down, camp host was wonderful as well as location. By all means rent one of their jeeps for 4 hours to tour the rough road thru Valley of the Gods.
- Alex Fane on Google