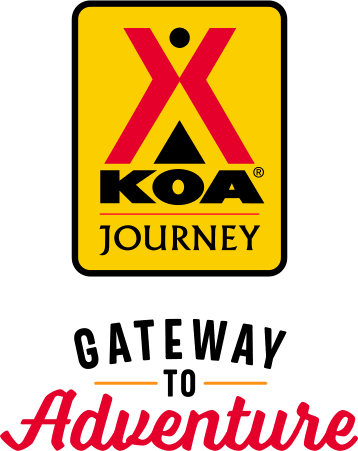 KOA Journey Campgrounds
KOA Journey campgrounds are the perfect oases after a day on the road. Whether it's along the way or a quick getaway, they've got you covered. Located near the highways and byways of North America with long Pull-thru RV Sites, they deliver convenience to the traveling camper. Pull in, ease back and take a load off.
KOA Journeys Feature:
Pull-through RV Sites with 50-amp service
Premium Tent Sites
Well lit after hours check-in service
Directions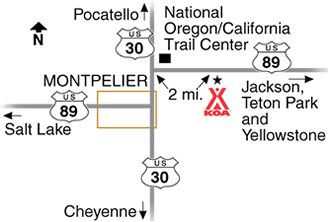 From Montpelier: go 2 miles north on US 89 towards Jackson, WY.
From Jackson: stay on Hwy 89 towards Montpelier. We are approximately 140 miles on the left.
Get Google Directions
Oct 24, 2021
3rd time there awesome as always, I'm book for next year Oct. for 2 weeks deluxe cabin again.
Oct 23, 2021
Great campground, site # 26 was amazing! Very kind, helpful and friendly family! Thank you
Oct 20, 2021
Well maintained, clean bathrooms, beautiful area close to caribou national forest. We will be back.
Oct 15, 2021
Very nice campground and a beautiful area it is located in.
Oct 14, 2021
It was great the mountains there are amazing
Oct 13, 2021
The laundry room was in dire need of cleaning so I cleaned it. The bathroom was pretty clean. Liked the nature trail, my husband enjoyed trout fishing and the fish cleaning station. Lovely spot and nice large site with fire ring.
Oct 11, 2021
Nice place run by lovely people. They even helped me find a vet when my dog got sick on a Sat. I would stay there again... Although this next time I would love to stay in one of their cute tent sites!
Oct 10, 2021
Friendly, quiet, great showers and laundry. Cute camp Store. Liked the creek side site and little dog run. Thanks!
Oct 09, 2021
The site was level, and set up nicely. Could use some TLC. Not next to a highway! Very secluded getaway. Owner was very polite and friendly.
Oct 09, 2021
This was the most beautiful place we stayed
Oct 09, 2021
Park was ok but the store was pretty bad. Needed a good cleaning.
Oct 02, 2021
The campground was very quiet and the hosts were quite friendly and helpful. There are quite a lot of potholes which makes for a very rough drive into the campground. We would stay here again.
Sep 29, 2021
The person who was on duty was a gentleman and was welcoming and was Wonderful. Thanks so Much
Sep 28, 2021
Relaxed and friendly. Clean, private cabin in perfect location by the stream. Loved it.
Sep 27, 2021
Bathrooms had not been cleaned in a long time. Grounds very poor condition with weeds, overgrown trees. Campsite was unlevel, rocks put where dirt and grass used to be. Office was a mess, looked like you were closing down! Overall, very disappointing as we stayed here 6 years ago and it was fabulous!
Sep 26, 2021
Sadly the previous reviews were accurate. I was hoping that they would be wrong but they were not. No one was there to greet us when we pulled in. Had to go searching for the manager. Campground needs a lot of work. We did have hot water, electricity, and Wi-Fi… But, If you can go further west there are a couple of really nice campgrounds about 30 to 45 minutes away.
Sep 26, 2021
nice quiet campground
Sep 26, 2021
Bath/shower facilities are very clean and the showers were great.
Sep 24, 2021
Excellent stay, I have stayed before and will stay again.
Sep 23, 2021
Usual clean and congenial KOA experience. Lovely little walking trail along the creek. Might want to give the poultry a larger pen. Thanks!
Sep 23, 2021
Old park not kept up well
Sep 21, 2021
This is a campground that got a KOA name from the past - but now the owners (hosts)(who were VERY pleasant) can not handle its upkeep. The firepits, garbage, grounds, store are FILTHY - the bathrooms were passible - the connections were questionable - the pool which was empty looked unused forever although we were told "closed for the season". Money loss kept us there rather than leave.
Sep 21, 2021
This campground looks NOTHING like the pictures! It is in serious need of major upkeep. This could be a very nice place with a lot of work. The owner was a very nice person and very helpful but this place is very rundown and will not be back or recommend this place.
Sep 21, 2021
Convenient location on the route from Yellowstone/Grand Teton National Parks to Salt Lake City. Smaller Park, but friendly staff and clean.
Sep 19, 2021
Our regular cabin was very clean and we really appreciated our host. And they were very friendly and very accommodating. We didn't particularly like the mattress LOL but that seems to be a given. The campground is very nice and clean and there were some animals on the property that were penned up that the owner shared stories about, geese and Ducks. The grounds were clean and there was plenty of p
Sep 19, 2021
Friendly owner, very accommodating. Pretty area and historically fascinating. Glad to have an RV rather than a wagon with a canvas top, and OXEN!!
Sep 19, 2021
Friendly and helpful staff. Fairly quiet location.
Sep 18, 2021
The staff was very helpful and friendly, the property was a little ways out of town in the countryside, so it was quiet, but the property is a little run down and not maintained well. For example the pool had some algae lining the bottom.
Sep 18, 2021
This is a beautiful friendly campground away from noise and bustle. There are a couple nice short trails that follow the creek. Management was helpful and welcoming. This is a gem amongst KOAs. The area around Montpelier is stunning with a bird/wildlife center about 8 miles away.
Sep 18, 2021
This was the worst KOA I have ever stayed in the restrooms smelled nasty the grounds were not anything like they appeared online there were thistles all over the place(not good for the dogs) the tent sites and the nature trail were overgrown. And there was trash in a lot of the sites. The main check in building was a disaster area. I will never recommend this place to anyone. CLEAN IT UP!!!
Sep 15, 2021
Host was most accommodating. The campground was beautiful and spacious. Bathrooms and shower were very clean and well maintained.
Sep 12, 2021
Nice little campground that needs a lot of cleaning and up keep
Sep 12, 2021
Jim is a great host. He knows the area well, directed my husband to some great fishing. Caught his limit everyday. Jim definitely needs help in maintaining sites, as there were weeds & overgrown bushes. The sites can use more gravel as well. Overall stay was nice & quiet. Great play area & ping pong table for kids. Can't comment on pool or shower facilities, we didn't use. We would stay again.
Sep 12, 2021
Nice, quiet, friendly
Sep 11, 2021
I wish we could have stayed longer
Sep 11, 2021
We stayed in a cabin without a bathroom I thought it would be a problem but it wasn't very far to the bathroom. Nice facilities there. We enjoyed the swing and the fire pit. We enjoyed the nature walk by the river. The pool was not warm enough but they said it was heated it was freezing. And the pool could be better clean and maintained. Other than that it was great, close to the town.
Sep 11, 2021
The site was cramped and I think the "promotion" of the creek side sites is over rated. They are cramped and the vegetation around the small creek is very thick making viewing or access to the creek difficult. The fire ring and picnic table were old and in disrepair and their isn't much room for outside activities. Overall, an easy in and out for a one night stay.
Sep 10, 2021
September 2021. The whole campground is overgrown with weeds, trees not trimmed, some trash around. The owners are nice but no interest to improve the grounds. Nice playground for the kids and a pool. I don't understand the penned up birds, a very tiny pen.
Sep 10, 2021
Very nice, quiet park. We arrived in the early evening and were still able to walk on the nature path before sunset. We'll return here on our next travels to the area.
Oct 10, 2021
Pulled in late and slept in the car so it was short but they had a nice little store, wifi worked, and the bathrooms were clean. The service was great, the nice guy behind the desk walked us around and let us pick out our spot, he also gave information about the surrounding area.
- Logan G on Google
Sep 20, 2021
Muy bonito lugar, mucha sombra y sobre todo muy limpio
- Ly B on Google
Oct 26, 2021
Clean park with a beautiful river. Only thing I could say bad is the fenced in dog park to far from camp sites and no shade.
- Richard Purvis on Google