Local Area Attractions Near Monroe Co. / Toledo North KOA Holiday
Located directly off US 23 just north of Toledo. Our location gives our campers easy access to cities like Toledo, Ann Arbor, and Detroit. We are just 10 minutes from Cabela's and many other great attractions all around. There is something for everyone at the Monroe County KOA.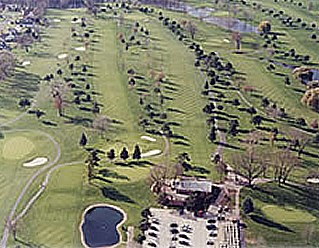 10 Golf Courses
All located within 10 minutes.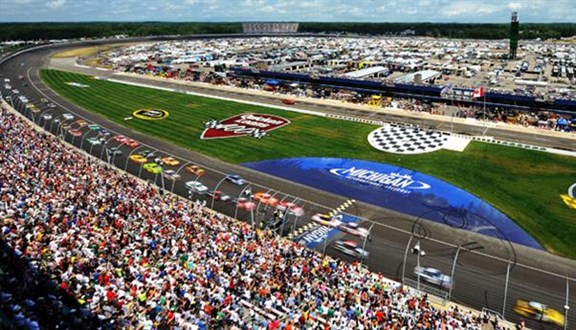 Michigan International Speedway April 1-October 31 (Viewing Area) June-August (Races)
Burn rubber and head to the MIS-also known as NASCAR's Great Escape. Over the last 40+ years, this 2-mile track has seen records set by racing legends Bobby Unser, Richard Petty, Dale Earnhardt, Kyle Busch and Rusty Wallace. Learn about all the great 2018 events and buy your tickets at mispeedway.com.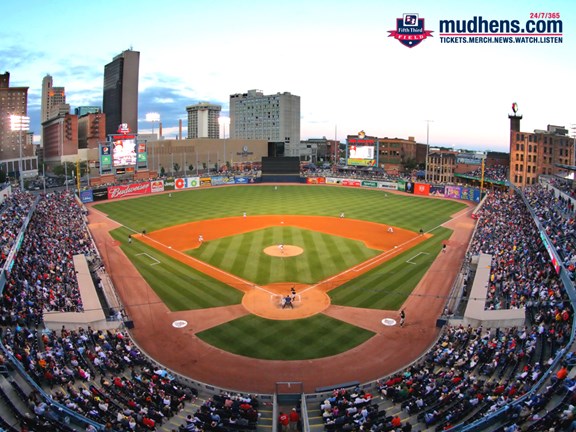 Toledo Mud Hens (April-September)
Swing batter-batter! For nearly 120 years, Toledo fans have been cheering on their local ball team. You'll laugh as mascots Muddy and Muddonna entertain the crowds at Fifth Third Field. Down a delicious Muddy dog and make sure to get your own Mud Hens hat at the Swamp Shop. Home opener is April 12, 2018. Get all the game dates at mudhens.com.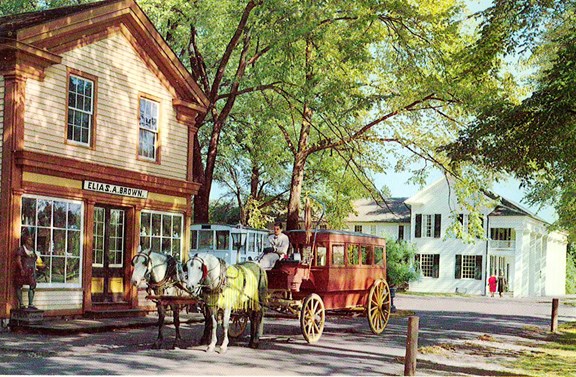 Greenfield Village
Take a step back in time to see some of America's most historic buildings. See the home of the Wright Brothers, the farmhouse where Henry Ford was born and the courthouse where Abraham Lincoln practiced law. Take in a historic baseball game or a ride on the Weiser Railroad. Learn more at thehenryford.org/village. April 14- October 28, 2018: Open 7 days a week 9:30 a.m- 5 p.m.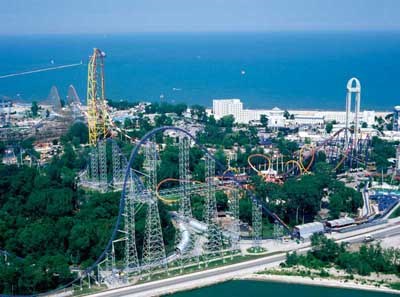 Cedar Point (May-October)
Did you know that the world's largest amusement park is just an hour from our kampground? And this year, you've got to try out the brand new Windseeker, a 30-foot tall swing ride! And while you're there, be sure to try Soak City and the Challenge Park! Plan your visit online at cedarpoint.com. Opening Saturday May 5th - September 3rd. Open everyday! September 8th- October 28th only open Friday- Sunday. Hours Vary.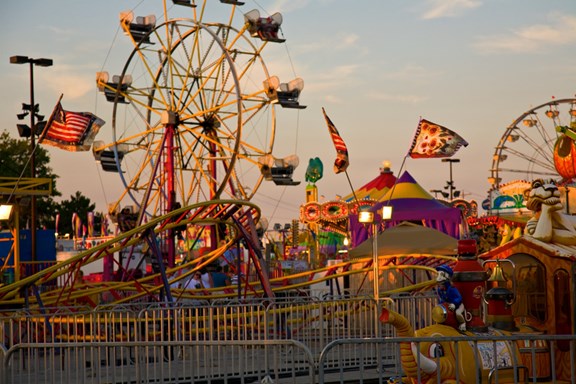 Monroe County Fair (July 29-August 4, 2018)
For good old-fashioned fun, you won't want to miss the Monroe County Fair. Great 4-H displays, carnival rides, rodeos, music, a petting zoo and much, much more. For information, visit monroecountyfair.com or dial 734-241-5775.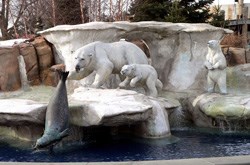 Toledo Zoo (Open Year-Round)
Get up close and personal with more than 9,000 animals, reptiles and birds that call the Toledo Zoo home. From the Arctic to Africa, you'll love learning about the world's ecosystems and have a great time doing it. Sneak a peak before you go, and buy your tickets at toledozoo.org.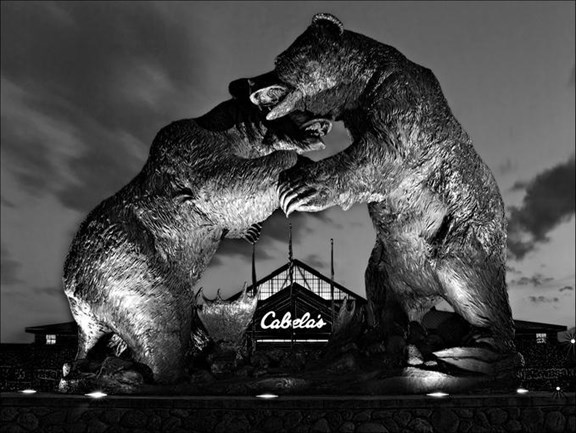 Cabela's (Open Year Round, Closed Some Holidays)
Find museum-quality exhibits and choose from top-quality outdoor clothing and equipment as you stroll through Cabela's 225,000 square feet showroom. From the huge grizzly statue out front to the realistic animal displays and indoor aquarium, kids of all ages will be fascinated with all there is to see. And it's just a short drive from the kampground, in nearby Dundee. Get directions and learn more at cabelas.com.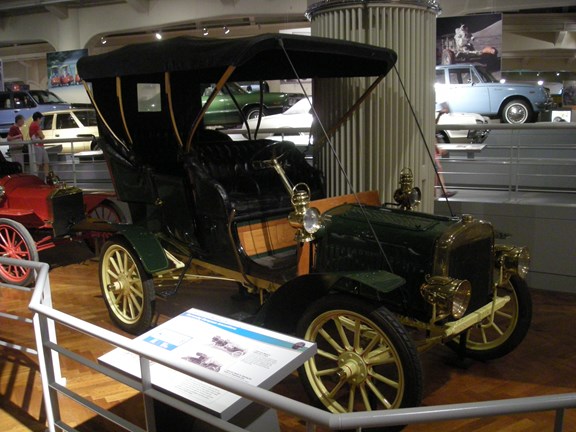 The Henry Ford Museum (Open Year-Round, Closed Holidays)
Imagine seeing George Washington's camp bed, a cast of Abraham Lincoln's hand or the Kennedy limousine. They're all in one place: the renowned Henry Ford Museum in Dearborn. Covering over 9 acres and housing an IMAX theater, the Henry Ford has hundreds of exhibits that educate and inspire visitors of all ages. Plan your visit at thehenryford.org.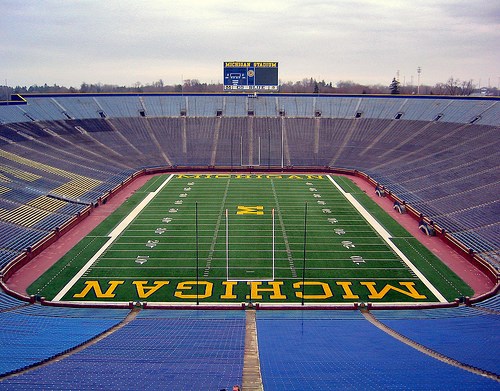 The Big House at the University of Michigan
Built in 1927, Michigan Stadium, nicknamed The Big House is the football staduim for the University if Michigan in Ann Arbor, Michigan. Saturday September 1, 2018 The Wolverines host the nearly undefeated Notre Dame Fighting Irish. Guided tours (groups 25 or less) are held Mondays and Wednesdays and can be arranged through Bill Austin in the UM Athletic Department. Learn more at mgoblue.com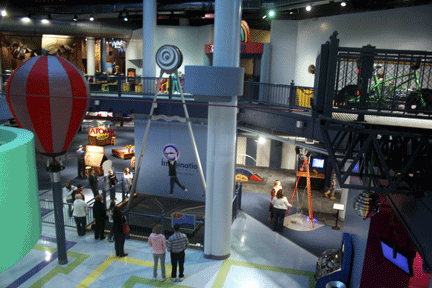 Imagination Station (Open Year Round, Tuesday-Sunday, Closed Some Holidays)
Located on the riverfront, Imagination Station is an interactive science center for kids. Six learning worlds teach kids about chemistry, sound, nature, math and more-engaging their minds and their senses. Hours of operation: Tuesday-Saturday: 10a.m.-5p.m, Sunday 12p.pm-5p.m, closed on Monday. See the latest exhibits and learn more at imaginationstationtoledo.org.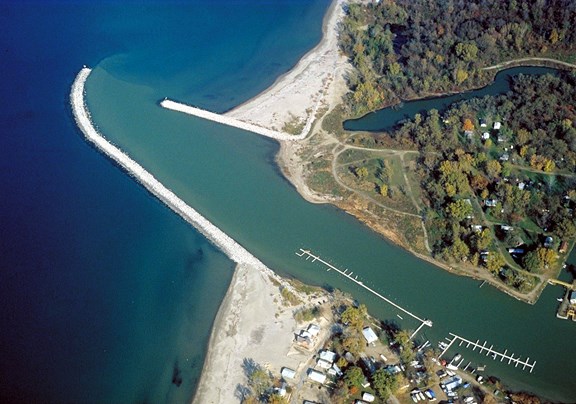 Lake Erie
On-the-water fun is waiting for you on beautiful Lake Erie, which is also home to great walleye fishing. KOA kampers enjoy easy access at Luna Pier, located less than 15 minutes from our campground. Ask at the front desk for more information.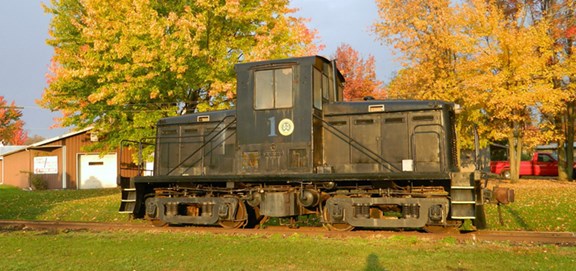 Toledo Lake Erie & Western Railway and Museum (May-October)
All aboard! Take a ride on the Blue Bird to see some of Northwest Ohio's most beautiful scenery. For 60 minutes, kids of all ages will learn what it's like to ride a real passenger train-and have a ball doing it. Go to tlew.org for more information.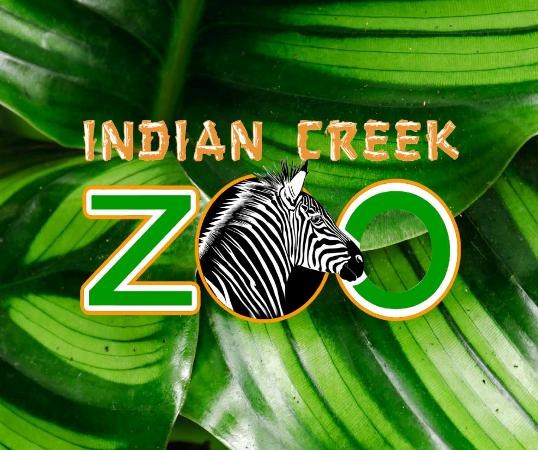 Indian Creek Zoo
The Indian Creek Zoo is a great place for all ages. Conveniently located at 2744 Consear Road, in Lambertville, Michigan (between Secor & Douglas) just 3 miles north of Toledo, Ohio.
4.2 miles East of Route 23 (Exit 3) Open April - October.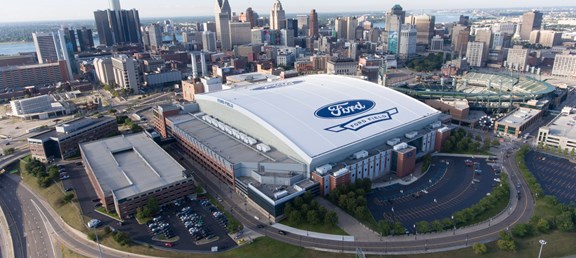 Ford Field
Ford Field is a multi-purpose indoor stadium located in Downtown Detroit, Michigan and home of the Detroit Lions.
2000 Brush St
Detroit, MI 48226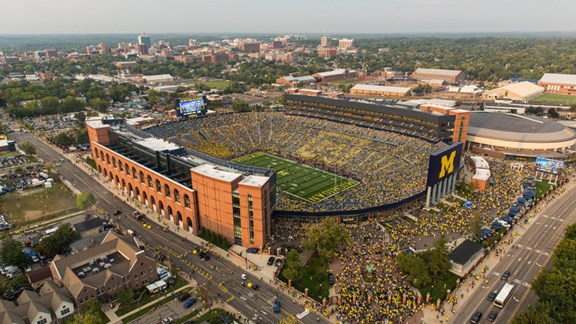 University of Michigan Football Stadium "The Big House"
Michigan Stadium. The Big House. Home of Michigan Football. One of the country's most classic, widely recognized sporting facilities, Michigan Stadium has come to symbolize the pride, tradition and excellence of the University of Michigan. There is truly no place like it on a fall Saturday afternoon. Michigan Stadium is NOT open to the general public for exercising, walk-in tours, drop-in photo ops, etc. For a fee, guided tours are held on weekdays and may be arranged through the athletics department. Tour arrangements must be made at least two weeks in advance. Discounted rates apply for educational and non-profit groups. For more information on tour pricing, location, and policies, visit the Special Events site.
1201 S. Main Street
Ann Arbor, MI 48104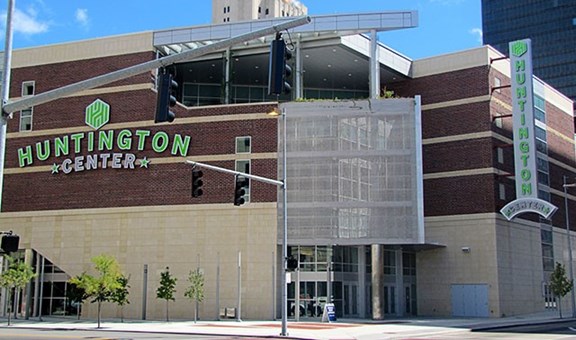 Huntington Center
Located just 20 minutes away. The Huntington Center is the premier stopping point for national touring concerts and performances including musicians from every genre and world renowned family shows as well as local, state and regional sporting events. Huntington Center is also the home of the Toledo Walleye ECHL ice hockey team. HuntingtonCenterToledo.com
500 Jefferson Ave.
Toledo, OH 43604