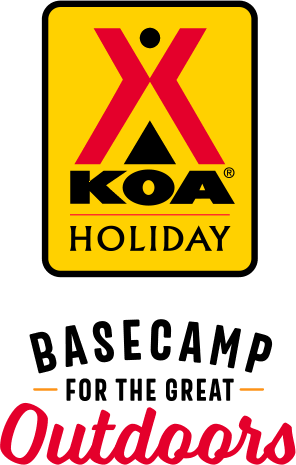 KOA Holiday Campgrounds
Whether you're exploring the local area or hanging out at the campground, KOA Holidays are an ideal place to relax and play. There's plenty to do, with amenities and services to make your stay memorable. Plus, you'll enjoy the outdoor experience with upgraded RV Sites with KOA Patio® and Deluxe Cabins with full baths for camping in comfort. Bring your family, bring your friends, or bring the whole group – there's plenty of ways to stay and explore.
KOA Holidays Feature:
RV Sites with a KOA Patio®
Deluxe Cabins with full baths
Premium Tent Sites
Group meeting facilities
Directions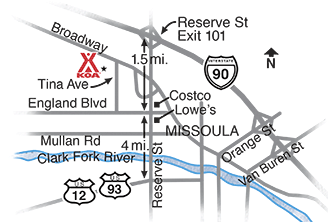 If using GPS or Internet mapping like MapQuest or Google Maps to find the Missoula KOA campground, turn it off at I-90 Exit 101 (Reserve St) and follow our directions by clicking on the Missoula City map at right. GPS and Internet direction mapping is incorrect for the best way to get to Missoula KOA.
From Interstate 90 take Exit 101
At Reserve Street light off the exit Go (South) drive 1.5 Miles merge into right lane. Turn right (West) at the light onto England Blvd, (Famous Footwear will be to the right; Costco will be to the left of the intersection). Drive 1/10 mile, Turn right (North) onto Tina Ave follow Tina to KOA Office 1/10 mile.
From HWY 93 & 12 South of Missoula
Turn Left (North) onto Reserve Street stop light.  Go 4 Miles north on Reserve Street merging into the left lane. Turn left (West) at the light onto England Blvd, (Lowes will be on the right; Arby's will be on the left of the intersection). Drive 1/10 mile Turn right (North) onto Tina Ave follow Tina to KOA office 1/10 mile.
Get Google Directions
Sep 21, 2021
The staff are very friendly and helpful
Sep 21, 2021
Love KOA's. They are such a nice blend of different and the same everywhere you go.
Sep 21, 2021
great spot nice office staff
Sep 21, 2021
Superb Hosts. No complaints!
Sep 21, 2021
Clean, big, with lots of camping options. Nice people run it.
Sep 21, 2021
The site we were assigned had a tree close to the hookups. First we couldn't open our driver side slide. We then had to move forward. Thus then caused difficulty in doing our hookup as we were unable to open our compartment door properly. We were unable to move another site, as no sites were available. They should have planted the tree in the center of the greenery area between the two sites.
Sep 21, 2021
Very nice staff comfortable sites and clean restrooms
Sep 20, 2021
Was great. Best KOA we have stayed at.
Sep 20, 2021
We loved this KOA. Wish we could have stayed longer than 2 nights.
Sep 20, 2021
Enjoyed everything about our stay at Missoula KOA! Great location, friendly, helpful staff, large campsites, pet friendly. Restroom facilities were immaculate and the staff was always working to keep the grounds clean. Very much appreciated! This will be our go to campground in Missoula!
Sep 20, 2021
Another pleasant experience at this location. Clean, orderly, with friendly staff. Just a lot of speed bumps. Recommend exiting from the south end of the park.
Sep 20, 2021
Great, well maintained campground. Staff are all super friendly. Will definitely return. Than you!
Sep 20, 2021
Was great. By far the best KOA we have ever stayed at.
Sep 20, 2021
Despite the weird location (middle of big box stores) it was remarkably quiet at the campground. The bathrooms were so clean and staff friendly and helpful!
Sep 20, 2021
Nice clean and organized place
Sep 20, 2021
No masks, no social distancing, nothing. Apparently 2000+ dead a day is a joke to them. Don't park even 1 inch on the grass though, that really bothers them.
Sep 20, 2021
Great place, lots of fun things to do. Campgrounds were neat and clean as were the bathrooms. We stayed in a single cabin and it was also clean. Wish we could of stayed longer.
Sep 19, 2021
Have stayed at several KOA's that were a lot better than this one. Bigger is not necessarily better.
Sep 19, 2021
It was the best and the friendliest KOA that we have ever been at. Rick was such a big help and so wonderful. Store staff THE BEST! We hope to be back this next week on our way home!
Sep 19, 2021
We used this KOA on our way from WA state to Yellowstone National Park. The campground was good and it was great to have a pull-through site. The staff was very helpful and the facilities were clean. This KOA is located in the middle of a residential area, with congested traffic. Also close to an airport and train tracks. But these things were not too bothersome; we would likely stay here again.
Sep 19, 2021
Great location! Great customer service.
Sep 19, 2021
Clean beautiful Camprground & cabin. Restrooms were clean also
Sep 19, 2021
Great experience here and a super location. Clean as always and friendly staff. They do enforce NO early check ins, but once it's time you're treated like long lost best friends. Highly recommend this KOA
Sep 19, 2021
To close to airport and county school bus operation all start early in am. Do not plan on sleeping late.
Sep 19, 2021
Very clean cabin! Easy access in town, staff is friendly. It's also quiet! Deodorizer in cabin/bathrooms a bit strong but opening a window helped. My favorite place to stay in Missoula!
Sep 18, 2021
This is a beautiful, well cared for campground! We were traveling with 3 other camping families and we were assigned to sites right near each other. Staff very friendly. KOA appears to be "in town" but very quiet. Pool area immaculate. All hookups were like brand new. We were in a 35' Class A towing, sites were huge and level. Would definitely stay here again.
Sep 18, 2021
Spent one night with friends at tent camp
Sep 18, 2021
Thank you for your hospitality!
Sep 18, 2021
One of the better KOA
Sep 17, 2021
Stayed as a summer employee, great experience, fantastic people to work with
Sep 17, 2021
Second visit and the cable didnt work either time.
Sep 17, 2021
Great park. Clean. Level site. Parked under a shade tree. Great dog park. Friendly people. We will be back.
Sep 17, 2021
Everyone was very friendly. We felt safe. Would definitely come back!
Sep 17, 2021
Staff was very friendly and helpful - campsites are kept very clean - quiet campground - walking distance to Costco, haircut and other shopping - we have stayed at the Missoula KOA before and will stay again - highly recommend to anyone.
Sep 17, 2021
Asked for 1 night refund due to family friend being killed in shooting in Kalispell that morning. I had to get to Kalispell. Desk emp. said I was trying to check out "too late." My God, I couldn't have checked out on time as I didn't find out about the shooting until 3pm!! I can't believe she couldn't have made an exception for my horrific circumstances! No flexibility for an emergency!
Sep 17, 2021
Wonderful staff that were able to add an extra day to our stay.
Sep 17, 2021
A premium campsite next to school bus barn it's not my idea of a premium site! The areas surrounding you KOA With older trailers and houses almost made me cancel the reservation.
Sep 19, 2021
Great facility
- Carolyn Hines on Google
Sep 17, 2021
Nice place for travels
- Debbie Shepard on Google
Sep 16, 2021
Great place to stay for the night! We were tired of driving and called to see if they had openings and they did! Grounds were clean and very well kept! Staffing the office were super friendly and very helpful. They had a nice little fenced in spot for the dogs to run and stretch the legs in!
- Shaun Versluis on Google