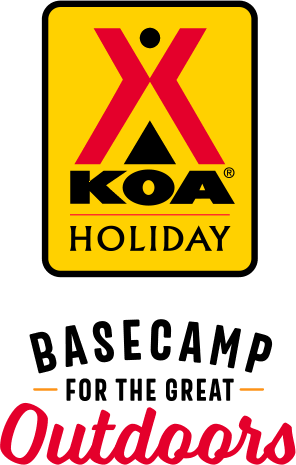 KOA Holiday Campgrounds
Whether you're exploring the local area or hanging out at the campground, KOA Holidays are an ideal place to relax and play. There's plenty to do, with amenities and services to make your stay memorable. Plus, you'll enjoy the outdoor experience with upgraded RV Sites with KOA Patio® and Deluxe Cabins with full baths for camping in comfort. Bring your family, bring your friends, or bring the whole group – there's plenty of ways to stay and explore.
KOA Holidays Feature:
RV Sites with a KOA Patio®
Deluxe Cabins with full baths
Premium Tent Sites
Group meeting facilities
Directions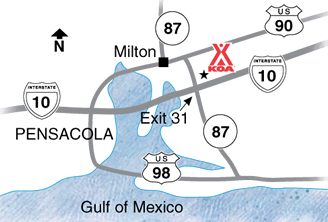 From I-10: Take Exit 31, then go north on Highway 87 for 1/10 of a mile, turn right into entrance.
Get Google Directions
Apr 06, 2021
Spot was clean large full hookup every thing worked except cable tv. Got word my 93 year old Mother had suffered a down turn and other family members said we should get home before it is too late. We had to leave 2 days earlier than plan. " NO REFUNDS!" Is a major disappointment. All circumstances should be considered. Will contact KOA Corp. To discuss.
Apr 05, 2021
We enjoyed our stay. Very well kept and the staff was great.
Apr 05, 2021
Pretty area. Hard to get out of to get back on I-10. Friendly staff.
Apr 05, 2021
Clean and well groomed rv campground. The staff is friendly.
Apr 05, 2021
Overall a nice campground. It was disappointing to be placed in what is essentially a "buddy site", super close to another rv. Also, our site seemed set up for class A and not a travel trailer. We could not reach the cable hookup and barely reached the sewage hookup.
Apr 04, 2021
We had a very enjoyable stay. First time staying in that part of Florida. Very clean facilities. Would highly recommend this KOA.
Apr 04, 2021
Disappointed. We've stayed here a few times it was decent, but now seemed more run down. It's a good location, not a good value. We drive a 36 class A and tow. We were escorted Way to the back thru some narrow trees on a dirt path with puddles—tires on our clean rig got very muddy. Not happy on that. The site grassy but ok. The two previous nights we paid less combined W/paved sites. Not a W
Apr 04, 2021
Loved the large drive through parking area.
Apr 04, 2021
We like the facility and it was clean. Putt putt only available until 5:00pm The General store and check in closes at 5:00 p.m. "WHAT" Campers go out for the day and come back in the evening. When they get back to the campground is when they would purchase some firewood, ice or other random items from the KOA store. The Office hours 8:00-5:00 do not support a campers lifestyle. You can do better.
Apr 03, 2021
Great for a quick overnight stay. The park was clean and the staff friendly.
Apr 02, 2021
The people in the office were very accommodating . We showed up after the office closed but there was a welcome package waiting showing us where our site was, etc. Plus someone came to help us out when we were struggling to hook up our camper- first time jitters lol. Campground was clean and maintained.
Apr 02, 2021
We called and found the campground totally booked. However, a very kind woman saw that we have a small camper and gave us a spot! A cheerful woman in a golf cart took us to our beautiful spot. All good! We love KOAs!!
Apr 01, 2021
Wallet was stolen from truck, $3000 worth of gear stolen from camper while on a walk around KOA (reported to police). About 60% of the washers and driers worked and the common room/game room was closed for repair the 2 months we stayed here. Will definitely upgrade RV security before considering staying here again.
Apr 01, 2021
Enjoyed our stay in the Deluxe Kamping Kabin! Very nice!
Mar 31, 2021
Very nice campground , people are helpful and friendly
Mar 31, 2021
I came to enjoy the area but as soon as entered my camp site, I saw political flags on two campers. Political flags regardless of party should not be allowed. It is a place for relaxing not rehashing political views. The camp site was great but long term quest were not very friendly. The staff was very nice and friendly.
Mar 31, 2021
We have stayed with you several times..Alway a great experience. The only thing I missed this year was your Breakfast every morning. I know your building was damaged however we still missed it.
Mar 31, 2021
Very nicely kept grounds. Nice folks.
Mar 31, 2021
Bathroom & showers were great. Laundry had many machines which was good. Great place for kids
Mar 28, 2021
Staff was a bit surly. Dog area was tiny and filled with dog droppings. Tight and a challenge to maneuver in and out with a 40' and Toad. Not our favorite location. Good amenities if you use the pool etc. I20 access leaving is very challenging.
Mar 27, 2021
The staff are kind and helpful. The grounds are clean and well maintained. We are full-timers and it is imperative that our family is taken care of like part of the family of KOA.
Mar 27, 2021
Assigned to space TOO SMALL FOR motor home towing car. Employee told us we could back up to get out to avoid trees on both sides. Obviously didn't know that is a big no no!!! Moved to better pull thru sight.
Mar 27, 2021
Wonderful campground. Very well kept and nice, large spaces. The only problem was the WiFi which was virtually non-existent unless you were next to the office.
Mar 25, 2021
Got us in at last minute. Great staff, super friendly and very accommodating! Will definitely recommend and visit again!
Mar 24, 2021
It was a very clean campgrounds and Laid out nice and the Staff was exceptional! We will stay there again on Our yearly Spring trip from Cold Wisconsin to Wonderful Key West!
Mar 24, 2021
Was just ok for 2 day stay. Not worth the price. Staff very kind. I've stayed in another koa and cabins were water side. Very pretty. This one needs a little more excitement.
Mar 24, 2021
The kids loved the pool and goofy golf. Very clean campground, which makes me happy.
Mar 22, 2021
Our stay was great. The staff were fantastic. We will stay here again!!!
Mar 22, 2021
Unfortunately there was a heated pool and game room advertized on the website that was not available during our stay. Being that our stay was in March and it was cool outside, bith of those amenities were important to us. When I inquired, i found out that both things had been out of commission for quite a while. Which happens but with that extended circumstance they should have updated the website
Mar 22, 2021
Always a pleasure to stay here. Terrific staff, grounds are well maintained, and, nice dog park. We'll definitely stay again when we're in the area.
Mar 22, 2021
We enjoyed our little cabin, it was perfect and had everything we needed. Clean, quite and safe place. Only drawback: the putt putt golf course sign says open until 10:00pm. We went one night after dinner about 7:30 and couldn't play bc you have to get the stuff from the office. The office closes at 5:00pm. We were a little bummed but we made the best of it.
Mar 22, 2021
Staff was very helpful in making our reservation. Site was well maintained. Plenty of activities for the family.
Mar 22, 2021
In 6 years of RV camping, I have never encountered a site in which two vehicles in adjacent sites face one another and share a slab. The distance between our rig and our facing neighbors was not even enough for us to open our awning more than half way with the other rigs awning fully extended. Bizarre! I love getting to know other campers, but I do not like to be forced to share a common slab.
Mar 21, 2021
Loved the size of the sites. Easy to get into! The cable was one of the better ones that we have come across! WiFi was good. We had a deluxe site and were thrilled with it. Most of the other campers were great! Wish that it would have been warm enough to use the pool, but it looked to be in good condition. We enjoyed our stay, and would like to return!
Apr 08, 2021
Nice park. Alot of amenities. You can tell they try.
- Terry Colquhoun on Google
Apr 06, 2021
Great place kids are having a great time and everyone is so nice
- Carter Ortis on Google
Apr 12, 2021
We stayed for two weekend nights due to the proximity to Navarre beach. Nightly prices beat the beachside hotels by about half price. Short beautiful drive down to Navarre. We stayed in the basic cabin and had no issues with the freeway noise. It is unfortunate how early the office closes, which is the only reason to lose a star. You have to go offsite anytime after 5 for snacks or drinks. Every restaurant from Pensacola to Crestview was packed with 45min seating waits. Hardly KOAs fault, but thought it should be noted. Navarre had plenty of places to eat that were not packed. Great stay overall, will stay again when returning to the Emerald Coast.
- David Waltmon on Google