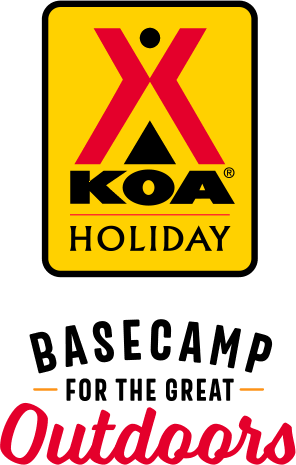 KOA Holiday Campgrounds
Whether you're exploring the local area or hanging out at the campground, KOA Holidays are an ideal place to relax and play. There's plenty to do, with amenities and services to make your stay memorable. Plus, you'll enjoy the outdoor experience with upgraded RV Sites with KOA Patio® and Deluxe Cabins with full baths for camping in comfort. Bring your family, bring your friends, or bring the whole group – there's plenty of ways to stay and explore.
KOA Holidays Feature:
RV Sites with a KOA Patio®
Deluxe Cabins with full baths
Premium Tent Sites
Group meeting facilities
Directions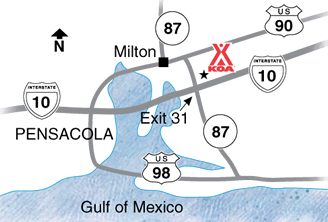 From I-10: Take Exit 31, then go north on Highway 87 for 1/10 of a mile, turn right into entrance.
Get Google Directions
Oct 23, 2021
Employees were fantastic and always willing to help. I wouldn't hesitate staying again.
Oct 23, 2021
We stayed in site F4 which was a deluxe site. It was very nice. The table and setting bench was new. The table umbrella was nice and working properly. All hookups were in great order. The manager is very friendly and on the ball. The site included a propane grill which was pretty nasty. All facilities were very clean and the grounds were immaculate. We will stay there again.
Oct 22, 2021
The site was level, the check-in was friendly, and only stayed one night but quiet and I would stay again!
Oct 22, 2021
Stay and campground ok .over priced but the exit trying to take a left was very bad
Oct 22, 2021
Awesome staff and location. We ended up extending for an additional 2 days for a three day stay. Facilities are awesome with spacious sites with easy hook ups. We don't use the pool however they look really inviting. Our dogs enjoyed the area as well. Just can't say enough for the staff to the campgrounds.
Oct 20, 2021
Everything was great till we found out about an accident with a baby that happened. We thought about leaving it for a week but highly decided against it after that. Other than that, it was great. Did not feel like my kids was safe.
Oct 20, 2021
Was peaceful stay, weather was perfect
Oct 20, 2021
Clean and level sites. Great staff with one exception. The young white gurl in the office was curt and a bit rude at check-in. Great place to spend a night or a few days.
Oct 19, 2021
Always a pleasant stay there. Sites are smooth and lots of green grass. We enjoy our stay there.
Oct 19, 2021
Nice and clean, with friendly staff, will stay again when in the area.
Oct 19, 2021
Jersey was very helpful. Would like to of had wood for our fireplace out where we could purchase it. Hot water with 4 girls went fast. Need at least 2 chairs for the fire area, we took beach off front porch and used the picnic table. Over all a great visit. Cool weather was wonderful for having a fire in the morning and cooking outside on our Coleman stove. Thank you souvh.
Oct 18, 2021
They took us in on short notice and was glad they did. We ended up being very glad that we stayed there.
Oct 18, 2021
This is by far the most noisy campsites we have ever encountered. Right next to a major highway. We could hardly sleep with all the truck traffic. If you stay there ask for a site far away from the traffic.
Oct 18, 2021
Very pleasant and accommodating staff!!!! Long, clean sites and grounds!
Oct 17, 2021
We were there only 1 night, and won't stay again. We arrived, apparently too late (7pm) for anyone to be bothered to stay and great guests.
Oct 17, 2021
Everything was fantastic. Staff was extremely friendly and helpful. Only negatives are interstate noise and pool was very cold. :-)
Oct 17, 2021
Great site this trip, easy access for a Tag.
Oct 16, 2021
Steps to the cabin need to be replaced, warped so it was hard to open the door.
Oct 16, 2021
Nice overall but dog park is too small and too messy to be useful. Site F3 is expensive but paving is not wide enought at the front for a 45 ft. motorhome with tow car. Had to make a big step into dirt since paving was not wide enought. Would have been better off with a regular pull through that looked longer.
Oct 15, 2021
Awesome experience!!! Everything was as advertised! Thank you!
Oct 13, 2021
One of the best sites for our camper. Large and not cramped! Staff were great. Plan to return
Oct 13, 2021
Beautiful place.
Oct 11, 2021
Nice park but WAY overpriced!! There's plenty of other options in the area.
Oct 11, 2021
Very nice people, check in very smooth. Pad needs to be concrete or rock full length over flow area is right next to highway extremely loud. Park is super clean and well maintained!
Oct 11, 2021
this campground is above average. best ever. we had traveled over 15 hours nothing open to stay at, spent the night in walmart parking lot. got lucky and they had 1 spot open next day. we arrived the next day right after they opened. we were told 3 pm check in. as we were talking to the people in the office they realized a camper was leaving. we got to take the spot camper was leaving from.
Oct 10, 2021
Great staff good place to drop off the interstate and spend the night
Oct 09, 2021
Conveniently located off the highway, helpful staff, and plenty of pull through sites.
Oct 09, 2021
I'd rate your RV Park as about average overall. I think your price is at the high end of all RV Parks for an overnight stay. I won't recommend you or use you again because of the unjustified high price.
Oct 09, 2021
Office staff is super friendly, cabin and campground very clean. Lots of amenities. Great place!
Oct 08, 2021
It was a last minute reservation and the spot we had was cement pad and really nice. The laundry facility was clean and easy to use. Office staff was nice and helpful. I would stay there again and would recommend this KOA to all my friends.
Oct 07, 2021
We stopped here on our way to and from FL and loved it! It's very quiet and all the sites are very level so setting up and tearing down is simpler.
Oct 07, 2021
Place was clean and well kept. Our only complaint was when you exit, you have to do a u turn to get on the highway. Not easy when you are pulling a 45 ft camper. Need a better exit.
Oct 05, 2021
Stayed at the campground 2 nights. The staff was very friendly and helpful...campground was very clean and well maintained. Would definitely stay there again.
Oct 05, 2021
It was a great stay overnight but woke up sitting in a lake because of the rain. I'm sure it would have been great if we stayed longer but we were just passing through.
Oct 04, 2021
Very friendly superfast check in. Everyone was super friendly. Very clean campground.
Oct 04, 2021
Too much freeway noise but clean restrooms and nice amenities. Ok for overnight.
Oct 03, 2021
This place is unwilling to work with you and offer up unrealistic expectations. Asked for a deluxe cabin and had to sleep on a couch, no bed offered for over $100 room cost, unbelievable and terrible customer service. Asked for a refund from a customer service standpoint and was given nothing but lip service. Long time KOA member but will never stay here again. I warn against staying here.
Oct 03, 2021
We had a really nice time. Everyone great.
Oct 02, 2021
Noisy, expensive, rude campers, and my request for a satellite capability was dis-regarded. I may not be back to KOA.
Sep 29, 2021
One of the best KOA RV resort I have stayed at. Very professional staff, knowledgeable in all aspects of the resort and very polite/courteous. I highly recommend this resort.
Oct 08, 2021
Nice koa close to i10. Clean, well maintained, helpful staff
- Susan Southworth, Psy.D. on Google
Oct 07, 2021
Nice place, big pull thrus great staff
- Dave Bender on Google
Sep 29, 2021
,,,,383033838'. ,00,. Did😆as,w,. Wwwwwa. E,ewww E. M,,2#,#, ,.,z me me. (.nwnnnw,y. ,.4. ,..t.
- Josep I'll o Randelrtdi add iew Dr why we will rfyi on Google