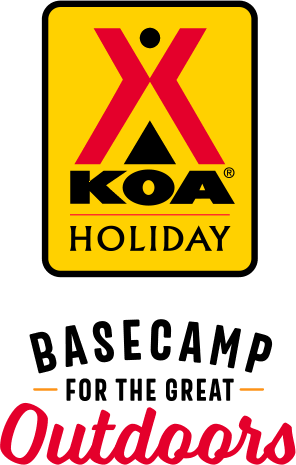 KOA Holiday Campgrounds
Whether you're exploring the local area or hanging out at the campground, KOA Holidays are an ideal place to relax and play. There's plenty to do, with amenities and services to make your stay memorable. Plus, you'll enjoy the outdoor experience with upgraded RV Sites with KOA Patio® and Deluxe Cabins with full baths for camping in comfort. Bring your family, bring your friends, or bring the whole group – there's plenty of ways to stay and explore.
KOA Holidays Feature:
RV Sites with a KOA Patio®
Deluxe Cabins with full baths
Premium Tent Sites
Group meeting facilities
Directions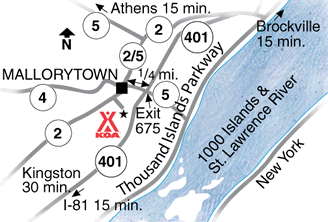 Between Kingston and Brockville, Hwy 401 Exit 675 Mallorytown. N on 5. Left on Hwy 2 for less than 1 minute. GPS Address 1477 Cty Rd 2, Front of Yonge.
GPS: Lat. 44.474859, Long. -75.882397
Follow above directions for easier access.  Due to various GPS systems, the address for 1477 "Cty Rd 2" may appear as either County Road 2, County Rd 2, Co 2, Cty 2CR-2, Highway 2, Hwy 2 or Leeds & Grenville 2.  The township of "Front of Yonge" may also appear as "Mallorytown".
Get Google Directions
Sep 24, 2021
First time staying in delux cabin. The cabin was clean, spacious with everything we needed in the kitchen. The covered front porch was great on raining days. Having the barbecue and outdoor furniture was an extra bonus. Would definitely stay again and recommend to family and friends!!!
Sep 23, 2021
Everything was good
Sep 22, 2021
I would say that the owners are really strict about placing you and everything that goes around the the place,when you arrive they even lead you to the your site,and lead you in,even if you are on your first or second time camping and you better back up the right way cause( Raymond will tell you)lol,but i would definitely go back,because it is clean ,clean i would say everything is spottless.great
Sep 21, 2021
This is one of my families favorite campgrounds. Very peaceful and the owners are amazing. We have already booked 2 trips for 2022
Sep 21, 2021
Awesome……beautiful campground…..very peaceful….see you next year…..
Sep 21, 2021
We loved all of the amenities for kids! Great pool for kids of all ages, playground, jumping pillow and mini putt. Lots of open space for playing catch, soccer and volleyball. We enjoyed fishing at nearby 1000 Islands National Park and took a boat tour out of nearby Rockport. Thank you for a great stay!
Sep 21, 2021
Susan was very helpful and very pleasant to deal with. Everybody we talked to while we were there say the same thing, nobody had a bad thing to say about this KOA in a very beautiful part of the province.
Sep 21, 2021
We had a wonderful time! The staff and other campers were so friendly and accommodating. The cabin was very comfortable and the pond view was great. Pool, jumping pillow and mini putt were well maintained. Will be back for sure!
Sep 21, 2021
Great as usual
Sep 19, 2021
Great check in. Welcome emails through the day. Escorted right to our site.
Sep 18, 2021
The cabin itself was great! The outside furniture in the deluxe cabin could stand a good cleaning or a refresh. The cushions had what looked like ketchup stains on them and we did not feel comfortable sitting on them. Restaurant food was delicious for dinner and breakfast. Staff is amazing as always! We'll be back!
Sep 15, 2021
We love staying at Mallorytown KOA. We stayed on a deluxe site this trip and felt spoiled we loved it. The camp site is very well kept. All the staff and owners are so polite. We always recommend this campsite.
Sep 15, 2021
Everything went well. Good place for families with young kids. Good size sites but open so not very private - typical of KOA "kamping" anyway. Everything was well maintained and clean. Trains go by regularly including horns at nearby crossing which may bother some.
Sep 15, 2021
Hello, unfortunately we did not have a good experience. We stayed for four nights and two of the four we were kept up by campers across from us until 3:30-4am both nights, as you know, as multiple complaints were issued and you received a call Saturday night/morning to finally shut them up. This was not acceptable and very disappointing. We have never had this problem at any other KOA. Thank you.
CAMPGROUND RESPONSE / COMMENTS:
Sorry for the bad time. It is unfortunate that you waited so long before letting us know. On the 1 am security report there was no mention of noise. It is curious how this was going on till 4am. However after receiving your complaint we spoke to you neighbors and there was no further incident.
Sep 14, 2021
We like most KOAs, but this KOA is the best we've ever visited. Beautiful tent sites, helpful staff, and very nice amenities.The pool is beautiful and warm, the mini golf and jumping pillow were lots of fun. Very clean bathrooms and showers. An absolute recommendation!
Sep 14, 2021
It was good only because it was a slow weekend. Lots were not over sized and a little small but nice and flat. I go camping to get away from people. If the camp sites were full all around me I would have a different opinion.
Sep 13, 2021
Thanks for another great weekend!
Sep 13, 2021
Amazing staff, easy access, level sites make for a rating of 10!
Sep 13, 2021
It is always a pleasure staying at the Mallorytown KOA, even with Covid restrictions in place they are not in your face with them. The staff and owners make you feel welcome and the activities that are planned are great for families. We will definitely be back next year!
Sep 13, 2021
It was my 2nd time at this campground this year. great place to relax. very well maintained. all the staff are super nice!!! �� two thumbs up!! ��
Sep 13, 2021
We were there mid September. Owners and staff would rate a ten. I only say 4 star as like most KOA geared to family not seniors in my short stay. Five star on family side of things.
Sep 13, 2021
We loved it!!
Sep 13, 2021
We stayed for two nights and as usual the grounds were meticulous, the pool area was very clean and of course the staff always pleasant and happy to assist when needed. We will be back for sure!
Sep 12, 2021
Very Nice campground
Sep 11, 2021
we had vehicle issues during the day and arrived at 9PM. They helped us find our spot and guided me into position. I will say they are very helpful.
Sep 11, 2021
Most expensive KOA we have stayed in ….. no low season rate after Labor Day! WIFI sporadic at best Site level and long enough Never used any of the facilities.
Sep 11, 2021
Generous campsite space, spotless grounds and showers/washrooms, good number of activities for children and great Wi-Fi.
Sep 11, 2021
We find the daily charges for a site is very expensive compared to similar campgrounds. The campground is geared towards families with children and not for seniors.
Sep 09, 2021
Great campgrounds. We appreciate your care of staff and campers when it comes to covid safety.
Sep 08, 2021
Stayed in the premium cottage. Very well located to all amenities offered at the campground. Staff were very friendly and felt welcome the minute we checked in. We enjoyed our stay and it was so relaxing sitting by the fire at night. The campground is very quiet and a great getaway from the city.
Sep 08, 2021
well manged clean
Sep 08, 2021
Staff were amazing and facilities very clean. Pizza was delicious. Wish there were more outdoorsy or fitness activities or facilities available. Seasonal campers were very welcoming which was super nice. Dogs have a fenced play area which Oreo really appreciated:)
Sep 07, 2021
Had a great time.
Sep 07, 2021
It was a good stay, management plans activities for the kids which is nice. Pool was great for little kids because it's nice and shallow. Only negative is the wood prices. $14 a bundle is unheard of and the wood was wet and didn't even burn well.
Sep 07, 2021
Was very good. Was both full of life and activities but also relatively peaceful and quiet. Very clean and well maintained.
Sep 07, 2021
Friendly staff, campsites were great size, lots of activities for everyone would definitely come back
Sep 22, 2021
Great experience,quiet,clean,one of the best Koa that i ve seen,will go back for sure.
- Michael Moody on Google
Sep 16, 2021
Great staff and very accommodating as well as a beautiful Campground.
- Catherine Guijarro on Google
Sep 15, 2021
One of the nicer of the KOA's we've been too, great camp store and restaurant. The sites were well maintained and had full service hookups for us even last minute when we called. The wood price is reasonable as it's a good sized bag, and if you're missing anything trailer wise the camp store has tons of parts and gadgets if you want something new. The staff were so friendly and are a major part of the reason we enjoyed our stay so much.
- Dylan Meagher on Google