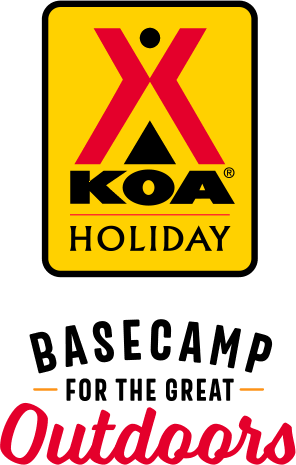 KOA Holiday Campgrounds
Whether you're exploring the local area or hanging out at the campground, KOA Holidays are an ideal place to relax and play. There's plenty to do, with amenities and services to make your stay memorable. Plus, you'll enjoy the outdoor experience with upgraded RV Sites with KOA Patio® and Deluxe Cabins with full baths for camping in comfort. Bring your family, bring your friends, or bring the whole group – there's plenty of ways to stay and explore.
KOA Holidays Feature:
RV Sites with a KOA Patio®
Deluxe Cabins with full baths
Premium Tent Sites
Group meeting facilities
Directions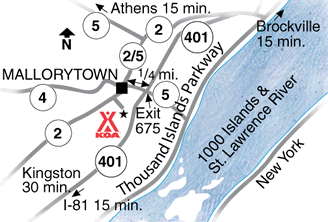 Between Kingston and Brockville, Hwy 401 Exit 675 Mallorytown. N on 5. Left on Hwy 2 for less than 1 minute. GPS Address 1477 Cty Rd 2, Front of Yonge. GPS: Lat. 44.474859, Long. -75.882397
Follow above directions for easier access.  Due to various GPS systems, the address for 1477 "Cty Rd 2" may appear as either County Road 2, County Rd 2, Co 2, Cty 2CR-2, Highway 2, Hwy 2 or Leeds & Grenville 2.  The township of "Front of Yonge" may also appear as "Mallorytown".
Get Google Directions
Mar 06, 2021
Very inviting, friendly and interactive summer living!
Nov 09, 2020
I can sum up my stay at the mallorytown KOA in one word: fantastic.
Nov 05, 2020
We had a great stay. The campground is very clean and well maintained. Susan and Richard made sure we felt welcome. We are new campers and everyone was very helpful. We'll be back for sure!
Nov 05, 2020
What can I say. My husband puppy and I have stayed at many KOA'S but this KOA is by far the best KOA we have ever stayed at. Susan and Richard we applauded you for running an outstanding KOA!!! Customer service grounds and professionalism top notch. This will be a site that we will talk about to other RV friends and many great memories to remember until we return again!!! xo
Nov 03, 2020
we always feel welcome and the staff and owners are always very helpful and nice
Oct 28, 2020
We stayed from middle of May until middle of October. It was a great experience even amid the COVID pandemic. Very friendly staff and owners. The campground is well taken care of. We will definitely return.
Oct 27, 2020
Bel accueil, mais nous aurions aimé mieux ne pas etre avec des saisonniers, nous aurions préféré un terrain pavé mais c'etait non disponible. Les terrains sont quand meme un peu etroit nous avons du faire deplacer le voisin pour pouvoir nous reculer sur notre terrain....le prix est un peu dispendieux pour la periode de l'annee ou nous sommes allés...
Oct 23, 2020
Always enjoy our time there. Susan, Richard and staff are always friendly and helpful. Well kept, clean and spacious pull thru sites...will definitely be back next year!!
Oct 23, 2020
Everything was as promised, however, this is one desolate and isolated campground. It resembled a parking lot for trailers. Way to open for my liking. You can count the number of trees on one hand. I thought it was a new campground that was still under construction. I was surprised that it had been there for nearly 50 years! In all that time no one thought to dress it up with trees and scenery?
CAMPGROUND RESPONSE / COMMENTS:
Perhaps you are thinking of another campground as your comments do not reflect our location. Please keep in mind that at this time of year the trees have lost their foliage and wherever you were do not be too harsh on a campground offering you a place to stay for one night. Happy Kamping!!!
Oct 20, 2020
Overall the campground was very well kept and it's proximity to our nation's capital was convenient. I don't understand the additional $12/night cost for an additional adult, seemed to be unreasonable and unnecessary. Will definitely have to compare other campgrounds before settling on this location again.
Oct 20, 2020
Great Stay, only thing was the smell of the septic (assume it is the field) behind the pull thru sites in the evening.
Oct 17, 2020
Great. Friendly personnel and an outstanding campground surrounded by beautiful forest. One of the best KOA.
Oct 16, 2020
Nous avons eu un séjour fantastique au KOA Mallorytown. Un accueil chaleureux de la part de Susan et Richard. Ces gens sont dévouer a donner un service a la clientele impeccable. Notre site était propre avec une belle pelouse. Merci pour les belles activités de l'Action de Grace. A bientôt!
Oct 16, 2020
Staff are friendly, facilities are very clean. I have stayed twice at this KOA. The first was a full service site which was a bit small for our 5th wheel camper. The second stay was on a site with water and electric only. This site was much bigger. Sites are level and quick and easy to set up
Oct 16, 2020
Beautiful fall weather camping, friendly, help-full, folks at the campground. Made for a perfect fall getaway.
Oct 16, 2020
We only stayed one night however we absolutely loved our spot. The staff, including Susan of course, are all very nice. The area was immaculately maintained. The washrooms were super clean. The little store had lots of stuff in case you forgot something. I can't say anything bad about this place. We will definitely be back.
Oct 15, 2020
Great service, the staff was very accessible, very friendly. We felt so welcomed and really enjoyed our stay. The activities that were organised were just perfect, very well organized and covid friendly. The only downfall is that we found the nightly rate quite expensive compared to other campings and that some amenities needed improvement at that price, such as the mini golf, the kids park.
Oct 15, 2020
It was a windy thanksgiving weekend and we had a good time, the campground was clean and well maintained, we will be back.
Oct 07, 2020
Was pleasant & great Halloween activity for kids. Would have appreciated a microwave in cabin. Ripped curtains & huge dust webs above counter & fridge. A disappointment that cabins & sites have no privacy. All open concept & no trees, fencing, bushes, stone walls or barrier to allow for more private setting. Even picnic tables very close together. Pool is small but nice & new. Love 45min swimmin
Oct 07, 2020
I enjoyed my stay very much. The staff was very accommodating and I would stay here again!
Oct 06, 2020
Amazing stay. It was late in the season but the owners were still offering activities and they were hard at work on the campgrounds. Very clean facilities. Will definitely return next year and every year after!
Oct 06, 2020
The staff planned some fun and safe Halloween activities, including a scavenger hunt. We had an amazing weekend! Probably the best internet connection we've had at any campground too.
Oct 06, 2020
Suzan, Richard and their staff did an amazing job at decorating the ground with Halloween decorations. They held fun and entertaining events for the children and adults. Through out this camping season they did a fantastic job, despite the ongoing challenges.
Oct 05, 2020
Only issue was the weather. Very windy first night, rain next two days.
Oct 03, 2020
we always have a great time at Mallorytown KOA even this yea with the unstable year we are having Susan and Richard are the best host going and always do the very bet they an for you we cant wait till next year to go back thank you so much Kevin and Marlene Beaupre
Sep 30, 2020
Amazing client services at reception. Welcoming and very clean and quiet place. Enjoyed our stay a lot.
Sep 30, 2020
Very positive camping experience! Keep up the good work.
Sep 29, 2020
Sites a bit too close together and the site behind ours had their radio going and he was singing till after midnight on the Friday night.
Sep 29, 2020
Its our second year in Mallorytown and my kids cannot wait to go back next summer. We are already looking at dates for 2021. Susan the owner is amazing to deal with.
Sep 29, 2020
Hi Folks....your campground is beautiful and so clean....we thoroughly enjoyed ourselves....will definitely see you a couple of times in 2021.....thank you Susan for all your directions.....loved the cute restaurant you mentioned on Hwy 2.... Thank you Marcoux family.
Sep 29, 2020
Amazing as usual. Susan and Richard are wonderful and go above and beyond for their guests. We will be back again!
Sep 29, 2020
We wanted the camping experience, but because we were short on time, didn't want the camping set up and take down. The camp cabin was a perfect solution. Our hosts were supportive and communicative from the time of booking until the moment we departed. The COVID policies were clearly communicated and followed by staff and guests alike, so we had an added sense of safety during this unusual time.
Sep 29, 2020
Excellent camping, great hospitality, the employees are courteous and serve you with a smile! This camping has its own fidelity program, and you don't have to ask for your free night, Susan will do that for you and tell you when you are entitled! Highly recommended, we will return for sure next year.
Sep 29, 2020
One of the best campgrounds that we have stayed in. Super hosts who helped us with reservations and the reception was great. Many thanks. Staff were very friendly and helpful. Campground was well maintained and clean. Campsites were well spaced. The Halloween festivities that were arranged for the kids was well organized and appreciated by their parents. Highly recommended.
Sep 29, 2020
Nice fall weather for camping with campfire. Sadly it was our last voyage for this season��
Sep 29, 2020
Two things that we thought could be improved: 1) There's a green circular device out by the RVs that have sewers. It makes a high pitch noise that bothered the kids at night when they were trying to sleep, not sure if that could be improved or quieted? 2) Sharing the pool could be done better in covid time (limit to 3 groups) and rotate them between the pool areas every 15 min (we had to manage
Sep 29, 2020
Too close to the highway, train during the night, children's parc small, mini put terrible, not enough activities.
CAMPGROUND RESPONSE / COMMENTS:
Sorry you did not appreciate the various social distancing Halloween activities including our haunted house. Happy Kamping!!!
Oct 26, 2020
Great spot! Friendly and clean.
- Joel on Google
Oct 16, 2020
Friendly, welcoming and very helpful staff. Clean and well maintained campground. Highly recommended.
- Dan Maxwell on Google
Sep 29, 2020
We stayed here the last weekend of September, and it was by far my favourite KOA stay so far. The sites are very large and everyone was extremely friendly. Easy to traverse and the location is great as it is not near any major roads etc. We will definitely be back!
- Mike Simpson on Google