Local Area Attractions Near 1000 Islands / Mallorytown KOA Holiday
As we are centrally located to the many area attractions so why not make us your home base? Visit take a boat tour to the famous Boldt Castle or the NEWLY OPENED Aquatarium. Looking for more adventure? Bicycle, dive or hike along the famous 1000 Islands Parkway.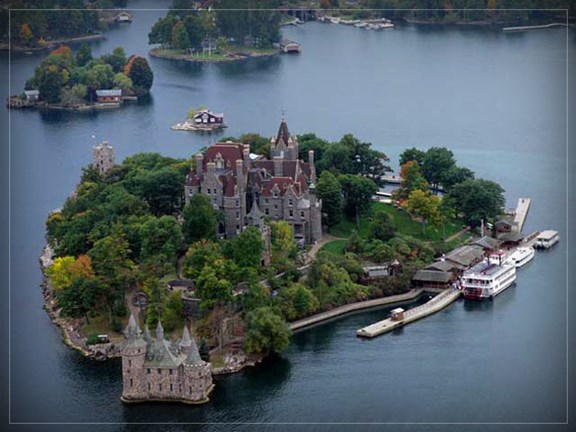 Boldt Castle
The Thousand Islands Bridge Authority (TIBA) welcomes you to tour Boldt Castle to explore and experience an attraction like no other. Construction began on Boldt Castle in 1900 at the bidding of millionaire hotel magnate George C. Boldt as a tribute to his beloved wife Louise. Boldt Castle was designed as their summer dream home on the St. Lawrence River, in the heart of the 1000 Islands. However it was not to be, Mrs. Boldt passed away suddenly just months before the completion of the castle. Mr. Boldt was inconsolable and immediately stopped all construction on Heart Island, leaving the property vacant for over seventy years.Today Boldt Castle, located near Alexandria Bay, NY in the famed 1000 Islands is once again becoming what it was always meant to be, the premier home and attraction in the region. Whether you are making an annual visit to see what's new, looking for an affordable family vacation close to home or a couple seeking that romantic getaway, Boldt Castle and the Boldt Yacht House has something for you! In fact, the Castles' legendary beauty nestled among the St Lawrence Rivers' 1000 Islands will keep you returning year after year!The Thousand Islands Bridge Authority (TIBA), who owns and operates Boldt Castle and the Boldt Yacht House, invite you to explore our website. Here you can glimpse what awaits you at Heart Island. A chance to experience the Boldt's tragic love story and the magnificence of a bygone era…
Local Area Recreation Near 1000 Islands / Mallorytown KOA Holiday Fishing
Fish on the St. Lawrence River and hundreds of fresh water lakes in the area.  A favorite local spot is just 10 minutes at Jones Creek. For info on fishing licenses, click on the link. Golfing
There are many courses in the area including the renowned "Brockville Country Club Golf Course."  The Crooked Creek Golf Course in Athens is the closest golf course in the area, about 15 minutes away. Biking
Go biking on the newly repaved 35 km / 26 mile off road bicycle path, 5 minutes away, along the 1000 Islands Parkway. Beaches
The closest beach is at Brown's Bay, 10 minutes away on the 1000 Islands Parkway, heading to Brockville.
In Gananoque, 25 minutes away is Joel Stone Park.
Sandbanks provincial park is sandy with waves, 1:45 hrs away. Scuba Diving
Scuba diving in the St Lawrence area is renowned famous for its warm, clear and fresh water.  Brockville has the warmest diving in Ontario with many shipwrecks.