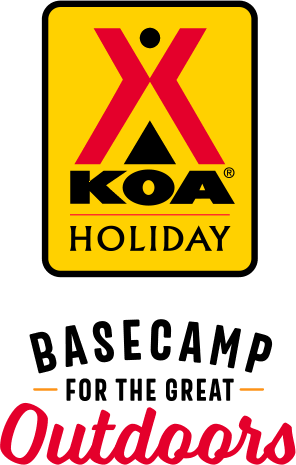 KOA Holiday Campgrounds
Whether you're exploring the local area or hanging out at the campground, KOA Holidays are an ideal place to relax and play. There's plenty to do, with amenities and services to make your stay memorable. Plus, you'll enjoy the outdoor experience with upgraded RV Sites with KOA Patio® and Deluxe Cabins with full baths for camping in comfort. Bring your family, bring your friends, or bring the whole group – there's plenty of ways to stay and explore.
KOA Holidays Feature:
RV Sites with a KOA Patio®
Deluxe Cabins with full baths
Premium Tent Sites
Group meeting facilities
Directions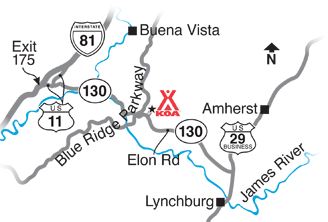 From Blue Ridge Parkway: exit VA130 between mile marker 61 & 62, Turn Left (East), 1 mile to campground on left.
From Lynchburg VA: take US29 Business North, turn left on VA130 (Elon Rd.) 15 miles to campground on the right.
From I-81: Exit 175, take US11 North 1.6 miles, turn right on VA130 (Elon Rd.) 17 miles to campground on left.
GPS: Routing may be inaccurate. N37.573548, W79.325700
Get Google Directions
May 26, 2023
The Camp Ground was very clean, and quiet, the Bathhouse was very clean. However for those that tent camp, it is a beautiful site, my one major complaint is that the bathhouse / bathrooms are at least .2 miles or 430 steps up hill one way from camp site A01. It would be a great benefit for tent campers to have at least some porta-potties down near the tent sites.
May 15, 2023
OVER PRICED , CHARGING HOLIDAY RATES BECAUSE OF A GRADUATION NEARBY, AKA PRICE GOUGING
Oct 31, 2022
We were at a campsite. Really nice staff! My wife was very impressed with the cleanliness of the bathrooms. Wi-Fi was decent, but we weren't there for the internet. I was pretty disappointed that the cost of the tent site was the same as other RV campsites there. We paid 115 for the two nights. The website description was incorrect regarding the power amps. Overall great! But overpriced.
Oct 20, 2022
Very cool campground. Wanted to clarify that the cigarette butts in the fire pit were not from me. Loved this KOA and next time work brings me to Lynchburg ill look into staying here again.
Oct 18, 2022
Extremely friendly staff in an ideally situated location. Small, well-appointed campground right off the highway. Close to Natural Bridge and the Blue Ridge Parkway! Just beware of falling acorns if you are over by the lake area!
Oct 17, 2022
It was a great stay! They were very helpful when we got rain in our tent! Amenities were clean and playground was great for kids! Such a friendly place!!
Oct 12, 2022
First time at this KOA but won't be our last! Staff was very friendly and welcoming. The tent sites are the absolute best.
Sep 27, 2022
Very beautiful place, the children had a lot of fun. The owners are exceptional hosts.
Sep 26, 2022
perfect stay. friendly staff and great location
Sep 09, 2022
Good viwe and clean bathroom But weak wifi
Sep 06, 2022
This campground is very nice and the family that runs it is so friendly. We love it as our Labor Day go-to spot!
Aug 29, 2022
The staff were amazing and so friendly. The entire campground was gorgeous and very clean. Our stay was peaceful and we couldn't have asked for a better experience. We can't wait to go again.
Aug 13, 2022
Staff was extremely friendly and helpful. The area was clean as was the bathrooms. The location right near the Parkway was great for access.
Aug 01, 2022
Beautiful campground. Quiet. Well taken care of. Staff was super friendly. If ever back up that way I'll definitely be staying there again.
Jul 24, 2022
Very clean facilities and awesome host
Jul 05, 2022
Very nice place. Clean bathrooms. Staff was great. It was a bit far from the bathroom at the tent sites. The wifi was not that good. Over all our stay was great.
Jul 05, 2022
Very nice and quiet camping site except for nature. The staff was very helpful and friendly. Nearby ballooning festival was a fantastic slice of Americana. Best camping experience my wife and I have had.
Jul 03, 2022
We really liked the campsite by the lake. We had a great tent spot but the electric was too far from the tent. The uni-sex bathrooms were really nice. Made it easy to share with my girlfriend when we had to brush our teeth. My ONLY complaint is the 2 gravel hills. The one down to the tent sites was a little too steep for a motorcycle with a trailer and I slid down half of it. The hill out too.
Jun 26, 2022
Accommodations were clean and reasonable, staff friendly
Jun 17, 2022
Liked the bullfrogs. Did not like the mosquitos, but had bug spray. Would stay there again.
Jun 14, 2022
The campground is nice,clean, friendly. The pool and games for kids was awesome. However for tent camping the road traffic at night and the bullfrogs and crickets were very noisy. I know that can't be helped by the campground. All in all my kids had a fun time and thats what matters most.
Jun 06, 2022
This was a wonderful campground. We enjoyed every minute
Jun 01, 2022
Nice place. Very friendly staff.
May 30, 2022
One of the best KOAs.... congrats!!
May 26, 2022
Nice, featured, and well maintained KOA.
May 24, 2022
Staff was very welcoming and willing to help at every turn. The park was very quiet and tranquil. We loved our stay. We will be back.
May 10, 2022
Even though we had bad weather, we really enjoyed our stay! The staff was extremely visible and although we never had an issue, I felt very comfortable reaching out if I ever needed to. The amenities were great, and my daughter really enjoyed the Saturday train ride.
Apr 30, 2022
The people was very friendly and the campground was amazing. I'll definitely be going back. Next time I'll stay even longer.
Apr 26, 2022
The staff is always friendly! The campground is always clean! We love this KOA and will continue to return!!
Apr 24, 2022
I love the pond
Apr 11, 2022
Everyone very nice!
Nov 01, 2021
Great stay! Would highly recommend!!
Oct 19, 2021
It was ok. The only few things were terrible along the tent sites were very loud trucks going up and down the road all hours of the night. Need to have a bath house closer by the tent sites. Need more items in the store. The wi fi was excellent. The bath house was very clean. The tent site platform had a slight incline so it made our sleeping not so comfortable on our air mattress.
Oct 15, 2021
Very friendly, clean
Oct 11, 2021
Ended up cutting our stay short, no fault of the location, just change of plans… Tent site was great, as were the amenities…
Oct 08, 2021
Friendly staff, roomy new shower house, beautiful location. You can't go wrong staying here
Sep 28, 2021
Loved the tent area, located in its own section. Liked the distance between the tent sites and the RV sites. There are only 4 tent sites, but they are spacious and scenic. The only downside is the traffic noise at night from the main road, but that's not the fault of the KOA. The bathhouse was clean and centrally located. We enjoyed the gem mining and air hockey, and the office staff was friendly.
Sep 17, 2021
I had a very nice stay. The hosts were friendly and delivered ice and wood to my site. The place was clean and kept up. No complaints. I came to zen and that's what I did. Thanks for great service.
Sep 07, 2021
The employees were great. Friendly and helpful. The campground was very clean. Facilities were also well kept.
Sep 07, 2021
The place is amazing with some great views, hikes and facilities to stay for longer durations. More importantly, the hosts are very welcoming and made us felt special.
Sep 07, 2021
This was a great campground for relaxation. Our tent site was beside the pond and the weather was great for the time of year. The sites have plenty of tree cover for shade and are very large. We had plenty of space and did not feel like we were on top of the neighbors. Great for privacy.
Aug 23, 2021
The KOA was great and we liked the proximity to the Blue Ridge Parkway. The tent site was great. Our only disappointment was the road noise from Elon Rd. We know that's out of your control.
May 21, 2023
Level sites. Quiet.
- Dave W on Google
May 19, 2023
Great location for families visiting Liberty.
- Leslie Horne on Google
May 16, 2023
Excellent campground!! This was our first visit and we would definitely return! Staff is exceptional, very accommodating, pleasant and friendly; campground is very clean and well kept! Definitely recommend
- donitaa181 on Trip Advisor