Directions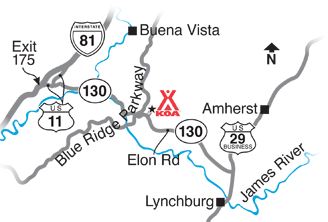 From Blue Ridge Parkway: exit VA130 between mile marker 61 & 62, Turn Left (East), 1 mile to campground on left.
From Lynchburg VA: take US29 Business North, turn left on VA130 (Elon Rd.) 15 miles to campground on the right.
From I-81: Exit 175, take US11 North 1.6 miles, turn right on VA130 (Elon Rd.) 17 miles to campground on left.
GPS: Routing may be inaccurate. N37.573548, W79.325700
Get Google Directions
Oct 27, 2020
Wonderful campground, level tent site, friendly staff. Thank you
Oct 26, 2020
It was a very nice camp. The staff was very helpful and friendly.
Oct 24, 2020
Very quiet campground with nice trails. Friendly staff. The store was closed due to COVID so I can't say much about it. I was not happy with the 3rd car fee, which is charged even if you park in the parking lot and not at the site. The sites are large, but beware of falling limbs and acorns. The wood I purchased on Friday, before the rain, was wet. All in all it was a good trip, beautiful area!
Oct 19, 2020
had a wonderful time. bathrooms are nice and private showers are a plus! fun activities for kids one thing... would be nice to be able to buy fire wood through honor box or something. we were cold in the morning and would have visited with our group longer at night if we had been able to get more wood. we didn't want to over buy, but were stuck if we didn't. :( everyone was very friendly!
Oct 17, 2020
Wonderful camping. Our tent site was very large. Owner's were great. Amenities was good and location at the edge of Blue Ridge Parkway was beautiful. We really enjoyed our stay.
Oct 12, 2020
Bath house was too far from tent sites and highway noise was anything but peaceful
Sep 28, 2020
Everything was great.
Sep 24, 2020
Very nice campground with excellent hosts! Tent sites on the water are wonderful.
Sep 10, 2020
The hosts were welcoming and the restrooms were VERY clean. I stayed at a tent site. I was given the site furthest from the bathhouse and closest to the road. It very private, but the tractor trailer traffic started at about 5:15 am. The RV sites are further away from the road.
Sep 08, 2020
This campground was SO CLEAN! The bathrooms, the showers, the campsites. We felt 100% safe and witnessed them sanitizing surfaces frequently. The staff was very friendly! The kids loved the snow cones. The gem mining was a fun activity. Lots of bugs by the pond, but to be expected. Dog friendly! We will definitely be back! (Stayed in a tent site by the pond, 2 kids and a dog)
Sep 02, 2020
Safe and fun!
Sep 02, 2020
Loved the tent sites and the location of this KOA--great hosts. Also, appreciated the individual bathrooms particularly with the current pandemic. Will be back!
Aug 27, 2020
The staff was remarkably friendly as well as helpful. The grounds were well kept and clean. Plenty to do
Aug 22, 2020
Nice campground in the trees! Pond and a trail through the woods. Helpful staff!
Aug 15, 2020
We loved this location before, but the addition of the patio sites with polywood furniture and porch style swing was a huge plus. Already made our next reservations.
Aug 12, 2020
Enjoyed the visit. Friendly and responsive staff. Especially liked the individual bathroom/shower setup.
Aug 10, 2020
The tent sites were right by the fishing pond and so peaceful. The raised platform for the tent was perfect, especially when it stormed our first night. The sites were large and laid out well. It was a short walk to the playground, pool, store, and (very clean) bathrooms. We will definitely be back!
Jul 25, 2020
If the road in was any indication I was bound to be impressed. Greeted upon my arrival with smiling faces, beautiful property, clean, quiet & scenic.
Jul 18, 2020
Very private tent site on the lake A01.
Jul 13, 2020
Great stay! My only issue is the limit on how many people for the camp site. It is a huge pad for the tent site. We had a ten person tent and there was plenty of room. Limiting it to four people does not make much sense.
Jul 13, 2020
Stay was good and campground is week care. Only thing I noticed rules call for no hammocks on trees and I did not took mine, nevertheless there were few ones from other campers in there.
Jul 04, 2020
Very friendly and welcoming woman at the front desk. Has everything you could want or need especially with a dog, the fenced in area was such a great addition. Best KOA I've ever been to!
Jul 03, 2020
The cleanliness of the grounds was a 10. The staff(owners) were wonderful. Our car needed a jump start, they were able to help us out. I would definitely stay there again and recommend it to others
Jul 03, 2020
Excellent camp site. We enjoyed our stay.
Jun 15, 2020
We had a great time! Very obvious that the campground was well cared for. Areas were clearly marked. Bath/toilet house was clean and stocked appropriately. Plenty for kids to do to stay busy! Looking forward to another visit, when we can access the pool. Overall, a fantastic spot for camping!
Jun 09, 2020
The hosts were extremely friendly and accommodating. The sites were nicely spaced out and there was plenty of shade. The access to the Blue Ridge Parkway was a huge benefit! We didn't utilize all of the "extras" such as the pool or the various sporting areas but I would imagine that would be a great benefit to others as well!
Jun 08, 2020
We love staying here, the staff is so friendly and helpful. The camping cabins are so nice and they keep the bathrooms very clean.
Jun 02, 2020
Camped on a Sunday night on my way off the Blue Ridge parkway. Nice tent pads. But a bit sunny in the evening. One of the big thing is the noise of the otters. These guys went on all night, at least until 4am. Beside that, the road noises are somewhat loud. Fortunately the traffic is light. But when some rig comes by, you'll know it.
May 27, 2020
This was such a nice KOA! The hosts were friendly and helpful. They just released the CUTEST baby ducks at the fishing pond area! Everyone in our party caught a fish! Such a great place to stay!
May 26, 2020
due to the covid 19 the park was closed but honestly the kids didnt even notice, They did everything to make sure that everyone had fun and stayed safe and healthy, they constantly cleaned the bathrooms practiced safe distancing, we loved our stay and will be returning
May 26, 2020
Wonderful stay! Staff and owners were super nice! Excellent bathrooms, very clean. Will definitely come back again in the near future.
May 18, 2020
Always a relaxing enjoyable stay! VERY clean bathhouses and friendly staff!
May 17, 2020
We had the best time!! We will.most definitely be back. Thanks stephanie so much you are a very pleasant woman and very professional
Oct 14, 2019
great friendly staff. Very clean bathrooms
Oct 14, 2019
Absolutely amazing time first time camping really enjoyed the clean facilities and lovely staff
Oct 14, 2019
Well-maintained, immaculate, consistently smiley and attentively-managed owners and staff... incredibly beautiful and picturesque ���
Aug 28, 2019
Super clean and well-managed. I wish the pool had been a little warmer
Aug 25, 2019
It was fun and friendly staff
Aug 22, 2019
Very beautiful place �
Aug 15, 2019
The bathroom is really clean. There are no bugs and mosquitos on August.
Jul 30, 2019
Friendly staff.
Jul 29, 2019
I love staying here! Super friendly staff, great fishing, clean bath houses. Love the pool as well!
Nov 15, 2020
This place is everything you'd want out of a KOA campground. We stayed in cabin #5 and it was great. Everything was very clean, including the bathrooms. Mattress was a little thin, but not bad at all, most importantly, it was clean. The owners were very friendly and take great care of the place. They're very organized, so checking in and out was a breeze. There's lots for the kids to do. They loved fishing at the pond and bouncing on the bounce pad. We had a great weekend trip, thank you!
- 4timj on Trip Advisor
Nov 13, 2020
Great small KOA would recommend. Practically next door to the Blue Ridge Parkway. Spots are long, but a little narrow. Verizon coverage was ok, but not great. I was able to make a zoom call on my phone and using my jetpack and an external antenna.
- Matt Reese on Google
Nov 11, 2020
Very nice and quiet.
- Sheila Nichols on Google