Directions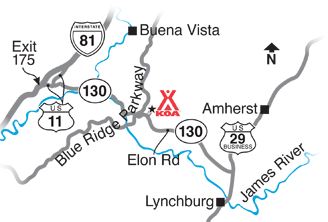 From Blue Ridge Parkway: exit VA130 between mile marker 61 & 62, Turn Left (East), 1 mile to campground on left.
From Lynchburg VA: take US29 Business North, turn left on VA130 (Elon Rd.) 15 miles to campground on the right.
From I-81: Exit 175, take US11 North 1.6 miles, turn right on VA130 (Elon Rd.) 17 miles to campground on left.
GPS: Routing may be inaccurate. N37.573548, W79.325700
Get Google Directions
Apr 06, 2021
Love the quiet family atmosphere and not having to dodge golfcarts. Over all wonderful sites with trees, places to walk dogs, and kids to play. Wonderful hosts, clean park and bathhouses. Very close to Blue Ridge Parkway and sightseeing!
Apr 06, 2021
We love camping here! It's clean and everyone is friendly! Our only issue is we wish they had better wifi.
Apr 06, 2021
Well maintained, and spaces are a nice size. Host family was great and we will return. Loved the quiet, no highway making loud noises. It was great
Apr 06, 2021
Had a great time. Campground was clean and service was great. Our site was nice. It was level and required very little to level our camper, but our wifi was weak. We didn't use restrooms and the ones near us were closed. There is much to do in the area so our stay was way to short. We would stay again and bring the grandkids along.
Apr 06, 2021
We felt very welcomed from the moment we arrived. I love that they manage the gate and only allow registered guests. That was a safety feature that I loved the most. Also, the workers on the golf carts were very helpful and always smiling.
Apr 06, 2021
Beautiful setting with an amazing staff! We will be back for sure. - Cabrera Family
Apr 05, 2021
Loved the place and the staff! Only issue was the internet quality.
Apr 05, 2021
the only complaint I have is the wifi is terrible and we also had no cell coverage. It would be great to have a better wifi that we could actually get on.
Apr 05, 2021
We had a delightful time tent camping at the Lynchburg/Blue Ridge Parkway KOA! :) The staff members were friendly and helpful and the campground was spotlessly clean. The bathhouse was clean and had plenty of hot water. The campground is located within easy driving distance of many wonderful hiking opportunities and the National D-Day Memorial in Bedford.
Apr 04, 2021
Stephanie and Phil definitely care about their guest's comfort. Every aspect of our experience was perfect. We stayed at several campgrounds during our trip and none were as clean, friendly and welcoming as the LYNCHBURG/BLUE RIDGE PARKWAY KOA.
Apr 03, 2021
My stay was fantastic! I upgraded my tent site to a cabin the morning of my stay because the weather was going to be in the 20's overnight. It was their opening weekend. Stephanie and Phil were the kindest hosts, and I'll be sure to come back with my family as soon as we have the chance! The facilities were private, clean and comfortable, and the grounds were impeccable. I can't say enough g
Nov 25, 2020
Great quite place to stay. Staff was very friendly and courteous. Close to several city's to visit. Even heard a hoot owl a couple of nights in a row.
Nov 21, 2020
We had a great time staying here and enjoyed the local attractions.
Nov 17, 2020
The Wi-Fi didn't work at all. Otherwise was fine. Nice location
Nov 16, 2020
Always love staying at the KOA Lynchburg. Very clean and quiet. The patio sites have been a great addition to the campground. We especially like that it has such close and easy access to lots of great hiking trails along the BRP.
Nov 16, 2020
We love this KOA. The owners are great! The only thing that I would have changed about our stay was the site choice. The site was very roomy and super easy to back into, but there is a very narrow sharp turn to traverse when heading out to the exit. I don't think it was that narrow before the deluxe sites had the concrete pad and swings installed, but I could be wrong.
Nov 16, 2020
The campground is well kept and the sites are a great size.
Nov 16, 2020
Second stay here in the last month! Can't say enough good things about this campground. Phil and Stephanie always go above and beyond to make your stay a great one! My family always looks forward to camping here!
Nov 14, 2020
Nice sites and very clean. Friendly, helpful staff.
Nov 13, 2020
We were there for one night and close to the RV next to us. There wasn't really a place at the site to walk our dog. The markings weren't easy to navigate to exit the park. I
Nov 11, 2020
Great place to camp with nice amenities.
Nov 11, 2020
Had to change the dates of our stay several times. The staff was very accommodating. Our stay was very peaceful with lots to do on site and many fun attractions nearby. Thank you. Will definitely come back.
Nov 10, 2020
Very nice clean friendly quiet been their and all 3 times was very pleasant
Nov 10, 2020
Very nice campground, wonderful play area for the kids. Staff is very friendly and helpful
Nov 10, 2020
Staff were pleasant and helpful. Checkin was painless. The facilities were clean and it was quite at night. We enjoyed our stay and will consider staying again if we are in the area.
Nov 09, 2020
I have already recommend you to somebody... you were very friendly the park was very well maintained with clean restrooms who could ask for more....... thank you
Nov 09, 2020
One of if not the best KOA we have stayed at from the West Coast to the East Coast!!!
Nov 09, 2020
Love the Lynchburg/Blue Ridge Parkway KOA. Beautiful location and the owners are the best. Philip and Stephanie are always friendly and make you feel welcome. Campground is always well maintained and they are constantly checking on how you are doing.
Nov 09, 2020
People were awesome. The only negative was that Wifi didn't work very well. We just wanted to play music off a Phone App and it didn't work well. Very well kept campground.
Nov 09, 2020
Very clean campground, quite and the staff was very nice, would go back again.
Nov 09, 2020
Nice 2 night getaway. Only live 16 miles away from campground, but it is always well worth the short drive to get there.
Nov 09, 2020
The staff in the atmosphere was very welcoming and everything was tidy and clean
Nov 08, 2020
Perfect place to stay! The camp ground area is cleaned and well maintained. The camp sites are spacious and the folks are nice and friendly!
Nov 07, 2020
Very friendly. Clean and well kept. Nice atmosphere.
Nov 05, 2020
Friendly staff, clean facilities. Close to Blue RIDGE Parkway - Not very close to other businesses.
Nov 04, 2020
Super clean cabin and very friendly staff.
Nov 03, 2020
Great cabin just wish the refrigerator had a little freezer.
Nov 03, 2020
We really enjoyed the cabin on our trip.
Nov 03, 2020
We had a wonderful time! The Grandkids loved the playground! I really was unsure when we first got there how close we were to the playground. After being there for only a couple of hours, we decided it was probably one of the best spots as we could be at our site and still keep an eye on them. Everyone was so friendly and willing to help us in any way possible! Thanks for all you did!
Nov 03, 2020
Very nice as always. Enjoyed the weekend. Nice camping spot.
Nov 03, 2020
The campground is great. The lady at the camp store/office is very rude and not very helpful.
Nov 15, 2020
This place is everything you'd want out of a KOA campground. We stayed in cabin #5 and it was great. Everything was very clean, including the bathrooms. Mattress was a little thin, but not bad at all, most importantly, it was clean. The owners were very friendly and take great care of the place. They're very organized, so checking in and out was a breeze. There's lots for the kids to do. They loved fishing at the pond and bouncing on the bounce pad. We had a great weekend trip, thank you!
- 4timj on Trip Advisor
Nov 13, 2020
Great small KOA would recommend. Practically next door to the Blue Ridge Parkway. Spots are long, but a little narrow. Verizon coverage was ok, but not great. I was able to make a zoom call on my phone and using my jetpack and an external antenna.
- Matt Reese on Google
Nov 11, 2020
Very nice and quiet.
- Sheila Nichols on Google