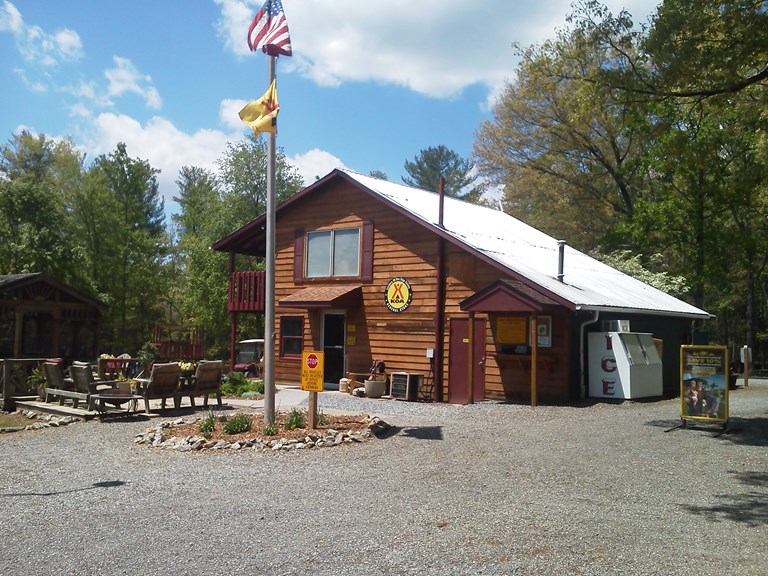 Lynchburg / Blue Ridge Parkway KOA Reviews
Directions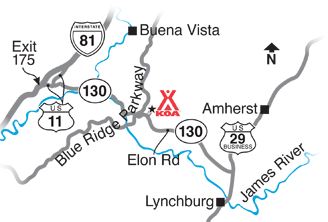 From Blue Ridge Parkway: exit VA130 between mile marker 61 & 62, Turn Left (East), 1 mile to campground on left.
From Lynchburg VA: take US29 Business North, turn left on VA130 (Elon Rd.) 15 miles to campground on the right.
From I-81: Exit 175, take US11 North 1.6 miles, turn right on VA130 (Elon Rd.) 17 miles to campground on left.
GPS: Routing may be inaccurate. N37.573548, W79.325700
Get Google Directions
Sep 22, 2020
Great campground, wonderful staff, clean restrooms, beautiful and large sites. Only one reason I didn't give a ten is the WiFi didn't work at all.
Sep 22, 2020
Great sites. Friendly, helpful staff.
Sep 22, 2020
We love �� this place!!!
Sep 22, 2020
This is a beautiful park, well maintained with a wonderful staff. I especially appreciated the little woodland trail.
Sep 22, 2020
Very friendly and accommodating. We had everything we needed. Thank you!
Sep 21, 2020
The people who operate the park are very kind Its clean and well maintained. I would recommend this park to anyone
Sep 21, 2020
This was our fourth time back. Every time we stay in one of the cabins. They are always clean and comfortable. The staff is AWESOME! and bends over backwards to ensure we enjoy our stay. The bathrooms are clean and cleaned many times a day. They also have accommodations for late evening arrivals. The grounds are beautiful and well kept and the other campers are very respectable. Well be back!
Sep 21, 2020
Beautifully kept grounds in a great location with fantastic hosts. Only complaint is Extremely slow/intermittent WiFi, which they warn you about on their website. Not the place to be if you need to stay in touch.
Sep 21, 2020
We stayed in a deluxe cabin with handicap accessibility and could have been more pleased. The campground is clean and well maintained and the people were so very friendly, I would stay again the next time I vacation here
Sep 21, 2020
Wonderful campground! Very quiet. Beautiful area.
Sep 21, 2020
We had a great stay there. It was our first visit and will definitely go back.
Sep 21, 2020
First of all my wife and I want to say THANK YOU! We had a wonderful week and the best camping experience so far. Awesome campground. Staff was friendly, helpful and seemed like at least one or two members of the staff were always doing something to keep the campground looking good or helping someone. Our campsite was terrific. Plenty of room and able to enjoy the outdoors and the peace and quiet.
Sep 21, 2020
We had a great time, our camp site was level and everything worked well. Campground staff were extra friendly, and everything was clean. We will be back!
Sep 21, 2020
We've stayed here twice and have enjoyed both stays. Staff has always been friendly and helpful. We love the back in sites.
Sep 21, 2020
Campground was very friendly and facilities very clean. We will definately stay here in the future.
Sep 20, 2020
Best koa we go to. We go there at least once a year Beautifully maintained.
Sep 20, 2020
The campgrounds were clean and the cabins were nice. The bathrooms were really clean and wonderful!
Sep 20, 2020
Was one of the finest campgrounds we have ever stayed in. Our site was pristine in every way and the entire campground appeared to be that order.
Sep 19, 2020
A Small, nicely laid out campground in the woods. Well taken cared of. Comfort stations are great. We will come back.
Sep 19, 2020
Premium site was beautiful and spacious. The roads were a bit tight for very big rigs (41 ft 5th). The road leading to the campground was difficult with a big rig.
Sep 19, 2020
Everyone was Very Kind. Excellent Customer Service.
Sep 19, 2020
Enjoyed the campground, enjoyed the hosts. Neat area , many things to do in area.
Sep 19, 2020
Only one night, otherwise we might be able to provide a more detailed review.
Sep 18, 2020
Always have a wonderful stay here.
Sep 18, 2020
Staff was pleasant. Very quiet location and near the Blue Ridge Parkway. My only concern is the rates are on the high end.
Sep 17, 2020
Enjoyed a very relaxing time at the KOA
Sep 15, 2020
The park is well set up with nice amenities, flat sites, good bathrooms, and overall well maintained. This KOA is a little off the beaten path, but it worth the effort to get there. The Blue Ridge Parkway is about 2 miles away. We would definitely return when in the area.
Sep 15, 2020
Great KOA, clean and everyone friendly and helpful. I feel guests price is rather high for someone to sit at my campsite.
Sep 15, 2020
Friendly & helpful staff, friendly campers Nice sites, & quiet
Sep 15, 2020
Extremely welcoming/friendly hosts! Extremely clean/well maintained campground. For "home school-ers", WiFi/cell service is not the best.
Sep 14, 2020
Nicest campground bathrooms I've ever seen - every one is a private suite with a toilet, shower, and sink with plenty of room.
Sep 14, 2020
Some of the biggest sites we have ever stayed on. The camp was convenient to Blue Ridge Parkway and all the staff were very friendly and helpful. Bathhouses very clean. Everything worked well except internet when a lot of people were on it. Cable was great!
Sep 14, 2020
I always enjoy my stay at this campground. It is quiet and relaxing. Phillip and Stephanie are great hosts and make you feel welcome while you are there. Just wish I was able to camp more than I have this year .
Sep 14, 2020
Very clean well run will be back
Sep 14, 2020
First time using our TT so I have nothing to compare it to, but we really liked it. Many pull-throughs that help us newbies. Staff very friendly and helpful. Short walking trails on-site and fenced-in dog area. Very clean. Large kid area for all ages. Good area for avid cycists, Skyline Drive close and some gravel trails. Recommend Otter Creek Loop, 1 mile hike five mins drive.
Sep 14, 2020
Love this campground! Staff is alway wonderful!
Sep 13, 2020
Absolutely wonderful place to camp!
Sep 12, 2020
This campground was absolutely the cleanest, most detail oriented campground we have encountered so far this summer. The owners definitely take great pride in ownership. It is evident that upgrades are being made as they already closed the beautiful pool for re-painting. As the restroom/showers were very clean, they could use some up grading. Otherwise they are great, very private. Will return.
Sep 11, 2020
nice campground, really friendly and nice hosts/workers. The bathrooms were great!! (our hot water tank went on the blitz in the RV so we showered in the camp restrooms) Very nice location for Blue Ridge Hiking and James River Kayaking.
Sep 10, 2020
It was nice and clean friendly looking forward to going back
Sep 22, 2020
Beautiful location. Clean, Well kept. Staff went out of its way to help solve maintenance problem with our camper. Would definitely stay here again
- Lawrence Bunting on Google
Sep 09, 2020
We rented the deluxe cabin. It is much larger than the other cabins. The small cabins are actually nice but we had 1 on crutches this trip so the extra room was great. It had its own bathroom and kitchen. 2 tvS a kids loft. It had a fabulous bathroom. That was refreshing. Only down side was how close other campers were. We traveled hours to be in nature but there was a camper right in front of us closer than our neighbors are back home. Slightly ackward. The staff was great and the cabin was clean. Pool and bouncey pad thing to play on. It was also pet friendly so I say 5 stars overall. My dog really enjoyed having a vacation as well. 🐶 there is a creek nearby to play in and a waterfall. The zoos are great 30 mins away. I enjoyed the trails right by the camp site. This cabin has a wheelchair lift if you need it. The shower is handicapped accesible as well. Happy travels.
- Jessica on Google
Sep 01, 2020
Large level spots. The park is very well maintained and the hosts are very attentive.
- Tom Hagen on Google

Lynchburg / Blue Ridge Parkway KOA
Open April 1 - November 15
6252 Elon Rd
Monroe, VA 24574-3012
Check-In/Check-Out Times
All Sites
Check-in: 2:00 pm, Check-out: 11:00 am
Operating Hours
Sunday: Open 11:00 AM to 6:00 PM
Monday: Open 9:00 AM to 6:00 PM
Tuesday: Open 9:00 AM to 6:00 PM
Wednesday: Open 9:00 AM to 6:00 PM
Thursday: Open 9:00 AM to 6:00 PM
Friday: Open 9:00 AM to 6:00 PM
Saturday: Open 9:00 AM to 6:00 PM
Lynchburg / Blue Ridge Parkway KOA
Get Google Directions

© 2020 Kampgrounds of America, Inc.