Directions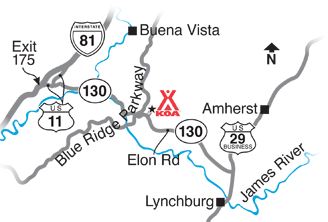 From Blue Ridge Parkway: exit VA130 between mile marker 61 & 62, Turn Left (East), 1 mile to campground on left.
From Lynchburg VA: take US29 Business North, turn left on VA130 (Elon Rd.) 15 miles to campground on the right.
From I-81: Exit 175, take US11 North 1.6 miles, turn right on VA130 (Elon Rd.) 17 miles to campground on left.
GPS: Routing may be inaccurate. N37.573548, W79.325700
Get Google Directions
Jun 17, 2021
Very nice time -camp hosts were extremely helpful and polite. Only comment would be that it seemed a little confusing about campsite limits on guests! I thought that as long as you paid extra you could have extra visitors/ also paid for extra people that weren't there the entire visit. 1 night out of 5 nights
Jun 16, 2021
Nice camp ground, clean and well maintained. A couple of negatives however. It's literally next to highway 130 so you hear lots of car and truck noise; not good if you're looking for a quiet spot. There was a group of 4 boys about 10 -12 years old (2 who lived there) who where always playing, hollering, screaming, etc. right in front of our cabin; very annoying! Store closes too early.
Jun 15, 2021
We love the well maintained park. They take such pride in how well.its run. Gated and safe in the campground after hours and has exceptional clean shower restrooms, we I'll be back! The Wilsons
Jun 15, 2021
I want to come back in the future, the staff was really friendly, clean, and there's a lot to go and see around it.
Jun 15, 2021
Our site was fantastic! We only wish a pretty good thunderstorm hadn't ruined our firepit evening!
Jun 15, 2021
Just one night. Very nice tent site, very courteous and helpful staff. Clean bathroom.
Jun 14, 2021
Overall OK. Would be nice to have more supplies in the store.
Jun 14, 2021
Beautiful campground! Pleasantly clean bathrooms. Very friendly staff. Would absolutely go back.
Jun 13, 2021
Perfect sites. We had three trailers side by side and made for a great weekend getaway. The camp was very clean. The workers were all nice to deal with. The owners were awesome!! If you want a quiet, clean, easy to get to campground then this is the place to be. The workers even help you park your trailer!! A definite place to go back. Thanks for the great weekend.
Jun 13, 2021
Had power outage in park, but staff very attentive and cleaned up after storm keeping us informed of changes. Lovely campground, great staff and service.
Jun 13, 2021
This KOA was in the most remote area of any KOA we have ever stayed at! Despite having to climb up and down mountains to get there, it was a very nice KOA. Very well kept, clean, and quiet. We loved staying here!
Jun 12, 2021
If you want peace and fresh mountain air, go somewhere else. The mornings were spent listening to them grade the gravel lots and road with a tractor. The fumes triggered an asthma attack because he was working right next to our camper. It was my first vacation in over a year. I never expected a camping trip to be so loud and smelly.
Jun 12, 2021
Campground is clean & well put together. The cabin w/ loft is roomy and perfect for children. The staff is friendly. I wish the website stated you couldn't leave dogs unattended in the cabin. Makes doing anything in the area hard to have dogs in tow. The cabins are lacking basics in the kitchen. Cups, knives, salad bowl, etc. Lots of dog fur from previous guests, but there was a broom available.
Jun 12, 2021
Pleasant and helpful staff, nice size sites
Jun 12, 2021
This is a small campground, but it was very nice and well maintained. All of the staff was extremely friendly and helpful. There are games set up (ladder ball, air hockey, foosball, etc.), which my family enjoyed playing. The wifi was surprisingly good too. We will be back!
Jun 11, 2021
It was very quiet but not a lot of activities for adults..
Jun 11, 2021
Nice campground, clean and the hosts are very friendly.
Jun 11, 2021
Great small campground, excellent service.
Jun 10, 2021
Very nice. Friendly staff. Can't wait to go back.
Jun 09, 2021
Short 3 day stay for a shake down of a new travel trailer and to hike a little of the AT which has a trail head just 5 miles away. Very welcoming and well run camp ground. Beautiful area of Virginia.
Jun 09, 2021
Clean and friendly
Jun 09, 2021
Very friendly, exceptionally clean. We would definetly return again.
Jun 08, 2021
This was our 2nd time at Lynchburg/Blue Ridge Parkway KOA - it is a very nice campground, quiet, clean and staff are very friendly. We enjoy this campground, plenty to do and see around the area, and plenty of things to do at the camp ground. Hookups are close to the camper, and our site was plenty big. Will definitely be back again.
Jun 08, 2021
Friendly staff; clean showers; nice gift shop; well maintained; we work in healthcare and this was our first break since Covid- except to take our dogs for a walk and go to the nice dog park, we never left our site, just enjoyed the beautiful park, the sounds of happy campers as they waved as they walked by. We'll be back.
Jun 08, 2021
Fantastic!!!
Jun 08, 2021
The campground was great, but we would have preferred a site on the backside of the campground. Unfortunately, our site was surrounded by the bathhouse, camp store/office, and playground so next time we would definitely choose a different site. Staff was very friendly.
Jun 08, 2021
The park is beautiful and the staff were very friendly. Park hosts, Dan and Deb, were very friendly when we checked in and shown to our site. The park is clean and felt safe. Great location!
Jun 07, 2021
Our most favorite campground! The owners are always making sure the needs of the campers are met and they take such beautiful care of the sites, cabins and all surrounding grounds. We go every early summer and the weather is always perfect, even when it rains! HAHA
Jun 07, 2021
It was an awesome campground!!! Will be back!!!
Jun 07, 2021
Very nice campground. We stayed at out camper most of the time. Quiet and well maintained and friendly staff. Will definitely stay again.
Jun 07, 2021
This was our second stay at Lynchburg/Blue Ridge Parkway KOA and it is never a disappointment! Love coming with our kids and grandchildren.
Jun 07, 2021
The campground is very clean and kept nice! We enjoyed the pool and they had nice amenties for our kids. The bath house is very accessible and clean. The staff is very friendly and guided us to our site and helped us back in which is very much appreciated!!!
Jun 07, 2021
I had a great time! The campground was very comfortable. I do plan to return.
Jun 07, 2021
Love this campground always a great place to stay and staff is always friendly , when i made my reservations some how my value kard wasn't recognized and i did not get my discount, also i wanted to use some of my points here and was told I had paid in full so i didn't get to use any of them or get my discount, I was disappointed that they didn't offer to correct this,. Unhappy about this
Jun 07, 2021
We've been to this site a couple of times, and it is very peaceful and well- maintained.
Jun 06, 2021
Owners and staff did everything possible to make our stay a pleasant experience. Anything we needed was addressed right away!
Jun 06, 2021
This KOA is very clean neat and most of all quite. Will return
Jun 06, 2021
One on the best maintained parks We have stayed at. Super friendly staff was very attentive.
Jun 05, 2021
People were friendly and helpful. Park was crowded for the Memorial Day weekend but the sites were level, roomy and clean. We visit here twice a year and will continue to use this as our base.
Jun 05, 2021
Nice campground...very clean and well kept. A little tight for a 42' 5th wheel...but doable.
Jun 20, 2021
Friendly staff and motorcycle friendly campsites. (Easy to maneuver throughout the grounds and easy to park motorcycles at tent campsites). Not far off of the Blurring parkway if you're riding and need a good stop for the night.
- kb b on Google
May 16, 2021
Excellent experience. Clean facilities and the staff was friendly and amazing. We only had a small cabin without a bathroom and it was nice. Our friends had the larger cabin with bathroom and those are new and updated. The camp sites were well laid out. This was the first time in a while I've enjoyed "camping".
- Nathan Grundy on Google
May 13, 2021
Outstanding campground. Well spaced wooded sites. Clean facilities. Friendly staff. Great walking paths thru the woods Sotto's Pizza in Glasgow is a must
- Jeff Hooper on Google