Directions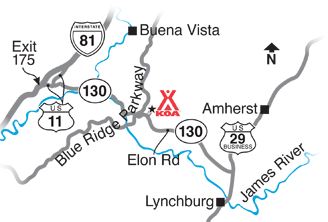 From Blue Ridge Parkway: exit VA130 between mile marker 61 & 62, Turn Left (East), 1 mile to campground on left.
From Lynchburg VA: take US29 Business North, turn left on VA130 (Elon Rd.) 15 miles to campground on the right.
From I-81: Exit 175, take US11 North 1.6 miles, turn right on VA130 (Elon Rd.) 17 miles to campground on left.
GPS: Routing may be inaccurate. N37.573548, W79.325700
Get Google Directions
Sep 15, 2021
The campground was very clean. All of the staff were helpful and very friendly. We originally had planned on staying four nights but extended our stay another two because we enjoy so much. We found the environment to be very relaxing; the other campers were quiet and respectful of one another. The many trees in the campground made for a very nice, shady retreat.
Sep 14, 2021
Had a very relaxing stay at a beautiful place and the staff was so nice. Will be back!
Sep 14, 2021
Great staff! Nice and clean campground. Campsite was very roomy.
Sep 14, 2021
We had a girls weekend and we had a wonderful time. The facilities were very clean and I love the individual Bathrooms. Very roomy and Private. The campsite was perfect for our set up. The Owners and the Employees were very kind and helpful. And we absolutely adore Lucy the yellow lab. She is just too cute. We highly recommend this campground and we will be back for more Girls weekends.
Sep 14, 2021
First time there. Very clean, quite, love the premium spots. Not to mention the staff was super nice.
Sep 14, 2021
We love this place and would definitely be back. This is the place to stay if you want some solitude. Staff are so friendly, thumbs up to them �
Sep 14, 2021
Wonderful, quiet place in beautiful setting. The staff was very kind and we look forward to returning in 3 weeks
Sep 13, 2021
Very nice and clean.
Sep 13, 2021
Management was very nice and helpful. Took us to our site and made sure we were happy with the site setup. Electric, water and sewer worked great. Wifi was good but went in and out at times. Would go back and recommend to friends.
Sep 13, 2021
All the sites are outstanding, large and lots of trees! Staff was great also!
Sep 13, 2021
Great location..clean campground and bathroom...very friendly staff...we are planning a return trip in the spring
Sep 12, 2021
My family and I loved our trip to Lynchburg/Blue Ridge Parkway KOA. The campgrounds were beautiful and well taken care of. The staff was awesome and very helpful. The site was large and clean. Plenty to do at the campsite and surrounding area. We will definitely be back.
Sep 11, 2021
A great KOA. Very nice location. The grounds are very neat and well kept. Nice amenities. The sites are spacious and helpful staff. Very good WiFi. Cable channels lacking some you would normally expect at a KOA. We would definitely stay at the location again.
Sep 11, 2021
Beautiful campground. Very clean and well taken care of.
Sep 08, 2021
We had a very nice stay. Lovely campground, staff and owners!!
Sep 08, 2021
Great people always a great place makes you feel at home will be going back
Sep 08, 2021
Great camp ground and cabins. Staff was so friendly and helpful!
Sep 07, 2021
Great place with an excellent staff.
Sep 07, 2021
As always everything was wonderful. Love this campground. Very well run.
Sep 07, 2021
Nice campground.
Sep 07, 2021
I don't like that you are charged $10 for each visitor .
Sep 07, 2021
Great stay. Campground was clean and well staffed. Everyone was so friendly. We will return!
Sep 07, 2021
The management and team here are outstanding. We experienced the best customer service and friendly attitudes by everyone. Our grandchildren were here with us and they enjoyed the activities and bounce pad. Dry clean place and easy access.
Sep 07, 2021
This was our first time at this KOA. Mr. Boswell,the owner, was very friendly & accommodating. The other gentleman & his wife were also very friendly. Although this is one of the smaller KOA's we've been too we still loved the atmosphere! The deluxe cabin was great. The mobile arcade was a hit with my husband. That was a nice treat! We will be back :)
Sep 07, 2021
Very clean cabin and facilities. Super friendly staff
Sep 07, 2021
One of our favorite camping sites. Wonderful, friendly staff!
Sep 07, 2021
The employees were great. Friendly and helpful. The campground was very clean. Facilities were also well kept.
Sep 07, 2021
The place is amazing with some great views, hikes and facilities to stay for longer durations. More importantly, the hosts are very welcoming and made us felt special.
Sep 07, 2021
This was a great campground for relaxation. Our tent site was beside the pond and the weather was great for the time of year. The sites have plenty of tree cover for shade and are very large. We had plenty of space and did not feel like we were on top of the neighbors. Great for privacy.
Sep 07, 2021
Our Rustic Cabin was clean, furnished well. Outside fire ring and grill were awesome. The bathrooms well kept and very clean.
Sep 04, 2021
We were here to catch up with a few friends in the area, so we didn't stay at the campground all the time. We had full hookup with cable which was all in good working order. We used the laundry facilities, which was very clean and in good working order. We swam in the pool one day, once again…very nice! Love the shade provided by the big umbrellas. We would come here again.
Sep 04, 2021
We loved this campground! Debbie, Dan and the owners were so kind and always so helpful. The sites are large and the amenities were great for our little family —pool, fishing pond, playground, jump pad, mining, air hockey and other games. Close to natural bridge, Safari, caverns, hiking and wineries. Highly recommend this campground.
Sep 04, 2021
This is the friendliest (we were greeted immediately when we pulled in - with a huge smile and a "Welcome!") and the most meticulously maintained KOA we have stayed at yet. It is beautiful and we had a wonderful stay. We will most definitely be back - my favorite KOA so far!!
Sep 03, 2021
Only reason I didn't give it a 10 is the drive in from I81 is extremely nerve racking. Dan and his wife were great hosts!!!
Sep 01, 2021
Excellent place. Very clean and well kept. People are great. Would stay there again..
Aug 31, 2021
2nd time staying there. They improved landscaping and sites. Love the quaintness of a smaller KOA and appreciate the sites are not on top of each other! MOST OF ALL -EXCELLENT CUSTOMER SERVICE!
Aug 30, 2021
Very nice staff. Always enjoyable to be around. Cabins were clean and had a great time.
Aug 30, 2021
Our stay at Lynchburg/Blue Ridge Parkway campground for the weekend was wonderful! The cabin nestled in the woods was perfect for our family and the pool is the best pool at any campground! My 3 year old nephew learned how to swim with his wings! Lots of activities on site and nearby - we took a great hike! We will be back!
Aug 30, 2021
Nice folk. Nice amenities Neighboring fire ring seemed a bit close to our rig.
Aug 29, 2021
Beautiful campground very well maintained. Clean spacious bathrooms with shower. Staff were so friendly and helpful. Great location to all the places you would want to visit. We had a great time sightseeing and just hanging out with friends relaxing around our camp fire. We would definitely come back here the only side note we would make is about the drive in to the camp from route 81 Crazy!
Aug 29, 2021
Lynchburg/Blue Ridge-Friendly and knowledgeable staff...Easy check in...beautiful quiet and clean...pulled in late, had no reservation, we were paid and parked and set up within 20 minutes...would definitely recommend and go back again if we are in the area!
Aug 13, 2021
Fun KOA in the mountains and pine trees. Nice pool, shady sites and friendly staff.
- Mr. S on Google
Aug 18, 2021
Absolutely wonderful campground! Staff was friendly. Park was clean. Bathhouses were some of the cleanest and nicest bathhouses I have ever seen. We stayed 4th of July weekend, and even though the park was full, there was never any rowdy campers or loud noises. My only.complaint was people walking through and driving their golf carts through our site to get to the pond to fish (I'm talking between our tent and our car). Even with this though, I still recommend this campground and plan to stay again in the future!
- Nikki Nunya on Google