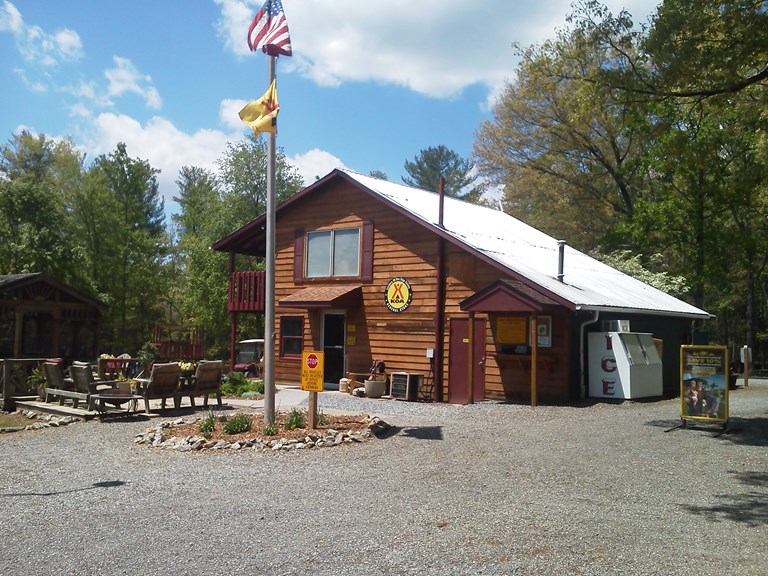 Lynchburg / Blue Ridge Parkway KOA Reviews
Directions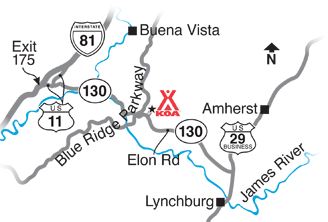 From Blue Ridge Parkway: exit VA130 between mile marker 61 & 62, Turn Left (East), 1 mile to campground on left.
From Lynchburg VA: take US29 Business North, turn left on VA130 (Elon Rd.) 15 miles to campground on the right.
From I-81: Exit 175, take US11 North 1.6 miles, turn right on VA130 (Elon Rd.) 17 miles to campground on left.
GPS: Routing may be inaccurate. N37.573548, W79.325700
Get Google Directions
Jul 31, 2020
It was a peaceful stay with a great pool and plenty of family time
Jul 31, 2020
Awesome place. Very nice location that has access to a rail to trail path for hikes.
Jul 30, 2020
Staff was very helpful
Jul 29, 2020
Loved it. Beautiful grounds!
Jul 29, 2020
The campground is clean and accessible and the owners are lovely. We had a wonderful time, some technical difficulties and they were more than accommodating.
Jul 28, 2020
Stephanie is so kind and considerate. She makes the stay enjoyable. She is a real credit to the KOA. She is always trying to acomodate the campers.
Jul 28, 2020
This campground was excellent. Clean and big spots with lots of amenities and green space to play! Location was great with outdoor activities very close by and easy road for driving our large RV there. Will definitely plan to return to this campground!
Jul 27, 2020
Very clean. Friendly staff. Definitely recommend.
Jul 27, 2020
We were greeted with a friendly front desk receptionist. We were caddied to our site. The site was large and left us with plenty of room. The entire campground was super clean and well maintained. The bathrooms were clean and spacious. Only complaint: the soap dispenser in the rear bathroom at midnight wasn't filled. I had to go to another restroom to wash my hands.
Jul 27, 2020
Extremely friendly staff. Very helpful. Will absolutely come here again when we come back to town.
Jul 27, 2020
Great campground! Only complaint is slow wifi.
Jul 27, 2020
Love staying here. But they are getting really busy.
Jul 26, 2020
Very friendly staff! Kept very, very clean. Good location!
Jul 26, 2020
Everything was super clean and nice. I appreciated that the large patio was concrete since it rained most of one day. Also, the swing and patio furniture were super comfy!
Jul 26, 2020
Too many petty rules, you should go camping to relax and unwind, not be told what you are doing wrong.
Jul 26, 2020
Very nice campground, clean amenities!
Jul 26, 2020
Clean ,great location, owners are good people.
Jul 25, 2020
Beautiful campground tucked in the mountains. The only complaint it does not pick up AT&T phone service but that would not sway me from returning. A fantastic place to unwind.
Jul 25, 2020
Really nice sites. Pool is clean and well maintained. Nice fishing lake but could have used some aeration. Store should sell bait. Staff was hard working and friendly. Campground is remote so be prepared for 30-45 minute curvy ride from main roads.
Jul 25, 2020
If you like campsites that are crammed together then you'll like it. Wifi is unusable. But nicely located to the Blue Ridge Parkway, and few miles from the AT and great hiking. When making the reservation it showed only 1 site available and it was a Premium site, more than half the campsites remained empty during our stay. Wonder if they only open the less expensive sites after filling the premium
Jul 25, 2020
If the road in was any indication I was bound to be impressed. Greeted upon my arrival with smiling faces, beautiful property, clean, quiet & scenic.
Jul 24, 2020
Personnel were polite. Pool was nice and grounds were kept up. Campsite was unlevel so had to insert boards under wheels. Dog park was a good distance from campsite.
Jul 24, 2020
Very nice park. Owners are great! Very helpful and friendly.
Jul 23, 2020
Beautiful park and great hosts. We love this KOA. Very close to the Blue Ridge Parkway and an easy pretty drive to Lynchburg
Jul 22, 2020
We had a wonderful stay ! The bathrooms were clean and the staff was nice and helpful. The pool was a big hit with the kids. I wished all the staff would wear masks but other than that it was a great stay.
Jul 22, 2020
This KOA was very clean and well laid out. Lots of room between campsites. My girls took showers in the public showers and they were very clean.
Jul 22, 2020
We loved our stay at KOA Lynchburg. We loved being nestled in a cabin in the woods. The entire campgroud was exceptionally clean including the playground, cabin, pool, and shower rooms/bathrooms. The staff was friendly and very helpful as well. Thank you for a great experience. We will be back. (:
Jul 22, 2020
Great facility and great staff
Jul 21, 2020
Wonderful staff! Lots to see close by. Very clean campground, including the pool. Nice large dog park.
Jul 21, 2020
Tony guided us to our site, was very friendly and helpful. I purchased firewood and ice from camp store and he delivered it to our site. Pool nice and clean as was entire campground. Very peaceful.
Jul 21, 2020
Awesome part of my adventure
Jul 20, 2020
This was our 3rd year staying at this campground. This year was "very" disappointing. I reserved the same site we had the previous 2 years. When we arrived (15 mins after the office closed) we noticed someone staying in our "reserved" site. The site assigned to us was not ideal for a 30.5 ft camper. A "curtesy" call would have been "much" appreciated!!! We could have then picked another site.
Jul 20, 2020
Cabin was beautifully appointed and very clean. I was a little bit disappointed at the lack of masks in the store/check-in. There was a sign requiring them, but I never saw a staff person wearing one, and few people in the store were. Other than that, it was a wonderful stay! I would definitely stay again.
Jul 20, 2020
We camped for 3 nights in our toy hauler at one of the pull thru sites. Very pleasant staff. Very helpful. Our site was nice and spacious. Bath houses are clean and well serviced. Overall a very enjoyable stay. Will be back to this KOA. Blue Ridge Pkwy access is only 1 mile away.
Jul 20, 2020
Loved the area the staff were all friendly the campground is small not overwhelming. The deluxe cabin we stayed in was really cute and comfortable. I would recommend this campground to anyone.
Jul 20, 2020
We enjoyed our stay. We got a last minute spot so it was a smaller spot right in the middle of the park, but it ended up being very nice because we were close to the bathhouse, swimming pool, and playground. The bathrooms were clean. Our only complaint was that the condition of the fishing pond was disappointing. There was so much pond scum that every cast your lure was covered in it.
Jul 19, 2020
The cleanest, most attractive , comfortable, beautiful KOA,we've stayed. We avoid KOA parks as our experiences have not been favorable. This park is amazing. The owners take their job seriously and are most hospitable with attention to detail and appearance!
Jul 19, 2020
Thoroughly enjoyed our stay with our family. Sites were adequate for our family. Neighbors were friendly.
Jul 18, 2020
Very private tent site on the lake A01.
Jul 18, 2020
Beautiful out of the way location with clean cabins and facilities. Another one of our favorite KOA stops!
Jul 18, 2020
Great place, great people! Clean, quiet, beautiful location.
Jul 23, 2020
Very nice campground close to Blue Ridge Parkway. We stayed one night only with an 32ft motorhome. People are super friendly. Clean. Nice amenities for the kids. Our RV space was very good. Pool was nice. RV neighbors were friendly. Calm and quiet.
- Cszepak on Trip Advisor
Jul 18, 2020
So cool and staff was really nice
- Gary Warner on Google
Jul 17, 2020
Great place. Very nice facilities clean. Great people. Quiet
- Suzanne Emery on Google

Lynchburg / Blue Ridge Parkway KOA
Open April 1 - November 15
6252 Elon Rd
Monroe, VA 24574-3012
Check-In/Check-Out Times
All Sites
Check-in: 2:00 pm, Check-out: 11:00 am
Operating Hours
Sunday: Open 11:00 AM to 6:00 PM
Monday: Open 9:00 AM to 6:00 PM
Tuesday: Open 9:00 AM to 6:00 PM
Wednesday: Open 9:00 AM to 6:00 PM
Thursday: Open 9:00 AM to 6:00 PM
Friday: Open 9:00 AM to 6:00 PM
Saturday: Open 9:00 AM to 6:00 PM
Lynchburg / Blue Ridge Parkway KOA
Get Google Directions

© 2020 Kampgrounds of America, Inc.