Directions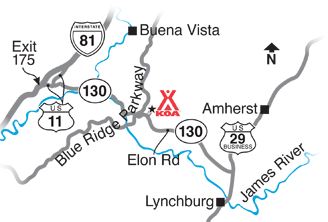 From Blue Ridge Parkway: exit VA130 between mile marker 61 & 62, Turn Left (East), 1 mile to campground on left.
From Lynchburg VA: take US29 Business North, turn left on VA130 (Elon Rd.) 15 miles to campground on the right.
From I-81: Exit 175, take US11 North 1.6 miles, turn right on VA130 (Elon Rd.) 17 miles to campground on left.
GPS: Routing may be inaccurate. N37.573548, W79.325700
Get Google Directions
Nov 25, 2020
Great quite place to stay. Staff was very friendly and courteous. Close to several city's to visit. Even heard a hoot owl a couple of nights in a row.
Nov 21, 2020
We had a great time staying here and enjoyed the local attractions.
Nov 16, 2020
Always love staying at the KOA Lynchburg. Very clean and quiet. The patio sites have been a great addition to the campground. We especially like that it has such close and easy access to lots of great hiking trails along the BRP.
Nov 16, 2020
We love this KOA. The owners are great! The only thing that I would have changed about our stay was the site choice. The site was very roomy and super easy to back into, but there is a very narrow sharp turn to traverse when heading out to the exit. I don't think it was that narrow before the deluxe sites had the concrete pad and swings installed, but I could be wrong.
Nov 16, 2020
The campground is well kept and the sites are a great size.
Nov 16, 2020
Second stay here in the last month! Can't say enough good things about this campground. Phil and Stephanie always go above and beyond to make your stay a great one! My family always looks forward to camping here!
Nov 14, 2020
Nice sites and very clean. Friendly, helpful staff.
Nov 13, 2020
We were there for one night and close to the RV next to us. There wasn't really a place at the site to walk our dog. The markings weren't easy to navigate to exit the park. I
Nov 11, 2020
Great place to camp with nice amenities.
Nov 11, 2020
Had to change the dates of our stay several times. The staff was very accommodating. Our stay was very peaceful with lots to do on site and many fun attractions nearby. Thank you. Will definitely come back.
Nov 10, 2020
Very nice clean friendly quiet been their and all 3 times was very pleasant
Nov 10, 2020
Very nice campground, wonderful play area for the kids. Staff is very friendly and helpful
Nov 10, 2020
Staff were pleasant and helpful. Checkin was painless. The facilities were clean and it was quite at night. We enjoyed our stay and will consider staying again if we are in the area.
Nov 09, 2020
I have already recommend you to somebody... you were very friendly the park was very well maintained with clean restrooms who could ask for more....... thank you
Nov 09, 2020
One of if not the best KOA we have stayed at from the West Coast to the East Coast!!!
Nov 09, 2020
Love the Lynchburg/Blue Ridge Parkway KOA. Beautiful location and the owners are the best. Philip and Stephanie are always friendly and make you feel welcome. Campground is always well maintained and they are constantly checking on how you are doing.
Nov 09, 2020
People were awesome. The only negative was that Wifi didn't work very well. We just wanted to play music off a Phone App and it didn't work well. Very well kept campground.
Nov 09, 2020
Very clean campground, quite and the staff was very nice, would go back again.
Nov 09, 2020
Nice 2 night getaway. Only live 16 miles away from campground, but it is always well worth the short drive to get there.
Nov 08, 2020
Perfect place to stay! The camp ground area is cleaned and well maintained. The camp sites are spacious and the folks are nice and friendly!
Nov 05, 2020
Friendly staff, clean facilities. Close to Blue RIDGE Parkway - Not very close to other businesses.
Nov 03, 2020
We had a wonderful time! The Grandkids loved the playground! I really was unsure when we first got there how close we were to the playground. After being there for only a couple of hours, we decided it was probably one of the best spots as we could be at our site and still keep an eye on them. Everyone was so friendly and willing to help us in any way possible! Thanks for all you did!
Nov 03, 2020
Very nice as always. Enjoyed the weekend. Nice camping spot.
Nov 03, 2020
The campground is great. The lady at the camp store/office is very rude and not very helpful.
Nov 03, 2020
We were satisfied but not delighted. Our Cable did not work and were told someone would come to check it out. they never came so had to watch antenna TV which came & went due to high winds. Also lost power for about 4 hrs due to wind storm not KOA's fault but an inconvenience. Campground is small but nice with lots of walking room for our dog. Would come back.
Nov 02, 2020
To start the country side is great. We stayed during the remints of a hurricane which was not a problem at all. the campground is well suited for inclement weather I only interacted with the staff only two times but both times they went way above and beyond, on all levels. Great Job!
Nov 01, 2020
We were there for two nights while exploring Lynchburg (somewhat of a disappointment) and walk along the James River. We had a mechanical issue Which they were extremely helpful in trying to find a mechanic to come out on a weekend to work. The repair was finally completed long after the required checkout time but they were extremely understanding and accommodating. Lots for kids to do on site
Oct 31, 2020
Hands down, the best KOA we've stayed at.
Oct 31, 2020
This KOA CAMPGROUND is beautiful!! Nicely wooded, great pull through spaces, wonderful level sites!! My second time staying here and I'm sure I'll be back!!
Oct 31, 2020
Nice campground. Friendly staff that was very accommodating when we needed to stay an extra night.
Oct 30, 2020
We love this campground, & right at the Blue Ridge Parkway
Oct 29, 2020
This is a beautiful campgound with large sites. Clean bathrooms and great amenities. The Halloween contest and trick or treat kids made this weekend extra special. 1 mile from parway added to excursions galore for everyone. �
Oct 29, 2020
My family was very pleased with the Lynchburg KOA, so much so, that we will be back in about 2 weeks. The new (to us) deluxe patio pull-through site was spacious and level. It is clear that this is a well managed KOA. I have noticed improvements since we last visited this KOA in April 2018. Kudos!
Oct 29, 2020
Very nice well kelp grounds. The patio pad, table and chair set is a good tought.
Oct 29, 2020
If driving the Blue Ridge parkway this could not be more convenient!! Little distant from restaurants (25 miles) and very curvy, mountainous access of not on Parkway. Dog Park is nice size. Tight curves for large units to exit from park. Very nice generally!
Oct 28, 2020
We love coming to this KOA. They are constantly upgrading their properties and is quiet during the evening. They and their staff are always friendly and courteous. We have one more camping trip left in us this year and it will be here; last weekend they are open. Can't wait.
Oct 27, 2020
This was our first stay. The campground is nice and the premium sites are very long. We did not utilize the facilities and cannot speak to those. The campground appeared to offer a lot for children. We recommend this campground and will revisit when we are back in the area.
Oct 27, 2020
This is a very nice campground. The owners keep it super clean and are very friendly. Makes for a great weekend get away that isn't to far away.
Oct 27, 2020
This campground is very nice. Everything is clean and well kept. The host here are amazing. They are right on anything you should need. We will definitely be back!
Oct 27, 2020
Nice clean campground and helpful staff. As the season is fall we had a lot of leaves on the slide out and no way to get them off. A staff member was blowing leaves out of vacant sites I asked if he could help me out and he was quick to respond. Our first time there and I would go back.
Oct 27, 2020
This campsite was amazing. The property was clean and upkept. Bathhouse were super clean and nice! Staff were awesome, helpful and kind!
Nov 15, 2020
This place is everything you'd want out of a KOA campground. We stayed in cabin #5 and it was great. Everything was very clean, including the bathrooms. Mattress was a little thin, but not bad at all, most importantly, it was clean. The owners were very friendly and take great care of the place. They're very organized, so checking in and out was a breeze. There's lots for the kids to do. They loved fishing at the pond and bouncing on the bounce pad. We had a great weekend trip, thank you!
- 4timj on Trip Advisor
Nov 13, 2020
Great small KOA would recommend. Practically next door to the Blue Ridge Parkway. Spots are long, but a little narrow. Verizon coverage was ok, but not great. I was able to make a zoom call on my phone and using my jetpack and an external antenna.
- Matt Reese on Google
Nov 11, 2020
Very nice and quiet.
- Sheila Nichols on Google