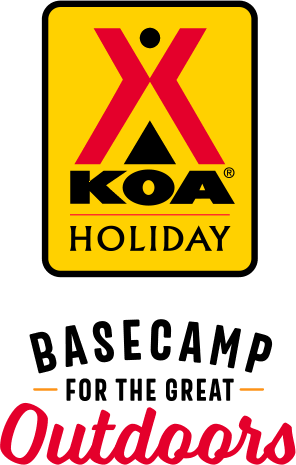 KOA Holiday Campgrounds
Whether you're exploring the local area or hanging out at the campground, KOA Holidays are an ideal place to relax and play. There's plenty to do, with amenities and services to make your stay memorable. Plus, you'll enjoy the outdoor experience with upgraded RV Sites with KOA Patio® and Deluxe Cabins with full baths for camping in comfort. Bring your family, bring your friends, or bring the whole group – there's plenty of ways to stay and explore.
KOA Holidays Feature:
RV Sites with a KOA Patio®
Deluxe Cabins with full baths
Premium Tent Sites
Group meeting facilities
Directions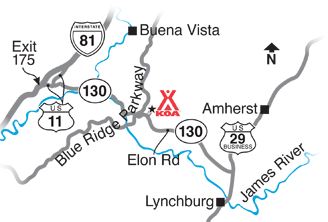 From Blue Ridge Parkway: exit VA130 between mile marker 61 & 62, Turn Left (East), 1 mile to campground on left.
From Lynchburg VA: take US29 Business North, turn left on VA130 (Elon Rd.) 15 miles to campground on the right.
From I-81: Exit 175, take US11 North 1.6 miles, turn right on VA130 (Elon Rd.) 17 miles to campground on left.
GPS: Routing may be inaccurate. N37.573548, W79.325700
Get Google Directions
Jul 12, 2022
We rented a deluxe cabin and we pleasantly surprised as to how spacious and nice it was. We will definitely be back. Our child had a great time and so did we. Easy to find. The only possible thing that could have improved our experience would be an awning off the roof to cover the deck when it rains. Wonderful place to stay- felt safe and we will visit again
Jul 09, 2022
Wifi was very poor.
Jul 08, 2022
Excellent facility. Busy in that there were lots of people but still very quiet. Spotless bathrooms. Little things matter- free delivery of purchased firewood and ice was super awesome (I could havenlugged it myself but not having to do so was great!).
Jul 08, 2022
Our cabin was not clean. Candy wrapper on floor. Too close to freeway. Trash was not emptied. Information stated restaurant open at 7 am. But it was not. Smelled bad inside. Have stayed at about 10 KOA's in last two years. This is the only one I would not recommend
Jul 06, 2022
Great place. Beautiful cabin. Great location
Jul 03, 2022
The cleanest and loveliest campground I've ever been to. It was so peaceful at night and other campers were so respectful of quiet hours. You truly can tell how much love the owners put into the campground. Wonderful attractions for kids and even a little trail and pond for fishing. We will definitely be back soon! Thank you for all the hard work you put into making it feel like home!
Jul 02, 2022
Quiet, great hosts, we loved every minute!
Jun 27, 2022
This was the 3rd time we've stayed there. Everything was very nice. Bath Houses clean. The clerk behind the front desk on Saturday could have been a little nicer though. Everything else was great. (Friday night clerk was great very nice and helpful.)
Jun 27, 2022
First time staying in a cabin. I was pleasantly surprise as to the accommodations. Very clean and quite really enjoyed our stay. Husband is handicap and was able to get in and out of the cabin with little difficulty. Would like to see about the handicap cabin for the next time.
Jun 27, 2022
Great location, clean facilities, and friendly staff! We will definitely be back!
Jun 26, 2022
This KOA has an amazing staff. We always have a great time. It is safe for older kids to run around and enjoy freedom. Fishing isn't to bad but beware of water snakes (non poisonous). Deluxe cabins are great, regular cabins are awesome too. Bath house is always clean and the pool feels great during hot Virginia summers. This is our go to Vaca spot for the last 2 years. Highly recommend a stay here
Jun 21, 2022
Very friendly staff. Led me right to my cabin and delivered firewood to save me the efforts. Clean and quiet.
Jun 20, 2022
I think it would be helpful to have a list of expectations ( e.g. take trash to dumpster, strip bed, etc.) in each cabin. This was our first time camping and we weren't sure what was expected.
Jun 20, 2022
This was our first stay at a KOA and we are very glad to have found it since it was very pet friendly and clean. Our dogs enjoyed it almost just as much as we did. The jump pad was so fun and the dogs enjoyed stretching their legs in the dog park.
Jun 19, 2022
This is one of my favorite KOA's. Everyone is welcoming, they are very helpful and make for an enjoying stay.
Jun 15, 2022
The owners were very nice. The resr'vtns I'd made online didn't go thru but they got us cabins on a soldout weekend. But, both of the cabins weren't very clean (I clean for a living) & poison must've been sprayed bc we saw insects dying in both cabins. We should've been informed, I never would've walked barefoot in there had I known. The cabins surfaces weren't disinfected or cleaned properly.
Jun 13, 2022
As always our stay was amazing!! This is hands down the best KOA ever!! Staff is always super nice and and very helpful!! Can't wait to return!
Jun 13, 2022
I was very comfortable and in my cabin and had a great time at the camp ground.
Jun 06, 2022
Love this campground and loved the deluxe cabin. Very clean and super comfortable. The staff and owners are so friendly and really top notch!
Jun 06, 2022
A small, clean beautiful place to stay!! The owners were friendly and kept the grounds beautifully maintained. Clean pool & great games to keep the kids busy!
May 31, 2022
We enjoyed our stay at Lynchburg. The campground is very well maintained. The owners and staff were very helpful and informative. The sites were spacious. We stayed in a cabin which was nice and loved the patio/swing area. Can't wait to go back again!
May 26, 2022
Great Stay! We love the cabin!
May 23, 2022
We really enjoyed our stay. Friendy campers and friendly staff. Cabin was beautiful. And very cozy. Will come back to stay.
May 20, 2022
What an absolutely amazing small KOA with punches! It was super quiet and very clean and they still had everything you would need to keep the kids content! Friendly staff and fun camp games. Cannot wait to book again.
May 19, 2022
Phil,Steph are always the best hosts. We come here often ,and consider this our favorite KOA
May 10, 2022
The staff are very friendly and helpful. The cabins are always in great condition when we arrive.
May 09, 2022
Bathrooms clean- well maintained. Campground near and tidy. Staff very friendly. Good value for the campground!
May 09, 2022
Though smaller in size the amenities all appear to be newer and well maintained. I would have ratted a 5 but the Wi-Fi was not working properly the entire stay and with little to no cell signal this was a huge inconvenience as I could not work remotely.
Apr 22, 2022
This is a smaller KOA, but nestled in the Blue Ridge Mountains makes it the perfect get away! Cell service is intermittent and unreliable here but they do have Wifi, which can have a weak signal moving away from the camp office. I still found it did what I needed and I was even able to do some remote work. Everyone was so friendly and kind. Definitely recommend!
Apr 20, 2022
We had a wonderful stay. The cabin was just what we needed and I was super happy that dogs were allowed inside.
Apr 18, 2022
Our stay was absolutely wonderful however, the only cabin with facilities available for 6 people is surrounded by RV pull through spots and a main road. Keeping 4 boys from going through folks spots and staying out of the main road was a little stressful. Despite this, the campsite was clean and well kept, the activities for the boys were plentiful and the pond was a main attraction! Thank you!
Apr 17, 2022
It was charming and very clean. It is a smaller campground, which was nice, hidden in the mountains. Campground was very clean and quiet and within driving distance to other attractions. Loved our restful nights by the fire. Would definitely stay here again.
Apr 17, 2022
The staff was very friendly and helpful. The campgrounds were beautiful and quiet with a lot of trees and nature. It was spaced well enough that you weren't on top of your neighbors. My only complaint is that the internet was painfully slow, especially in the evenings after dark.
Apr 05, 2022
we stayed in the luxury cabin 2 and we loved that it faced the trees. The patio was very nice and we enjoyed sitting by the campfire and grilling. The cabin was spacious and comfortable. This was our 2nd stay and we plan to return again later this summer to bring our grandson so he can play on the grounds and fish.
Nov 02, 2021
Excellent stay! Beautiful and clean accommodations. Everyone was so kind!
Nov 01, 2021
Always have a great time. Staff is so nice and friendly. They truly make you feel like you are part of their family. The only thing that I would recommend is that in the deluxe cabins, it would he great to add mixing bowls and make sure the eating utensils are adequate for the number of persons allowed in the cabin.
Oct 26, 2021
The cabin was clean and very nice. We enjoyed it very much.
Oct 25, 2021
Our cabin was clean, cozy and well-stocked. The staff was welcoming, warm and friendly. What a happy place to spend a weekend!
Oct 21, 2021
Wonderful facilities and hosts!
Oct 15, 2021
A perfect place to stay; the staff was amazing and available when needed; the deluxe cabin beautiful
Oct 12, 2021
Very nice campground. The grounds and facilities were well maintained and very clean. Beautiful surroundings and very friendly, helpful staff. We will be back!!
Oct 11, 2021
This KOA was one of the nicest ones we have stayed at. Very clean and all the campsites were awesome. We stayed in a cabin but will definitely be back with our RV. The owners were very friendly and pleasant to talk to. Very well organized and check in was a breeze. They knew the area well and headed us to a great bikeway for us and our friends to see the town of Lynchburg.
Oct 11, 2021
Super cute and clean cabin. Great patio, porch and cooking/firepit area. Good beds. Super friendly staff. Bathrooms super clean and cool fun stuff for kids.
Oct 11, 2021
no chairs/ stools in cabin. no electricity/ county power outage/ door latch on cabin was very hard to work, had to pry with my knife and use a flashlight. i need electricity for my cpap. left site before 3 am. used only about 4 hrs. of evening stay. would like koa to reimburse us for zero amenities used. wind, rain, eerie for my wife, got very scared, this was other reason for leaving...
May 21, 2023
Level sites. Quiet.
- Dave W on Google
May 19, 2023
Great location for families visiting Liberty.
- Leslie Horne on Google
May 16, 2023
Excellent campground!! This was our first visit and we would definitely return! Staff is exceptional, very accommodating, pleasant and friendly; campground is very clean and well kept! Definitely recommend
- donitaa181 on Trip Advisor