Directions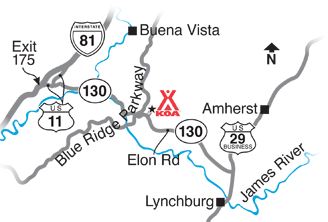 From Blue Ridge Parkway: exit VA130 between mile marker 61 & 62, Turn Left (East), 1 mile to campground on left.
From Lynchburg VA: take US29 Business North, turn left on VA130 (Elon Rd.) 15 miles to campground on the right.
From I-81: Exit 175, take US11 North 1.6 miles, turn right on VA130 (Elon Rd.) 17 miles to campground on left.
GPS: Routing may be inaccurate. N37.573548, W79.325700
Get Google Directions
Nov 17, 2020
The Wi-Fi didn't work at all. Otherwise was fine. Nice location
Nov 09, 2020
The staff in the atmosphere was very welcoming and everything was tidy and clean
Nov 07, 2020
Very friendly. Clean and well kept. Nice atmosphere.
Nov 04, 2020
Super clean cabin and very friendly staff.
Nov 03, 2020
Great cabin just wish the refrigerator had a little freezer.
Nov 03, 2020
We really enjoyed the cabin on our trip.
Nov 02, 2020
Had a great stay. Wonderful facility. Clean, comfortable cabin. Bath facilities also well-kept. No complaints!
Oct 30, 2020
The cabin is awesome, a nice to stay at. The only con though is at least they could have cleaned the dust in the ceiling fan. Looks like it haven't been wiped for a while. Other than that, we enjoyed our stay and will look forward to coming back soon.
Oct 26, 2020
We always have a Great time at this Koa! For the past 6 years we make reservations in October to visit the Parkway! The cabins are very comfy and clean!! The staff there always makes us feel very welcome! They did a Great Job sanitizing everything during the Covid pandemic!!
Oct 19, 2020
Great weekend stay, very easy check-in process. Facilities were very clean. Will visit and stay again!
Oct 10, 2020
I loved the cabin. Everything was awesome, everyone was so nice.
Oct 07, 2020
It was a great little get away for my family and I. The camp was well equipped with everything we needed. Very close to parkway. Very clean and cozy!
Sep 30, 2020
Friendly staff, clean, quiet and fun. I was only there one night but I wish it would have been longer.
Sep 29, 2020
The people were very friendly. The cabin was clean. I think the bathrooms need an update.
Sep 28, 2020
Very friendly staff. Top notch. The campground was well kept (very clean and together). The campers who stayed were quiet and courteous.
Sep 27, 2020
Beautiful location, super friendly staff! Only downside is the way water pools around some sites - already recommended to a fellow camping friend & plan to return soon!
Sep 26, 2020
A very well run campground indeed. Thank you.
Sep 21, 2020
This was our fourth time back. Every time we stay in one of the cabins. They are always clean and comfortable. The staff is AWESOME! and bends over backwards to ensure we enjoy our stay. The bathrooms are clean and cleaned many times a day. They also have accommodations for late evening arrivals. The grounds are beautiful and well kept and the other campers are very respectable. Well be back!
Sep 21, 2020
We stayed in a deluxe cabin with handicap accessibility and could have been more pleased. The campground is clean and well maintained and the people were so very friendly, I would stay again the next time I vacation here
Sep 20, 2020
The campgrounds were clean and the cabins were nice. The bathrooms were really clean and wonderful!
Sep 18, 2020
Always have a wonderful stay here.
Sep 08, 2020
Nice and clean! The owner was very friendly and helpful. Out group of 16 had a great time!
Sep 08, 2020
I only have positive things to say the people were great the grounds themselves were great and the owners of the KOA were great we really had a good time and look forward to coming back
Sep 07, 2020
Saw neighbors receiving complimentary KOA welcome bag, We were ignored next door. CABIN NOT CLEANED THROUGHOUT, FOUND CHILDS BLACK SOX IN BED SIDE. And smoke alarm kept going off, until last evening a new one put in cabin. Same trash in full waste can for whole stay never checked and cleaned.
Sep 06, 2020
This was a quick mini-vaca for our family of four, and it was exactly what we needed! The deluxe cabin was quaint, clean and very welcoming! The staff was extremely friendly and the grounds were spotless! I would highly recommend staying here! We plan on returning soon!
Aug 31, 2020
We stayed in a nice, clean cabin. A perfect location for our honeymoon get away
Aug 31, 2020
Friendly KOA, and so close off the Blue Ridge Parkway! The cabin was immaculate, and very cozy. Loved the outdoor 2 person swing.
Aug 31, 2020
Cabin was nice. Management very quickly priciest a hit plate when e found the stove didn't work properly. Kitchen could use more tools such as a measuring cup and at least one larger bowl. The Keurig coffee maker was a pleasant surprise.
Aug 29, 2020
Camp grounds were great, well laid out, toilets clean well maintained.
Aug 27, 2020
It was a great stay. Everything was organized. Staff was friendly and helpful. We will return again for sure.
Aug 24, 2020
We arrived after 6 and were told our checking packet would be at the front, that we could pick it up, when we arrived, someone was waiting for us and were so friendly and even showed us to our site! The facilities were very clean and well maintained! We loved every minute of our stay! Thank you!!!
Aug 20, 2020
We are NOT campers! We stayed in a Deluxe Cabin and everything was fine. Clean and well maintained - cabin and campground! Manager & family was friendly and very accommodating!
Aug 18, 2020
Very enjoyable. Perfect location. Very well appointed and clean facilities.
Aug 17, 2020
Office worker very rude. Camp host wonderful. No parking for the pool. Very inconvenient when you're in the back. Office worker responded to me "you park at your campsite that's where" when I have a child. Would not go back.
Aug 17, 2020
Very clean and staff very accommodating. DC3 was awesome. Especially loved that it is handicap accessible.
Aug 15, 2020
Deluxe cabin was very nice and cozy. Loved the bench swing out front.
Aug 14, 2020
This was our second stay and we have loved it both times!
Aug 14, 2020
We had a great time! Everyone was friendly. The cabin was so clean and had everything we needed. Perfect location, close to the Parkway, giving us quick access to nearby trails. We'll definitely be back.
Nov 15, 2020
This place is everything you'd want out of a KOA campground. We stayed in cabin #5 and it was great. Everything was very clean, including the bathrooms. Mattress was a little thin, but not bad at all, most importantly, it was clean. The owners were very friendly and take great care of the place. They're very organized, so checking in and out was a breeze. There's lots for the kids to do. They loved fishing at the pond and bouncing on the bounce pad. We had a great weekend trip, thank you!
- 4timj on Trip Advisor
Nov 13, 2020
Great small KOA would recommend. Practically next door to the Blue Ridge Parkway. Spots are long, but a little narrow. Verizon coverage was ok, but not great. I was able to make a zoom call on my phone and using my jetpack and an external antenna.
- Matt Reese on Google
Nov 11, 2020
Very nice and quiet.
- Sheila Nichols on Google