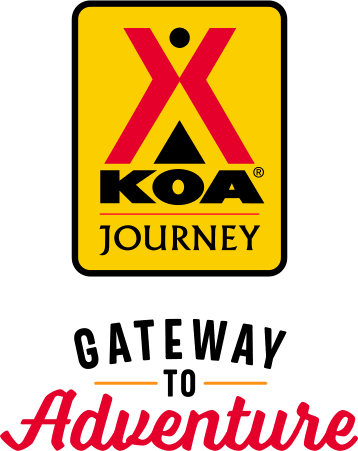 KOA Journey Campgrounds
KOA Journey campgrounds are the perfect oases after a day on the road. Whether it's along the way or a quick getaway, they've got you covered. Located near the highways and byways of North America with long Pull-thru RV Sites, they deliver convenience to the traveling camper. Pull in, ease back and take a load off.
KOA Journeys Feature:
Pull-through RV Sites with 50-amp service
Premium Tent Sites
Well lit after hours check-in service
Directions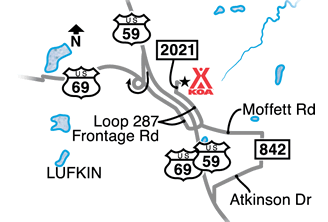 From the south (Hwys 59 and 69): Follow signs that direct you onto Loop 287 (bypass around Lufkin). Stay in right lane, take exit for FM 2021. Lufkin KOA will be on right. From the north (Hwys 59 and 69): Follow signs that direct you onto Loop 287 (by-pass around Lufkin). Take exit for Hwy 103 East, turn left at u-turn. When back on highway, take next exit (FM 2021). Lufkin KOA will be on right. GPS: N31.368946, W94.703607
Get Google Directions
Mar 27, 2021
Staff is great but the wifi is very poor. I hate to even ask about it. I get the same answer walk to the office academy then connect to it , then it drops out half way back to the RV site. I need it for work.
Mar 22, 2021
Asked on duty office man about our cable tv hookup, as I wanted to watch NCAA tournament. Not once, but twice. Made no effort to assist with fixing the problem. Didn't offer a discount either. Told me I could come watch it in the game room. I came to camp in my RV, not hang out in the game room. Poor customer service.
Mar 22, 2021
This was a great campground only stopped for one night. Everything was clean. Had a great laundry room. Very quiet.
Mar 20, 2021
It was fun but not enough stuff to do for my kiddos.
Mar 18, 2021
Nice clean RV park.
Mar 17, 2021
This was the first experience with a KOA and it was great. Please post instructions for turning on the hot water heater inside of the cabin for future guests! Thank you for some great memories!
Mar 16, 2021
Easy access to activities that bring us to the Lufkin area. Clean grounds. Easy check in/out. David or Dave is very friendly and helpful. We travel in a Montana 41' 3761FL
Mar 15, 2021
Campsite had a low spot that retained water at hitch. It was full of water after the rain. It made it difficult to hook up. Wasn't pleased with the site. However, the rest of facility was nice.
Mar 14, 2021
Two washers and dryers for a park this size????? Dips in the road that will throw things out your cupboard doors while going very slow. Dog Park Poop bucket full with bags all over the ground under full bucket for 2 days. How did this park win your PRESIDENTIAL AWARD in 2020??????? Just Wondering???????
Mar 13, 2021
Great owners
Mar 11, 2021
Not well drained. Puddled water around. Everything else was good.
Mar 11, 2021
Quiet, clean, and very pleasant environment.
Mar 09, 2021
Very relaxing. Very clean. Friendly staff. Close to Hwy 59 for easy access.
Mar 02, 2021
Very rainy and wet. Pads could be a little larger Staff was friendly
Mar 01, 2021
The park is clean and quiet. The spaces are nice and far apart. Most spots are paved. The rating would have been higher but the spot we were assigned was the only space (#15) situated in a mud hole. When it rained you could not get in the vehicle with out walking through a fairly good size thick puddle of mud. I'm not sure why they put us in there in these since the park was only half full.
Feb 25, 2021
Roads were not maintained. RV sites were not cleaned. No recycling.
Feb 21, 2021
Great facilities but poorly run. Bathrooms were dirty when we arrived and were never cleaned the week we were there. No soap either. The office/store was closed for days on end. When it was open, only open for maybe an hour. We stayed during winter storm uri and nobody ever checked on us. Lost power and water for 4 or 5 days and nothing from management. Could have at least checked on everyone
Feb 09, 2021
Booked at 2 pm on KOA app. Arrived after hours and there was no registration package available for me. Chose a site near what I thought would be a bathhouse, but turned out to be an empty lot. (Clarify that on your map, please.) Had to walk clear across site for the other bathroom. Showers were gross and full of hair. One key pad on door didn't work. Basketball hoop is destroyed.
Feb 04, 2021
Nice level site, close to restrooms/shower building (as requested). Only stayed one night but would definitely stay again if traveling by this way. Appreciated the no-contact check in.
Jan 31, 2021
We needed a place for one night, while traveling further into Texas, this spot was perfect for us. The bathrooms were clean and it was an easy off and on to get to the highway again.
Jan 26, 2021
Very nice and clean KOA. Staff very friendly. Close to bike trails if you're into that. Enjoyed the Kit McConnico trails just a few minutes away. Also enjoyed the food at Cafe Del Rio for enchiladas.
Jan 24, 2021
Exactly what we needed.
Jan 18, 2021
Did an overnight stay and it was quick and easy. Park is super clean And nice I would definitely stay again if need arises. Staff was super nice and helpful
Jan 13, 2021
The new loop section we were in was too muddy. Obviously given this time of year is a given being that the ground isn't settled. It will be nice once spring and summer hits and the bathhouse is put in. Easy on easy off for an overnight stay.
Jan 06, 2021
Always a nice kamp to visit - glad to see kampground is growing...
Jan 03, 2021
Playground was rotted through and consisted of broken wood and sharp exposed screws. Not safe for kids to play on. Site was nice but would not stay here again with children.
Jan 03, 2021
Like the fact all site were concrete, however the days we stayed we had heavy rains and were put in the lowest possible spot,when we left we were hooking up in 4 inches water, there were other open spots you could have put us knowing you were getting heavy rains that day .Site15 shouldn't even be use until you raise it, so for this reason I have to give a low rating.
Jan 02, 2021
Very nice and prepared for our arrival.
Jan 02, 2021
VERY dark need more lighting
Dec 30, 2020
Quiet and off the road. We will come again.
Dec 27, 2020
Got shuttled to the out lot. Same cost as original park, smaller sites, no angled ingress or egress, no cable TV.
Dec 21, 2020
Easy in and out
Dec 12, 2020
Wonderful people and the service was great.
Dec 09, 2020
The KOA Lufkin fit our needs. But it fell short in several areas - small dog park, no trash pick up (the brochure noted it but was marked out), 1 of 2 bathrooms closed, dog park garbage for dog poop was overflowing and on ground for 5 days, RV washed by outside service at site next to ours, never saw a KOA employee, 1 guy near by seemed to be a KOA employee but not sure. Cut back of staff??
Dec 08, 2020
We were placed in a section with no bathroom so we had to hike over to the main bathrooms. There was only one toilet stall for the entire campground and it was not clean. Wife was very unhappy.
Dec 03, 2020
Nice park but employees are rude and disrespectful.
Dec 03, 2020
Right off the highway. Pad was cement and flat. Only suggestion is for stepping pads around hook up area. Arrived in the rain and the dirt/grass area was 3" under water. Other than that, place is great
Nov 30, 2020
Complimentary firewood was nice touch
Nov 29, 2020
Check in was easy happy for the pull through parking. The WIFI worked! To bad it rained the whole time, next time shall be great.
Apr 09, 2021
Neat and tidy, easily accessible campground. Very nice!
- Pat Spencer on Google
Feb 13, 2021
Very nice and well maintained campground. Stopped here for a night on our way to South Padre. Everything was nicely paved, clean, and accessible. Worked out great for a single night stay and would love to come back to explore some more.
- Jeremy Wirtner on Google
Jan 06, 2021
Great staff , nice park with awesome pool
- Raymond Markey on Google