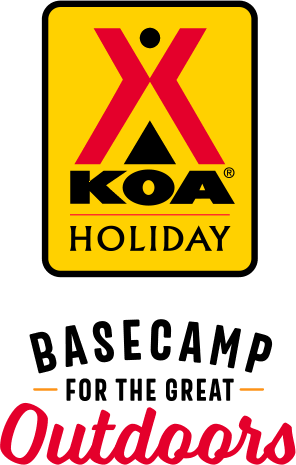 KOA Holiday Campgrounds
Whether you're exploring the local area or hanging out at the campground, KOA Holidays are an ideal place to relax and play. There's plenty to do, with amenities and services to make your stay memorable. Plus, you'll enjoy the outdoor experience with upgraded RV Sites with KOA Patio® and Deluxe Cabins with full baths for camping in comfort. Bring your family, bring your friends, or bring the whole group – there's plenty of ways to stay and explore.
KOA Holidays Feature:
RV Sites with a KOA Patio®
Deluxe Cabins with full baths
Premium Tent Sites
Group meeting facilities
Directions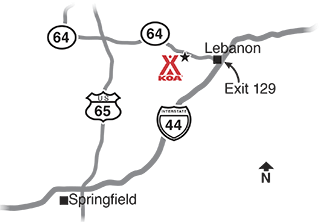 Northbound: I-44 (Exit 129), Left on Jefferson Ave, 9 miles on the left.
Southbound: I-44 (Exit 129), Right on Jefferson Ave, 9 miles on the left.
** CAUTION ** Some GPS Systems take a shorter Route and have you exit 118 and use Road KK, however, that road is narrow and not all paved!
Get Google Directions
Apr 06, 2021
Have been staying here for 4 years but have not visited in 15 months .... WOW what a difference!!! Completely renovated!!! Will definitely recommend and will camp again for sure.
Apr 06, 2021
They offered great activities for our entire family. We loved the Easter Egg Hunt they provided and the friendly atmosphere the hosts established. We will definitely be returning.
Apr 05, 2021
This was one of the best KOA's we have stayed at. Plenty of activities to keep your kids entertained. Well maintained with RV sites not stacked on top of each other. Would highly recommend this KOA.
Apr 05, 2021
Great Place Great People can ask for much more
Apr 05, 2021
Staff was very friendly and helpful
Apr 04, 2021
Too pricey for just primitive camp for passing through guest.
Apr 03, 2021
This place is a wonderland! My 9 year old little hippie child has found her new favorite home away from home. There was so much quality fun for us here. I was more of an experience than a place to stay. The hospitality and the welcome from the owners was so warm, I'm already planning our next trip back!
Apr 03, 2021
Very well maIntained. Easy access. Staff was very helpful and accommodating.
Apr 01, 2021
Great place to stay! Lots of thighs to do with the kids at the campground. Owners are very nice and the sites are clean.
Apr 01, 2021
The owners couldn't be nicer or more patient than they were with me. I had trouble with my stabilizers retracting and they were the reason I could leave to stay on schedule. I will definitely stay again since I pass them on my way from AZ to Chicago several times a year.
Apr 01, 2021
Rick, Holly, and Kaylea are great hosts. They are always trying to improve the facilities and they have made it very kid friendly. We love it there and will stay there before the state park.
Mar 31, 2021
camp ground is clean. Nicest restrooms I have ever seen at a campground. Only issue to the constant traffic going by Rick was very nice, did not meet any other staff
Mar 31, 2021
We had a great time ! We will visit again , our grandsons loved all the kid friendly activities.
Mar 31, 2021
It would have nice to have met the host when they returned from bring away from the camp. Loved the lights after dark.
Mar 25, 2021
Very clean and high end cabins! Excellent!
Mar 23, 2021
We had the premier patio site, and it was very nice.
Mar 22, 2021
The grounds were great, the bathrooms the best I've seen at a campground. The owners were the best host you could ask for. During some serious weather, they were out checking on us! Very friendly and went above and beyond what they needed to to make our stay wonderful.
Mar 22, 2021
This KOA location gets better every time the family stays. The owners work tremendously hard to improve and build a go to destination for the area. Sites are better this year than last, with more improvements on the way. Clean and sanitized facilities, small store and great experiences.
Mar 22, 2021
Very well kept. Quiet campground. Managers were super helpful and friendly. Lots of activities for the kiddos.
Mar 21, 2021
We had a pleasant stay. Rick, the host, was super! He has done a great job! We would certainly stay at this KOA again. Thank you!
Mar 16, 2021
Just perfect! Bathrooms were immaculate which we really appreciated. Maybe the most important aspect of any KOA
Mar 14, 2021
Many new improvements and very nice owners.
Feb 11, 2021
Well maintained with beautiful bathroom and friendly hosts.
Feb 04, 2021
Great place to stay. Staff was very helpful and the restrooms were clean and warm for a cold January night.
Jan 31, 2021
Our winter camping experience was great. Our camper was just a few steps from the restrooms which were very clean.We enjoyed being so close to Bennett Springs State Park.
Jan 12, 2021
Just a quick overnight stay. Campground was nice and quiet and the bathroom/shower was fantastic!
Jan 12, 2021
Wooded, Nice spot with nice people. We stopped while traveling through, I wish it was closer to home, I would be a regular.
Jan 03, 2021
Great restroom/shower areas. Good pull thru spot. Very friendly staff.
Jan 03, 2021
Our weekend trip over New year's was really nice although it was cold and snowy. The KOA didn't have a lot of people so that made it awesome we had a great spot, with a concrete patio, short walk to the dog park plus lots of other areas to walk. Short drive to Lebanon and to Strafford. Go see Rick and Holly they were so kind and very nice people! We will definitely make another trip down.
Jan 03, 2021
New Year's Day. Snow/Ice storm. We were on our way home. Made reservation online, obviously against the odds, and arrived late. Not only was our reservation packet in the late arrival box, but we were placed in the perfect site adjacent to the immaculate (and warm!) bathrooms and showers. It was great to get off the interstate and land in such a peaceful and welcoming campground! Quiet and clean
Dec 31, 2020
Feeling bleak after traveling in the rain, I considered a nice toasty hotel room rather than camp this night on a long, multi-day journey. But this KOA host encouraged & assured me of the ease of setup and hookup the level concrete site he had assigned me. He was right! The setting was pretty, & I'm sure the bathroom was cleaner and more inviting than any hotel's. So glad I found this KOA!
Dec 13, 2020
It was great
Dec 13, 2020
one of the best KOA campgrounds, best example of your brand
Dec 10, 2020
We had a lovely spot and Rick and Holly were very good hosts and very helpful.
Nov 27, 2020
Came in for 1 night. Off season. Camp was mostly empty. I used a tent site with power and water . Site was clean and flat. Spent most of the time in the tent due to the heavy rain. Bathrooms were really clean. Hot showers. Quiet place. Would stay again. Host was very nice.
Nov 24, 2020
The site was convenient but the campground was pretty far off the highway. We would stay again if going that way.
Nov 17, 2020
Owners were terrific. Wonderful, small campground. Very welcoming. A hidden gem. They even have propane to fill your tank and a little store. Rockers outside, very charming.
Nov 15, 2020
Friendly, helpful staff. Nice place for an overnight stay. A bit off the Interstate (9 miles), but was easy to find. Would stay again.
Nov 09, 2020
The best ever all our needs were met above and beyond
Apr 12, 2021
Fantastic campground. Owners very friendly and helpful. Recent upgrades to campground. Lots of amenities. Kid and pet friendly. Will stay again!
- Brian Higgins on Google
Mar 31, 2021
I am extremely impressed. I stayed here about 10 years ago and loved it. Apparently KOA of Lebanon is under new ownership. The new owner took an already impressive campground and added even more features making the grounds my daughter's favorite new place in Missouri. To the owner Rick, thank you for having such a clean and inviting KOA. You should be proud. Also, I could definitely see you needing more of these deluxe cabins. Two may not be enough. They will be high demand and hard to book this summer, I'm sure. Thanks for the hospitality.
- Jenny B on Google
Mar 24, 2021
Awsome.
- otis taube on Google