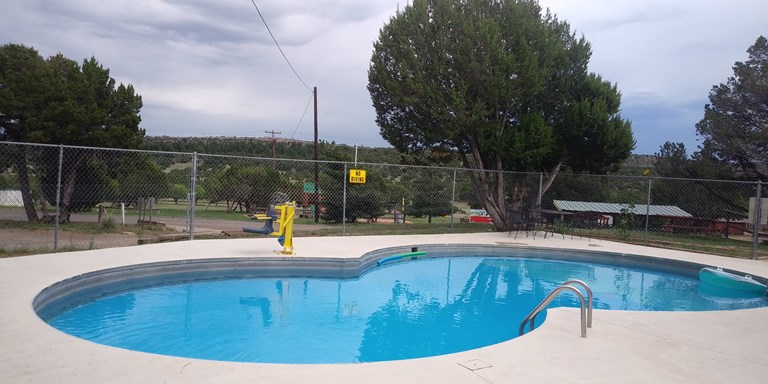 Local Area Attractions Near Las Vegas, New Mexico KOA Historic Las Vegas
By the mid 1800's the plaza of Las Vegas Grandes en el Rio de las Gallinas (the large meadows on the Turkey River) had been laid out according to the Spanish and Mexican Custom, and the first waves of traders and pioneers had ventured westward across the plains on the Santa Fe Trail. Las Vegas, rich with history and architecture boasts a legacy of New Mexico's original architecture and is considered one of the best preserved "outdoor museums" in the country. With over 900 buildings listed on the National Register of Historic Places, visitors can view Adobe, Folk Victorian, Queen Anne, Romanesque, Territorial, Richardsonian Romanesque, Eastlake, Italian Villa, Italianate and Folk Renaissance Revival styles. Santa Fe National Historic Trail
William Becknell left Old Franklin, Missouri in September, 1821, heading west to trade with the Indians. However, in New Mexico he encountered Spanish dragoons who, instead of taking him prisoner for having entered Spanish colonial territory illegally, urged him to bring his goods to Santa Fe. Becknell quickly sold his goods and organized another expedition. thus was born the Santa Fe Trail. The largest visible network of Santa Fe Trail ruts can be seen at Fort Union National Monument. Fort Union National Monument
Adobe ruins and Santa Fe Trail ruts mark what was once the largest military post in the American Southwest (1851-1891). Stroll amid the time-worn walls of Fort Union established to guard wagon trains and traders from attack along the Santa Fe Trail. Pecos National Historical Park
Pecos National Historic Park is a window to the past of Pueblo, Spanish and Anglo peoples whose centuries of interaction have molded New Mexico. Take the ruins trail walk (1-1/4 miles round trip). It will take you through 500 years of history . . . winding up the hill past vistas of meadows and the ancient walls that marked the boundaries of the pueblo. Take a ladder down into a Kiva that once served as the Indians' sacred place of meeting and ritual and then walk thru the ruins of two Spanish mission churches from 1625 and 1717. Pendaries Golf Course
Located near the tiny mountain settlement of Rociada, Pendaries is one of the best kept secrets in the Rockies. The expertly manicured 6,080 yards, par 72, 18-hole golf course begins at 7500 feet in the clear, fresh mountain air. Breathtaking scenery and the tranquil valley beckon visitors each year to this hideaway in the Sangre de Cristo range of the Rockies.