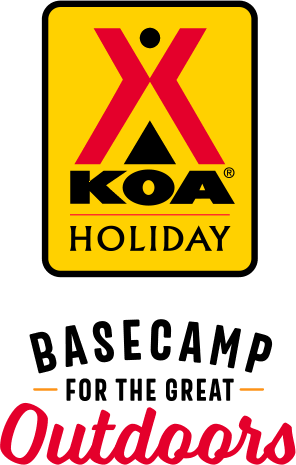 KOA Holiday Campgrounds
Whether you're exploring the local area or hanging out at the campground, KOA Holidays are an ideal place to relax and play. There's plenty to do, with amenities and services to make your stay memorable. Plus, you'll enjoy the outdoor experience with upgraded RV Sites with KOA Patio® and Deluxe Cabins with full baths for camping in comfort. Bring your family, bring your friends, or bring the whole group – there's plenty of ways to stay and explore.
KOA Holidays Feature:
RV Sites with a KOA Patio®
Deluxe Cabins with full baths
Premium Tent Sites
Group meeting facilities
Directions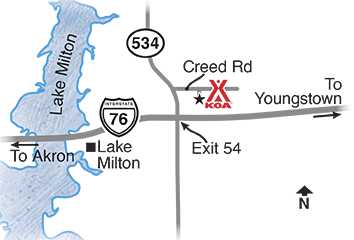 From Interstate 76 Take OH 534 north for 1/4 mile, turn right (east) onto Creed Rd to Sign (1/2 mile down the road).
Get Google Directions
Oct 22, 2021
Friendly staff committed to making sure we have a great stay. This is a friendly, family focused campground with just the right mix of activity and just good relaxing time.
Oct 20, 2021
very friendly and helpfull
Oct 16, 2021
We woke up to a flat tire. Our roadside assistance book a tire repair that was 4 hours away. We talked to camp staff and they called tire repair shop and they were there within the hour. Bathrooms were very clean as well as the camp. The staff was awesome!!
Oct 15, 2021
We appreciated the hospitality and accommodations. Thank you!
Oct 15, 2021
Great campsite, friendly, clean, fun activities, and nice people. Definitely recommend this especially during the summer.
Oct 15, 2021
Our experience was great! The owners went over and beyond to make sure everything was wonderful! They were super nice people! It is a wonderful camp ground, the staff was awesome and our rental exceeded our expectations! The Halloween festivities were top rate, beautifully decorated with so much fun planned for everyone! A wagon ride, a huge bonfire and a DJ to end the festivities! FUN FUN FUN!
Oct 15, 2021
Very nice stay
Oct 15, 2021
We had a great time. A great place for the kids and dogs. Owners were just alsome and helpful safe for the kids. Thanks again T Dennis
Oct 14, 2021
Awesome place!!! Owners and employees are fantastic. The park is well kept and most of all safe for the whole family. Lots to do and its everything that camping should be. Enjoyed my stay thanks
Oct 14, 2021
We had a decent time, but wouldn't stay more than a night or two. Well maintained clean, friendly staff. Didn't like the fire ring location right up front by road. Felt like you were sharing your fire with neighbors across drive. In my opinion, a bit pricey for what it is, and didn't realize it was directly beside the interstate when booked and it was very loud. So not a very relaxing stay.
Oct 14, 2021
Although we didn't spend much time in the campground, it was very quaint, with chickens, turkeys, ponies and goats. Staff and fellow campers were very welcoming, friendly and helpful. The only complaint was that the sewer hookup on our site was so far away, that even with our 2 hose connections, it wouldn't reach.
Oct 14, 2021
Everyone at this campground were very friendly and very accommodating. We were warmly greeted after hours and escorted to our site and were assisted with setting up. The owner checked up on us several times and supplied us with anything we needed. Our stay on this beautiful campground was very enjoyable. We highly recommend it and will gladly return in the future.
Oct 11, 2021
Our Cabin was very clean and perfect for our stay. The bath houses were clean and close to the cabin.
Oct 11, 2021
Always a great stay here at Lake Milton KOA! My kids love it here. Always so much fun and a lot to do!
Oct 09, 2021
enjoyed our two different sites. We do not have kiddo's but if we did I"m sure they would love this place. We are a little more laid back so this place may be a little to busy for us in the summer season since we do not have children. With that being said the area was nice as well as the campground..
Oct 08, 2021
Once again Fernando and demi do a wonderful job of the wonderful job of being good host we love going there I would give them a 20 if I could we tried to go there as often as possible and they're very good people that run that place it's neat and clean and well ran We'll be making our plans for next year soon Couldn't ask for a better place to stay They're always making improvements
Oct 08, 2021
Always a great time. Can't wait to get back. Really great family oriented Everything is always so clean and staff is friendly.
Oct 08, 2021
This place is fantastic!
Oct 08, 2021
Great size pull through near to the dog park. Immaculate bathroom/shower house. Everything is very clean and well cared for.
Oct 08, 2021
Very clean and organized campground. Gated community with a beautiful swimming pond and fishing lake. The sites are fairly spacious. Nice amenities and plenty to do for the kids. We had a nice and peaceful stay. We will return.
Oct 08, 2021
Friendly staff, beautiful scenery, clean facilities, lots of fun family activities to enjoy.
Oct 07, 2021
We've been coming to this campground for many years . It is always a great time. Our cabin was very clean, spotless. Restrooms super clean. Great place. Recommend without any hesitation.
Oct 07, 2021
It is a very nice family friendly campground.
Oct 06, 2021
It was a Halloween weekend my grandkids had a blast, there was so much to do. We have been here several times and they love it, the pool with the slide is their favorite! I do wish the freeway wasn't so loud during the day, it's not so bad at night.
Oct 05, 2021
Staff was very welcoming and friendly. Everyone was very helpful. Lots of activities. Nice, relaxing place. And to my surprise, I was able to rent a cart. I will definitely be coming back.
Oct 05, 2021
Our first time camping, and we absolutely fell in love with this clean, cozy campground. This happened to be during their Halloween event and it was wonderful to see all the children dressed up and having fun. As well as a hay ride and other activities. The owners were awesome and made us feel at home. A+ for this wondaful couple.
Oct 02, 2021
Nice Campground
Sep 30, 2021
Excellent campground. Very clean. Owners and staff are very friendly and helpful. sites are spacious.
Sep 30, 2021
Cleanest and best-kept KOA I have ever seen! Owners are very nice and seem to have a passion for what they do.
Sep 30, 2021
My family and I had a very nice time. My little ones had fun at the kid's crafts and trick or treating. Will be back for sure.
Sep 30, 2021
One of the best campgrounds I've seen. Everyone who worked there was so helpful and nice. This is a wonderful place to stay
Sep 30, 2021
All good…hate to pay full price when only using site hook ups on our travels, versus any of the amenities. Only saw two bath/shower very far from camp site, hence did not use.
Sep 30, 2021
Beautiful and clean campground. We had an amazing time.
Sep 30, 2021
One of the best places to camp. Staff is amazing. Amenities are enough to keep kids busy. Clean restrooms. We had a great time.
Sep 30, 2021
We had a nice stay. Friendly staff. Spacious pull-thru site.
Sep 30, 2021
Overnight stay on long trip. Right off the highway. Sites were right on top of each other but they were level with full hookups. Slight road noise as it is close to the highway but manageable.
Sep 30, 2021
Nice place but pricey. Limited privacy in men's restroom and door that apparently needed to be propped open in order to allow entrance. Pricey for a one night stopover and no time to use entertainment resources which appear abundant. Probably best for those looking for a destination campground for an extended stay.
Sep 30, 2021
Nice area, pet friendly, great staff. Enjoyed staying
Sep 30, 2021
Super organized, clean and friendly. Excellent campground and staff. Tents sites by the lake are very nice.
Sep 30, 2021
Spacious back-in site. Nice campground.
Sep 29, 2021
Thank you and we will see you in 2022!
Oct 19, 2021
We stayed here with FHU, for 2 weeks to be close to family with a death in the family. Weekends are VERY busy/Full... as are ALL campgrounds, especially with Fall weather. Owners and all staff could not have been nicer and so easy to work with. Loved that they called if the needed to close the office early. The owners are very kind and really want to run a family, everyone, very nice campground. Only 2 washers and dryers but if we had a BIG load Newton Falls had a bigger laundry. There is so much for kids to do but it was just us, older couple. Some people still do not follow the rules of dogs on leash, clean up after your dog so they don't like the owners enforcing the rules. There are chickens, funny goats, miniature ponies, and many more animals plus putt putt golf, fishing, game room, basketball court. Would definitely stay here again!!
- 2 Italylovers on Google
Sep 16, 2021
My first time driving an RV(a 30 footer) and I was most worried about doing all the hookups right. Will I be able to find my parking site? Etc? Well, Fernando really provided me with outstanding customer service. He escorted me to my camping site, and personally hooked everything up. My sewer hose was too short to reach, so he loaned me one free of charge. Before the KOA store closed ( we got there late) I received a phone call from Victoria, the cashier, to see if I needed anything before the store closed. That caught me off guard. What great customer service is that! Wow Demi, the other owner, offered to take photos of me and my mom in the RV, while we waited to check out. Also Demi gave us some free parting gifts, some KOA can holders. First time ever at an RV Park and Fernando, Demi, and Victoria made it a most pleasant experience. I look forward to seeing them again.
- Steven Bonanno on Google
Sep 12, 2021
Beautiful, quiet, peaceful, and very clean :) Thank you to the owners for implementing the rules. They make us feel safe! I did my job as a parent, and had my children following the rules! They had an amazing DJ, and things for my kid to do :) Will definitely be coming back. If you can follow the rules without having a "I'm an adult and I can do as I please" attitude, and also being a parent making sure your kids follow the rules you will have an amazing time like we did!!
- Sara Beilera on Google