We're Sorry!
Internet reservations are currently not available for this KOA: Lake George / Saratoga KOA Journey
Please call the campground directly to make your reservations at 800-562-2618. Thank you.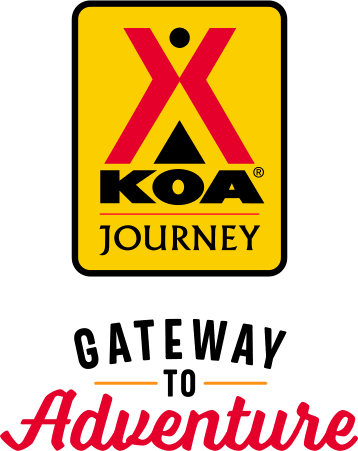 KOA Journey Campgrounds
KOA Journey campgrounds are the perfect oases after a day on the road. Whether it's along the way or a quick getaway, they've got you covered. Located near the highways and byways of North America with long Pull-thru RV Sites, they deliver convenience to the traveling camper. Pull in, ease back and take a load off.
KOA Journeys Feature:
Pull-through RV Sites with 50-amp service
Premium Tent Sites
Well lit after hours check-in service
Directions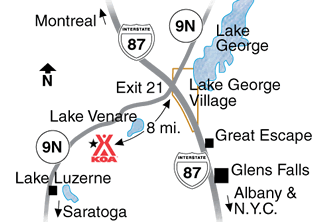 I-87 Exit 21: 8.5 miles south on 9N (toward Lake Luzerne). Do not go through any traffic lights. GPS: N43.340798, W73.834388
Get Google Directions
Sep 19, 2019
Nice older campground, lots of space and great trees. We were there the last weekend of the season, would have stayed longer if we could! Great location for day trips to Lake George, Saratoga, and other nice places
Sep 09, 2019
We hope to spend more time here next summer. Everyone one is friendly.The pool and restrooms are very clean.The kids love the "find it" game.It's a stop on the way to visit our relatives.We will be back next summer for sure.
Sep 07, 2019
We had a great site and the people were wonderful. We would definitely stay here again.
Sep 07, 2019
Nice private sites.
Sep 06, 2019
It was our first time in our RV and it was very easy. The campsite was easy for even a first-timer to back into. The owners could not have been any more friendly or helpful! Bathrooms were clean. It was a nice time of year to visit — not at all crowded, and other campers were quiet, friendly, and respectful.
Sep 05, 2019
Just overnight but very quiet. Very nice shaded campground.
Sep 04, 2019
I usually don't complain but I have e been to many koa's and never had a problem, the issue was the water hookup, the hose valve is striped, I know plumbing, my hose connection is fine tested at home, we had to turn the water on and off to stop from squirting all over, I went to the office and told them about the first day, when we came back he took off the pressure valve but it still leaked, no u
Sep 04, 2019
Excellent sites (plenty of room), excellent hosts, and great location! We have stayed at this KOA over Memorial Day weekend and Labor Day weekend. We definitely plan to return again!!
Sep 04, 2019
If you're looking for a quiet place in the forest, this is the place to go. We stayed for a week and enjoyed all the hiking and outdoor activities the area had to offer.
Sep 02, 2019
It was a nice stay. They could use another bathroom and clean the bathrooms when the schedule said they would, they would clean early morning instead of noon which was posted.
Sep 02, 2019
The staff was more than accommodating and helpful if asked. The campground is somewhat outdated with no cell service and very limited bathroom/shower facilities.
Aug 31, 2019
Propriétaire très sympathique et avenant
Aug 31, 2019
Very quiet area with lots of wooded sites. Cell service sketchy, but you're camping.
Aug 30, 2019
Need to address the sewer issue. Sewer system could not handle the draining of our trailer. Staff very friendly and accomondating Very quiet.
Aug 27, 2019
Nice campground, think they are ready to retire though, not much interaction with guests.
Aug 27, 2019
Endroit sans activités, les trois services sont pas conformes. Égout complètement bouché, drain qui refoule. Mais c'est un camping boisé et calme
Aug 26, 2019
had to drive 30min to 1hr to get anywhere for the day. absolutely 0 service and the wifi provided was terrible. very clean and well kept otherwise, friendly staff.
Aug 26, 2019
The is my favorite KOA and I have been to lots of them all over the USA. What at GEM and the owners are just great!
Aug 25, 2019
Had a good time
Aug 25, 2019
Again a warm welcome.Pool,sites and bathrooms very clean.The treed sites and welcoming staff are the reason I love this campground.
Aug 24, 2019
If you stay in a cabin as we did, it was disappointing. It was dark & musty smelling & could have used a good cleaning/repairs. The bathrooms/showers were humid (no working fans) & needed updates. On a positive note, the location is convenient for visiting Lake George, the hosts were accommodating in putting our friends' camper & our cabin next to each other & it was quiet among tall pines.
Aug 22, 2019
It was our first stay at any KOA, we were very happy and planning to make this our annual vacation spot
Aug 22, 2019
If you are looking for the traditional camping experience this is the place to stay - heavily wooded campground with large sites. A great place to disconnect from the outside world and enjoy the nature around you.
Aug 21, 2019
The Camp Staff was very helpful and friendly. Camp ground, Bathrooms and showers were clean and well kept.
Aug 20, 2019
Nice little campground that provided just what our family needed for a nice stay outdoors.
Aug 19, 2019
Everything was great besides the beds.... Not comfortable at all
Aug 19, 2019
A very nice camping spot. Quiet, lots of space. Friendly staff. On the downside, bathrooms are not in the best shape. Cabins are too tight. Walls need some repairs.
Aug 19, 2019
Very nice KOA. Grandchildren enjoyed the activities very much. That is what swayed us to stay there. Quiet. Clean. Owners were lovely people. We will be back!
Aug 18, 2019
Quiet well kept campsites. Marge and Don are great host and treat everyone like family. They are constantly setting up new games and surprises for the little kids. We have been coming to the KOA in Lake George for around 20 plus years with our family. Our kids now groan look forward to camping here.
Aug 18, 2019
The campground is very dated and in need of so TLC. Besides everything just being old we had a beautiful campsite and enjoyed our stay.
Aug 17, 2019
Very welcoming and helpful staff, clean sites and nicely shaded. Great base camp for the Six Flags park. Thanks!
Aug 17, 2019
First two nights there, a group of campers was very inconsiderate of the other campers in the campground. They were blowing whistles, yelling well after the established quiet time. After they left it was very nice.
Aug 17, 2019
Owners argued with themselves at counter. Electrical was faulty but blamed campers.
Aug 14, 2019
Campground needs some love, nice setting and location. Better campground for adults, not so much for kids. Exposed electrical wiring in the roads (shock hazard); obvious rotted out tree in assigned campsite, pool filter turned off during my swim ( clean water maybe on timer). Low voltage 105 volts at our site. Clean, campers were friendly, the location is wonderful.
Aug 14, 2019
Quit, pretty .... nice people, helpful
Aug 14, 2019
street number 564 is not correct.
Aug 13, 2019
This is the most beautiful private campground I have been to in years. It is obvious they respect nature, as I do. (this is not a new "resort" KOA) If you want a great place to relax in nature, this is the place for you. It's close to attractions,but far enough away to loose the crowds & noise. Thanks for a greate time Paul Metzger
Aug 12, 2019
Had a wonderful stay. Plenty around the area to do. Would stay there again.
Aug 12, 2019
Needs a little up grading. owners are lovely people.
Aug 12, 2019
Marge and don are the best, a warm welcome every time we go there.
Aug 12, 2019
Camp was tree covered and nice... with no cell phone coverage in the area... the WIFi needed to be stronger.. it was really weak!
Aug 11, 2019
First let me tell you that I loved the Campground. That being said there are a lot of things that would make this campground so much better. One the water has sulfur smell to it, could be taken care of along with the leaks that I saw. The most important thing that needs to be taken care of is the electric. payed for 30 amp service but could not get it. Was happy that I didn't need to use air.
Aug 11, 2019
Unhelpful staff. Did not give me WiFi info or parking pass. Not enough bath and laundry facilities. No cell service. Not well kept and needs updating desperately. For such a touristy area I was extremely disappointed. Required 3 night minimum reservation mid week and the place was barely one third occupied.
Jan 18, 2021
Wonderful campground. Spacious wooded, shaded sites. Nice owners. Close to everything you need. Would definitely recommend if you are in the area.
- Brian Costa on Google
Aug 26, 2019
This is my favorite KOA. Trees and lots of space between you and your neighbors. The owners and staff are awesome! Its the only KOA we have been to where the wifi works!
- Andree Kinnee on Google
Sep 02, 2018
Clean campground, lots of trees , level tent spots, quiet, not too far from Lake George but while being far enough to escape the crowds. We'd definitely come back.
- Prentiss C on Google