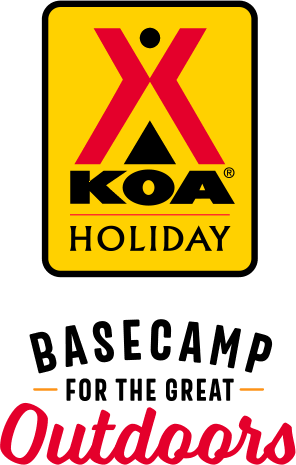 KOA Holiday Campgrounds
Whether you're exploring the local area or hanging out at the campground, KOA Holidays are an ideal place to relax and play. There's plenty to do, with amenities and services to make your stay memorable. Plus, you'll enjoy the outdoor experience with upgraded RV Sites with KOA Patio® and Deluxe Cabins with full baths for camping in comfort. Bring your family, bring your friends, or bring the whole group – there's plenty of ways to stay and explore.
KOA Holidays Feature:
RV Sites with a KOA Patio®
Deluxe Cabins with full baths
Premium Tent Sites
Group meeting facilities
Directions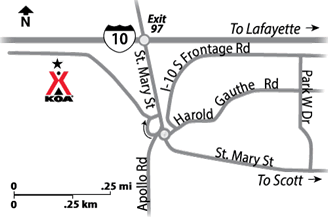 Five miles west of Lafayette. At the Scott/Cankton Exit, #97 on I-10, SW corner of exit.
GPS TIP: Our address is SCOTT not LAFAYETTE. Please be careful in selecting!!
Get Google Directions
Sep 20, 2021
We had evacuated before Hurricane Ida and the eye of the Category 4 storm passed right over our house in Lockport, LA. The staff was extremely nice, understanding, and accommodating beyond belief. Park is also very clean and even woodsy (other KOAs seem to clear out the trees) while having sites actually right on a nice pond. They've also been extremely helpful in the past with my parents. Great!
Sep 20, 2021
Been going here for years. I've been threw a crazy time of almost lossing my life all I wanted to do was spend time with my kids and grandkids and Koa is our family spot. Always enjoy our time here.
Sep 19, 2021
Great campground, great location!
Sep 19, 2021
This was the best KOA we've stayed at.
Sep 18, 2021
Very nice. The staff was very helpful and nice.
Sep 18, 2021
It rained but we stayed dry
Sep 15, 2021
Lovely park.
Sep 14, 2021
Property was clean and staff were nice.
Sep 14, 2021
My wife and I had to evacuate last minute for hurricane Ida, we were fortunate enough to get a last minute spot on a holiday weekend. The staff was super friendly and very accommodating, especially considering the length of the stay on such short notice. The grounds are very well kept, and there is plenty to do, nice and quite if you just looking to relax too. WE can't wait to visit on our terms!
Sep 14, 2021
Very nice large pull throughfull hookup site.
Sep 13, 2021
As always we had a wonderful stay, everyone is so nice and helpful,the facility is always clean and neat,very peaceful
Sep 13, 2021
Everyone was nice at front desk, however, cabin was dirty, patio had grass on it from mowing, we had to sweep it off. Toilet and sink was nasty
Sep 13, 2021
Always clean and the staff is SO wonderfully nice!!!
Sep 13, 2021
We stayed at a premium site on the pond and thoroughly enjoyed it. Very clean and relaxing! My only "complaint" would be that the paddle boats be serviced. It was hard to find one that wasn't broken.
Sep 13, 2021
As always, we had a wonderful time at the Lafayette KOA!!
Sep 13, 2021
We evacuated for storm IDA staff went out there way to accommodate us in time of need Thanks
Sep 13, 2021
We love our weekend camping getaways at Lafayette KOA!
Sep 12, 2021
We stayed at Lafayette KOA while being evacuated from Hurricane Ida. We were in a patio site near the pond. When we arrived it was like heaven. The staff was so accommodating & helpful to us during our stay. They took some of the stress out of a very stressful situation. I cannot thank them enough! Highly recommended!
Sep 11, 2021
We had a great family vacation there and we will be back
Sep 11, 2021
Very accommodating to workers during Hurricane Ida. Truly appreciate the hospitality
Sep 10, 2021
Rates are WAYYYY too high, sites are too small, very noisy location with highway adjacent to the campground, WiFi unreliable, didn't work the last two days I was there, cable was in/out as well (issues with WiFi and cable "may" have been associated with issues off-site and related to Ida damage).
Sep 09, 2021
Great place, would definitely return!
Sep 08, 2021
Enjoyable, comfortable, and friendly
Sep 07, 2021
Another great holiday spent at the Lafayette KOA. We had friends come in from Texas with their RV, and they enjoyed themselves so much, that they will be coming back for Easter.
Sep 07, 2021
Best campground best employees. Very very clean. Very quite location is in a great place. Will be back had so much fun already Booked 4 trips for next year. And will be booking more.
Sep 07, 2021
Everything was wonderful. Great location clean relaxing and the staff was Amazing.
Sep 07, 2021
Love it !!�ϋ�very clean beautiful surroundings a lot to Offer ..
Sep 07, 2021
Very relaxing…Very enjoyable…
Sep 07, 2021
We had a wonderful time I would recommend anyone to stay and camp. The people that camps there are very friendly. When you check in you could not ask for friendlier people. Thank you for the stay.
Sep 07, 2021
This location has many activities to keep my 3 year old entertained. He loves playing putt putt, fishing and riding his bike around the campground. The staff is very friendly. This is our number 1 get away spot to pull the camper!
Sep 07, 2021
VERY NICE RELAXING PLACE TO STAY, STAFF ALWAYS VERY POLITE
Sep 07, 2021
A very pleasant stay
Sep 07, 2021
Very nice camp ground, clean and well maintained. The road noise from I-10 could be noticed at times but it is located in a nice area with plenty to do.
Sep 07, 2021
Very nice campground and staff. We had to evacuate our home due to Hurricane Ida and the staff was very accommodating. Wonderful staff…thank you so much for working with us during this difficult time.
Sep 06, 2021
Didn't have a place to stay late in the night. Called in and was helped immediately. Then arrived and was given a cabin! Super impressed and pleased with my stay and the service I was given. Thanks again.
Sep 05, 2021
KOA campground Lafayette workers have some amazing hearts. When were caused to evacuate for Ida after assessing damage they gave us a discount, only made us pay two night but held several others, and kept holding as we booked a few at a time. They were so welcoming. Even when I had friend drive in to cook us a hot meal (no kitchen in cabin) they have a pass for their card and child to swim! A+
Sep 04, 2021
Accommodated is during evacuation for IDA. Made us feel very welcomed.
Sep 18, 2021
The best koa we have been to out of 20 plus koas . A plus! Senerie. Concrete slabs. Friendly koa team. Lots of pride in thier work
- Chris Bissonnette on Google
Sep 01, 2021
Just want to thank these guys for a great experience
- J Medina on Google
Aug 30, 2021
BEFORE Hurricane Ida...Beautiful KOA, large lake with fish jumping, paddle boats. Praying for all affected.
- Crystal Smith on Google