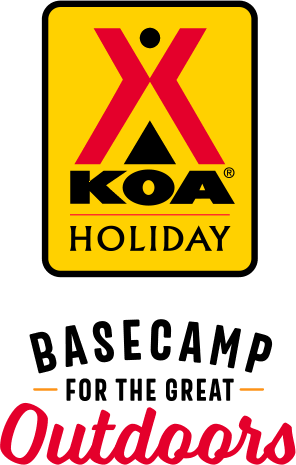 KOA Holiday Campgrounds
Whether you're exploring the local area or hanging out at the campground, KOA Holidays are an ideal place to relax and play. There's plenty to do, with amenities and services to make your stay memorable. Plus, you'll enjoy the outdoor experience with upgraded RV Sites with KOA Patio® and Deluxe Cabins with full baths for camping in comfort. Bring your family, bring your friends, or bring the whole group – there's plenty of ways to stay and explore.
KOA Holidays Feature:
RV Sites with a KOA Patio®
Deluxe Cabins with full baths
Premium Tent Sites
Group meeting facilities
Directions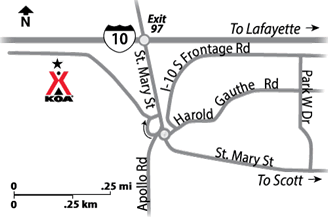 Five miles west of Lafayette. At the Scott/Cankton Exit, #97 on I-10, SW corner of exit.
GPS TIP: Our address is SCOTT not LAFAYETTE. Please be careful in selecting!!
Get Google Directions
Apr 06, 2021
We are regulars and usually reserve the same spot. Always friendly staff and always clean
Apr 06, 2021
We wish the pool was open and wish the pond was stocked with more fish. Pls add table tennis to the arcade and outdoor tennis. I lost my cabin key and the charge was quoted $5.00 but when it was time to pay, it was $10.00. Staff was very helpful and kid friendly.
Apr 06, 2021
Friendly staff uncle Ts sesfoid great. Lots going on around the lake! New pull pads were great! If you added pickle ball you would have areal winner!
Apr 05, 2021
Great time, enjoyed the Easter egg hunt. The kids had a blast. Everyone was very pleasant. Other campers were very friendly, also.
Apr 05, 2021
Very clean and well maintained. Friendly staff.
Apr 05, 2021
The clean restrooms were much appreciated. Thank you! It was a great stay.
Apr 05, 2021
Friendly staff. Nice pull through site. Relaxing stay with family
Apr 05, 2021
We love koa and will be back soon place is sooo nice and clean
Apr 05, 2021
Facility was clean and staff was very friendly and professional.
Apr 05, 2021
They are the BEST! Shady, quiet, always provide for late check-ins..very comfortable and convenient!
Apr 04, 2021
We have stayed here twice, both nights in the newer, "back" area. The sites are all concrete and very level. There is no shade, so be aware, but we like it a lot and will stay here again on our way East/West on I-10. The ladies in the office are very pleasant to work with, as well. Very nice park after a long day of driving. Next time I'm bringing my fishing rod, too.
Apr 04, 2021
Wonderful staff! Great parking spot! Excellent shower facilities!
Apr 04, 2021
Very nice campground, clean and level paved site. The site we had facing the fishing pond was beautiful and easy to get in to.
Apr 04, 2021
This place and it's staff are A+. The shade tree canopies are fabulous but I never realized how much work goes into keeping this place looking the way it does until we visiting when ALL OF THE LEAVES were being collected and disposed of : 0 WHOA!!! Thanks for giving us such a nice place to camp!! Bike riding and fishing are a must! No fishing license needed!!!!
Apr 04, 2021
This was our first stay ever at a KOA camp ground the park was very clean. AT check in we saw how close we were to the expressway and ask if we could change sights, arrived Thursday after noon and left Friday morning, I was told they were full and could not. To my surprise Friday morning many open spots were available, I do hope there are better accommodating employees at other KOA
Apr 04, 2021
Very nice park we loved our visit there will be coming back soon awesome pond/lake
Apr 03, 2021
Every thing was great
Apr 03, 2021
We really enjoyed our 12 days at the Lafayette KOA. Everyone was very helpful and friendly. We were in the newer area in the back and the sites were level and very well maintained. The facilities were nice as well. Cable TV and Wi-Fi were very good too. I would suggest that the quiet hours could be better enforced - especially after 10 pm. We will definitely stay again when in the area.
Apr 03, 2021
Beautiful park with a lot of amenities but traffic noise is really disturbing at night.
Apr 03, 2021
I got excited to see a code provided for the bathhouse on the paper when I arrived after hours... but alas! This was not (yet) for the bathhouse by the office. I have been to this KoA for many years...& that lack of safety is my only concern.
Apr 03, 2021
Very friendly staff and the new area at the far end of the lake is very nice and big rig friendly. We'll be back.
Apr 02, 2021
Loved been in space 121 backed up to the pond. Thanks. Excellent location, excellent koa
Apr 02, 2021
The staff was very helpful and friendly. They worked with me to get a wonderful site.
Apr 01, 2021
Things or very out dated and old and the kids get bored , not much to do, rooms or over priced and also outdated and beds are very uncomfortable. Need more outside stuff for the kids
Apr 01, 2021
Amenities were well maintained. Helpful staff.
Apr 01, 2021
Lafayette KOA was very understanding about being late and had our paperwork in a little box by the front door of the office. The campground was clean, quiet and very comfortable! Lovely place!
Mar 31, 2021
We have stayed here many times and thoroughly enjoy this KOA! The grounds are always kept nice and the staff is simply awesome!
Mar 31, 2021
Clean campground, nice laundry facility, great and helpful staff.
Mar 31, 2021
Good setting on the pound. Showers and laundry room were great.
Mar 31, 2021
Very pleasant stay! Clean bathrooms, friendly people and great musician Friday night! Shady with a beautiful view of the lake!
Mar 31, 2021
Loved the site, quiet, comfortable and clean!
Mar 31, 2021
We had a VERY GOOD time!!!! Family members from Alabama and Louisiana also came for this trip. A GREAT place for a mini family reunion!!!! We ALL had blast and recommend Lafayette KOA to EVERYONE!!!!!!!
Mar 31, 2021
It was super clean and absolutely beautiful there!! The large lake and the mature trees made the whole place magical!!!
Mar 29, 2021
This was a 2-night stopover on our way from Dallas to Florida. Sitting next to I-10, it is VERY noisy, but Christian was quick to move us to a site in the back of the park. That's the newest section of the park -- nice level paved pads, very nicely maintained, looking out over a beautiful lake. It was a charming KOA. Great staff. Clean restrooms. Nice cabins. We'd stay again without hesitation.
Mar 28, 2021
Overnight stay. Easy access from the highway. Level sites.
Mar 28, 2021
Nice grounds, plenty to do. Only negative is highway noise
Mar 28, 2021
We go to NOLA often and always stop in at KOA Lafayette. Quiet, friendly staff and neighbors. We love Acadiana and now spend at least 2 nights.
Mar 27, 2021
Our stay was a good stay, only wish someone would control the amount of noise people make, after the 10:00pm hour.
Apr 11, 2021
Beautiful and clean
- Sheena Gordon on Google
Apr 08, 2021
Great facility. My husband has been staying here for about 7 months because of his job and we are very pleased here. The staff is awesome! I would highly recommend
- Janice Harris on Google
Apr 06, 2021
Shady, clean bathrooms, pretty views and friendly people.
- Malinda Kilgore on Google