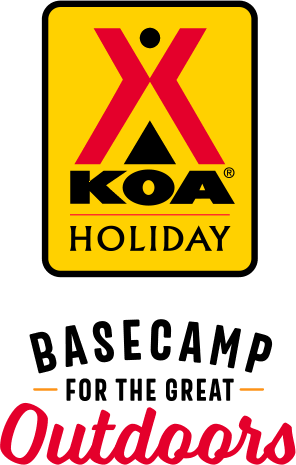 KOA Holiday Campgrounds
Whether you're exploring the local area or hanging out at the campground, KOA Holidays are an ideal place to relax and play. There's plenty to do, with amenities and services to make your stay memorable. Plus, you'll enjoy the outdoor experience with upgraded RV Sites with KOA Patio® and Deluxe Cabins with full baths for camping in comfort. Bring your family, bring your friends, or bring the whole group – there's plenty of ways to stay and explore.
KOA Holidays Feature:
RV Sites with a KOA Patio®
Deluxe Cabins with full baths
Premium Tent Sites
Group meeting facilities
Directions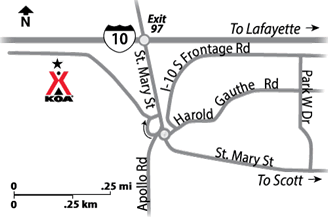 Five miles west of Lafayette. At the Scott/Cankton Exit, #97 on I-10, SW corner of exit.
GPS TIP: Our address is SCOTT not LAFAYETTE. Please be careful in selecting!!
Get Google Directions
Jun 16, 2021
Park is shady, nice pools and plenty to do for the kids. The bathhouse and laundry were well kept and in working order. Only complaint was where we were the wifi signal did not reach us. Other than that, I cant complain. We were in the area for a softball tournament. On Sunday we had a game and if they wont that one we would have to play again. KOA allowed us to stay past check in for $10.00.
Jun 16, 2021
Great people. Loved the fishing pond!!! Thank you so much for a quick but wonderful stay!!!
Jun 15, 2021
Great place to stay. We come here to visit with family that lives nearby. Campsites are nice and roomy near lake.
Jun 15, 2021
Very quiet and accommodating.
Jun 14, 2021
We had a great weekend with our grandkids at the KOA the staff was helpful and friendly. Additionally the camp was well-maintained, neat and clean.
Jun 14, 2021
It was Great!
Jun 14, 2021
We enjoyed the location to the interstate plus the staff was so very nice and helpful. The grounds were kept nice and clean.
Jun 14, 2021
Amazing as always!
Jun 14, 2021
Me and my boyfriend and daughter really enjoyed our stay. We got the basic cabin. It was adorable and very comfortable to stay in for the camping experience. We enjoyed the many activities they have. We already want to go back. It was so much fun!
Jun 13, 2021
I know this KOA has been around many years. We found this park to be exceptionally clean and well maintained by the super friendly staff. We did use the laundry room. We found it to be very welcoming. It is the cleanest laundry room we have visited in many years. I found the restroom spotless. It was nice to feel at home. The provided waste bags and disposal can was welcomed.
Jun 12, 2021
Very enjoyable stay! Park is well maintained and very clean. We especially enjoy the newer sites backed up to the pond!
Jun 12, 2021
Our stay was short (4 days) our first time at KoA Scott La but there is so much to do and we will be back soon. Plus: * Staff was always polite and ready to help. Pam and Brian "Bear" are a big plus for this location. * Clean restrooms/ showers / grounds *Plenty of attractions *Trash pickup Improvement:opportunity *Low water Pressure at slot #1.
Jun 12, 2021
Clean bathrooms polite stay family friendly
Jun 11, 2021
Called for reservation at the very last minute. They were very accommodating & said if a tree blocked my slide in the spot they assigned, that I could just move over one spot. They also lent me a cable since mine was not long enough. This place had so many amenities and was very clean. I have never stayed at a KOA before because they were always more expensive than family owned campgrounds.
Jun 10, 2021
A very beautiful campground. We had a deluxe site on the lake which was amazing.
Jun 09, 2021
Very enjoyable stay
Jun 09, 2021
Keep an eye on the initial round a bout but this camp is huge, very clean and beautiful views. We were on a pull through site in the back. Very good site but seeing the lake, I wished I'd picked a pull in site looking at the lake. Plenty to do at camp... two pools, playgrounds, mini-golf and some arcades (didn't check those out). They have a lake for paddle boats and catch/release fishing.
Jun 09, 2021
Highway noise way too loud
Jun 08, 2021
Had a great time. Camped there when my kids were little. Now we are back with our grandkids.
Jun 08, 2021
Had excellent spot by the Lake. A free upgrade.
Jun 08, 2021
I cannot say any more than the Lafayette/Scott KOA is my favorite KOA in the whole Country�ϋ���
Jun 07, 2021
We enjoyed our view, backed up at the lake. We enjoyed our stay
Jun 07, 2021
Staff very friendly and more than helpful. Park is conveniently located, but within earshot Interstate traffic noise. Other than that very quiet park. Lots of shade and amenities. Slightly dated but overall a good place to stay. Will definitely return when we need to set up in the area.
Jun 06, 2021
Was only a one night lay over in a driving rain storm, but it was well drained - a true test of a good RV park. Looked like it could be a nice place for longer stay. Scott is an interesting little town.
Jun 06, 2021
Lovely site on a lake. Grandkids had a blast fishing
Jun 06, 2021
Stay one night while traveling to San Antonio, TX from Atlanta, GA. Great location, excellent customer service.
Jun 06, 2021
We had two overnight stays. The park is clean - restrooms clean with awesome showers. The camp sites are narrower than I like, but overall it is a nice place to spend a few days.
Jun 06, 2021
A beautiful RV park with much to do. Only stayed one night. Cable worked as advertised. Thank you
Jun 05, 2021
HAD A GREAT TIME AT LAFAYETTE-KOA. THE SITES ARE ALWAYS CLEAN, THE STAFF IS AMAZING AND ALWAYS SO FRIENDLY. YOU ARE IN THE MIDDLE OF GREAT FOOD AND JUST A DRIVE TO GREAT ENTERTAINMENT. THIS IS OUR SECOND VISIT AND WE BROUGHT ALONG 2 MORE CAMPING FAMILIES THAT LOVES IT. ITS ALWAYS WORTH OUR 4.5 HOUR DRIVE FROM TEXAS. WE WILL SEE YOU GUYS SOON.
Jun 05, 2021
As I expected to be treated.
Jun 05, 2021
I can't speak for the newer sites, but the sites in the section I was in were very close to one another. Cable TV and WiFi of little use. Nice shade and lake made it tolerable.
Jun 05, 2021
Fast check in, pretty site with view of the lake. all hookups worked. Only downer is the stupid traffic circle. impossible to get out of the campground in the morning. That of course is the La DOT fault not KOA they were there a long time before traffic circle.
Jun 05, 2021
Very well maintained KOA! Beautiful and a place we will stay again. We stopped only for an overnight, but it will make it into our book of "yes or no" campgrounds as a definite YES. Highly recommend this place.
Jun 05, 2021
We enjoyed it so much. Just sitting by the lake was so relaxing. We had a great stay.
Jun 05, 2021
Great place to stay. Although I enjoyed the peaceful relaxation, I could see that there were plenty family fun things to do. The campground was so clean. With friendly staff always on duty.
Jun 10, 2021
Great place
- Tommy Agee on Google
Jun 09, 2021
Good place
- Nelson Henry on Google
Jun 02, 2021
Love love this campground. Spots that are along the lake the best. Last night there neighbor had two vehicles and parked one so close we could touch with our window open. Stayed here before and did not have that problem
- Phyllis Skelley on Google