Local Area Attractions Near Lafayette KOA Holiday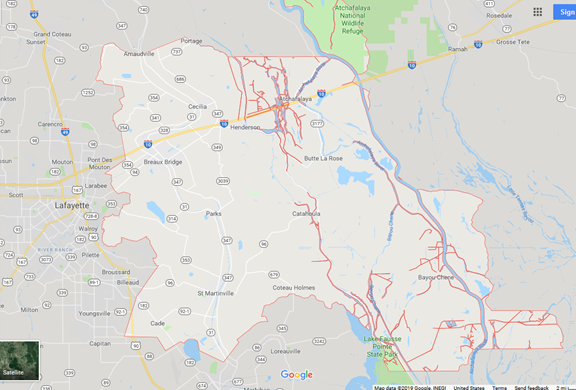 St. Martin Parish
Welcome to the Swamp!! The initial landing site of the Acadian people... Historic St. Martinville, towns of Breaux Bridge and Henderson. If you like this area be sure to visit the Atchafalaya Welcome Center off I-10 exit 121. Swamp Tours
Explore our beautiful swamps with one of several boat companies in the area. They offer anything from pontoon boats for larger groups to flat bottom boats for smaller groups to even air boats. We can help you reserve a spot that works right for you.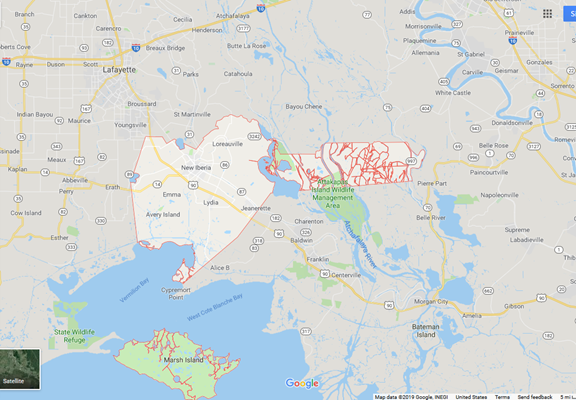 Iberia Parish
Home of the Famous Tabasco Factory but hosts lots of other wonderful places to see as well, such as Shadows on the Teche, Konrico Rice Meal, Shrimp & Seafood port and many more. Follow their link and let the adventures begin. Avery Island - Tabasco Factory and Jungle Gardens
http://www.tabasco.com/avery-island/The home of world-famous TABASCO® Sauce, Avery Island lies about 140 miles west of New Orleans. It's one of five salt dome islands rising above the flat Louisiana Gulf coast. Geologists believe these mysterious elevations were created when a saltwater ocean covering what is now Texas, Louisiana and Mississippi evaporated—leaving behind a vast sheet of salt. Rip Van Winkle Gardens and Historic Joe Jefferson Plantation Home
Rip Van Winkle Gardens is a semi-tropical garden and nature preserve, with historic homes, in a unique setting. The Gardens cover over 20 secluded, rolling acres adjacent to Lake Peigneur. The stately live oak trees throughout provide a majestic umbrella for the floral tapestry beneath them. Literally thousands of blossoms can be seen any day of the year. The centerpiece of Rip Van Winkle Gardens is the historic Joe Jefferson House. Listed on the National Register of Historic Places, the house was built in 1870 by the actor Joe Jefferson, who acquired international fame for his portrayal of the legendary Rip Van Winkle. The rooms are filled with various heirlooms and period pieces, giving visitors the feeling that they have stepped back in time to the Victorian age of elegance and grandeur. The Gallery of the Gardens, Acadiana's very own art museum, is part of Rip Van Winkle Gardens and features exhibitions from national as well as local collections.http://www.ripvanwinklegardens.com/ Shadows-On-The-Teche
It has everything a southern plantation house should. Big white pillars, beautiful furnishings, live oaks dripping Spanish moss. Yet there's something special here, something more important. The magic lies in forty old trunks, discovered upstairs in the attic. An amazing collection of 17,000 family letters, photographs, and receipts documenting four generations of one family which provides Shadows-On-The-Teche with one of the best documented tour experiences in the country. This is a National Trust Historic Site.http://www.shadowsontheteche.org KONRIKO company store
The KONRIKO company store is located on the grounds of America's oldest rice mill and is listed on the National Register of Historic Places. Start your tour in the KONRIKO Company Store where you will see an historically correct presentation on the Cajun culture, how it began and how it developed. Then we will guide you through our old rice mill where you can watch us package rice and make rice cakes. The mill creaks and groans, but still produces the finest quality rice in America.https://www.conradrice.com/ Vermilionville
Vermilionville is a Cajun and Creole living history museum and folklife village. It celebrates the cultures of these people who settled in the southern part of the state more than 200 years ago.http://www.vermilionville.org/ Acadian Village
The Acadian Village serves as a monument to the proud culture of the Acadian people. As a folk life museum, it offers an authentic vision of Acadian society in south Louisiana during the 19th century. Period homes of Acadian architecture have been restored to their 19th century appearances and furnished with native Louisiana antiques. A replica of a village store and chapel enhance the atmosphere of a quaint village setting that is surrounded by ten acres of gardens and woodland. Located at Acadian Village, the Mississippi Valley Museum is open to Village visitors without additional charge. A log building resembling a frontier mission of the Mississippi River region, the museum presents a unique combination of Native American artifacts and scenes illustrating missionary experiences among the tribes of the vast territory drained by the Mississippi and its tributaries.http://www.acadianvillage.org/
Vermilion parish
They say they are the "Most Cajun Place on Earth". Fantastic Oyster houses, beautiful Nature views and great fishing. Excellent Fishing & Hunting
South Louisiana is known as the sportsman's paradise. Plenty of great fishing, both salt and fresh water, all around this area. This area is also known for its superb water fowl hunting. In case you are wondering about some of our state regulations: http://www.wlf.louisiana.gov/ Bird Watching
Lake Martin is known for its excellent bird watching. Beautiful swamp scenery is excellent for watching other wildlife as well. Golf Courses
There are 5 Great courses just within Lafayette Parish. There are several more beautiful courses within just a 30 minute drive. Here's a link to just a few of the magnificent courses you can experience in our great state of Louisiana:  http://www.crt.state.la.us/audubon-golf-trail/ Antiquing
Several small towns in the surrounding area host great antique shops and other small boutiques. Washington is home to the famous O'Connors Schoolhouse Mall. Twice a year they hold an Outdoor Fair where you can pick up some great finds. Shopping
Lafayette is shopping central for this area. Our local mall has anchor stores like JC Penny, Macy's, and Dillard's. Plenty of other shopping also, like Hobby Lobby, Best Buy, Sam's Club, Barnes & Nobles, Pet Smart, Whole Foods etc.