Directions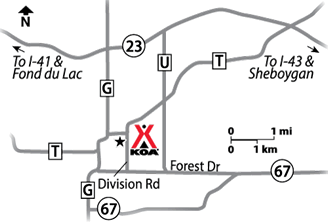 From I-41 go east on Hwy 23. In approximately 16 miles turn right onto County Rd G. Take a left on County Rd T. Turn right on Division Rd. Campground is located at the top of the hill.
From I-43 go west on Hwy 23. Approximately 19 miles turn left onto County Rd U. Turn right on County Rd T. 1.5 miles go straight on Division Rd. Campground is located at the top of the hill.
Get Google Directions
Aug 12, 2020
Had a great time with friends and family. Total of 4 sites and 1 cabin. Plans for next yer are on. Same place same time!
Aug 12, 2020
I have been going to this campground for over 18 years and it has never been this dirty before. Over a 7 day stay the bathrooms got cleaned ONCE? The bathroom closest to us had one toilet that was plugged for 3 days and no staff noticed. Very disappointed. One of us went to the front desk to let them know the toilet paper was gone and it took 20 hours to get refilled. Used to be cleaned every day
Aug 12, 2020
We always have a good time at the campground.Trees could be trimmed for big rigs to maneuver through the park without scraping the sides & top.The dump station is not accessible to big rigs. We have a 40ft 5th wheel and are not able to make the hairpin turn to use it. The last 3 times we drove home without emptying our tanks. Wish the dump station could be moved to the open area exiting the park.
Aug 12, 2020
Had a good time. Campsite a little narrow and the pull through site we had was uphill making it difficult to level. More pull through options would be great.
Aug 12, 2020
Excellent place to stay, swim, listen to live bands, and hang out with family and friends!
Aug 12, 2020
We liked it so much we bought a campsite/camper!!!
Aug 12, 2020
The staff was friendly but not very informative. I have a large family and try to camp as cheap as I can so I go during the week. It's very disappointing when nothing is open during the week. Camping is only 6 months out of the year but you don't offer all the amenities during the week which really sucks.
Aug 12, 2020
Hi, Had a great time, Front desk staff very helpful. Only two complaints: first one most important; it was IMPOSSIBLE to get through on the phone lines with questions. Got some woman in Michigan who said she gets 3,000 calls a day. She must be with that Sun resorts thing you're hooked uo with. Second, you should devote one pool for adults only. But I'd come back, thank you!
Aug 10, 2020
hope to be back again soon
Aug 06, 2020
Nice place, helpful employees,
Aug 06, 2020
Very clean with lots of activities for the kids. Quiet and friendly campers! Loved our stay!
Aug 03, 2020
The stay was nice, relaxing and clean. Was a little disappointed as we had our granddaughters and we brought them to the store to spoil both of them and the shelves were pretty empty for mics items and clothing. We were on 92A and this site at one time had a shelter on it and the four holes are still there where there is a potential of someone getting hurt due to unsettled ground.
Aug 03, 2020
There appeared to be some impacts from the Pandemic, rest rooms were not cleaned every day.
Aug 03, 2020
Camp sites are very small, it is like camping in a parking lot. The karaoke was horrible, but I am sure they did not know that when they booked them.
Aug 03, 2020
Had an awesome time! Everyone was very friendly!!
Jul 31, 2020
I WOULD COME BACK. BUT WITH THAT SAID DONT CHANGE A THING.
Jul 31, 2020
The campground was noisy until 1:00 am I had my 2 grandchildren with me and it kept them up. Our site 139 was actually next to the campground Make shift parking lot and I felt like I was at a Walmart. The outlet to plug in our camper kept tripping causing extra stress
Jul 31, 2020
We had issues with the breaker on our electrical panel. We reported it but no one came to look at it. It cut out several times. We had friends in site 139. They were basically in a parking lot. Lots of seasonal people parked on the grass in front of their site. Nice pools and activities for children. Clean.
Jul 31, 2020
There was porta potties there last year, now they are removed- 6 gone! We were told that KOA's do not have them. Longer walk to the main bathroom, which now is not cleaned more frequently like it should. I went to mens bathroom and the only soap dispenser was empty. The wife was in womens bathroom and both rolls of toilet paper were empty. We went to office to tell them, young kids dont care!
Jul 31, 2020
Poor to no social distancing or masking despite signs requiring masks. Lots of nickel and diming even with relatively high cost to stay nightly.
Jul 30, 2020
staff is always polite, helpful and welcoming
Jul 30, 2020
The bathrooms should have been cleaner. There was even a time in the men's room where there was no soap. Also in the women's bathroom the wall should have their holes mended. It's been that way for over a year.
Jul 30, 2020
We liked the campground and amenities. We disliked our site - 89A. Probably the smallest site we've ever had in all our years of camping. The bathrooms by the pool were very dirty. Obviously had not been cleaned in quite a while. Our power went out Sunday morning so we left earlier than expected.
Jul 30, 2020
Was informed by Good Sam that this facility has a discount for stays but staff says no. Bathrooms should have paper towels versus hand blowers to reduce Covid risk. Bar could stay open longer than 2 to three hours. Our site had large boulders embedded in the dirt causing trip hazard. Rates seem expensive for weekend and Seasonal sites. Poor electrical and water supply.
Jul 29, 2020
Love the campground! Always a great time!
Jul 29, 2020
Bathrooms were dirty. No toilet paper in ladies room or hand soap in men's room. Too many people in the pools. No power on Sunday morning from 9:30 until ?? We ended up leaving earlier than planned. Too hot 85 degrees to not have any air condition. No refund offer for Sunday.
Jul 28, 2020
The campground itself is very nice, but our full hook-up, pull-through site was on a very bad slant, and for all the trees there, all pull-through sites were in the direct sun. We asked to be moved and got a very nice site, but with only water/electric.Part my fault for not reading, but all the KOA campgrounds we have been to had everything open, but here everything was closed and not much to do.
Jul 27, 2020
The pool area wasn't the cleanest. Sunday morning we went swimming and there were two lawn chairs on the bottom of the pool, we had to get them out. Which means the pool was never clean that morning. I thought the pool needs to be clean every day. Also leftover garbage and aluminum cans sitting in the pool area behind the chairs. Hardly any activities for kids to do during the weekend.
Jul 26, 2020
Very well kept and very green. Great pools for the kids. Great staff.
Jul 26, 2020
Everything was nice but we would have liked a little more space.
Jul 24, 2020
We had a very nice stay. Our campsite was clean but the grass was not mowed. The pool was refreshing on our hot weekend. We were still able to sit by the campfire at night. Can't wait to come back!
Jul 24, 2020
The campgrounds were very clean, and well kept! Our biggest disappointment was that the size of our site was barely big enough for our tent! I highly encourage your team to take another look at some of your sites because they are a bit cramped.
Jul 23, 2020
Once again enjoyed our stay
Jul 23, 2020
It would have been great, but there was a 'security' staff member that was very rude. There were two instances specifically, the lights of his golf cart were shining in our eyes. We kindly asked him if he could turn off his lights and he brushed us off saying he would be leaving soon. We also had a very loud group behind us that he just drove by several times and did nothing about.
Jul 23, 2020
Had a stop sign in front of camper. Nothing but golf carts and cars coming by my site all day and night. Fire pit was behind camper do to hook up location. I was handed a packet and said camp site is over there. If you are a seasonal camper you can get away with whatever you want though. Worst experience i have had at a KOA.
Jul 23, 2020
Everything was great except there are no bathrooms on the far side. If you needed to use the facilities in the middle of the night (my girls did) you have to walk in the dark up to the trading post.
Jul 15, 2020
I loved the campground thought it could be a little more dog friendly. I was very disappointed in the condition of the bathrooms. I understand that with covid you might be short staffed but they were gross and didn't get cleaned during their times. As someone who only had a popup camper utilizing the bathroom was essential. I was hoping there would be a bathroom closer used my car each time
Jul 15, 2020
There was used baby wipes with poop in handicap stall with, from Friday afternoon until Sunday morning. That means bathrooms were not cleaned at all during a pandemic. My autistic son refused many times to use bathroom. Shamfull.
Jul 15, 2020
Pools were clean, but not deep enough for the kids to dive in. Originally, we saw on a map, an area for fishing, but not on the map the park gives out. When i asked about it, they said they kind of had one. Its pretty much a hidden, oversized puddle so no fishing. I hope it was just our site, but it is the most unlevel site we have ever had! They use big rocks, not the smaller leveling kind.