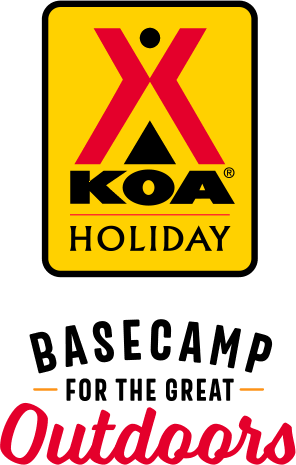 KOA Holiday Campgrounds
Whether you're exploring the local area or hanging out at the campground, KOA Holidays are an ideal place to relax and play. There's plenty to do, with amenities and services to make your stay memorable. Plus, you'll enjoy the outdoor experience with upgraded RV Sites with KOA Patio® and Deluxe Cabins with full baths for camping in comfort. Bring your family, bring your friends, or bring the whole group – there's plenty of ways to stay and explore.
KOA Holidays Feature:
RV Sites with a KOA Patio®
Deluxe Cabins with full baths
Premium Tent Sites
Group meeting facilities
Directions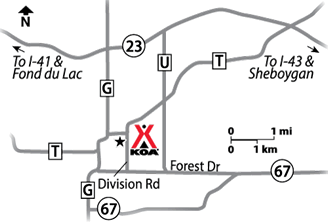 From I-41 go east on Hwy 23. In approximately 16 miles turn right onto County Rd G. Take a left on County Rd T. Turn right on Division Rd. Campground is located at the top of the hill.
From I-43 go west on Hwy 23. Approximately 19 miles turn left onto County Rd U. Turn right on County Rd T. 1.5 miles go straight on Division Rd. Campground is located at the top of the hill.
Get Google Directions
Jul 27, 2021
Check-in person was abrupt. Did not mention that Saturday was a fund raiser for the local Fire Dept. Asked for a print-out of weekend activities (this was on Thursday). She said it was not ready. We again asked on Friday. Still was not ready. We rented Cabin 54. Had trouble with room A/C. Coils froze up. Did not work for several hours. Water heater very slow to recover after 1 shower.
Jul 27, 2021
Very nice campground and everyone takes pride in there site. Very clean everywhere. Staff is polite, courteous, and very accommodating. This campground is highly recommend by our family.
Jul 26, 2021
The check in process was terrible. There was no activity schedule until a couple of hours after we checked in. The bathrooms were always out of toilet paper. There were a couple of activities scheduled at the same place at the same time. Poor planning. There were lots of complaining going on all weekend from many people.
Jul 26, 2021
The cabins need updated air conditioning units, they are too old and way too loud!!! People that own permanents are rude and loud. Loud even after quiet hours. They act like they own the campsite. Permanent owners with golf carts are loud, disrespectful of others and ride way too fast for the small campground that it is. They should not be allowed to ride after dark hours.
Jul 26, 2021
We were in site 67, our friends were in 82. Felt like a bunch of sardines crammed together. I understand wanting more money, but these sites were ridiculously close to the next ones. Also, pool doesn't open until 10am. On these hot mornings, it sure would be nice to get a swim in before the midday rush hits.
Jul 24, 2021
Our stay was pleasant. We didn't realize that our site did not include on site sewage hookup. The campground dump site worked well. We missed having cable tv availability.
Jul 23, 2021
Was sold a spot with no gravel, making leveling a difficult process. We booked a couple days beforehand, so I guess beggars can't be choosers, however, if we would have seen our "campsite" before paying for it, surely we would not have decided to book there. It was quite literally half of a campsite. No real room to have a fire. 20 min away from most things. Not worth it! Go elsewhere.
Jul 22, 2021
Everything from check in to departure was very enjoyable. Shower rooms are some of the nicest I've stayed at.
Jul 21, 2021
Was disappointed by the concrete pads. If pads are put in and advertised, then they should be leveled side to side for ease of set up.
Jul 21, 2021
Enjoy the grounds, music was fun on Saturday night! Excellent band
Jul 20, 2021
Clean cabin. Efficient check in and out. Quiet time honored. Very pleased.have reservations for August also.
Jul 20, 2021
pool not even fun due to crowding. why not make the small pool adults only?? dump station worst design ever!! park was clean and everything worked. staff was less than friendly.
Jul 20, 2021
The band played for far too long. I camp for relaxation and it's fine to have some entertainment, but that was too much after a full day of loud music at the pool.
Jul 20, 2021
Sites are small and cramped. Could not reach sewer hookup. Worried campfire would burn down mine or neighbor camper
Jul 20, 2021
It was perfect. Super quiet at night and during the week and when everyone shows up on the weekend still quiet even when full. Workers were very helpful and super nice. Is in the middle of nowhere but close to the main places we like to go. Best family vacation we had in year. Thanks.
Jul 20, 2021
The site I was on was very uneven. It was impossible to get my camper level.
Jul 20, 2021
We had the BEST time! We loved that you took our kids into consideration and placed us in the PERFECT spot! The campground, pool area, activity area, snack bar, etc. were all very clean. The entire staff was friendly and accommodating. Many seasonal spots here and all were friendly, helpful and we felt right at home and included in all the fun. We will definitely be back, many, many times!
Jul 20, 2021
Everything was very clean. Did not like it that we were not escorted to our Rv site.Did not like that a hiking trail ends on our site.
Jul 20, 2021
Unsafe for children
Jul 20, 2021
Narrow spot 89 tough to pull 28 foot in. Band was good! Very lively. No help to site just gave a map with marking to site! I expect more for the higher fee's. Trails not marked well.
Jul 20, 2021
The campground is very nice, the staff was so accommodating, the seasonal people were really friendly too. However, it isn't a campground for weekenders. If you are looking for seasonal great but for a big camper to pull in and pull out the roads are narrow & there are only a handful of not season seasonal sites.
Jul 19, 2021
The wait at the store for check in, check out and anytime we wanted to pay for something like mini golf was way too long.
Jul 19, 2021
It was very relaxing and the cabin was clean.
Jul 19, 2021
Was a great stay. I liked the cabins. I Wish prices were a little less expensive. It was a beautiful campground
Jul 17, 2021
Was a wonderful first experience. Room could of been a little cleaner. Floor was dirty, fold out couch dusty and air conditioners filters clogged with dust
Jul 17, 2021
Loved the spacious lots and very well-kept grounds and facilities.
Jul 16, 2021
This KOA is part of Sun Resorts, caters to seasonal monthly units and is far away from towns. Overnight camping stay sites are not level and in full sun. The seasonal residents do not like the overnight stays and will often park their cars in those sites. Free Wifi is only available at the office. Pools are large. Lots of kids having fun. This is more of a spend the entire summer vacation here.
Jul 16, 2021
The site was great. Didn't like the extra $25.00 fee to say the site.
Jul 14, 2021
The camp sites are open and not wooded. But we stayed in an over priced cabin (because we had some of the grand-kids). I had to clean up before we could even move in. The Fridge was left open and there was water all over the floor and inside the fridge. The freezer area was frozen shut. We had to go ask for toilet paper. Did the check list and told them we only had one T.V. oh we already know that
Jul 13, 2021
This is not a KOA campground. It is a seasonal campground. Too many golf carts driven by children and people drinking adult beverages. If you are looking for a relaxing getaway, this is not the place. Will not be recommending.
Jul 13, 2021
While the campground is well taken care of and there is a lot to do for children i wasn't pleased that you weren't able to pick your site number... I figured no big deal until I got there and saw how tiny our site really was. We weren't even able to have a fire because our awning stuck out over the fire pit. We will most likely not be back.
Jul 13, 2021
This was our first time staying at a KOA, and we loved it! Everything was SO clean, there were a ton of activities for the kids, and having 3 pools was a great perk! We will definitely be back!
Jul 13, 2021
Only issue is that positioning of water/electrical hook-up on the site was awkward. Minor issue, but it meant we had to position or camper in such a way that we couldn't use a portion of our site very well.
Jul 13, 2021
Good stay. Helpful staff.
Jul 13, 2021
The firewood I purchased was so wet that it was not usable at all.
Jul 12, 2021
Absolutely fun for our whole family!!!! Five generations for our family!!! Already booked for next year!!! Can't wait! Been doing this family vacation for years!!!���
Jul 12, 2021
Nice place but 95% permanent people. Very few decent sites for travelers. Great pools, shower house, nice roads, nice snack bar and nice store. Some run down old permanent trailers. Most newer units had porches with roofs. Newer seen a KOA like this. Probably won't be back.
Jul 12, 2021
Campground was very nice. Our "luxury cabin" was disappointing. Saw a mouse in the cabin on the first night which really killed the idea of relaxation. Both beds were very old and worn out which made it difficult to sleep. Located right across the road from the main office meant we saw too much golf cart traffic with constant bright headlights and radio noise.
Jul 11, 2021
Bad weather was certainly a factor in our stay. Things that could be improved include: Provide a guide for checking in. The map provided by the young lady did not indicate the angles of the pull-through spots and the pavement markings actually sent us and others the wrong way. Better directional signage overall. The office is not visable from where one turns in and the first sign was a ways in.