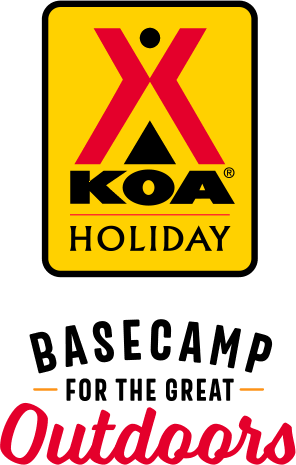 KOA Holiday Campgrounds
Whether you're exploring the local area or hanging out at the campground, KOA Holidays are an ideal place to relax and play. There's plenty to do, with amenities and services to make your stay memorable. Plus, you'll enjoy the outdoor experience with upgraded RV Sites with KOA Patio® and Deluxe Cabins with full baths for camping in comfort. Bring your family, bring your friends, or bring the whole group – there's plenty of ways to stay and explore.
KOA Holidays Feature:
RV Sites with a KOA Patio®
Deluxe Cabins with full baths
Premium Tent Sites
Group meeting facilities
Directions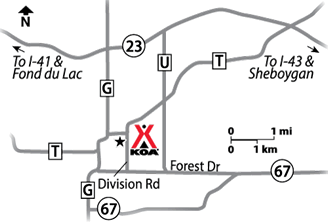 From I-41 go east on Hwy 23. In approximately 16 miles turn right onto County Rd G. Take a left on County Rd T. Turn right on Division Rd. Campground is located at the top of the hill.
From I-43 go west on Hwy 23. Approximately 19 miles turn left onto County Rd U. Turn right on County Rd T. 1.5 miles go straight on Division Rd. Campground is located at the top of the hill.
Get Google Directions
Oct 16, 2021
The campground was difficult to find for out-of-state people & at night. We saw zero signs pointing to the location. The cabin was very nice & clean! Having bedding/towels was nice. The cabins are very close together, we were thankful the one next to ours wasn't rented. It had rained, so the fire pit had about 3 inches of water in it. Putt-putt course full of leaves & debris. Staff was friendly.
Oct 13, 2021
Clean, Quiet, and Friendly. Definitely will be back!
Oct 13, 2021
Stayed in a cabin .cabin was nice but mattress cheap and hard sofa was worn out people in office were nice but no manager .
Oct 12, 2021
Love Mary and all the workers. Love the cabin.
Oct 12, 2021
This park is not big rig friendly. Roads are very tight with lots at curves. Our lot was such that we could not level our motorhome without getting tear tires off the ground so we slept uphill. Would probably be ok for smaller units but not for a 40' motorhome.
Oct 12, 2021
Golf carts are a nuisance during the night, if there is a quiet time. They should be restricted to the 5 mph rule as well as vehicles. Should set up radar readings so they are aware of there speed. Sunday morning at 3:00 am was very disappointing to be woken up by golf cart going back and forth.
Oct 12, 2021
We were disappointed that your event calendar showed fall fun and when we arrived come to find no events.
Oct 12, 2021
I love almost everything but full hook site was way on the back not on the left side. Site a little bit too close not good idea for busy season.
Oct 12, 2021
Best staff very outgoing and friendly.
Oct 12, 2021
Mini golf needs to be maintained a bit better. That was awful other than that we had a great stay super friendly people
Oct 12, 2021
The sites were very close with lots of seasonal camps. Unlike other KOA's we have stayed at the office didn't take you to your spot. When we got to ours a camper with a power only site was hooked up to our water. We noticed there really wasn't any staff monitoring the grounds at all. Quiet time is from 8am to 11pm, there were children and parents screaming at 6:30am until they packed up at 11am.
Oct 12, 2021
The campground itself and amenities were nice. However, despite the noise policy, the seasonal sites had incredibly loud parties going until after 3 am. We had heard that was a problem before we booked, but thought we'd give it a try ourselves. Not sure we'll be back after seeing for ourselves that it is indeed a recurring problem.
Oct 12, 2021
Everything was great until our site lost power around Midnight on Sunday night. We were able to plug in across the street, but then our whole area was out in the morning for about 20 mins. We notified the office and when someone arrived, the power had been restored. Also on Site 50, the outlets are very loose and could use replacing. Other than that, all was great and we plan on returning.
Oct 12, 2021
Our tent space #25 was very small and our picnic table/fire ring less than 6 feet from the main road. A large tent would have taken up too much space. Staff was great. Amenities were limited due to late season. Bathhouse was clean.
Oct 11, 2021
My kids and I really enjoyed our stay. I used to camp there (Westward Ho), when I was a kid. I did feel that $200 per night was very expensive considering the size of the so called "Deluxe Cabin". That being said, I would probably do it all over again.
Oct 09, 2021
Very nice and clean but, my site wasn't even in the same ballpark as "level"..I was only there for one night so, I dealt with it.
Oct 09, 2021
VERY NICE PARK/FACILITY. CABIN CLEAN, PROVIDED COMFORTING 3 DAY STAY, ( 10-5, 6, 7, Leaving 10-8am. GROUNDS WELL MAINTAINED. EVERYTHING NEAT. BEAUTIFUL VIEW OF GRASSY POOL AREA. HAVE EVERY INTENTION OF BECOMING "REGULARS" !!! :) AND RECOMMENDING / BRINGING FRIENDS TO STAY!! Glenn & Ellen Barnes Oct.9,21
Oct 08, 2021
It was a great place, plenty of room very friendly staff
Oct 06, 2021
All was great. Only criticism is golf cart speeds/traffic as well as vehicles heading to the dump station...too fast down both hills.....kids could chase a ball into the road and easily be hit.
Oct 06, 2021
Upon arrival, we noticed we did not have a cement pad, grass was not mowed , at least 4" high, When we tried to discuss with 2 different attendants in the office on 2 separate days about how unhappy we were about our site that we were in and the location of this site . They all had the attitude that they did not care about our stay at this KOA. Did not meet the KOA standards or expectations.
Oct 06, 2021
It really seems like the campground doesn't care about the regular guests, only the seasonal ones. The seasonal guests drive their golf carts around joy riding with bright lights and loud stereos every night, back and forth, back and forth; their kids run around screaming late at night while they have cornhole tournaments on the basketball court, and quiet time seems non existent
Oct 06, 2021
Love this campground, always clean-friendly staff. Sites are roomy
Oct 05, 2021
Regarding our stay on October 1st/2nd. The noise until 2:00 to 3:00 AM each night was unacceptable. Individuals partying at your campground bar and in campsites (Friday night-across from us, a seasonal site with a big fire and a party until 3 am), talking loud, riding around in their golf carts being loud with music extremely loud. Children screaming until 1 am. We sent an email with no response.
Oct 05, 2021
Cabin was immaculately clean. Service was impeccable. Staff made sure we were close together with our RV friends staying at the site. Good overall experience.
Oct 05, 2021
Did a quick couple night stay over the weekend. Staff was very nice and informative. Kids really enjoyed the mini golf and nature walk along one of the trails. We'll be back next season. Nice little vacation for the family. Thanks!
Oct 03, 2021
We have chosen to stay at KOA campgrounds because of the amenities, ease of registering on line and friendly staff.
Oct 01, 2021
the site was not very well suited for our RV very difficult to get into and out of
Sep 30, 2021
Our group has been going for over 13 years and now we can't reserve for next year "NOY GOOD"
Sep 30, 2021
Lots are very unlevel. Roads are narrow, trees need trimming. Scratched trailer. I booked a week with the lady on the phone. She told me I would be in water, electric only for Mon-thurs and could swap to full hook up with sewer on Friday and stay til Monday. Had to call 4 times and leave voicemails on Thursday, she finally called back. Said she could not do that now. She had rented them, Never go
Sep 30, 2021
Facilities and people were excellent. Bedding in cabin was not comfortable at all. We could feel springs on bed.
Sep 29, 2021
Unlevel site, tight, packed in between several poorly maintained permanent campers. Poor water pressure. Clean restrooms and showers.
Sep 29, 2021
Very friendly campground with lots of season-long residents. Close access to many outdoor activities - hunting, fishing, golf, auto racing. Really good restaurants in nearby towns, especially Plymouth and Sheboygan.
Sep 29, 2021
We had a medical emergency and they were very accommodating.
Sep 29, 2021
So far we are really liking it here. Staff is very nice. People are also very nice and very helpful.
Sep 29, 2021
Sites were very small and VERY uneven. Bathrooms were clean person in office was nice, pool was closed for season so no comment on that.
Sep 29, 2021
I think it's a joke to say internet available and charge people $5 for that poor thing you call internet. It was the worst "internet" I have ever tried to use. I say try because 7/8 of the time it wasn't even available to connect to it. We were closing on a home and needed service is why we chose this KOA. A total waste of $20 for nothing!
Sep 28, 2021
Nice campground but the uneven gravel spots are not very large and full hook-up was not an option.
Sep 28, 2021
NEED INTERNET AT SITE #2 . Very poor for streaming through tv & devises.
Sep 28, 2021
very clean and polite staff
Sep 26, 2021
To much campfire smoke hard to breath���
Sep 26, 2021
The original site I reserved was terrible. Not sure why they would let me reserve that site for my camper. The person at the camp ground agreed and luckily found me a different site. Be careful on your site selection at this place.
Sep 25, 2021
Very friendly, helpful & welcoming staff. Concrete pad on severe slope made hooking & unhooking very challenging. Paid for internet which was very poor. Limited antenna coverage.Dump station loop very challenging to get travel trailer around to dump before leaving. Nice location for getting to golf course and to Ryder Cup.