Directions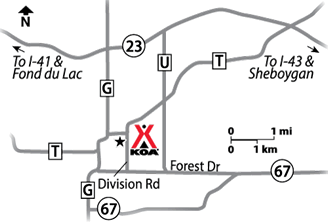 From I-41 go east on Hwy 23. In approximately 16 miles turn right onto County Rd G. Take a left on County Rd T. Turn right on Division Rd. Campground is located at the top of the hill.
From I-43 go west on Hwy 23. Approximately 19 miles turn left onto County Rd U. Turn right on County Rd T. 1.5 miles go straight on Division Rd. Campground is located at the top of the hill.
Get Google Directions
Oct 12, 2020
Great stay! Wonderful staff, can't wait for next year.
Oct 12, 2020
very nice cabin we stayed in. Very Clean.Liked area a lot will come back
Oct 05, 2020
Our stay was okay but furnace only blew warm air in bedroom and was so hot couldn't sleep but other guests were freezing! Furnace wouldn't shut down unless turned to about 65 or ran constantly.
Oct 03, 2020
Very friendly and helpful for all our needs. We got home and booked another stay 3 weeks out. Loved it!!!
Oct 02, 2020
We stayed in one of the small one-room cabins. Myself, my partner, and our two dogs. It was the perfect size! It was actually better than we were expecting, and we had everything we needed! We loved the dog park. We hope to be able to use some of the other communal amenities next time, but we spent all of our time hiking, and we have no problem with some things being closed for coronavirus safety.
Sep 28, 2020
We have a wonderful time on our fall weekend. We stayed in a cabin and spent time with friends who had seasonals. It's a beautiful area that is well maintained. The cabin was extremely clean and fully stocked.
Sep 24, 2020
We had a cabin and a tent site for our family and had a great time!! Everyone was great and love all of the amenities. Only wish we would have known about trick or treating in advance. We will definitely come back but will be looking for 2 cabins next time. Loved everything!!
Sep 22, 2020
We likely won't stay again. I was disappointed in the late check in time (4pm) and early checkout time (11am) for the cabins. Disappointing, considering the cost of rental and the fact that it was made to seem we were required to leave the cabin clean, meaning I spent our last morning vacuuming, doing dishes and wiping down surfaces. I certainly left it cleaner than it was when we arrived.
Sep 22, 2020
The weather was cool but didn't keep us from having a good time!! This was a Halloween weekend which we have done for many many years at this campground and hope to continue the tradition!! Made our reservation for next year!
Sep 16, 2020
Love our time here! I would suggest cleaning the bathrooms a better though as they were filthy when we checked in. Also, the staff seemed confused on the computer and couldn't find our registration. When Tiffany is working, she really knows her stuff, but the gal we had struggled. A friend of mine called to book and was told the computer system was down and they'd call her back, but didn't.
Sep 16, 2020
Cabin rate for 2020 was $320 with tax. Booked for 2021 and the rate increased by $118.00 to $438. Big hike up. Cabin was really beat up. On the outside their was a big wasp nest right where we should be sitting on the deck. Also a wasp nest in the soffit and facia near the deck. Wasps everywhere. Bathroom smelled like pee. Needed to clean septic. Bed mattress wore out. Time to look elsewhere.
Sep 08, 2020
Overall it was a great stay as usual. I saw some of the improvements that had been done, but was disappointed to see that there had been no updates to the cabins, which I was expecting.
Sep 08, 2020
We love coming here every year! The cabins are amazing and our kids love the 3 pools. It has a great friendly and fun atmosphere and always makes us feel like we are on a mini vacation. We will be back next year!
Aug 25, 2020
Had a great time. As good as someone can during this pandemic. I thought the employees were king and gracious as well as the Manager Tiffany. She replied immediately to an issue we had and handled it with care and professionalism. Definitely will be back!
Aug 19, 2020
We had a great time. The rentals are really nice except the screen doors need some work. Tiffany is a great help for anything. We'll be back next year.
Aug 17, 2020
The cabin was very nice and clean. The staff was very courteous and willing to assist with any issues.
Aug 17, 2020
Good but Cabin was a little messy, shower would not drain, bed was hard as a rock with springs digging into you.
Aug 15, 2020
We ALWAYS enjoy our stay! Everyone is so friendly and the layout of the grounds is great. It's such a peaceful time spent every time!
Aug 12, 2020
The cabins are great but they definitely need a toaster in them!!
Aug 12, 2020
Was nice at first. First night, in cabin, we kept hearing something, figured it was the outdoors. We didn't get much sleep at all. Next night was worse, we found out it was mice that had gotten in through a hole and into our food. We went to tell them and check out but no one was there. So I wrote them what happened and left my info expecting to be contacted. They never contacted me. Won't go
Aug 10, 2020
Cabin was fantastic! However. I understand with lack of staffing there were no activities for kids during the day, no food shack during the week and I noticed no flowers planted around the grounds. It seems like some things couldn't get done and that was disappointing.
Aug 07, 2020
The cabin itself was nice but really over priced and could have been cleaner. Under the beds were really dirty and the ceiling fans were pretty gross.
Aug 05, 2020
Deluxe Cabin was great, slow drain for shower which leaves soap scum ring around the tub. Neighbors were friendly, staff was friendly. Cabin was clean @ check in. Pool was open, fun, fun time .
Aug 04, 2020
It was wonderful! Hope to be back again.
Aug 03, 2020
will definitely be back
Aug 02, 2020
My husband and I were there with our three children and 5 grandkids. We all had a wonderful time! Hope Covid-19 is over soon!
Jul 31, 2020
The grounds were very nice but staff was unorganized.
Jul 30, 2020
Very nice facility. The "tiny house" was modern and clean. Very cool. I'd definitely stay again.
Jul 30, 2020
Lots of activities to choose from. It was a very relaxing, fun time.
Jul 27, 2020
Loved our Deluxe Cabin! The campground was clean and quiet during the week (a little packed on the weekend) with plenty of activities to keep our kids busy! Staff was friendly and accommodating. We'd recommend to friends and love to return!
Jul 26, 2020
Great campground with a lot to offer.
Jul 23, 2020
Facilities were all nice. Loved the atmosphere. Staff was courteous and very responsive.
Jul 23, 2020
The facilities were clean. The pool was great. We used the dog run every day. This was a really nice option for our little pup. Not all the attractions were open during the week such as the arcade and restaurant. This caused us to leave the premises to get dinner every night. Wish we would have asked/planned ahead. If you bring your own dinner this is not an issue. Overall a great experience!
Jul 20, 2020
We rented a screen porch cabin for the second year. Cabin was very clean and ready when we arrived. With the social distancing we were concerned about the pool, with some timing in going to the pool we could keep a reasonable distance. We rented over a weekend. We did not join any activities. Our stay was as expected. Alot of people attend this campground with permanent sites & golf carts.
Jul 20, 2020
Our cabin 32 wasnt very clean. Ceiling fan looked like it had dust on ot for a year with no cleaning. Only half of stove worked, carpet was nasty needs to be replaced. We were missing 3 spoons to start with and now they want to charge me for them. The public bathrooms very dirty. Very short staffed which affected everything. Pool was not cleaned inside or out. We made the best of it but not great.
Jul 20, 2020
The cabin we stayed in was perfect, clean & well stocked. However we were there for a 2 days of quiet, and that is not what happened. We were put between a group that had approximately 20 kids (we counted) age 7-14 with 3 adults in 3 cabins. The kids constantly ran through our site, were at our screen door, confused about which cabin was theirs, and the sheriff was even called. We were happy to go
Jul 19, 2020
Not at all what we expected or described to us at booking. Cabin was Nasty and not cleaned prior to arrival; food everywhere, shower tub was clogged, dust and grime everywhere. The air conditioning unit in the cabin was broke. Way too hot to sleep. Make sure you request them to change linens before arriving. So disgusting.
Jul 19, 2020
Other than having a mouse in my cabin and no one answering my calls after hours, it was very nice.
Jul 18, 2020
Manager was EXTREMELY rude, unprofessional and derogatory. I had been going there for 30+ years and never seen such horrible customer service. Completely disappointed
Jul 13, 2020
Great fun BUT we have been staying in the same cabin (63) for 3 years and things that were broken/run down years ago, are still broken/run down. For example the shower head barely squirts water out, the floor is coming up in the kitchen, the vent to the outside of the cabin is clogged with gross stuff and the screen door does not close. With the cost of the cabins, better up keep would be nice.
Jul 13, 2020
We rented a deluxe cabin. It was very clean and the perfect size for our family. The campground was clean and well maintained.