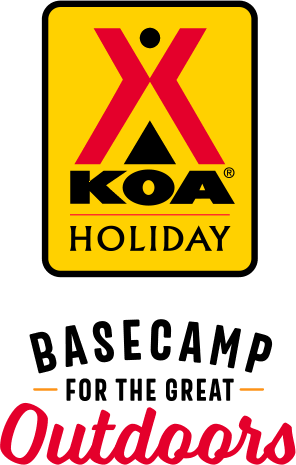 KOA Holiday Campgrounds
Whether you're exploring the local area or hanging out at the campground, KOA Holidays are an ideal place to relax and play. There's plenty to do, with amenities and services to make your stay memorable. Plus, you'll enjoy the outdoor experience with upgraded RV Sites with KOA Patio® and Deluxe Cabins with full baths for camping in comfort. Bring your family, bring your friends, or bring the whole group – there's plenty of ways to stay and explore.
KOA Holidays Feature:
RV Sites with a KOA Patio®
Deluxe Cabins with full baths
Premium Tent Sites
Group meeting facilities
Directions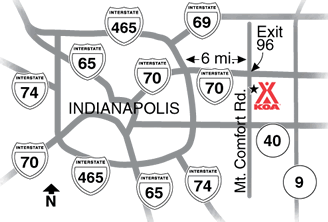 We are located about 10 miles east of downtown Indianapolis just off I-70 at Exit 96 which is the Mt. Comfort Exit. Go South 1/4 miles past McDonalds & the Shell Gas Station and turn left on County Road 200.   The camp is on the left.  It is possible to enter the campground by turning left at the light across from McDonalds - in which case you'd take an immediate right after entering the camp & follow the signs to the office.
GPS: N39.816021. W85.911252
Get Google Directions
Apr 06, 2021
We had a great time. The people in the office are so nice. We loved the spot we were in. See you in May
Apr 06, 2021
We love this KOA but would like to see a better laundry facility and playground.
Apr 06, 2021
Excellent stay. The gal that checked us in did an awesome job of being friendly and helpful!
Apr 06, 2021
Staff is awesome!
Apr 06, 2021
The park was clean and very well maintained. The staff there was amazing and so nice. Their customer service was incredible.
Apr 06, 2021
A quick stay for family emergency. KOA worked with me and made my stay pleasant and easy.
Apr 06, 2021
Staff very friendly. However, lack of bath houses or just bathrooms on sight is an issue. Had visitors for 3 hours sitting at sight...cost 30. You have to like them on FB to use wireless. You do not get the KOA discount. Honestly, just not up to the standard of other "Holiday" KOAs...this is more comparable to a Journey. Surrounding area is rather run down...where we had to run 10 mins to Walmart.
Apr 05, 2021
Love staying here. We come to KOA holiday in greenfield once a year. We are seasonal RVers and this campground has all the basics you need. Love that they have propane fill, food orders, and wood on site. For a 3 night getaway, this KOA has everything we need. Also the staff is always energetic and fun to be around. Definitely a plus when we visit.
Apr 05, 2021
Everyone at this KOA was very helpful with our stay young lady that works at the desk even helped me back my new camper in delivered my firewood and we even had a delicious pizza thank you very much Indy KOA A convenient place to visit Indianapolis
Apr 05, 2021
Love to stay here !!!!!
Apr 05, 2021
Great! But, wish they had a hot tub.
Apr 05, 2021
Very friendly staff, and sites are semi big, and the campground has a lot of area to take walks.
Apr 04, 2021
Very nice quiet place. Nice people. Would have been a 5* but wish office staff would wear masks due to covid.
Apr 04, 2021
Always clean Always friendly. We will return this summer
Apr 04, 2021
Frozen water
Apr 03, 2021
The best Campground I've ever stayed at. Staff was the friendliest ever. Wld definitely come back. Only down fall was we didn't check for the wind which was very scary. We almost left but to scared too. However, that was out fault for not checking weather. Wld definitely DO again. Love it
Apr 03, 2021
We have stayed at this KOA many times before and will again. The campground is lovely and they give you so many options on camping sites. Rachel is always so friendly and helpful!
Apr 03, 2021
We only stayed one night and arrived late but the map with our spot number was waiting for us. The site and bathrooms were clean. My kids loved the horses!
Apr 02, 2021
This was not worth the price we paid.
Apr 02, 2021
Very friendly staff and clean facilities. Would be great to come back in the summer.
Apr 02, 2021
It was just an overnight stay on our way home. The staff was friendly in the lot size was generously sized . If we had to do a few days worth of things in Indianapolis, we would definitely stay at this KOA.
Apr 02, 2021
I was shocked when I went in the office and no one was wearing a mask. Wearing a mask protects vulnerable individuals from you more than it protects the wearer. It is out of respect that I still wear one even though I have been vaccinated. The employees refusal to wear a mask speaks volumes about their attitude towards their guests.
CAMPGROUND RESPONSE / COMMENTS:
Let us first thank you for your tough job as a mask policeman. Please understand that some employees do not wear mask due to health concerns. Due to HIPPA and 4th Amendment we cannot legally ask why each person is or is not wearing a mask. Thank you!
Apr 01, 2021
Everyone was very kind and helpful
Apr 01, 2021
The employees were great!
Apr 01, 2021
Always the best!! We love this campground. Super friendly staff and extremely clean. Great sites!! Fantastic location. BTW---their pizzas are a must while you are there!!
Apr 01, 2021
Everything was great. The staff was super friendly, everything was clean. Honestly, it was one of the best KOA's that I have had the opportunity to stay at. I would 100% book my stay here again if I'm ever in the area.
Apr 01, 2021
Buddy sites are only good if you're with your buddies. These sites are super tight. Our slides were nearly touching the slides of the rig next to us. This campground looks beautiful but we were only there for one night and did not have the time to explore
Mar 31, 2021
As always. We loved the camp and everyone that works there. We always have a great time and enjoy the activities.
Mar 31, 2021
Excellent camping experience! Clean facilities and the staff was the sweetest! Will definitely be back!
Mar 31, 2021
Very clean and tons of energy from the staff!!
Mar 31, 2021
Loved all the improvements! Swings, concrete pads, pergolas, fireplaces!!
Mar 29, 2021
This park was very well maintained and beautiful! Park staff were also very pleasant and helpful. Easily one of the best stops we made along our trip, would happily stay here again when in Indianapolis, and would recommend others do so as well!
Mar 29, 2021
This was our second stay at Indy KOA. The campground was great and the staff was superb! Everyone was extremely friendly and helpful. The grounds are very well kept and the office/store was nicely supplied with necessities and novelties. Lots of things to do in the area and great local restaurants. Loved our stay here!
Mar 26, 2021
Short two night stay after picking up our RV at Mount Comfort RV. Easy access, great pull through site, friendly people.
Mar 26, 2021
Staff was very friendly. Facilities were clean. Spots were great with plenty of room. Easy location.
Mar 26, 2021
Park was clean and the spaces were large so you weren't sitting on your neighbor. The large spaces were get great for our dogs. My only complain I had was that they had signs posted that masks were required in their office but both times I had to go into their office none of the employees had any masks on. I felt very uncomfortable with them not having masks or any type of protective shield up.
CAMPGROUND RESPONSE / COMMENTS:
IF YOU HAVE A MEDICAL CONDITION THAT PREVENTS YOU FROM WEARING A MASK, YOU ARE EXEMPT FROM THIS ORDER. DUE TO HIPPA LAWS AND THE 4TH AMENDMENT, WE CANNOT LEGALLY ASK YOU ABOUT YOUR MEDICAL CONDITION. IF WE SEE YOU WITHOUT A MASK, WE WILL ASSUME YOU HAVE A MEDICAL CONDITION AND WELCOME YOU!!
Apr 15, 2021
The staff here is extremely friendly. The dog park is a nice size for the size of the park. The bathrooms were immaculate. They deliver pizza and firewood at lightening speed that is reasonably priced.
- Steve Fishburn on Google
Apr 14, 2021
Great people at check in, no problems there with our reservation. They have a nicely stocked gift shop, and everything was clean. The patio site had a great pergola with hanging swings and lights. The large stone fireplace was beautiful, though we did not use it, or the bbq grill. The site was level, and there was more room between sites than at your standard KOA. Only downside were some large muddy potholes, but considering that we visited in early spring, I know that these folks will take care of that in the near future, the whole campground is well cared for and recent updates are visible everywhere. While we did not use the pool, it looked like it would have been a lot of fun for the kids with several slides, and other water attractions. I will most certainly stay here again in the future
- michigander311 on Trip Advisor
Apr 12, 2021
Great staff and facility!
- Joshua Copp on Google