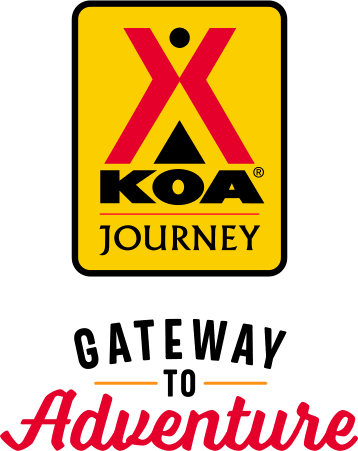 KOA Journey Campgrounds
KOA Journey campgrounds are the perfect oases after a day on the road. Whether it's along the way or a quick getaway, they've got you covered. Located near the highways and byways of North America with long Pull-thru RV Sites, they deliver convenience to the traveling camper. Pull in, ease back and take a load off.
KOA Journeys Feature:
Pull-through RV Sites with 50-amp service
Premium Tent Sites
Well lit after hours check-in service
Directions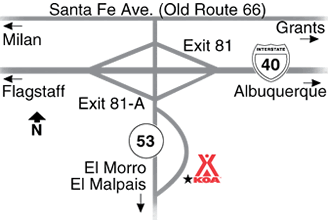 We are easy to find. If you are driving I-40 West from Albuquerque take Exit 81, or I-40 East from Arizona take Exit 81A, then turn south on NM 53 at the top of the exit ramp. Look for KOA signs on the left and within 1/2 mile of the interstate. GPS: N35.14512, W107.874178, or If arriving after 5:00 pm call us at 505-287-4376 and we can help you.
.
Get Google Directions
Oct 12, 2021
Stayed for 3 nights as a basecamp for motorcycling in the area. The campground was exactly as described. Bathrooms were the nicest of any campground I have ever stayed in. Being able to have a meal delivered directly to my campsite was nice after a long day of riding. I appreciated how separate the tent area was from the rest of the park.
Oct 10, 2021
They had redone the bathrooms since there last and they are great. A lot like how gyms have them now shower, toilet ant sink all in one private room I believe there were a total of 4 individual rooms inside bathroom.
Oct 08, 2021
Well maintained! Nice bathroom (tent site).very convenient which means noise from I40, of course. The night trains which blow their horns are romantic but do disturb sleep, our only problem. We recommend this KOA!
Oct 07, 2021
Beautiful, well kept, clean campground and individual bathrooms. We would give 6 stars if we could.
Oct 05, 2021
Clean place, bathrooms, laundry room. Staff were very friendly. Quiet place. Would stay again.
Oct 04, 2021
Very accommodating and through on checking in if after hours. The grounds and bathroom facilities are very well maintained. Nice variety for a continental breakfast.
Sep 19, 2021
Too many flies, sewage sting. Other then that it was nice, bathrooms we're awesome. Delivery of the food was awesome, food was delicious. Love staying at KOAs each one is unique in its own way.
Sep 13, 2021
I had a lovely, peaceful stay at Grants KOA! The extra touches like a fresh cookie upon arrival, the continental breakfast, and optional dinner menu really made the stay special. Plus the sparkling clean bathrooms and showers were truly great.
Sep 07, 2021
Really enjoyed the site. The continental breakfast was a great, unexpected amenity. We will be back.
Sep 06, 2021
Everyone was polite and the grounds were clean.
Sep 02, 2021
We came after hours but a volunteer helped us find a spot the camp was clean and nice the bathrooms were spectular!! Loved it
Aug 31, 2021
Comfortable. Safe. Outstanding service.
Aug 31, 2021
Exactly what we needed
Aug 24, 2021
Cleanest bathroom and campsites at any KOA we've ever stayed!! Super appreciated the late check-in process and being able to sleep easily after a very long drive.
Aug 17, 2021
Rt. 66 road trip . This KOA is right off 66. Clean Bathrooms. Nice continental breakfast. Friendly and helpful staff. We stayed in a tent site with electric. Excellent gravel tent pads also.
Aug 10, 2021
Host helped me when I came unexpectedly and without reservation. It was after dark. She was great! Nice gift shop and coffee ready in morning.
Aug 10, 2021
Management and staff are amazing. New bathrooms were a pleasant surprise. Felt pampered! Being able to order dinner (with pie!) was a real treat. Continental breakfast was nice and coffee was awesome! It was nice and dark and quiet at night. We will be back! Our favorite KOA.
Jul 20, 2021
Very clean and easy late arrival system.
Jul 14, 2021
Very well organized , site was large with privacy , free continental breakfast , dinner offered and a great price and the nicest bathrooms of any KOA !. Must have been newly renovated - really impressive .
Jul 13, 2021
The staff was unbelievably friendly They were there to help with anything needed & very thorough in giving me a rundown of all the amenities.The general store was well-stocked, I got achocolate chip cookie (definitely my favorite) at check-in, a full laundry facility, extremely clean & updated showers, & even had an on-demand menu of dinners cooked onsite & delivered to your campsite. Great place!
Jul 06, 2021
We enjoyed our stay! Would do it again.
Jul 06, 2021
The most friendly staff of all KOA's I've visited. The continental breakfast is so convenient and the cookies received at check-in is a very nice touch. The hike through the lava field impressed the grandchildren.
Jul 05, 2021
I enjoyed the owners and what they offer people staying here. They offer a complimentary breakfast and their store was updated with everything you would need for a trip and other goodies. The tent area where we stayed is nicely lit and orderly. My only complaint is how loud the train was so it was very hard to sleep. Other than that great location. They also have a nice trail by the lava rocks.
Jul 05, 2021
GREAT KOA. Staff very friendly and accommodating. Private bath/Showers and very clean. Although in a somewhat remote location, it's close to I-40 and Walmart about 2-1/2 miles away. Food is cooked and served at your campsite if you choose. I would definitely stay here again, and again, and again. Thanks Grants KOA for a wonderful stay.
Jul 02, 2021
Only downside to this KOA is there isn't a pool. But besides that is is a very clean campground, our tent site had pea gravel which is super helpful in preventing a swamped tent. Bathrooms were extremely well kept and very nice. Also very nice staff and good continental breakfast.
Jun 25, 2021
Our second stay at Grants KOA. Helpful staff, fine breakfast served, facilities clean. Bathrooms and showers very clean and modern.
Jun 22, 2021
Not having pool ready was dissapointing.
Jun 21, 2021
The tent site was good. However, it is very loud at night due to trains.
Jun 20, 2021
The entire facility was spotless and the new shower/toilet facilities are amazing. The staff went well beyond what could possibly be expected. They had an evening mail available for purchase, I had BBQ brisket that was excellent and they also provided continental breakfast the next morning. Minimal shade, but in NM after 6 it cools nicely no matter what the daytime temperature might have been.
Jun 18, 2021
Very friendly staff, welcome cookie & continental breakfast- very nice treat.
Jun 17, 2021
Staff were very friendly!
Jun 11, 2021
The tents camping area was perfect for a one night stay. All the facilities, bathroom/shower (clean and excellent), clothes washers, were all conveniently located. I enjoyed chatting with the host and hostess.
Jun 05, 2021
So delightful! Campgrounds are clean, modern, well laid out. We were in the tent camping area, situated conveniently close to the bathrooms/showers and well equipped laundry area. Bathrooms/showers were very clean, private and secure. The business area of Grants is less than a mile, including a Super WalMart. Quiet. They even provide a free continental breakfast! We will be back!
Jun 04, 2021
I arrived in grants to tent camp on a holiday with rain and temperatures predicted to be in the upper thirty's. I only had a thin blanket. (Unfortunately, no cabins were available to rent for that night). The campground host was extremely compassionate and offered me additional devices for warmth through the cold night. Thank you so much for your help.
May 31, 2021
Great stay and staff
May 28, 2021
Beautiful scenery, great tent facilities & outstanding staff!
May 27, 2021
Clean bathrooms. Loved the nature walk. Loved the coffee abs breakfast in the morning and the dinner that was offered. We had a great experience. The only suggestion I have is a little bigger play area. Thank you!!
May 24, 2021
The recently refurbished shower/bathroom facilities were excellent. We also enjoyed the little trail through the lava fields.
May 23, 2021
Very nice campground. Clean bathrooms and a well kept grounds in general. Enjoyed staying here and would again if I'm out that way.
May 20, 2021
One of our favorites. Paul and Dena are great. The newly renovated restrooms; two thumbs up.
May 11, 2021
Staff was great...quiet clean ...highly recommend!
May 06, 2021
It was GREAT and to be on the road AGAIN was even better with KOA!
May 03, 2021
Very clean grounds, the bathrooms were spotless and staff super friendly . Continental breakfast was great! We had a tent site that was clean and level.
Apr 22, 2021
We stayed one night in a deluxe tent site. There was a privacy fence and the tent pad was gravel. We fit both vehicles at our site. The bathrooms were decent with one keypad entrance to multiple coed facilities. We had yummy dinner service which had multiple options. We enjoyed free juice and donuts in the morning. We didn't get to walk the lava trail but it sounded cool. Staff was super friend
Apr 20, 2021
Very clean and we loved the walking trail.
Oct 17, 2021
Nice campsite, office staff very friendly and helpful. They even prepare dinners and deliver to your campsite.
- Mary Wilson on Google
Oct 15, 2021
Very clean and well maintained. 👌
- casey phillips on Google
Oct 14, 2021
Great place. Amazing folks in charge. Lovely tree shaded sites. Can order on site pizza! Great place. Recommended.
- Susan Gilbert on Google