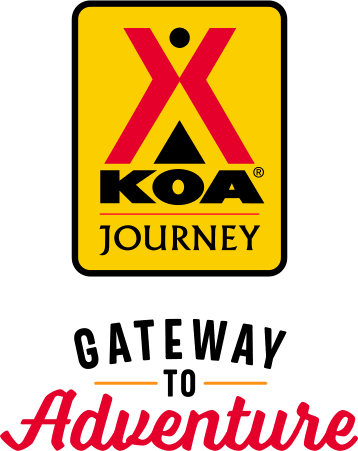 KOA Journey Campgrounds
KOA Journey campgrounds are the perfect oases after a day on the road. Whether it's along the way or a quick getaway, they've got you covered. Located near the highways and byways of North America with long Pull-thru RV Sites, they deliver convenience to the traveling camper. Pull in, ease back and take a load off.
KOA Journeys Feature:
Pull-through RV Sites with 50-amp service
Premium Tent Sites
Well lit after hours check-in service
Directions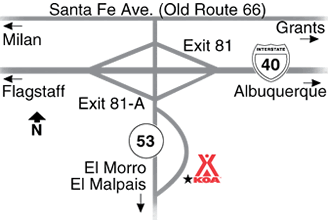 We are easy to find. If you are driving I-40 West from Albuquerque take Exit 81, or I-40 East from Arizona take Exit 81A, then turn south on NM 53 at the top of the exit ramp. Look for KOA signs on the left and within 1/2 mile of the interstate. GPS: N35.14512, W107.874178, or If arriving after 5:00 pm call us at 505-287-4376 and we can help you.
.
Get Google Directions
Apr 06, 2021
Staff very friendly. Bathroom clean and modern.
Apr 06, 2021
Very friendly! And so helpful in what to see what we can in the area. Loved their love trail with the history of the area. And enjoyed that you could order food during this season of shutdown!! Laundry facility was clean. Definitely will stay here again when passing through!
Apr 06, 2021
The turkey dinner was to die for. Great perk!! The door to my cabin didn't seal completely and it was a little cold. Very friendly staff, and thanks for the continental breakfast!
Apr 06, 2021
Great friendly staff. Great bathrooms/showers.
Apr 06, 2021
Perfect stay; close to road and yet away from noise, well maintained and improving! Was pleasantly surprised with the upgrades since last stay. AWESOME staff, AWESOME site delivery dinner and cookies upon check in! Who needs Double Tree?! Well done GRANTS KOA!! Will see you in a couple of weeks when returning to Dallas... and looking forward to it!
Apr 06, 2021
I loved the cabin. The ac wasn't working so I pulled out the filter and it was clogged. Also the water in the bathrooms smelt like sulfur. But I did like the bathroom set up. And how cute the property was around the cabin. It was right off the highway too, so that helped a lot.
Apr 05, 2021
Quaint kabin. Worked ok for a night. The bath house is quite far from the kabin, the bed very wobbly. Really good looking dinner menu, did not take advantage of it, but was a nice offering of assorted home-cooked meals.
Apr 05, 2021
Most friendliest People I ever met. Showed us the right direction for sightseeing. Great food delivered to the Campsite. Clean campsites and facilities. Thank you
Apr 05, 2021
Grants KOA was a great stay! We enjoyed the delicious BBQ plate that was delivered to our RV. Good luck to all the staff and we will be back in the future! Also, the cleanest bathroom/shower I have ever been in. Thanks again!
Apr 05, 2021
It was the best KOA stay we've ever had. Staff was so friendly. Fresh made cookies for us and treats for our dogs. We ordered dinner and it was hot and delicious. Well worth the price. We will return here again when in the area.
Apr 05, 2021
Spent 1 night here, very easy access and nice wide lots. The scenery was amazing and the lava rock fields were a pleasant surprise. Will definitely stay here again.
Apr 04, 2021
The friendliest best KOA so far. What awesome people.
Apr 04, 2021
Easy check in and parking. Staff very congenial..handed out choc chip cookies. Full dinner menu and delivered to camper. Lava field hike. Wish we were staying longer. ��
Apr 04, 2021
We had been traveling all day. I had tried to find a place near Albuquerque but they were filled. We pulled into this KOA after hours and they took care of us. It is nice and they serve complimentary coffee & breakfast! When you are on the far end, you have a beautiful view of Mount Taylor. We stayed one more night because there are great hikes and many things to see Great staff!
Apr 03, 2021
Everything i expected at a KOA.
Apr 03, 2021
Hosts are very helpful, friendly & happy. Provide extra touches to make people feel welcome.
Apr 02, 2021
Very nice super friendly staff. Immaculate bathroom and shower area. Would stay again.
Apr 01, 2021
Nice staff, super restrooms, and meal service option!
Mar 31, 2021
I like going g to Grants KOA. They have a wonderful chef who cooks up great barbecue food! The staff is really nice. Plus I like their Indian jewelry that is for sale.
Mar 31, 2021
Nice people!
Mar 31, 2021
So warm.and welcoming!! Warm cookies and a friendly staff. There was even a small continental breakfast in the morning! It was small, but would definitely stay here again
Mar 31, 2021
Excellent staff, beautiful neat and clean park. Loved the educational walk through the lava flow. And dinner delivered to our door was a nice treat.
Mar 31, 2021
Easy in and out. It's in the desert, but there are lava mounds from ancient volcanos in the park. Very cool. The people that run it are great Americans! I ordered a home cooked meal from the kitchen. They deliver it right to your unit. A had turkey, dressing, mashed potatoes. It was FANTASTIC. Lots of places to walk your dog along with a nice fenced area. I'll be back.
Mar 31, 2021
It's a nice, quiet small park. They do need to upgrade their water system so it doesn't become unusable in winter weather. Or give a discount since they don't have full hookups during freezes. The employees are very nice & helpful. This park stands out based on their employees.
Mar 31, 2021
Very nice KOA of a journey branch. Clean nice bathrooms. Very friendly staff.
Mar 28, 2021
Outstanding customer service. So willing to help. It was a great surprise to have continental breakfast and a cafe for dinner delivered to our RV. We will definitely come back.
Mar 28, 2021
Best bathroom/shower. Brand new
Mar 28, 2021
All the employees we encountered were some of the nicest, most friendly people you could ask for! The food was a great service feature, so nice to have a hot meal on a long trip without a lot of fuss. Overall wonderful hospitality and location. Will definitely be back!
Mar 27, 2021
We only stayed over nite so didn't get to much of a feel for the place but front office staff was very friendly and they have some great amenities. Loved the walking path loop. Learned a lot about the area from the signs. �
Mar 27, 2021
Enjoyed your park very much. A young guy working there, I believe his name is Chase, was very helpful in changing out our 30 amp plug. He's good people!
Mar 27, 2021
All I expected just a little cold for this time of year. Thanks for the free donuts.
Mar 26, 2021
Very friendly and helpful staff. Quiet location close to but outside of town. Appreciated the little off-leash area, thoughtfully supplied with corgis for ours to play with. It had snowed 6 in. that morning and melted, so it was mucky at first, but drained fairly quickly. No easy places to take a walk, other than around the KOA itself. Smiths a good grocery in town. The Cafecita tasty takeout.
Mar 26, 2021
Camp was clean and well maintained. Meals offered were very good. All services provided worked very well. Thanks for the pleasant stay!
Mar 25, 2021
Clean, quiet, beautiful vistas, dog friendly, and an excellent foot path through the lava flows on the property. By and far the best KOA I encountered on my cross country road trip. Thank your hospitality! Had i not been on my way to LA, i would have stayed much longer! Sharon & Bonbon
Mar 25, 2021
Had a very warm welcome.... Didn't feel like cooking our first night there had a wonderful turkey Thanksgiving dinner... Got ready to leave and it was a little cold I mean real cold and they were so helpful with getting my diesel truck started very nice group of people
Mar 24, 2021
Very welcoming staff. The site was not paved. But fairly level. A bit narrow, but all sites are pull thru. They offered a continental breakfast which was great! Didn't get a chance to try their dinners, but will do that when we return.
Mar 24, 2021
Awesome! Dinner was great. Delivered to our site. Friendly staff.
Mar 24, 2021
This KOA has so much love and character. The staff is super friendly, and I got a treat upon arrival. I loved that they have dinners available for a fee, delivered to your campsite and I loved the interactive trail that explains the lava flows and the badlands. I ended up purchasing a beautiful Navaho necklace in their store. I also took my dog downtown to the river walk. A+++ bathrooms!
Mar 24, 2021
This was a very nice place to stay. Bathrooms were new and private. Owner was very friendly. The only suggestion I would make is to provide a small grassy area for dogs. We could not get our dog to take care of her bathroom needs on the rock.
Mar 24, 2021
One of the friendliest KOA's we've ever stayed at. Cookies and koozies on arrival, home made turkey dinner delivered to our camper, complimentary breakfast, nice gift shop and great little walking trail to work out the driving kinks. Would stay there again!
Mar 24, 2021
Driving through and they could fit our 2 vehicles in.
Mar 23, 2021
The best KOA cabin we've stayed in, more roomy than the others I've stayed at, seemed newer and cleaner. Like the individual showers/bathrooms.
Mar 23, 2021
Great people! Very kind and all was good.
Apr 10, 2021
Best KOA shower and restroom facilities. Walking path is pet friendly. Nice staff.
- Charles Klenner on Google
Apr 08, 2021
The owners here do a fantastic job. The area is clean and there are accommodations for dogs. Bathrooms and showers are immaculate. And they even offer a continental breakfast for those that need to head out early. Just an excellent experience overall!
- Curtis Scott on Google
Apr 07, 2021
Fresh cookies! Clean new bathrooms! Water is protected in cold weather. What a great place to stay! They even have home cooked meals delivered to your site!! We'll definitely stay again on our way through.
- Andrea Nelson on Google