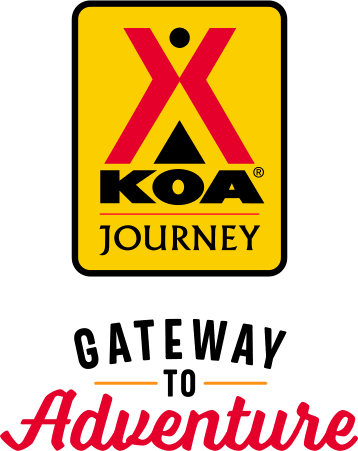 KOA Journey Campgrounds
KOA Journey campgrounds are the perfect oases after a day on the road. Whether it's along the way or a quick getaway, they've got you covered. Located near the highways and byways of North America with long Pull-thru RV Sites, they deliver convenience to the traveling camper. Pull in, ease back and take a load off.
KOA Journeys Feature:
Pull-through RV Sites with 50-amp service
Premium Tent Sites
Well lit after hours check-in service
Directions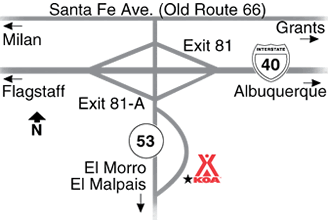 We are easy to find. If you are driving I-40 West from Albuquerque take Exit 81, or I-40 East from Arizona take Exit 81A, then turn south on NM 53 at the top of the exit ramp. Look for KOA signs on the left and within 1/2 mile of the interstate. GPS: N35.14512, W107.874178, or If arriving after 5:00 pm call us at 505-287-4376 and we can help you.
.
Get Google Directions
Oct 16, 2021
We loved the roomy, super clean showers and the laundry room. All staff members were wonderful. There was an unpleasant sewer smell around the sites.
Oct 16, 2021
Friendly staff, Updated restrooms, Great overnight stay
Oct 16, 2021
Excellent stay nice and quiet
Oct 15, 2021
Easy off highway, clean and well kept. Great camp store and laundry facilities. Nice shower. Awesome Lava trail for walking, peaceful and calming. All the staff was nice. They have a great food menu and delivery to your camper. Food was very good. My favorite KOA so far!
Oct 15, 2021
LOVE this camp! The homemade dinners and best pies delivered to your site...all I can say is WOW! We will make this a regular stop.
Oct 15, 2021
Always a pleasure. It's far enough away fro the freeway that noise is minimal. Staff are friendly and helpful. Love that they offer dinners after a long day on the road. Grounds are well maintained and the laundry room is immaculate.
Oct 15, 2021
Just an overnight between destinations. Spaces are very close together. The dog area was just an undeveloped space in the back. All dirt, no grass,picnic table needed to sit next to the neighbors hook ups. Should have been a $30 location.
Oct 15, 2021
Walk in the lava field and continental breakfast were good.
Oct 15, 2021
The Grants KOA is very convenient and easy to access for us. The hosts were cordial, brief and informative. We were offered homemade cookies and dinner. We couldn't accept cookies due to diet restrictions and dinner was already planned. Guests were well mannered. The park was quiet and peaceful
Oct 14, 2021
Everything was perfect! Very clean and updated restrooms. Great little shop with quite a variety of things you might need. Park is very well maintained. We had no problem getting in and out with 36' Fifth Wheel. Very convenient off and back on to I40. Managers were very friendly and helpful.
Oct 14, 2021
We love this park, this was our second time staying here. Great jumping off point to see the beauty of NM. The owners are fantastic, the dinners they offer are wonderful. Nice level spots. The lava flow is just icing on the cake. The owners truly care.
Oct 14, 2021
It is so dirty, not like a normal KOA use to be.
Oct 13, 2021
I loved the dog walk trail with informative signs explaining the landscape. The bathrooms were beautiful. This was a comfortable and convenient stop.
Oct 13, 2021
Campground was fine , staff was friendly. My only complaint is I asked if we could stay another night and staff said she would try to work something out and would call me back . I never heard back from her . We decided to go elsewhere.
Oct 13, 2021
We pass through twice a year in May and in October and have stayed here for the last 5 years. Very nice.
Oct 13, 2021
Convenient for traveling cross country as it is right next to the interstate. Nice gift shop and helpful staff. Spaces are small which is typical for this type of KOA
Oct 12, 2021
Excellent facility. Clean, well maintained and nicely laid out. Breakfast was nice. Staff friendly and welcoming.
Oct 12, 2021
Very clean, well maintained. Great dinner we ordered delivered to our RV.
Oct 12, 2021
Wonderful place to stop. We stayed one night going and stayed another on the return trip. Food on both trips was great and saved us from cooking and then the continental breakfast both mornings just "hit the spot". Dogs were very welcome and the staff was wonderful. We will be back. John, Wendy, Dally & Mo La Veta Co.
Oct 11, 2021
Very clean and quiet and we really enjoyed the complimentary breakfast.
Oct 11, 2021
Great 3 night stay. Enjoyed the nearby attractions and local restaurants. Campground was clean and quiet.
Oct 11, 2021
Nice koa, long but narrow sites. Recently updated.
Oct 10, 2021
Staff was very friendly and helpful, free continental breakfast and dinner to order, nice gift shop, met some nice people, just a little far from Amarillo
Oct 10, 2021
Really enjoy this KOA. I had occasion to use the bathroom/shower and it is immaculate! The only complaint I have is that in a state with an indoor mask mandate, no one in the office was wearing a mask. Not good.
Oct 10, 2021
Nice people, level sights, great showers. Worth every penny!
Oct 10, 2021
Great hosts . Nice campground
Oct 09, 2021
Very friendly staff clean laundry and restrooms. Very nice place
Oct 09, 2021
Staff is super friendly and helpful. Showers and bathrooms clean and well taken care of. Plenty of hot soft water, but, mostly great staff.
Oct 09, 2021
Great place and people.
Oct 08, 2021
Loved the dinner options! Great meal and nice to have the option when you have been traveling all day!
Oct 07, 2021
It was so nice that you can have dinner there.
Oct 07, 2021
Excellent KOA! Free breakfast, awesome private showers, dinner delivered to our site.
Oct 06, 2021
Staff friendly and courteous. Sites open. Two dog parks well kept. The food was wonderful. Even had a quick breakfast so you could be on your way. I would stay again.
Oct 06, 2021
Very friendly staff
Oct 06, 2021
The meal service was great. The sites need to be improved with more gravel. It was a muddy mess when we arrived.
CAMPGROUND RESPONSE / COMMENTS:
Thank you! We are working on adding gravel. We have had unseasonal rain which caught us off guard!
Oct 06, 2021
Electrical hookup was dangerous. The 30A breaker was connected to the standard 20A outlets. Without an adapter, no power would have been available at all. The 20A breaker was loose and broken and it was connected to the 30A outlet. Ground faults of about 1.6V were measured between phase and ground with the breakers off. Paid for cable but it was not available at our site. Sewer smell from owners
CAMPGROUND RESPONSE / COMMENTS:
Thank you so much for letting us know! We have called in an electrician and this has been repaired.
Oct 05, 2021
nice stay, good dog park, nice continental breakfast. Site had full hookups, wifi was quite weak
Oct 04, 2021
Basic basic. Walking area for dogs. Breakfast provided! They'll even make dinner for you!
Oct 17, 2021
Nice campsite, office staff very friendly and helpful. They even prepare dinners and deliver to your campsite.
- Mary Wilson on Google
Oct 15, 2021
Very clean and well maintained. 👌
- casey phillips on Google
Oct 14, 2021
Great place. Amazing folks in charge. Lovely tree shaded sites. Can order on site pizza! Great place. Recommended.
- Susan Gilbert on Google