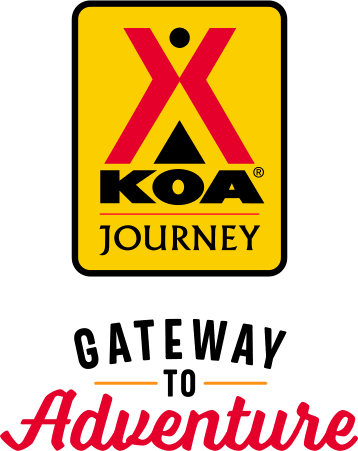 KOA Journey Campgrounds
KOA Journey campgrounds are the perfect oases after a day on the road. Whether it's along the way or a quick getaway, they've got you covered. Located near the highways and byways of North America with long Pull-thru RV Sites, they deliver convenience to the traveling camper. Pull in, ease back and take a load off.
KOA Journeys Feature:
Pull-through RV Sites with 50-amp service
Premium Tent Sites
Well lit after hours check-in service
Directions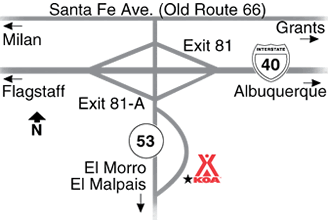 We are easy to find. If you are driving I-40 West from Albuquerque take Exit 81, or I-40 East from Arizona take Exit 81A, then turn south on NM 53 at the top of the exit ramp. Look for KOA signs on the left and within 1/2 mile of the interstate. GPS: N35.14512, W107.874178, or If arriving after 5:00 pm call us at 505-287-4376 and we can help you.
.
Get Google Directions
Sep 30, 2021
to short, this is where we'll stay when we visit the Hot air ballon lift off, We had been tenting across the country and this was the most organized, friendly, CLEAN facilites . the only continental breakfast where we meet the owner, talked and shared info with other campers, all of this before setting out for the days adventures. I do NOT normally submit "rate your stays", but Grants desirves th
Sep 27, 2021
What a great KOA! Very friendly and efficient.
Sep 22, 2021
Sweet people. Clean facilities
Sep 13, 2021
I loved this location. The staff were very nice and the bathrooms were very nice and very clean. They had a dinner service that was wonderful. The only reason I don't give it a 5 is because it was super stinky from the RV's black water. I don't know if they weren't hooked up correctly or what but it was bad and that may not have anything to do with the location.
Sep 11, 2021
stayed in the bunkhouse cabin because we had our dog with us. simple and small, but clean and had an authentic cabin feel. campground has 2 small dog parks and a pleasant walking trail.
Sep 09, 2021
very clean (including bathrooms!) and friendly,helpful staff
Sep 08, 2021
Great staff, great food. Excellent service.
Aug 30, 2021
nice cabin w. tv, esp liked the con. breakfast- unexpected
Aug 25, 2021
Great KOA one of the best we have stayed in. KOA Cabin was clean and very functional the AC worked and had a Tv. Dinner delivered to us Hugh plus. Bathrooms were new spotless and high quality. Staff friendly and very good. Really enjoyed our brief overnight stay. Very accommodating for our dogs immaculate dog run and great trail thru lava rocks.
Aug 21, 2021
I liked the fact that this KOA was near the lava beds in Grants.
Aug 17, 2021
This was the nicest and cleanest KOA!!! We have stayed in. People friendly courteous and helpful �
Aug 09, 2021
Very clean cabin, cookies were great! Only weird thing was my car was covered in flies everytime i went to it,possibly because of the horse dens behind the cabin but it was harmless. Clean bathrooms!
Aug 01, 2021
It felt like coming home. Everyone was so welcoming. The facilities we're very well kept. Thanks!
Jul 31, 2021
We loved the cabin for 2. Nicest cabin we have ever stayed in. Breakfast was a really nice option also. Thank You!
Jul 26, 2021
Loved this site. Would recommend it at any time.
Jul 24, 2021
GREAT STAFF AND NICE LOCATION.
Jul 24, 2021
We managed to get a cabin at the last minute. Staff was friendly. The breakfast in the morning was nice.
Jul 21, 2021
Only stayed for one night. We arrived after closing. Easily found our info pack to self check-in. Staff was very friendly and helpful!
Jul 10, 2021
Our cabin was great. The showers and bathrooms were really clean and updated. The staff were all amazing and they had free continental breakfast.
Jun 27, 2021
Dena at check in was probably the best KoA staff I've ever met. Cabin was clean and well maintained. Bathrooms were super clean and updated. I will stop there again.
Jun 24, 2021
Campground was nice, however check in staff wasn't welcoming or particularly friendly. Kind of put a damper on our stay.
Jun 19, 2021
Bed very uncomfortable and ac didn't work well in the hot weather
Jun 17, 2021
It's a beautiful KOA with great meal service and our cabin was clean and comfortable. It was really hot (98 degrees) so it would have been nice if the air conditioner had been turned on at check in time so that when we arrived it had at least started to cool the cabin off. It took 6 hours on the coldest setting and highest fan to become tolerable. By morning it was finally a comfortable temperatur
Jun 16, 2021
A great stay!! Nice clean bathrooms and showers and a delicious dinner delivered to my site. However I forgot a very nice beach moisture wicking towel and they could not mail it back to me. I'm hoping to get it later this summer. It would be nice if a service could be provided to mail things back and the customer pays for postage. Thank you
Jun 07, 2021
Great! We will be back
Jun 02, 2021
nice location, great staff.
May 28, 2021
One night stay. Very clean! Friendly staff
May 24, 2021
Wonderful place to the really enjoyed ourselves love the accommodations. Very helpful and friendly staff.
May 23, 2021
Nice little cabin was very clean, hosts were friendly, and the meal was good.
May 22, 2021
The Grants KOA has been one of my favorite places to visit. I loved the fact that there was a trail in the KOA with signs! I hope to stay here again.
May 19, 2021
very clean campground, bathrooms and showers. we enjoyed our short stay.
May 09, 2021
Nice cabin. Friendly staff. Able to stretch our legs some on the lava trail - interesting site! If we're back through Grant's again, would not hesitate to stay.
May 04, 2021
First time KOA user. Stayed in one of the cabins as a stop on a long road trip. Really enjoyed the little cabin. The staff were super friendly and helpful.
Apr 29, 2021
Stayed in a cabin. Very nice and clean. Only drawback is the hike to the bathroom. Friendly staff. Continental breakfast, but we didn't participate. We would stay again
Apr 27, 2021
I stayed two nights and loved the walk amidst lava flows, the continental breakfast, and how clean the showers and bathrooms are. The cabin and the welcome were also fantastic ! Thank you �
Oct 04, 2021
Super sweet owners and very beautiful park to stay at.
- Joshua and Ronni-lynn Potter on Google
Oct 02, 2021
Very nice people, had barbque dinner was really good. Would recommend
- Katherine A on Google
Oct 01, 2021
Staff was absolutely wonderful. Restrooms and showers were spotless. Our site was level and large enough for 5th. Wheels. Two dog parks, one small and a larger one. Coffee, toast, cereal, donuts and juice in the morning. We would stay here again.
- Karen Hicks on Google