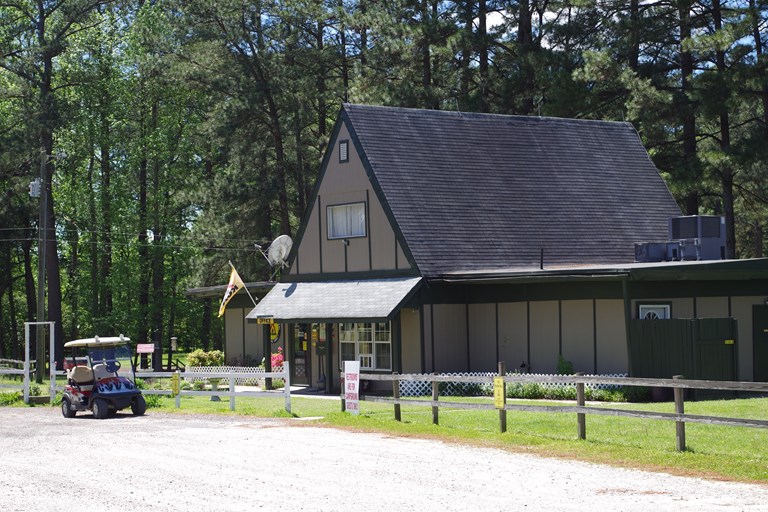 Local Area Attractions Near Enfield / Rocky Mount KOA Royal Palace Theatre
The Royal Palace Theatre is located only 15 minutes from our KOA! It hosts a 1500 seat concert theatre where musical artists, comedians, wrestlers and more perform!
I-95, Exit 171
Roanoke Rapids, NC 27870 Historic Stonewall
This mansion is an outstanding example of late Federal architecture in North Carolina and was built in 1830. It is open to the public every second Sunday of every month from 2 to 4 p.m. Group tours are available by appointment. 1-800-849-6825. This is located just off Hwy 64 ByPass E (Benvenue Rd, Peachtree St Exit) www.rockymounttravel.com Children's Museum & Science Center at the Imperial Centre
This historic facility opened in 2006 and houses 10 art galleries, an education facility, a state of the art theater, and a Children's Museum and Science Center.  Attractions include informative classes, hair-raising science demonstrations, planetarium programs and plethora of must-see exhibits to educate and entertain children of all ages.  Open Tues thru Sun every week, see web site for times and prices. Wonderful Wednesdays - Free admission for everyone from 2pm to 5pm!  www.rockymounttravel.com
270 Gay Street
Rocky Mount, NC 27804 Historic Halifax
Halifax County's rich history sets it apart. Several Indian tribes settled the area before the immigrants arrived in Halifax County. This history is celebrated each year at the Pow Wow Festival in Hollister North Carolina.
The Visitor's Center offers an audiovisual presentation, exhibits, guided tours and displays depicting the history of the town.  Several historic structures are open on the site including the Sally Billy House (1808), the Burgess House (1808), the Halifax County Jail (1838), the Tap Room (1760), the Eagle Tavern (1790), the Owens House (1760) and more.  The Montfort House portrays the lifestyle of this wealthy Halifax resident, the first and only Provincial Grand Master Mason of North America.
Halifax is the nation's birthplace of independence.  The historic document "Halifax Resolves" was signed here on April 12, 1776, predating the Declaration of Independence by almost 3 months.  It was the first official action for independence by any colony.  There is an annual Halifax Day Celebration coinciding with this date each year. 
There is also a production of "First for Freedom" put on each year by Eastern Stage Productions.  This outdoor drama depicts the events surrounding signing of the Halifax Resolves, based on a novel of the same name by local author, Max Williams.   
The Annual Fourth of July Celebration, is always held on the Fourth of July. This wonderful event provides entertainment for all ages and draws in approximately 8-10 thousand people a year to this small  town. There is  always lots of  food, fun and family activities.  
 
The Second Saturday in December, the Annual "Christmas in Halifax" is held with a  Halifax, with a Christmas Parade along King Street.  Historic Halifax also decorates the houses in period decorations and sponsors various other activities.
25 Saint David Street
Halifax, NC 27839 Battle Park
This provides a scenic drive, picnic facilities, scenic overlooks, walks along the Tar River and a marble monument to local Confederates killed in war. This park also features Rocky Mount's original Post Office, a very old graveyard and a great view of the Tar River falls. www.rockymounttravel.com
1308 Falls Road
Rocky Mount, NC 27804 Sunset Park
This 25 acre parks includes a Splash and Spray Park, a Skate Park, a miniature train, merry-go-round, a historical carousel, several picnic shelters, lighted tennis and basketball courts, a softball field and concession stands.  Rides are available Mon - Fri 4pm until dark and Sat - Sun 1pm until dark.  www.rockymounttravel.com
1500 River Drive
Rocky Mount, NC 27804 Spring Hope Historical Museum
This attraction is dedicated to the premise that a preservation of the past is a true legacy for the generations to come. Exhibits change periodically. Open year-round Saturday and Sunday from 3 to 5 p.m. Free admission.
400 W Main St
Spring Hope, NC 27804 Roanoke Canal Trail
The Roanoke Canal Trail tells the history of transportation on the Roanoke River from the early 1800's to today. In 1976, the canal, the tow path and the canal structures were added to the National Register of Historic Places. The towpath and bottom of the canal provide pedestrian access between Roanoke Rapids and Weldon. Independence Station
Located in Halifax, the train station is a co-op of crafters and artisans. The gallery features hand fashioned articles. During a visit to the gallery you will see artisans at work. For more information, call (252) 583-2278 North Carolina Wesleyan College/Dunn Center
This is a four-year liberal arts college which hosts artists of all kinds in the Dunn Center year round.
3400 N. Wesleyan Blvd
Rocky Mount, NC 27804 Nash Arts Center
The Nash Arts Center features some of Nash County's finest stage performers, musicians and artists.
100 E. Washington St
Nashville, NC 27856 Albemarle Tours
So much to see!  Tours of Ships, colonial homes and more!  Visit their site to see everything!!!
119 Water Street
Edenton, NC 27932 Atlantic Ocean "Crystal Coast"
Visit the beautiful Atlantic Ocean! Fort Bragg
Fort Bragg is the nation's largest military installation and home of the fabled 82nd Airborne. Tar River Trail
This 3.9 mile walk/bike trail follows the southern bank of the Tar River from City Lake on the west to Martin Luther King, Jr Park on the east.  In between, the trail passes through several city landmarks including Sunset Park and Battle Park. Tar River Paddle Trail
Explore the waterways of Rocky Mount on this beautiful paddle trail.  It has ten canoe and kayak access locations that connect over 20 miles of Tar River and Stoney Creek. City Lake
This 20 acre park features a 1/2 mile walkway, two fishing piers, island with gazebo and a lighted fountain.  You can feed the ducks and geese, fish or even use your remote controlled boats!
Lake Drive and Sunset Ave
Rocky Mount, NC 27804 Rocky Mount Sports Complex
Located just 15 minutes from our KOA campground, this facility opened in 2007 and has 6 youth baseball fields, 4 softball fields, 1 large baseball field, 8 soccer fields, 2 concession areas with bathrooms, umpire lounges and electronic scoreboards.  It also has 2 outdoor basketball courts, horseshoe pits and a walking trail.  It has become home to many sports tournaments and continues to gain popularity.
600 Independence Drive
Rocky Mount, NC 27804 Disc Golf Parks in Our Area
Silver Lake at Rocky Mount Sports Complex:   Good mix of short/tight and long/open holes.  Dual tees on 14 holes.  Water in play on a few holes. 
Sunset Park:  18 hole course with mostly open shots. 
Englewood Park:  18 hole course with the front nine heavily wooded while the back nine are mainly open.
Farmington Park:  18 hole course with a good mix of open and wooded holes.  Some narrow fairways and a creek!
For more information on any of these courses please call 252-343-3138 or 252-972-1162 or go to Rockymountdg.com Rocky Mount Skate Park
Skate Park at Sunset Park:  Ramps and hills for kids of all ages! North Carolina Baseball Museum
Baseball memorabilia from across NC.  
There is a Walk of Fame and momentos from ball players like Catfish Hunter, Hoyt Wilhelm, Gaylord Perry, Enos Slaughter, Rick Ferrell & Buck Leonard.
300 Staduim Street
Fleming Stadium
Wilson, NC 27893 Rocky Mount Fire Museum
Built in 1924 this firehouse has a wooden fire main, old photos, the city's first alarm system and more.  
See a horse-drawn steam engine built in 1878 and used in Rocky Mount from 1896 to 1922
404 S. Church Street
Rocky Mount, NC 27804