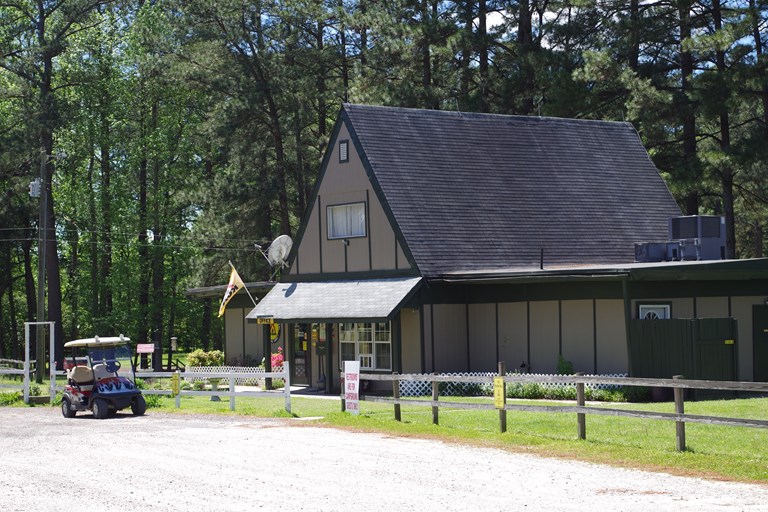 General Campground Information
OUR MISSION
We strive to provide a clean, quiet, and safe location for any camp loving individual to rest, relax, and just enjoy, whether here for just one night, a weekend, or in the area working for the local companies.
CHECK IN & OUT; OFFICE HOURS
CHECK IN : 
 RV's or Tent sites:
BEGINS
12:00 PM, Cabins: 3:00 PM 
CHECK IN TIME
 ENDS: 11 PM  If arriving between 9 pm and 11 pm, please call 252 445 4543 when you are about 10 minutes out so that we can take good care of you. 
CHECK OUT time for all: 11:00 AM. 
Current Office Hours: 9 AM to 6 PM
Night Registration is located until 11 PM outside the front office, although advance reservations are recommended. Gate hours 11 PM - 5 AM
REGISTRATION
All guests or visitors must check in with the office. We reserve the right to refuse service or ask someone to leave if they do not abide by our campground rules. Sites are assigned, so we ask that you do not change sites without first consulting with the office. If it is possible to accommodate your request, we will be happy to do so. Gate is closed from 11 PM - 5 AM. Visitors will need to exit the park by 11 PM or pay to stay the night.
CHILDREN/MINORS
Little campers under the age of 14 should be accompanied by an adult in the store, game room, or restrooms. Parents will be held responsible for their children's behavior and any damages caused by their children.
PETS
All pets are welcome as long as they are well behaved, just like their humans. Aggressive behavior will not be allowed. Owners must keep their pets on a leash when outdoors and not allow them to enter other people's sites. Pets must be left inside the unit when the owners are away and they must not be left unattended outside when the owners are within the Park. Owners must pick up immediately after their pet, not later in the day. Owners are responsible for any action or damage caused by their pet. The off leash area is open 24 hours for your convenience.
SMOKING/VAPING
We are a non-smoking facility so, out of respect for all guests, smokers or non, we ask that smoking/vaping be limited to your site. Please dispose of cigarette butts and such appropriately to help us maintain clean sites. There is no smoking permitted in any public areas of the Park.
CABINS
Our cabins include a mini refrigerator to keep your drinks cold as well as a heat/ac unit for your personal indoor climate needs. Cooking or smoking inside our cabins is strictly prohibited. Please be sure that pets are not permitted on the beds inside the cabins. Linens are not included, so please be sure to bring your own.
QUIET HOURS, SHHH!!!
10 PM - 8 AM. Every guest deserves the opportunity to get a good night's rest after a long day's drive! Most of our patrons are on a journey to another destination. Please take all conversations and music/tv indoors after 10 PM. You would be surprised how far even whispering can travel after night falls. Excessive noise is not permitted at any time.
FIRES AND FIRE PITS
Fires are only permitted on the site if it already has a grill, fire ring, or you have brought your own portable above ground fire ring. Rings may not be moved from other sites. Fire Pit rental is available.  Firewood is available for sale in our office so please don't hurt our trees. Ground fires are absolutely not permitted and could result in being asked to leave without refund, but will definitely incur damage charges. Enjoyment of your fire is permitted up until 10:30 PM if your noise level is not disturbing your neighbors as this is after quiet hours have begun. You may burn wood or charcoal. No plastic, food, or trash.
TRASH
As we strive to maintain a clean park, we ask you to follow these guidelines in regards to your trash disposal. Please limit your garbage to (1) garbage bag tied up and placed at the entrance to your site each morning. If you have any boxes, please flatten them. Please refrain from putting the bags on your table as this can be unsanitary. One of our staff will be by daily around 11 am to pick it up. If you are in need of a trash bag, we will be happy to provide it to you.
TELEVISION
No cable is available within our park due to our location. We are located over 60 miles from the nearest broadcast station making it difficult to pull anything in without a very strong antenna booster. Your personal antenna signal will dictate how many channels you may find. We are the perfect place for you to catch up on each other's lives, unplug, and simply enjoy each other's company. We do have books and dvd's in the office to borrow or purchase for your visual enjoyment. We do have some sites that may accommodate a guest who has a satellite system on board. Please let us know when making a reservation and we will do what we can to assist you.
DISHES
If needed there is a sink outside the laundry building to wash any dishes that our tenters may have. Please do not wash them in the restroom sinks.
RESTROOMS AND SHOWERS
Located in the office building closest to the pool. Open 24 hrs with an access code. Cleaning times are posted.
GENERATORS
The use of generators is prohibited unless during emergency situations authorized by management.
SEWER CONNECTION
To limit any odors or spills, and per health code,  all sewer lines must have a gasket on the disposal end to seal the sewer pipe. To avoid disconnecting with a motorhome/ motorhome towing, guests will need longer sewer hose length to reach our septic drops.
WASHING VEHICLES
Since we are on well water, complete vehicle washing is prohibited. You may use a small bucket to wash your windshields or grills to remove any bugs from your drive but, not the entire vehicle.
SPEED LIMIT
For the safety of everyone (including my squirrels) and to help keep dust down, please drive a maximum of 10 MPH. Driving on the grass in not permitted unless instructed to do so by management or staff.
ATVs, MOTORCYCLES, AND GOLF CARTS
These are permitted in the park. We ask that they are driven or ridden by a licensed, responsible adult, follow all park rules in regards to speed, safety regulations, and quiet hours. Golf carts and motorcycles must carry insurance.
COIN OP LAUNDRY ROOM
Our laundry room is open 24 hrs for your convenience. Washers are $1.50/ approx 30 min., Dryers are $1.00/ approx 40 min. No outdoor clotheslines are permitted at your site (pool towels, bathing suits are ok).
SWIMMING POOL
Relax and unwind after a long day's drive! Our pool is for registered guests only. There is no lifeguard on duty. All children under the age of 14 must have a responsible adult with them in order to swim. All persons swimming must wear official swimwear. Babies or untrained children must have swim diapers or swim pants. No smoking, food or drink of any kind is permitted inside the pool fence. There is a pavilion, with tables, outside the pool fenced area that you may use for eating and drinking. Pool may need to close occasionally for unforeseen maintenance issues, but normal pool hours will be from 12pm till the office closes. Our pool is open from Memorial Day to Labor Day.
WIRELESS INTERNET
Due to our rural nature, our internet system is satellite based. This means that we are on a limited monthly bandwidth system for all to share. Laptops work better if you change their settings to be on a metered network. This will stop your pc from doing updates in the background stealing all of the bandwidth you could be using to check your emails, web browse, or catch up on social media. Heavy downloading or streaming of files is not supported on this system. We offer each site 2 FREE access codes (one per device) per day. Additional codes are available for a $1 donation for 2 additional codes to support KOA Kids Care Camps.
Meet Your Hosts
Thank you for choosing Enfield/Rocky Mount KOA
We are very happy that you have chosen to stay with us for the night!