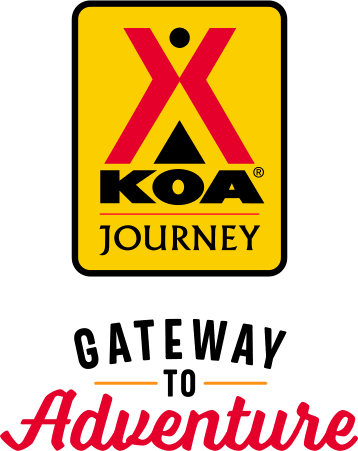 KOA Journey Campgrounds
KOA Journey campgrounds are the perfect oases after a day on the road. Whether it's along the way or a quick getaway, they've got you covered. Located near the highways and byways of North America with long Pull-thru RV Sites, they deliver convenience to the traveling camper. Pull in, ease back and take a load off.
KOA Journeys Feature:
Pull-through RV Sites with 50-amp service
Premium Tent Sites
Well lit after hours check-in service
Directions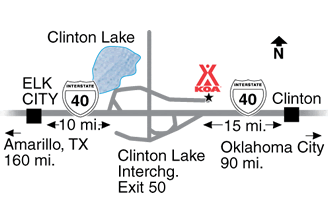 Clinton Lake Road: Exit 50 off I-40 between Elk City and Clinton. GPS: Use Clinton Lake Rd, Canute, OK 73626 or coordinates. N35.427098, W99.213528
Get Google Directions
Sep 21, 2021
Very nice stay. Personnel were very helpful and friendly. Having the Tavern and Food on site was perfect! Love the Whipper Snappers Candied Jalapenos!!
Sep 21, 2021
Nice property - onsite restaurant was a plus.
Sep 21, 2021
Friendly and helpful staff. Clean and spacious sites. Convenient location off interstate.
Sep 21, 2021
Great place to stay for an overnight or multiple days. Wonderful staff.
Sep 20, 2021
only stayed one night but enjoyed the grounds
Sep 20, 2021
nice and peacefully
Sep 19, 2021
Very pleasant staff
Sep 19, 2021
Check in was good. Clean, level site. On-site restaurant..
Sep 18, 2021
it was just what we needed for an overnight stay. spot was large & my dog like the dog park.
Sep 18, 2021
Very nice and accommodating staff!! Everything is incredibly clean!
Sep 16, 2021
Charming small, well treed park. A bit of highway noise but not bad.
Sep 16, 2021
site was fine and we we very pleased with the area
Sep 16, 2021
This was a last minute reservation and they was able to assist us with no problem. The place is well kept, �� very clean they also have a pool and a pool table & tv room. It sits next to old historical highway 66 so at night it's a bit noisy but nothing a fan (white noise) can't hide.
Sep 14, 2021
Everything was going fine until I went to dump my Black water. The sewer connection in spots 41 and 42 did not have screw in connections and 41 would not take the dump. I did my best to clean up. I told the office about it and was told that they couldn't do anything. We left with full tanks.
Sep 13, 2021
Very friendly folks there and has a store with a bar.
Sep 13, 2021
Check in was really easy and fast. The woman who checked me in (forgot her name….my bad!) was very nice and helpful. The campground is really easy to access from the highway. The dog park…the big one, is great! We enjoyed our overnight here! Good internet too!
Sep 13, 2021
MUST BE IN A DEAD ZONE FOR SATELLITE. WE LEFT A DAY EARLY BECAUSE OF NO TV. NOBODY COULD GET IT
Sep 12, 2021
Friendly staff. Nice park.
Sep 12, 2021
Cabin was very nice. Grounds nicely kept and the dog run is large enough for a big dig to stretch his legs. Restaurant and Bar is a big plus. Staff is friendly and helpful.The only negative that I can say is that the location is very close to Interstate 40. Road noise from big rigs all day and most of the night.
Sep 12, 2021
Always consistent stay here. Friendly staff and quiet even being close to the interstate.
Sep 11, 2021
LOVED THIS PLACE! THANKS!
Sep 11, 2021
We say this hidden gem is awesome! All KOA's should have a tavern & restaurant for the weary travelers. Just a small little restaurant & the food was excellent. Friendly staff. Great beer, nachos & burgers. Job well done.
Sep 11, 2021
I wish that loud planes taking off nearby at midnight was mentioned. Great staff
Sep 10, 2021
Perfect spot to stay for a quick night! Has a cute little bar that serves food!! Very nice staff!! Stoping back through on our way home!
Sep 09, 2021
Not a bad place to stay for one night. Very noisy due to local traffic. A little disappointed in the cleanliness.
Sep 09, 2021
At one time this was a nice campground. The only thing being done today is a poor attempt to mow the grass. They don't use a grass catcher as evident with all the grass clippings in the camping area. The blacktop pads have disappeared with the overgrown grass. No attempt is made to maintain the pads at all. It will take a new owner to bring this back to life. KOA needs to inspect.
Sep 09, 2021
Very nice park Friendly staff Had a wonderful time
Sep 08, 2021
Excellent host family. Good food and nice facilities.
Sep 08, 2021
We only stayed one night and checked in late, so we didn't have a chance to check out the bar and grill. Looked like fun. Bathroom/showers, grounds were clean and welcoming. Staff very pleasant. Nice quick stop right off the Interstate.
Sep 07, 2021
Staff were very helpful and kind.
Sep 06, 2021
Very nice respite from the road! Well maintained and cared for property. Management is delightful and concerned for well being of the campers. We had a wonderful time exploring the area and will definitely be back. We enjoyed the pub and food too!!!
Sep 04, 2021
We stay here everytime we're passing thru. Everything is good.
Sep 02, 2021
A one night stay. Have stopped here previously and it is a nice and well maintained campground.
Sep 02, 2021
Well maintained, friendly people
Sep 01, 2021
Beautiful cabin. We were only there fir one night but so comfortable.
Aug 31, 2021
Easy late night check in and a great place to stay with our pets for a cross country move. Thank you!
Aug 30, 2021
Some of the more permanent camp sites needed cleaning up. Looked junky and not appealing. Other than that this campground was very good.
Sep 12, 2021
Beautiful KOA. HAVE stayed here before. Wonderful park, great staff and service. Most important they have a bar and restaurant.
- Gilbert Prado on Google
Sep 12, 2021
Consistent stay and very quiet even being close to interstate. Plenty of shade trees too.
- Tom Emmons on Google
Aug 21, 2021
Really nice location. Clean, nice pool. Staff were super friendly very helpful. Food was really good big portions. The only down side to our stay was someone trying to steal my small dog. This was on one of the other campers staying there. Smfh
- Gissel esp on Google