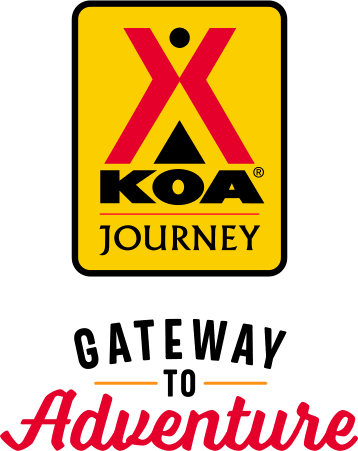 KOA Journey Campgrounds
KOA Journey campgrounds are the perfect oases after a day on the road. Whether it's along the way or a quick getaway, they've got you covered. Located near the highways and byways of North America with long Pull-thru RV Sites, they deliver convenience to the traveling camper. Pull in, ease back and take a load off.
KOA Journeys Feature:
Pull-through RV Sites with 50-amp service
Premium Tent Sites
Well lit after hours check-in service
Directions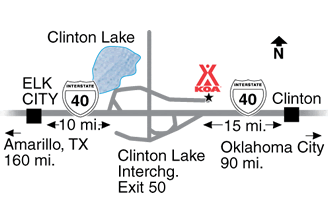 Clinton Lake Road: Exit 50 off I-40 between Elk City and Clinton. GPS: Use Clinton Lake Rd, Canute, OK 73626 or coordinates. N35.427098, W99.213528
Get Google Directions
Jun 10, 2021
Chelmer and Misty have the best personalities to be running an Awesome KOA. Everyone was very courteous and helpful. They were available for any question that we may have had and went above and beyond to help us during our 7mth stay. We would recommend Elk City/Clinton KOA to everyone we know. We had a great experience and met some amazing life long friends during our stay. God Bless thank you
Jun 10, 2021
I like this place. Usually my go to traveling through OK. I like their dog park
Jun 10, 2021
Shower area nice but no hot water to shower! Food and a bar here. Pool area was nice.
Jun 10, 2021
My first stay in a KOA cabin. I'd been an RVer before. Very pleased altogether.
Jun 09, 2021
Clean. Convenient. Love the bar.
Jun 08, 2021
Great little place to stop. We changed our trip plans and will be staying here again on our way home.
Jun 08, 2021
Tried to use men's shower at office building, but got no hot water in any of the showers there. The dog run is a joke; it shouldn't even be advertised as such.
Jun 08, 2021
Overnight stay for me. Cabin with bathroom was great
Jun 08, 2021
Two days, two COLD showers; despite after the first one reporting the problem. The friendly staff told me that to get hot water I should remove the shower head and let it run until it got hot. First of all: No. I should not have to play Bob The Builder to get a hot shower. Second: After reporting the problem the first time, someone should have checked to see if there was a greater problem.
Jun 08, 2021
Worst maintained KOA I've ever been to. Have stayed 3 times over the last couple of years, and just keeps going down hill. Ran all 3 showers for a while trying to get hot water. Nothing. Mentioned it to owner/manager and he told me to "take off shower head, run til hot and put the shower head back on", seriously!! Don't need bathroom code because the doors don't latch.
Jun 08, 2021
Loved our one night stay . Always great ribs here . The only thing annoying was the 5th wheel next to us had 5 Yorkies that did nothing but growl and bark . We had a GS that's well mannered never barked once even at those dogs . Owners should of been more aware . Train dogs to be quite . Other then that all good
Jun 07, 2021
No hot water after the water ran for 5 plus minutes. The room was full of bugs and mosquitoes. I would not recommend this campground.
Jun 07, 2021
Wish there'd been a pool. It other than that,lovely and quiet
Jun 07, 2021
Great place as always. Thanks.
Jun 07, 2021
Beautiful area. Clean bathrooms. Very nice staff.
Jun 07, 2021
We had a nice site and enjoyed our stay.
Jun 07, 2021
Very disappointed! I have stayed at many KOA campgrounds and the Elk City KOA was horrible. Why did I rate it this way? Well, first the tent sites don't have picnic tables, second the trash was overflowing from the dumpsters, third the bath house/restrooms were flithy and the shower heads were off 2 of the 3 showers the toilet paper was out in 2 of the stalls!
Jun 06, 2021
When you need a road break, check in here. Wide pull throughs, some in restful shade. Clean bathrooms. Laundry. Store with hot food and tavern. WalMart and other local stores about 10 minutes away. Staff always friendly and cheerful, even when very busy.
Jun 06, 2021
Cabin was clean & comfortable, but the other 2 couples with us had no hot water & a lot of bugs in their cabin.
Jun 06, 2021
To many run down permanent people living there even in the cabins Garbage around camper trailers of full time livers
Jun 05, 2021
Nice Place and sites
Jun 05, 2021
Problems with electric outlets. Picnic tables could have been cleaner. People were nice at desk.
Jun 05, 2021
AC wasn't on when I served.
Jun 05, 2021
Great little place we only stayed one night on our travel but it was very quiet the spots were nice and level was able to leave my trailer connected to the truck perfect for the travel through.
Jun 05, 2021
Perfect stay! Great location, friendly staff, and clean facilities. There is even a restaurant/bar at this kOA. A short walk to the lake after a long day of driving was an added bonus to this KOA. We will definitely stay here again on our travels.
Jun 04, 2021
Nice site with trees. Liked the recycle bin.
Jun 03, 2021
Honestly I only stay at KOA's. This was by far my most unpleasant stay. We arrived at 4 PM and my information was already in the after hours area ( so much for saying hello). It rained all night the previous day so I expected it to be wet. What I didn't expect is for my spot #46 to be flooded in about 4 inches of water. I looked at all the other spots and they were dry on concrete.
Jun 03, 2021
Friendly, clean and spacious
Jun 03, 2021
Great except we paid for electric and none of the outlets in or near our tent site worked.
Jun 03, 2021
Convenient for dog owners. Nice quiet and restful. We will ise this location again.
Jun 03, 2021
This is our favorite KOA between Illinois and Arizona. The staff is great. Pulled in with a slide topper problem and asked if I could barrow a ladder and Chalmers the manager brought it to our sight and helped me fix the problem. We make it a point to stay there on our way to and from Arizona every year
Jun 02, 2021
First ever stay at a camp and it was perfect.
Jun 02, 2021
Great location just off I-40. Level sites that are easy to access. Full hookups easily accessible and perfectly working. Great campground hosts that had reservation paperwork available without needing to enter building if desired. Good food available at the grill.
Jun 02, 2021
Clean RV park, very friendly staff
Jun 02, 2021
Nice quiet spot to hide from Memorial Day weekend traffic, do laundry & enjoy the nice showers!
Jun 01, 2021
No hot water bathrooms play ground for kids had to many dog droping
Jun 01, 2021
Site 46 has a broken water faucet and manager is very rude.
Jun 01, 2021
Facility is lacking in some areas. The front part is nice with paved access roads and nice bathrooms. The overflow(back portion) is dirt and bathrooms need some work. It rained on the last day of Memorial Weekend and we were parked in the back facilities and it was a muddy mess. but that was an exception. Overall not a bad place for an overnight stay while traveling.
Jun 01, 2021
The sewage pipe was clogged and even when calling the front desk, nobody came to help and the lady that answered the phone sounded like she was having a rough day. We weren't able to dump and the water connection was super tight. The place was accessible and grounds looked up kept.
Jun 01, 2021
No picnic table
Jun 09, 2021
Nice little KOA with good amenities
- Scott Romanowski on Google
Jun 03, 2021
Cabin was great. People was super friendly.
- Alene Stanley on Google
Jun 07, 2021
Good for a night or two nice cabin
- BnT Smith on Google