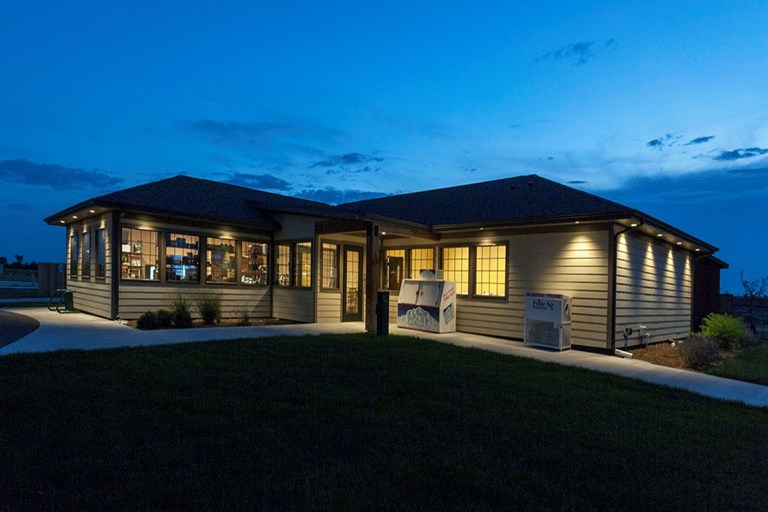 Dodge City KOA Reviews
Directions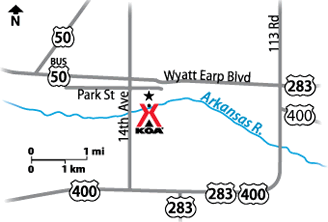 Located downtown, Dodge City, in the Historic District. South of Wyatt Earp Blvd, between 4th and 14th Streets on Park Street, next to Long Branch Lagoon Water Park
Get Google Directions
Sep 27, 2020
Nice and clean, but the office was never open. We watched 8 RV's pull up in one afternoon and leave because the office was closed. Needed to buy a few things and had to go into town. When the office did open went to buy ice didn't have any.
Sep 27, 2020
Very nice. New KOA we can see the potential once it is established. Bath house was not as clean as we are used to.
Sep 27, 2020
The bathrooms were disgusting!!!!
Sep 27, 2020
How can I say perfect. One of the nicest campgrounds we have ever stayed. Very clean and well manicured. The host or a very friendly, I would give it a 12 out of 10
Sep 26, 2020
Overnight stay. Long pull through, nice new facility, clean restrooms and large laundry. Large city dog park with access, but no small/large dog sections. Only complaint, the soda machine was out of several items. Not a deal breaker. Would stay again
Sep 26, 2020
Excellent office staff
Sep 26, 2020
Very nice new park. Several workers are staying there and some long term campers. Fills up every night with travelers.
Sep 26, 2020
Stayed only one night . Great location. This new campground needs to work out some of the kinks. Arrived at 4:30 .Office was already closed. Picked up our late check in paperwork, located our campsite , went to check out the city and have dinner. Returned at around 7PM someone had taken our site. I called the emergency number and the situation was handle professionally. Thank you for that.
Sep 26, 2020
The staff at the front desk was friendly and went above and beyond trying to help me solve my problem with my RV hose. There is a nice park with a generous size playground and a free zoo just around the corner. I will stay there when I am in Dodge City again.
Sep 25, 2020
Parking pad was concrete and very nice. Noise was a major problem. 4 wheeler going right past trailer on KOA road constantly. Very loud. Management did nothing about it when notified. Said it was on the levy and could do nothing about that. Not a place if you want to relax after a long day on the road.
Sep 24, 2020
The fire rings were sunk into the ground and uneven. No one manning the store or office. And all the advertised activities were off site. Not up to koa standards as far as we were concerned.
Sep 24, 2020
Our site was all that was requested. We were very impressed with the dog park...extremely large grassy area that didn't reek of urine as most do. No one was available in the office but there was an employee named Lorenzo that was just leaving who stopped long enough to assist. I would have given a 5 star because it is a beautiful, clean park; however, not comfortable with unsecured restrooms.
Sep 24, 2020
We enjoyed our stay here. Showers were large, but 'were a little dirty. Also, didn't give us our discount. Other than that we had a good night there.
Sep 22, 2020
It was a stopover but at some point we may revisit and spend a few days seeing the sights. The campground was very nice and the dog park was excellent. One suggestion would be to split it into 2 or 3 areas for different size dogs. Overall we had a great stay
Sep 21, 2020
The women's bathroom was disgusting. Debris on the floors of all showers. Push button shower with unadjustable temp, very hot then only lukewarm. The drain was half clogged with hair that I worked out of the drain with my flip flop, pulling up at least 2 handfuls of hair, yuk! Water filled the stall because the shower stream hits beyond the drain. Lack of maintenance isn't acceptable!
Sep 21, 2020
Clean and friendly. The biggest dog park we've ever seen.
Sep 21, 2020
Clean, quiet and scenic. Great campground!
Sep 21, 2020
Stayed traveling to Colorado. Halfway. Reserved & got a great location, pull thru, 50 Amp. Very nice place to stay. On the way home, we had a blow out, 30 mi before entering Dodge City. Decided to stay the night, after getting spare on & buying a new tire in DC. Luckily, they had a spot, even though it was not ideal, very, very tight for our 38' 5th Wheel, back by railroad tracks, we were blesse
Sep 20, 2020
Would have been nice to have had the office open. The park was well taken of.
Sep 20, 2020
We have camped at KOAs all over the US and yours at least 5 times, most likely more times!as Of course it is the best in Dodge! But never stayed in one that didn't have a staff member in the office during the daytime hours but yours!!!! And night staff on the premises is very important to keep everyone safe! This oversight troubles us!!!
Sep 20, 2020
Bathroom showers are not slanted properly on the floor. Water is everywhere when you step out of shower area
Sep 20, 2020
Great new KoA. Next to city zoo and park tho. Be aware that people can walk right thru. There is a huge dog park connected. It is a welcome site for all of us with puppies. All grass. Dud find some stickers in our pup tho. But park is not KoA's so I had no complaints about park. The maintenance guy was very courteous.
Sep 19, 2020
This camper comment has been removed by KOA due to profanity.
Sep 18, 2020
Did not get reserved spot as someone "extended their stay".
Sep 18, 2020
No on site staff, traffic speeding through the park. Trash cans overflowing. Office was rarely open. Long term residents that have too much stuff scattered around the sites. One even had five dogs. Not acceptable standards for KOA.
Sep 18, 2020
Very clean park with nice, hospitable staff and long term campers. Enjoyed our stay very much
Sep 16, 2020
Very long site, plenty of room. Water pressure good, electric stable, full hookups convenient, satellite friendly, good wifi and cell signal (Verizon). Was within walking distance of Boot Hill Museum, visitor center, and restaurants. Water park nearby but closed due to COVID.
Sep 16, 2020
No staff after 4 pm on friday thru sunday - no cleaning - garbage was mowed not picked up - trash overflowing - store locked up - need more washers/dryers for size - totally self serve KOA - how did this qualify as a KOA? Watched campers drive out - COVID and no staff cleaning bathrooms? Expect higher standards from KOA - should not be in business this way. Disappointed
Sep 14, 2020
The park itself was very clean and well-maintained bathrooms are just awesome but there was nobody working in the office even during the posted hours
Sep 14, 2020
In and out. Very rainy cold, miserable weather. No complaints other than office was understaffed for a number of hours due to employee scheduling. My wife was fielding questions from the laundry room to Campers who were trying to get information and check in
Sep 14, 2020
There were only two problems. The office was never open, even though we went over multiple times during our two day stay. Secondly, the dog park was great until our two dogs came back full of cockleburs.
Sep 14, 2020
The grounds were very clean. But, when we arrived, no one was there and no papers were there to tell us where to stay. I called number on door and a lady told us to just pick a place that wasn't taken. We didn't know where to go ( afraid we would take someone else's spot). The next morning after we left I received an e mail confirming our spot. Not too happy with the check in process.
Sep 13, 2020
Nice location to down town & great park.
Sep 13, 2020
No one there to register with. We were there for 2 nites, no communication with us. Was clean but very impersonal.
Sep 12, 2020
The office is only open sporadically and the phone is not monitored. You have to call the holiday inn next door and they are helpful but cannot answer questions about the sites in the campground. The times there will be someone in the office should be posted and time to call to talk to someone in the campground should be on the phone recording. Very frustrating.
Sep 12, 2020
Excellent campground right in town. The Wright Park and the Wright zoo are within walking distance along with the Boothill Museum and Distillery. Our site was flat and clean FHU!! Laundry and restrooms were spotless. The only thing I would recommend is better signage entering the park. We ended up at a dead end which is a big no no when towing!!
Sep 12, 2020
Very nice, very clean, very quite. No complaints!
Sep 12, 2020
I made the reservation on line which is typically very reliable. Apparently the owner of this KOA does not follow nationwide standards because the computer put my 32' Airstream trailer in a 35' spot. In short I would of had to disconnect and park my F250 in the street. So instead of getting a concrete pad, I ended up with gravel and grass. The manager was helpful in getting me this spot.
Sep 11, 2020
Very clean, spacious sites and queit. Close to town and activities if you want to partake.
Sep 11, 2020
Stayed for one night because it was raining and 38 degrees with a 40 mph wind so no night driving. Campsite was ok but got a gravel site. No trees to block wind or find shade if it were summer.
Sep 10, 2020
This camper comment has been removed by KOA due to profanity.
Sep 10, 2020
It was a great park.
Sep 10, 2020
Very nice and well kept campground
Sep 10, 2020
The campground itself is great. Love the concrete pads, trees, grass, clean, new, very nice. BUT we didn't like the shared access with the City park. So many non-campers used the dog park and pavilion on KOA property. Also, 4-wheelers kept coming down our street and then running up the little hill at the south end of the KOA park to get to the track. Sounded like Nascar track in the Big Ditch.
Sep 10, 2020
Small, but cute campground. It is a long walk to Dodge City. We ordered Italian food from a local restaurant. Very friendly and great for a quick stay.

Dodge City KOA
Open All Year
701 Park Street
Dodge City, KS 67801
Check-In/Check-Out Times
All, Check in for Rv is at 11am
Check-in: 4:00 pm, Check-out: 11:00 am
Operating Hours
Sunday: Open 24 hours
Monday: Open 24 hours
Tuesday: Open 24 hours
Wednesday: Open 24 hours
Thursday: Open 24 hours
Friday: Open 24 hours
Saturday: Open 24 hours
Get Google Directions

© 2020 Kampgrounds of America, Inc.