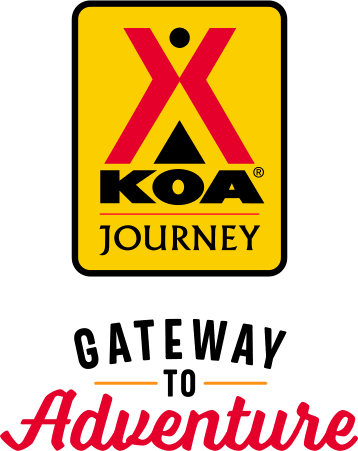 KOA Journey Campgrounds
KOA Journey campgrounds are the perfect oases after a day on the road. Whether it's along the way or a quick getaway, they've got you covered. Located near the highways and byways of North America with long Pull-thru RV Sites, they deliver convenience to the traveling camper. Pull in, ease back and take a load off.
KOA Journeys Feature:
Pull-through RV Sites with 50-amp service
Premium Tent Sites
Well lit after hours check-in service
Directions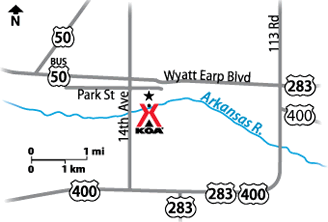 Located downtown, Dodge City, in the Historic District. South of Wyatt Earp Blvd, between 4th and 14th Streets on Park Street, next to Long Branch Lagoon Water Park.
Coming in on east on Highway 50 ( Route 400):  turn right onto 14th Ave and then left onto Park Street.
Coming in on west on Route 400:  keep straight on Trail Street, turn left on 5th street (street directly behind Holiday Inn Express) 
Coming in North 283:  make a Left onto Trail Street, turn left on 5th street (street directly behind Holiday Inn Express) 
Coming in South 283:  Highway turns into Wyatt Earp Blvd, turn left onto 14th St, then turn left onto Park Street.
Get Google Directions
Sep 23, 2021
Very clean and spacious parking spots and friendly staff!! Will recommend this to everyone .
Sep 23, 2021
Nice clean campground with the biggest "K9 Camp" I've ever seen. Must be about an Acre fenced in.
Sep 22, 2021
Office/store not open on a regular basis and no real posted hours - but other than that not a bad park. It's right in town so makes it very convenient.
Sep 22, 2021
We had a very comfortable 2 night stay. The campground is close to the historic district.
Sep 21, 2021
Nice sites! Shower controls difficult.
Sep 21, 2021
A nice park that has a great location. Nice that it had paved roads & grass at the sites because it was very windy & that cut down on dust. Bathrooms & showers were clean. Only real negative was lack of person in the office. Only saw someone in there for a short period of time during our 2 night stay.
Sep 21, 2021
Campgrounds was kept well. Showers and bathrooms laundry or clean. The staff was friendly and knowledgeable about Dodge. I would recommend anyone stay here, I will stay the next time I'm in Dodge
Sep 21, 2021
One of the nicest KOA's we've ever been in. Far from the interstate or busy highway, quiet, well kept, close enough to downtown.
Sep 20, 2021
Great location right in town near restaurants and gas stations as well as tourists attractions Appreciated the long concrete site for our big rig
Sep 20, 2021
This review has been removed by KOA due to profanity.
Sep 20, 2021
Very friendly and helpful staff
Sep 20, 2021
The place was neat and clean and the woman at the desk was nice and informative. But the layout was very severe. Just baby trees, concrete, no actual shade and it was blistering hot.
Sep 19, 2021
Nice campground. Friendly staff and clean facilities.
Sep 19, 2021
It was a very nice campground. Some sites were pull thru concrete pads.
Sep 18, 2021
Nice and friendly campground. Too windy!
Sep 18, 2021
Very well kept, we were very impressed by the attention to detail of the grounds staff. Great dog park. Will definitely stay here again.
Sep 17, 2021
It was a perfect stop on our way west. Big lots and full cement pads. Pull threw lots for big rigs.
Sep 17, 2021
Young girl not at all helpful at check in, other person came out to lobby was much more helpful.
Sep 17, 2021
One of the cleanest that I have ever been too. We have been member for 44 years
Sep 17, 2021
Showers are awful
Sep 16, 2021
Clean, well laid out, well maintained, easy to find, close to everything in town.However, no one is in the office from 3-5, prime arrival time.We reserved and paid for a concrete pull-through, what we got was a back in. No explanation, no reduction in price, not a word. The directions to the site led us to a Do Not Enter sign on one way street. Located our site.The pad ended on grass. No pull thr
Sep 15, 2021
Park was clean and very good concrete pads. Entry into our site required us to make a difficult turn through another site. Other than that good KOA.
Sep 15, 2021
Love concrete pads. Showers not quite as clean as previous stay.
Sep 15, 2021
Very comfortable area!
Sep 15, 2021
Not close to accessing amenities as web site stated. Disappointed at no sewer hookup at site, and camp clean out was inconveniently on right side at exit. Big mudhole at back of site and gravel pad was not very level.
Sep 13, 2021
Excellent Facility. We enjoyed our stay very much. Dog park was excellent, lots of room for pups to exercise. Only two minor items. One the office was not open according to posted hours, not a major concern, but would have made a couple minor problem a bit easier to handle vs having to go to town to resolve. The other item was the Goats Head thorns growing in the site areas. Painful when step on.
Sep 13, 2021
Difficult to find, but once we got there it was great!!
Sep 13, 2021
Nice clean place
Sep 12, 2021
We spent a week here. Very well kept and quiet. We didn't use the laundry or restrooms. Convenient to all the historic sites.
Sep 12, 2021
This is the RV place to stay in Dodge City! Very nice park!
Sep 12, 2021
Not easy to find at night. Need sigh on road.
Sep 10, 2021
Very, nice. We has a large pull-through pad that was close to the dog park. Lots of places to walk the pooches. It's close to the museum and water park.
Sep 10, 2021
Clean bathrooms. Friendly and courteous staff. Location in gray for a short walk (or drive or bike) to various places to eat and visit. Will stay here again if I'm in the area.
Sep 10, 2021
Nice bathrooms/showers. Nice cement pull throughs
Sep 08, 2021
Love how close the campground was to everything. We were able to walk to the places we wanted to see. The staff was very friendly as well.
Sep 08, 2021
OK campground. Biggest plus is it's proximity to downtown and tourist features. Bathrooms clean, operators friendly
Sep 08, 2021
All was good but one set if bathrooms was closed and we were told we could move to a better spot but the person who booked that messed up and then later told us we had to move or she would call police. Another manager stepped up and was going to figure out the booking issues.
Sep 07, 2021
Received FIRST rude comment because we wore a mask (covid) after traveling across the US for 6 weeks. Left us with unwelcome feel.