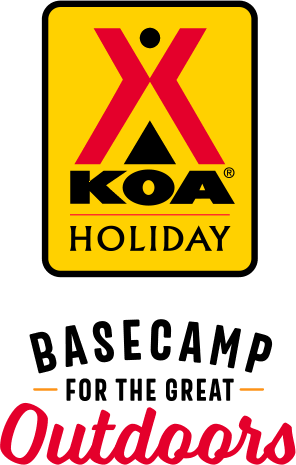 KOA Holiday Campgrounds
Whether you're exploring the local area or hanging out at the campground, KOA Holidays are an ideal place to relax and play. There's plenty to do, with amenities and services to make your stay memorable. Plus, you'll enjoy the outdoor experience with upgraded RV Sites with KOA Patio® and Deluxe Cabins with full baths for camping in comfort. Bring your family, bring your friends, or bring the whole group – there's plenty of ways to stay and explore.
KOA Holidays Feature:
RV Sites with a KOA Patio®
Deluxe Cabins with full baths
Premium Tent Sites
Group meeting facilities
Directions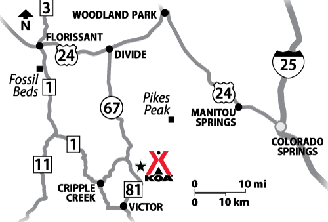 From US 24: Take CO 67 south approximately 12 mile.  Turn left onto CR 81  towards Victor.  Campground will be on the left approximately 1/2 mile.
From Cripple Creek: Take CO 67 north approximately 6 miles.   Turn right onto CR 81 towards Victor.  Campground will be on left approximately 1/2 mile.
GPS: N38.774495, W105.117616
Get Google Directions
Oct 25, 2020
Lovely place. Very nice staff. I would stay here again.
Oct 14, 2020
The lady who was running the camp ground was very helpful.The showers were the nicest we came across in our two week camping trip.The laundry facilities we very nice as well.Except for the fact that with our age and medical conditions the altitude was hard for us to deal with I would come back again.Thank God They sold oxygen canisters in the campground store
Oct 13, 2020
It was a great place to be. It was more than I expected! I will be back next year and after.
Oct 07, 2020
The place is kept very clean, the employees are very friendly, & have good information on things to do around Victor & Cripple Creek
Oct 06, 2020
cabin and campground were well kept clean and nice. The cabin was spotless and we would love to stay there again but hopefully rent a cabin with an indoor bathroom. The staff were friendly and accomodating. Thank you for making our visit amazing.
Oct 05, 2020
Awesome location for fall leaf viewing. Great hike right behind the site. Camp hosts very nice.
Oct 05, 2020
Been coming up to Cripple Creek for many many years, just love it! Staff are always very nice and friendly.
Oct 05, 2020
Great spot to stay, camp host are excellent!!!
Oct 05, 2020
Very nice stay. WiFi seems to be better than last year, which helps a lot since there's no cable. Covid procedures were good also.
CAMPGROUND RESPONSE / COMMENTS:
Glad you enjoyed your stay, and thanks for commenting on WiFi. We completed another infrastructure upgrade this year so can support a higher number of concurrent connections. See you next year, Patrick!
Oct 04, 2020
Very clean campground , nice store , nice staff.
Oct 04, 2020
Very much enjoyed this KOA and highly recommend. We will be back!
Oct 04, 2020
Beautiful location and wonderful owners! We didn't want to leave. We will definitely be back one day!
Oct 03, 2020
Staff were fantastic. Our daughter, son-in-law and twin 3 year olds had just purchased property near this KOA and had their travel trailer parked there. Upon our arrival, they found that mice had attacked their trailer. Thankfully KOA allowed them to stay with us at our Deluxe Cabin. A little tight for a family of six but we made the very best of their bad situation! More grandparent time!!!
Oct 02, 2020
Helpful, friendly staff. Well maintained campground. Beautiful views. Best K9 park we have ever experienced and we have visited probably 40 or more KOAs and other campgrounds.
Oct 02, 2020
Very clean. Kind and friendly staff.
Oct 01, 2020
Great owners and space!
Oct 01, 2020
Everything was great my only complaint is the beds, they really need to be updated the sheets, and bedding are really old but most of all the mattress was terrible we sank into the middle and had terrible back aches by morning. Other then that it is very nice.
CAMPGROUND RESPONSE / COMMENTS:
Thank you for staying with us and thank you for the candid feedback! We'll address this ASAP.
Sep 29, 2020
The staff was very friendly. The campground was clean throughout and the other guest were warm. We also utilized the Dog Park and we were very surprised on how well kept it was. This will be one of our favorites to return to.
Sep 29, 2020
A bit high for us but very nice group
CAMPGROUND RESPONSE / COMMENTS:
Definitely have to take the effects of high altitude seriously at 10,000 feet elevation. Glad you enjoyed your stay regardless!
Sep 29, 2020
Derrick and Terry are like Family to Us. Always making our stay Very Welcoming and Fun. The place is Awesome and always perfectly clean and perfect in every way.
CAMPGROUND RESPONSE / COMMENTS:
Thanks, Warren, see you two next season!
Sep 29, 2020
It was just as wonderful as it always is. Very friendly staff and gorgeous views.
CAMPGROUND RESPONSE / COMMENTS:
Thanks for joining us Shawn, in spite of your camper getting totaled! Hope the cabin stays were as enjoyable as your RV.
Sep 28, 2020
excellent location, very nicely maintained. Staff was friendly and helpful!
Sep 28, 2020
We always enjoy staying at this campground however there was one young lady working in the office that was very unpleasant on multiple occasions.. We are a retired couple, do not drink and/or cause problems and honestly saw no reason for her consistent rudeness!! I feel like she lived above the office. I would recommend getting rid of her and her barking dog as she seemed very unhappy !
CAMPGROUND RESPONSE / COMMENTS:
Sorry to hear about your experience, but your comment is vague so not sure what the situation is. Terri and I live above the office and we have a puppy-in-training who barks at passing dogs but we do our best to calm him. Will follow up with an email so hopefully can get some actionable feedback.
Sep 28, 2020
Very Nice Overnight Cabin Stay! Will definitely return again in future!
CAMPGROUND RESPONSE / COMMENTS:
Looking forward to it, Ted!
Sep 27, 2020
We drove from Indiana and tented at Cripple Creek for the first time for a week. Every night, we heard coyotes and elk, saw bald eagles and mountain goats during the day and heard about a mountain lion nearby. The landscape is breathtaking (this was our 1st time in CO), the hosts were wonderful, facility clean. Only complaints are the tent spots were a bit too close together. We'll still be back
Sep 27, 2020
We spent a week in the Deluxe cabin . Was a wonderful week , will come back .. Loved it Thank you!!
Sep 27, 2020
Our tent site was excellent. We appreciated the shelter for the picnic table, and especially the built-in shelf (perfect for the Coleman stove and cooking). And, we were fortunate to be there for the Fall colors. Beautiful!! Friendly and helpful staff. The restrooms were well maintained and clean. Due to fire restrictions, we didn't have a campfire but look forward to that in the future.
Sep 27, 2020
Great standard tent sites in the trees that felt further away from RVs. Friendly and helpful staff. Rentable propane fire bowl was a nice bonus!
Sep 26, 2020
Staff were very friendly and helpful. Bathrooms were very clean. Showers were small but well maintained. Gorgeous area.
Sep 26, 2020
Very nice park with a great staff. When your in the area you must stay here.
Sep 26, 2020
Great location. Awesome service.
Sep 26, 2020
Facilities and grounds very clean and well maintained, the fall colors were beautiful in this area and enjoyed the town of cripple creek lots of entertainment and good food.
Sep 26, 2020
This is my favorite KOA! It's set outside of city limits and very quiet. A short drive to anything you'd need. Friendly staff! Clean bathrooms and showers. If you're in the Cripple Creek/Victor area, this is the place to stay!
Sep 25, 2020
Everything was great. Electric was great, water was great, check in was easy. The only problem was that being on a hill, the darn sites are down hill. Meaning that the side you exit your trailer has to be real high to level off. I think the sites could be even better because when your steps are down, that last one is a very long step. Thus making the sites with tables very small and uneven.
CAMPGROUND RESPONSE / COMMENTS:
This is certainly an issue we're trying to deal with as we can, although given our location there will always be a hill to deal with (which isn't always a bad thing... how bout that sunset?!) Continuing to upgrade sites to patios and add level table pads (at least) to all the rest.
Sep 24, 2020
This place is gorgeous!! We originally only booked one night but ended up staying for 3. The staff was super helpful and the grounds were really clean. Will definitely be back here!
Sep 24, 2020
We thoroughly enjoyed staying here! It had all the amenities you could possibly want for "glampers" like us! �
Sep 24, 2020
Very Clean and staff super helpful
Sep 22, 2020
Outstanding staff made for an awesome environment.
Sep 22, 2020
Nice Facilities. It is a very good location, it made it easy to stop for the night before beginning our long trip through Kansas.
Sep 22, 2020
Too much commotion in spot 156 Sat night 7 people, 3 vehicles, camper shell on truck only. Why have parking rules if not enforced? They took over the whole area.
CAMPGROUND RESPONSE / COMMENTS:
I'm sorry you had to deal with that, however we were not aware of the situation when it occurred. We absolutely do enforce the rules. In the future, please let us know and we'll take care of it. Happy to come help any hour of the night. Nothing we can do for you after you're gone.
Oct 31, 2020
Stayed for a couple of days. Was nice but spots are tight. Got pretty cold at night. Frost in the morning's.
- Kurt Kovacevich on Google
Oct 23, 2020
Lovely place to camp in the mountains if you need full hook ups. Great place the owners are great people and have done a lot to the place to make it nice for everyone to enjoy call ahead they fill up quick with our short summer season here.
- Mike Hoover on Google
Oct 19, 2020
I came for one week in July, and let me tell you I will be back. The campsites (I tent camped) were unreal. Gorgeous, quiet, away from the RV sites, and so pretty. Within driving distance to FAR more activities than I ever imagined. I could not fit it all in in a week. The dog park was awesome. I was only going to bring one dog, but ended up bringing two as last minute my dog sitter backed out. It was a relief to have the dog park to take them off the leash for a little bit every day. they are so dog friendly here. I love it. Recommendations for future campers (and myself when I return) - be prepared for a walk to use the restrooms / shower. They are a ways away from the sites (I drove at times cause when you gotta go, you gotta go lol) The restrooms are closer to the RV sites than the camping sites, and there are not primitive restrooms. Start walking BEFORE you get there (haha) the altitude killed me. I did not think it would but I got WINDED with even the smallest tasks. and bring some ibuprofen. The altitude sickness was real, folks. This campsite is 10,000 feet above what I am used to. I had a constant headache at the start but it got under control by the time I left.
- Laura Wilson on Google