Local Area Attractions Near Cripple Creek KOA
We are a base camp for the area's many attractions.
Town of Cripple Creek, Colorado
There is plenty of family and adult fun in this historic landmark district. From the Narrow Gauge Railway, to fascinating local museums, from fine restaurants and ice cream parlors to arcades and casinos, there is something for everyone in Cripple Creek. View gold mining…from the old to the new "state of the art" gold mine, located between Cripple Creek and Victor.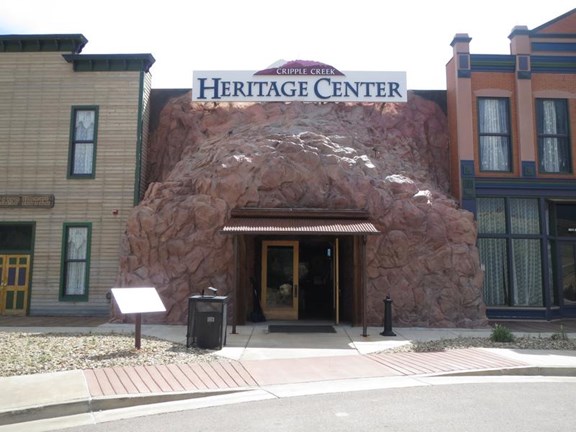 Cripple Creek Heritage and Information Center
In the late 1800s, thousands of fortune-seekers made their way to Pikes Peak for the country's last great gold rush. Now, more than a century later, you can make your own discoveries at Cripple Creek's newest travel and informational resource center: the Cripple Creek Heritage Center. Overlooking the town of Cripple Creek, the facility is a member of the Pikes Peak Country Attractions Association and your complete source for Cripple Creek information. Stop here before entering the town for a birds-eye view of all there is to see and do in the heart of history.This 11,600-square-foot visitors center is designed in a style reminiscent of the town's heyday; however, the technology is all 21st century. State-of-the-art doesn't begin to describe what awaits you in the area's newest Pikes Peak travel center: multiple hands-on exhibits combine interactive technology with tactile, audio and video techniques, for an opportunity to fully immerse yourself in the glory days of the World's Greatest Gold Camp. Other exhibits showcase the area's geology, flora and fauna and regional recreation opportunities. Current exhibits include:Early Explorers
Cripple Creek's First Residents
Faces from the Past
American Indians
Railroads
Business of Mining
Gold Camp Lifestyle
All About Colorado
Pikes Peak Gems and Minerals
Time of the Giants
Colorado's Wildlife
Regional Recreation
Treasures of the Cripple Creek Mining DistrictAdditionally, the Center includes captivating historic photography and materials detailing the area's world-class dinosaur discoveries. You'll learn how gold mining practices have changed over the years and how humans have affected the region. A wall of windows featuring a stunning view of the Sangre de Cristo Mountains tops off your visit in a spectacular fashion. From Cripple Creek's humble beginnings as a 15-person gold camp through its gold rush golden age to its renewed present-day glory, the city's colorful history is fully chronicled and documented at the area's newest Cripple Creek travel center. No matter what part of the state you travel to, you won't find another Colorado visitors center as informative and user-friendly as the Cripple Creek Heritage Center.Consider the Cripple Creek Heritage Center for your next company meeting or family wedding. Don't forget to bring Fido, because special dog runs for small and large dogs are available outside. Service animals are welcome inside the Heritage Center.
9283 CO-67
Cripple Creek, CO 80813
Cripple Creek District Museum
Since 1953, the Cripple Creek District Museum has worked to preserve the history of Cripple Creek. Visitors can browse through five historic buildings - the 1893 Colorado Trading & Transfer Building, the 1895 Midland Terminal Railroad Depot, and a turn-of-the-century Assay Office. A self-guided tour of the museum includes exhibits of railroad history, mining memorabilia, maps, paintings, glass and china, children's items, furnishings, a photograph gallery, Indian artifacts, mineral displays, two turn of the century cabins and two Victorian apartments. One cabin belonged to French Blanche Le Coq and has been furnished to be historically accurate. The second cabin has been furnished to represent the living space of a miner during the gold rush days.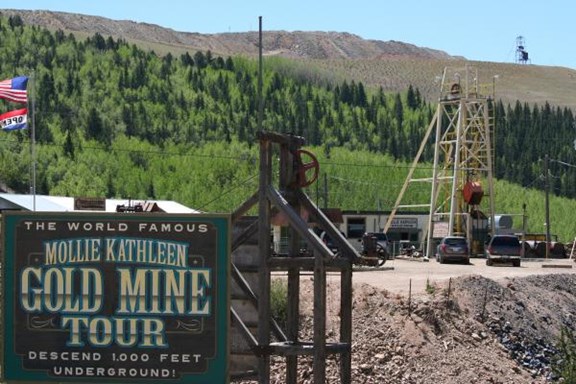 Mollie Kathleen Gold Mine
Visit the mine that takes you 1,000- ft underground, while you learn, from knowledgeable tour guides, about this old mining operation. This tour is designed for people of all ages. No steps, ladders or climbing. Open daily at 9 a.m.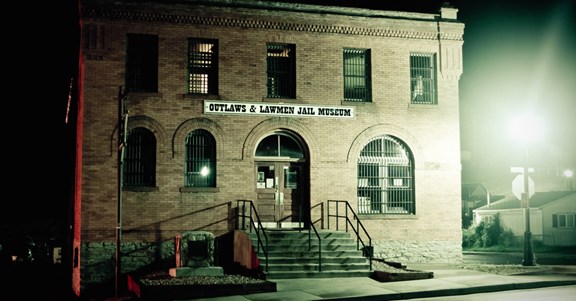 Cripple Creek Jail Museum
Relive the outlaw days of the Wild West in the unique and popular Cripple Creek Outlaws and Lawmen Jail Museum, the hottest selfie spot West of the Mississippi.In the late 1800s, the promise of an easy fortune lured people to the gold mines of Cripple Creek; in just ten years, the population grew from 15 to more than 50,000.  Like every Western gold rush town, Cripple Creek had more than our fair share of miscreants and troublemakers. Fortunately, we also had a brave group of men sworn to keep the outlaws in line.  And you can learn their stories in this authentic and fun museum.Housed in a red-brick building that served as the Teller County Jail for nearly 90 years, this historic Cripple Creek museum gives visitors a taste of the shadier side of life in the World's Greatest Gold Camp, along with a glimpse into the lives of the lawmen charged with keeping the peace.As you can imagine, the jail was never short of occupants. Besides holding local burglars, robbers, highwaymen and other minor criminals, in its original incarnation this jail was also used to hold more serious offenders, including Robert Curry (aka Bob Lee), a member of the "Wild Bunch" gang who was captured after lawmen found him hiding in town.The curators of our Cripple Creek Outlaws and Lawmen Jail Museum have kept the original cells intact, so visitors can experience for themselves what life was like for those on the wrong side of the law. There are also displays highlighting the laws and the lawless, with samples of police logs from the 1890s, copies of early city ordinances and newspaper accounts of crimes both big and small.Be sure to visit the Cripple Creek Outlaws and Lawmen Jail Museum in historic Cripple Creek. You simply won't find a more authentic Colorado jail museum experience anywhere else.
136 W Bennett Ave
Cripple Creek, CO 80813
Local Area Recreation Near Cripple Creek KOA Gambling in Cripple Creek
There is limited stakes gambling in the town's 17 casinos.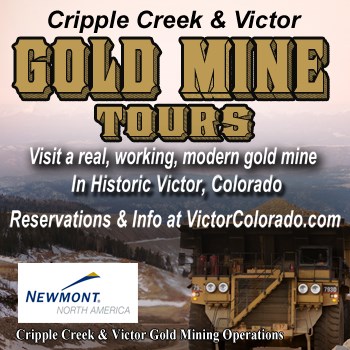 Cripple Creek & Victor Gold Mine Tours
Visit a real, working, modern gold mine in historic Victor, Colorado