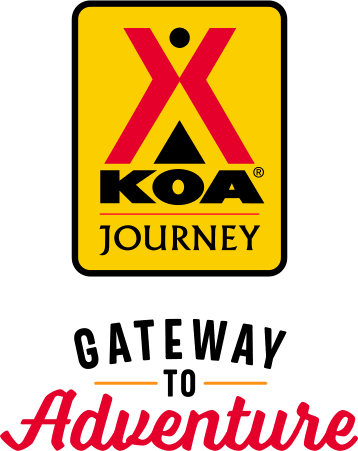 KOA Journey Campgrounds
KOA Journey campgrounds are the perfect oases after a day on the road. Whether it's along the way or a quick getaway, they've got you covered. Located near the highways and byways of North America with long Pull-thru RV Sites, they deliver convenience to the traveling camper. Pull in, ease back and take a load off.
KOA Journeys Feature:
Pull-through RV Sites with 50-amp service
Premium Tent Sites
Well lit after hours check-in service
Directions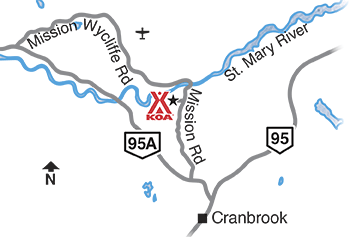 From Highway 3 on the East side of Cranbrook, take highway 95A North to Kimberley/Airport, 1.6km (1 Mile). Turn right at stop light onto Mission Road. St. Eugene KOA will be 4.8km (3 Miles) up the road. If traveling on 95A stay on road until you get to the city of  Kimberley.  Traveling south from Kimberley towards Cranbrook, follow 95A. Turn left at stop light onto Mission Road and follow it as above. From highway 3 on the West side of Cranbrook, take highway 95A North to Kimberley/Airport, 1.6km (1 Mile). Turn right at stop light onto Mission Road. St. Eugene KOA will be 4.8km (3 Miles) up the road.  GPS: N49.585742, W115.757292
Get Google Directions
May 08, 2021
Loved it there. Wanted to stay longer. Rarely does a park have wifi that actually works. Best wifi in a park I've ever seen.
May 08, 2021
Very well run campground. Love the sites. Nice and level. Staff are super accommodating. I would definitely recommend this campground
May 08, 2021
We had a very nice stay. The campground was in great condition and very clean. There was nice grass between the sites and grass around the whole area. There is a beautiful walking trail along the river. 5 Star experience. I would definitely recommend this place and I will definitely stay here again. There is pride of ownership/management here that you don't see very often.
May 05, 2021
Beautiful campground, one of the best KOA we have ever stayed at . Super clean , great big sites , lots of room . 10/10
May 05, 2021
The sites are facing the wrong way and so do not have the beautiful view of the mountains. The sewer hookups are 'uphill' and a sewer hose rises and falls as it has to pass over wooden curbs.
May 04, 2021
It was a great park with good amenities. We were sad the pool was not ready yet, but we booked another stay to get to use it next time!
May 02, 2021
Lovely rv park and look forward to staying again when everything is open. The view and the pristine amenities welcomes one back. Thank you for making our stay comfortable on our way back home.
Apr 30, 2021
sites are large and lots of green grass. tables / services / site / staff all very nice. the main office with showers and laundry is very clean and spacious. Stop there and visit them it is a good location
Apr 29, 2021
One of the better KOA campgrounds we have visited. Thank you to Rich and Kat for amazing hospitality. The campground shows commitment to cleanliness, hospitality and high KOA standards that we come to expect when pulling into a KOA . Thank you �
Apr 29, 2021
Always a pleasant stay
Apr 26, 2021
Very helpful staff that go above and beyond
Apr 26, 2021
Excellent scenery. Campground was clean. Hosts very friendly.
Apr 23, 2021
Best campground bar none. Clear and extremely friendly and helpful staff
Apr 23, 2021
The staff were very friendly and helpful. The bathrooms, showers and laundry facilities were very clean. There is a nice walking path around the entire KOA and access to the River for viewing. Overall it was a great experience.
Apr 22, 2021
Pleasant, Rick is a dear heart. Thank you.
Apr 22, 2021
Wonderful place to stay. Super friendly and super clean. We will be going back!
Apr 19, 2021
Always a great stay with Richard and his wife.
Apr 14, 2021
Nice Clean Campground, Amazing Washrooms!
Apr 12, 2021
Beautiful park. Lots of room in each campsite. Very well keep and spotless bathrooms and laundry room. Rich and Kat made check-in easy and are super friendly and made sure out stay was enjoyable.
Apr 09, 2021
Washrooms were the cleanest I've been in in a long time. Couple who manages this Koa were extremely organized and kind.
Apr 05, 2021
This is one of the nicest KOA's that we have stayed at
Apr 04, 2021
Great stay with excellent hosts!
Mar 05, 2021
We arrived here the final week of the season planning to stay a couple days.. Inclement weather resulted in us deferring our departure date. Richard was so accommodating allowing us to extend on a day by day basis. The park location is beautiful. Deer just outside the door. Stay was GRAND ~ Guest Requests Are Not Denied - G. R. A. N. D
Nov 01, 2020
Richard and Kat were incredible hosts
Oct 31, 2020
The manager was outstanding it was our first time with a travel trailer and we we will go to Koa again
Oct 28, 2020
This place was amazing! Richard was great, very helpful with everything. I would stay here again.
Oct 28, 2020
Awesome place
Oct 26, 2020
The location and park were beautiful. The golf course was a wonderful experience and all the staff were very friendly and helpful. The RV park is very well maintained and spotless.
Oct 25, 2020
Beautiful park, spacious sites, very nice staff.
Oct 25, 2020
Great!! Our second time to stay and will come again!! Hosts are wonderful people!!
Oct 25, 2020
Very nice stay.
Oct 22, 2020
Fabulous! Very clean, very well organized, GREAT views of the mountains, a nearby stream to explore. The hosts, Rich & Kat, were extremely helpful - opened up the closed washroom area so that we could shower (we were very late arrivals in Oct. near the end of the camping season). Nothing but great things to say about this campground!
Oct 20, 2020
We loved the earthy feel of the campground. The views are great and having lots of nice places to walk , especially by the river was a plus.
Oct 18, 2020
Absolutely wonderful campground. Richard couldn't help us enough. We were having trouble with our R.V. slide and before we even pulled on site he gave us the names of two repair companies to call. One got us repaired before we even got there. True pride shines through as you pull into the campground. Immaculate grounds and warm hospitality. Certainly a great feeling at the end of a long journey
Oct 17, 2020
Great place.
Oct 15, 2020
The St Eugene campground is a very clean resort with very friendly staff. The golf and pool are a great addition to the activities to do however do wish the casino would have been open for an evening activity. The resort also offers cable for TV hook up and firepits for those cool evenings. Great place to stay.
Oct 15, 2020
Great service . Beautiful park
Oct 14, 2020
Easy check in, helpful friendly staff, peaceful clean surroundings.
Oct 14, 2020
We always like staying here
Oct 12, 2020
We found our site just as we wanted. Everything was very clean and well maintained. Because of the COVID regulations we were not able to use all the normal facilities but they looked great. We look forward to our next stay here.
Oct 11, 2020
Very clean and tidy campsite in a beautiful setting.
Oct 11, 2020
we really enjoyed our stay at the KOA at St. Eugene...the staff were most helpful in so many ways. And such a beautiful location. Highly recommended.
Oct 10, 2020
Beautiful place, well kept and very friendly people. Richard was so helpful. See you next year for sure!
Oct 10, 2020
Great rv park, 2nd time there this year. Will be back again
Oct 08, 2020
Beautiful place to stay. The owners are warm and friendly. Thanks so much for the wonderful service. We will definitely be back next year.
Dec 20, 2020
We loved our 2 week stay here. I feel like it is way more than a "Journey" which I picture more just a nice spot for 1 or 2 night stay. There was so much to do and beautiful everything! You have access to the casino (just not during Covid), an outdoor pool, golf and a spa. Beautiful river which we had a site to back onto. Owners are lovely people! Would be nice to have a playground... but I know this is a new campground so it could be in the works. Side note. Do not listen to Google for directions. When the signs say to turn for Cranbrook, do it. The Google route may technically be shorter but you have to take a dirt road with cattle gates and a steep climb. The signs are there to be followed!!
- Lauren Waldron on Google
Oct 17, 2020
Stayed for a whole week this summer with my family. The hosts Richard and Kat were amazing. They were warm, welcoming and hospitable. The facility was immaculate. We would recommend this campground to anybody and will return again. Well done Richard and Kat!! Your attention to detail is a testimony to your commitment to excellence.
- Al Norris on Google
Oct 17, 2020
Richard and Kat bent over backwards to accommodate us and make our stay memorable. The well manicured grounds and immaculate amenities are a testament to their commitment to excellence. We enjoyed an amazing week while visiting the surrounding areas and attractions. Highly recommend this KOA to anyone. We will be back! Thank so much for such a great stay!
- Tiny Tent Trailers on Google