We Are Open - During the National Emergency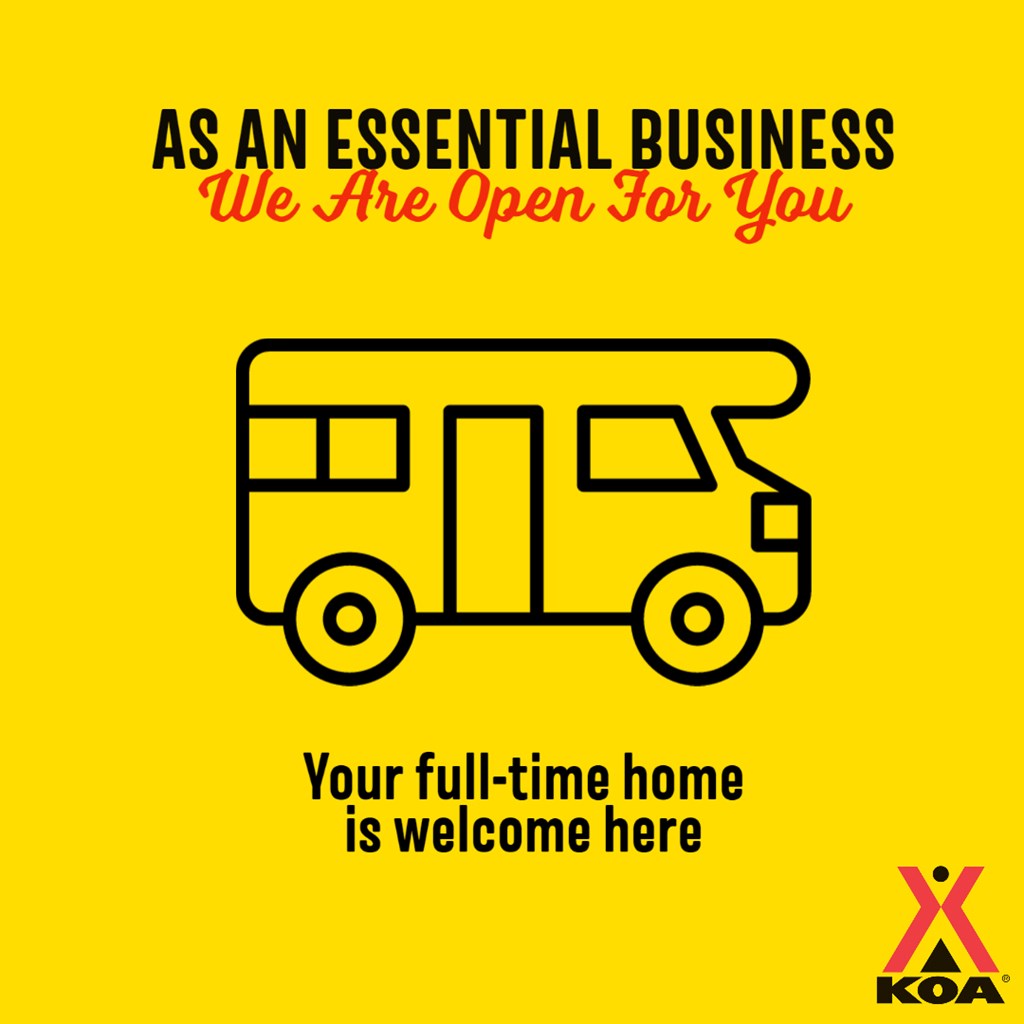 We are certainly living in unprecedented times! Our ability to work, socialize, freely roam about and even when and how we grocery shop has been turned upside down. This has required all of us to adapt to a new "norm" and we want you to know, we are adapting along with you. We have reviewed our policies and procedures and are making necessary changes to protect the health and well being of our guests and staff.
Presently, we have opened our campground offering limited services to fully self-contained units, to be of an immediate assistance to critical infrastructure workers, medical personnel, full time RVers, those passing through to get to their "home base" in Michigan or traveling on their way to other states, and workers quarantining themselves from their families. During this time we are offering essential services such as water/sewer/electric/wifi and laundry facilities. All communal areas, bathhouses, store, café and playgrounds are closed until April 30 per federal social distancing guidelines. Additionally, we have put measures in place to limit staff-to-staff, staff-to-guest, and guest-to-guest contact. These measures will be continually reviewed for best practice and in alignment with the Governor's executive orders. The following is a list of current measures in place:
All reservations made up to April 30 need to be done over the phone or online at www.southhavenkoa.com. Reservations must be paid in full at the time they are made. We are currently only accepting reservations for fully self-contained units i.e. they must include their own bathroom.
There is a limited number of cabins with full bathrooms available for medical personnel seeking to quarantine themselves from their families. These reservations can only be made by calling the campground directly and speaking with Libby @ 269-764-0818.
Our normal occupancy of no more than 6 persons/site will be enforced. Per the guidelines, this should be only immediate family members or those residing with you.
All communal areas such as the play area, bathhouses, pavilion, game room, and store are closed. Pool and Splash pad are also closed and will not open any earlier than Memorial Day weekend, pending further governmental guidelines.
Laundry facilities are available by appt only. Limited to one guest at a time
All check-ins will be curbside, packets with map and information will be in the night registration box with your name and site number.
Propane is available for purchase
Non-registered guests or visitors are strictly prohibited. Failure to follow this guideline will result in eviction from the park without a refund
Per the Governor's executive order, individuals are allowed and encouraged to engage in outdoor activity such as hiking, biking, running and walking so long as the social distancing guidelines are followed for anyone not in your immediate household. We have 60 acres of property with trails.
Thank you for continuing to support our small business while entrusting us to do our best to help protect you and our employees during this difficult time.