7 Reasons to Love Spring Camping in Southwest Michigan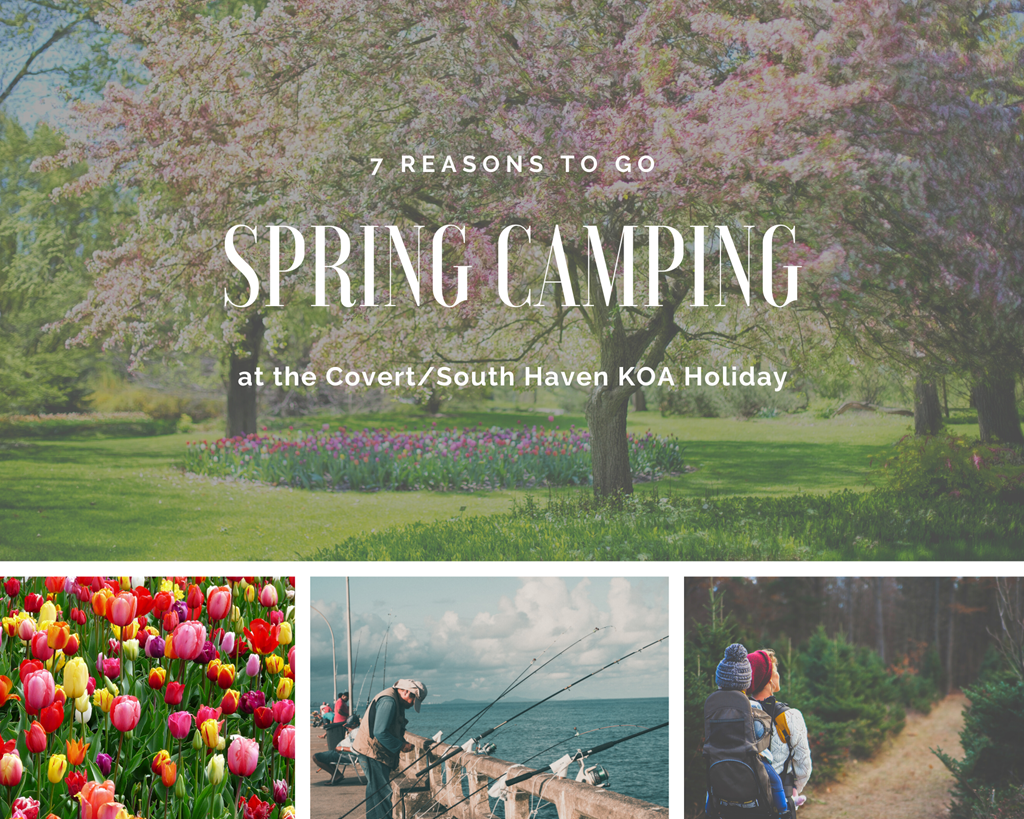 Normally we tend to think of camping as a summer or fall activity, but if you have never been out camping in the spring, now is the time to try. Here are a few reasons to try out spring camping in southwest Michigan.
1. Less crowds which equals more peace and quiet. If you ever have wanted to go camping and sort of wished the campground was less crowded and you had it more to yourself, then spring camping is for you. Even on the weekends, usually campgrounds are at only partial capacity. This means, you have the convenience of full hook up camping with the benefit of feeling as if you have the campground to yourself. It is a very relaxing feeling to enjoy the outdoors at a slower pace of the season.
2. You have to get the RV out anyways and make sure everything is working for the upcoming camping season. Why not take advantage of reduced off season rates, and enjoy a little get-a-way as you clear out the cobwebs and shake off the winter blues.
3. Spring means flowers and flowering trees. Here in southwest Michigan many of the apple, cherry and peach trees are all in full bloom as well as the blueberry bushes. This makes for a beautiful sea of white and pink flowers in orchards and fields. It is also at this time the South Haven Farmer's Market returns, the Blossomtime parade happens and the can't miss Holland Tulip Festival is in full swing.
4. Love to fish? Then bring the boat, kayak, canoe or fish off the pier or maybe book a charter boat fishing trip. You can enjoy catching walleye, trout, salmon, steelhead, blue gill and bass. Need help knowing where to go? We can help.
5. Hiking and Biking are also a favorite in southwest Michigan. Last year the Department of Natural Resources named South Haven as an "Original Trail Town", with 34 miles of beautiful trails to enjoy, you are sure not to get bored. Or maybe you enjoy a hike through the Dunes, then take a ride up to Saugatuck Dune state park or stick a little closer to the campground and hike the Ross Coastal Plain Marsh Preserve. This preserve is located less than a mile from Lake Michigan, covers an expansive 1,448 acres and features rare coastal plain marshes usually only found along the Atlantic and gulf coasts, wooded inland dunes, wetlands, sand dunes and more.
6. Golfing is a favorite pass time here in southwest Michigan. Often times you can find great deals on a game of golf in the spring and don't forget the 2020 KitchenAid Senior PGA in late May. If you are a golf lover, this is an event not to be missed.
7. Canoeing and kayaking are also close by. With the Paw Paw River and Paw Paw Lake only 5 minutes away, you will be enjoying the peacefulness of a day on the water in no time at all.